Last two games of the Spanish LNFS' round 11 have been played yesterday and we could have seen two (surprising?) draws.
Barça loses the win in last minutes
After a big victory against leading Levante, Barcelona was dubbed to have an easy task against bottom-last O Parrulo. And indeed, it started great for Barcelona as Joselito found the back of the net in the opening period of the match.
Barcelona continued with the pressure and with creating lots of opportunities, but was unable to extended their lead by half-time.
When Daniel scored at the beginning of the second half to increase Barcelona's lead it all seemed well and done for the European champions, especially when they continued with pressure on their opponents.
However, in the last five minutes of the match, O Parrulo went in an all-out attack with 5 players on the court, well aware they have nothing to lose.
It paid off quite fast as Rodriguez bagged one in in the 36th minute for O Parrulo. Very well worth noting that Barça then hit the post on O Parrulo's empty goal that could have sealed the match for the hosts.
O Parrulo's Miguel managed to score a beauty from a small angle to equalize the score in the last minute of the match, showing just how intense futsal really is.
Big point for O Parrulo, while Barcelona can rue their chances as the match finished 2-2
Antequera fights for a point against ElPozo Murcia
Relegation based Antequera hosted in Malaga Champions League finalists Murcia in order to find a way from relegation zone. Although Murcia put more pressure in the first half and created better opportunities, it was Antequera who opened the scoring after a nice and fast counter-attack. Goal was scored by Amoros Martinez in the 18th minute.
But, all that pressure had to pay off for Murcia. And indeed, just one minute later, Murcia and Leo Santana gave Antequera feel of their own medicine and managed to equalize before half-time.
Then a shocker for Murcia in the second half. After returning the ball to the play, Cobarro was left unattended in front of Murcia's goal and he put the home team again in advantage!
In the 31st minute, Leo Santana took advantage of one good situation for Murcia and equalized the match, 2-2. By the end of the match, Murcia even implemented the 'flying goalkeeper' but was unable to find the winning goal. In the dying seconds, Murcia also hit the crossbar, but all they took just one point from this away match.
This match brought an end to the Round 11 of LNFS. Due to the Covid reasons, many matches were postponed and will be played in the first possible window.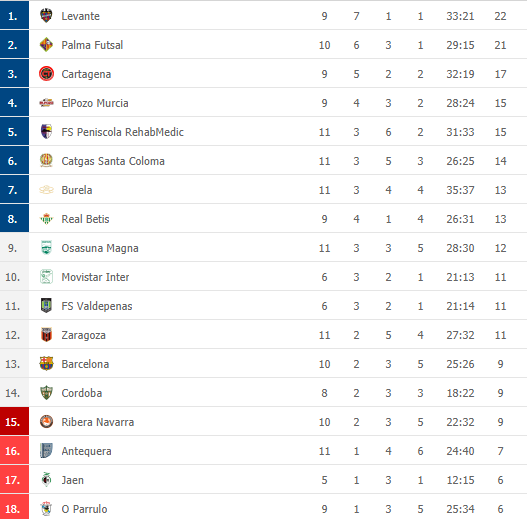 Interested in more of the Spanish futsal? Luckily for you, LNFS made another compilation of this weekend's best goals, saves and plays. Enjoy!