If by any chance you have missed it, Argentine futsal championship is well under way with four rounds of Argentina's finest futsal entertainment already completed.
Due to the pandemic, futsal championship was abandoned before it practically started and we have waited until the end of November for it to start.
This year's edition includes competition in elite Primera "A" for men and women, with Primera "B" also included, but in men's category only.
All matches will be played behind closed doors.
>>> FutsalFeed Original: Booming Futsal in Argentina
>>> Maradona: Football legend who enjoyed playing futsal
Tournament rules
For practicality, league system was changed and now men's elite Primera "A" competition is divided in two groups/zones - A and B. Both zones include 8 teams. After each team plays each other once, they all enter the playoff in a way that the best team from Zone A plays against last team of Zone B, vice-versa, and including all the other teams being seeded likewise as well.
In the playoff phase, teams will play two-legged match-ups from Round of 16 until the final match. Champion will be decided in a one-match final.
The final match is on schedule for 16 January 2021, so the entire championship will have to be played in a rather quick fashion.
There will be no relegation this year.
Champion of the Primera "A" will play in the 2021 Argentine Futsal Super Cup against the best team in the regular league (before playoff). If the best team in the regular league happens to win the playoff, the second-best team in the regular league will take its place in the Super Cup final.
Champion of this year's competition will play against San Lorenzo (the 2019 champion) in a single-tie match on a neutral court for classification in 2021 Copa Libertadores de Futsal. If San Lorenzo happens to win this year's edition as well, then no qualification match will be played. However, CONMEBOL has allocated two places for Argentina this year so in the end both teams might end up on the tournament.
Second division, or Primera "B" has its own elaborate system, but important to say is that finalists of the second division playoff will both get promoted to 2021 Primera División de Futsal. In addition, the champion of the Primera "B" will qualify for the 2021 Super Cup. No one will get relegated as well.
Women's Primera will follow similar path as men's division. League will be made out of 13 teams divided into three zones. Best two teams from each zone, including two best third placed teams will progress to the Champions playoff. Rest of the teams will play another playoff, winner of which will be included in the next year's Super Cup, including the winner of the Champions playoff. There will be no relegations.
Things so far in Primera "A"
Zona A
Boca Juniors have started strong in this year's campaign recording 3 wins and 1 draw in first 4 matches. However, they are being trailed by 17 Agosto and Barracas Central also have them in sight. The catch continues this Wednesday (17:45 local time) when 17 Agosto plays against America del Sud. On Thursday (21:05 local time), Boca plays against bottom last Pinocho.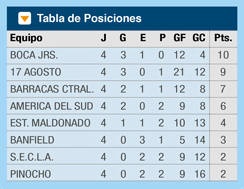 Zona B
With all four wins in four matches, current champions San Lorenzo are looking very well indeed. Their runners-up Kimberley are now five points away having suffered a loss against San Lorenzo in Round 2. With the same result (2:1), San Lorenzo won against Villa La Ñata on the third place. On Wednesday, Kimberley plays against Camioneros (17:45 local time), Villa La Ñata will take on Hebraica at the same time, while San Lorenzo will look to extend their run against El Talar (21:30 local time).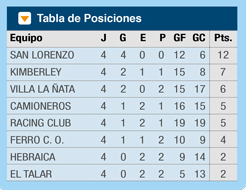 Great place to follow all news regarding futsal in Argentina is Pasión Futsal!