Only four days have left until the end of an inaugural FutsalFeed Best Team Award 2020 powered by Senda Athletics! On Wednesday, 30th December, at noon (CET) we will publish FutsalFeed's best team of 2020.
Experts have chosen six candidates for six futsal positions (goalkeeper, defender, two wingers, pivot and coach), and our readers will choose the best among them.
Here are leading three players in every category, four days until the end of the competition.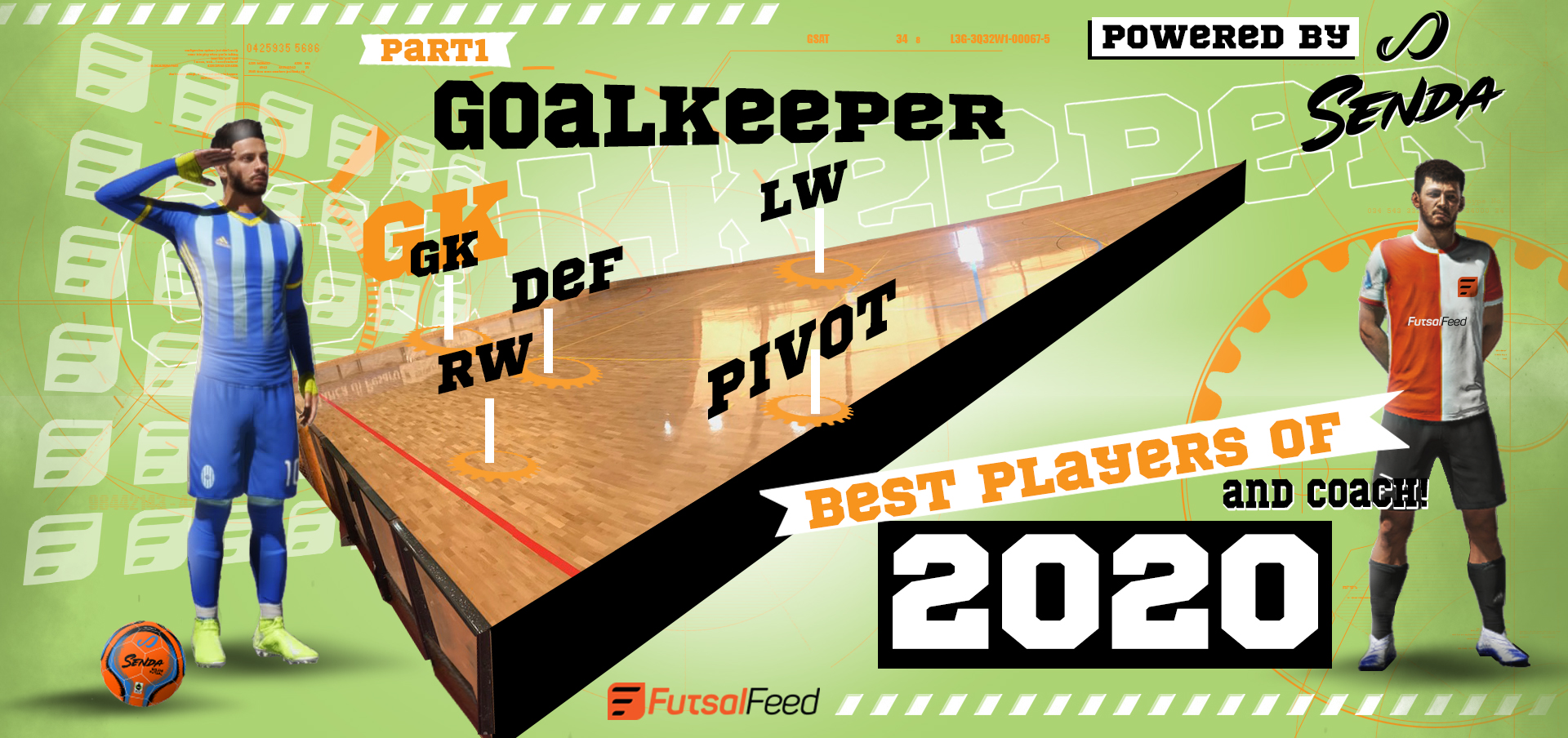 VOTE for the best Goalkeeper in 2020
Thiago Mendes Rocha "Guitta" (Sporting Lisbon/Brazil) 46%
Leonardo de Melo Vieira Leite "Higuita" (Kairat/Kazakhstan) 25%
Ondřej Vahala (Sparta Praha/The Czech Republic) 13%

VOTE for the best Defender in 2020
Carlos Ortiz Jiménez (Inter Movistar/ACCS/Spain) 30%
Rodrigo Hardy Araújo (Magnus Futsal/Brazil) 26%
Douglas Júnior da Silva Negreiros (Kairat/Kazakhstan) 24%

VOTE for the best Left Wing in 2020
Ricardo Filipe da Silva Braga "Ricardinho" (Inter Movistar/ACCS/Portugal) 36%
Marko Pršić (FON/Serbia) 27%
Leonardo Caetano Silva "Leozinho" (Magnus Futsal/Brazil) 19%

VOTE for the best Left Wing in 2020
Sergio Lozano (Barcelona/Spain) 37%
Fabricio Bastezini "Gadeia" (Inter Movistar/Kairat/Brazil) 22%
Dyego Zuffo (Barcelona/Brazil) 22%

VOTE for the best Pivot in 2020
Carlos Vagner Gularte Filho "Ferrao" (Barcelona/Brazil) 46%
Deives Moraes (Corinthians/Brazil) 17%
Jean Pierre Guisel Costa "Pito" (Inter Movistar/Brazil) 15%

VOTE for the best Coach in 2020
Ricardo Di Izeppe "Ricardinho" (Magnus/Brazil) 33%
Goran Ivančić (Serbia NT/Serbia) 28%
Andreu Plaza (Barcelona/Spain) 22%