Earlier today, Italian Divisione Calcio a 5 (or in laic terms - Italian futsal league) elected Mr. Luca Bergamini as its new president.
Luca Bergamini received 117 votes, as opposed to Mr. Antonio Daro who received 76 of the votes.
🇮🇹 #ElezioniDC5

🟦 Luca Bergamini | #Hi5
🗳️ 117

🟪 Antonio Dario | #WFF
🗳️ 76

👏🏻 Luca Bergamini has been elected as the new President of @DivCalcio5! https://t.co/UlmWjKBJXg

— Valerio Scalabrelli (@ScalabroFS) January 11, 2021
Luca Bergamini is a Roman lawyer born in 1961. He played football for AS Roma before moving to futsal at 18 (winning 4 Scudetto with Roma RCB). He was Italy's first-ever captain at a FIFA Futsal World Cup, and a former member of the FIGC's School Youth Sector Council. He currently deals with legal affairs for Bologna FC.
The Hi5 movement (Bergamini's campaign name) is a strong promoter of the LegaC5, which would seem to be an attempt of replacing the Divisione C5, aiming for autonomy "from anything and anybody" through "the ability to know how to relate to institutions", mainly CONI and FIGC.
His manifesto is available on his website: http://lucabergaminipresidente.it
Mr. Bergamini intends to develop futsal as a product to financially support the activities of the clubs involved by incentivizing its distribution outside the circuit of already known industry professionals and loyal fans through an OTT streaming service platform managed directly by the Divisione C5.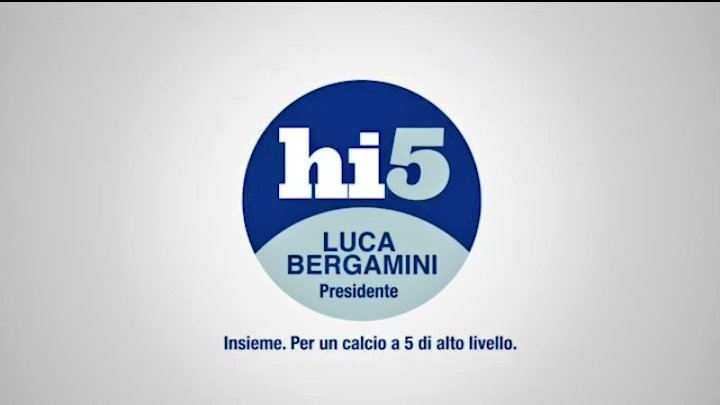 In his campaign, he also emphasized the cooperation with the Italian Football Association (FIGC) for launching a U23 Futsal League dedicated to pro football clubs, in order to support the college/career path of those players dropped out from their academies (willing to play futsal), creating a recruiting base for national futsal clubs.
One of the ideas how he intends to further popularize futsal is by launching a crowdfunding platform to encourage the entry of new resources. Further on, he plans to build a more direct relationship between sponsors and clubs, promoting economic sustainability and the coexistence of many teams. He emphasized that it is necessary to reduce the gap between the most established teams and emerging ones.
Mr. Bergamini also said that he intends to enhance the role of Regional Committees to develop grassroots futsal. This would be coupled with the introduction of futsal in schools and universities through dedicated programs, events and tournaments.
Anyhow, Mr. Bergamini showed a willingness to transition the futsal governance from the LND to the FIGC through a communion of purpose aimed at guaranteeing benefits and sustainability to the territorial realities already established and present in the Italian futsal map.
FutsalFeed would like to thank our columnist Valerio Scalabrelli, whose help in acquiring all this information was invaluable!