After the sixth round in the Czech futsal league, things are getting pretty crowded at the top of the table. Three teams now have 16 points at the top, and the fourth is lagging just one point behind.
A match between the first and second on the table took place yesterday. Interobal Plzen hosted SK Slavia Prague in a high-scoring match that ended 5-5.
2 matches yesterday - expected win for Sparta and tie in the fight between Plzeň and Slavia. Plzeň led by 2 goals with 5 minutes to go but then Slavia scored twice with 2 goals by Leovski and 2 assissts by Záruba. Jošt was another hero with 2nd hattrick in a row. pic.twitter.com/h3Hq1n7dpY

— Czech futsal (@CzechFutsal) January 13, 2021
This means that neither team managed to secure a lead at the front of the table. In fact, thanks to Chrudim's win earlier against Česka Lipa (3-1), they now have the same number of points as Interobal Plzen and Slavia, with whom they share the first position.
Chrudim won 3:1 in Česká Lípa. They tried some things including poweplay to be ready for Champions league match. pic.twitter.com/bfiuASojQ6

— Czech futsal (@CzechFutsal) January 12, 2021
If Liberec beats Vlci Brno later today (19:30 local time), they will also come quite close to the top of the table.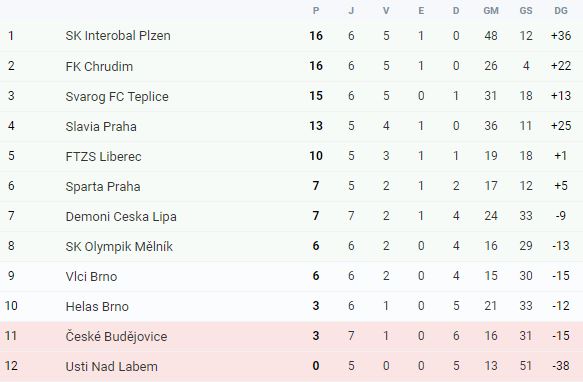 Good movement from Chrudim players led to first goal yesterday. Nice assist from Slováček. pic.twitter.com/xblCxdtjcE

— Czech futsal (@CzechFutsal) January 12, 2021