Only four more rounds remain in the regular season of the Swedish 2020/2021 futsal league. Out of 22 rounds, 18 were already played and the Swedish league seems to be closer to playoffs than any other European league.
Several teams still have a chance to win the regular season and all of them will be fighting until the last seconds of the regular season to secure a better playoff berth.
That special playoff feeling is starting to come alive among the Swedish futsal fans!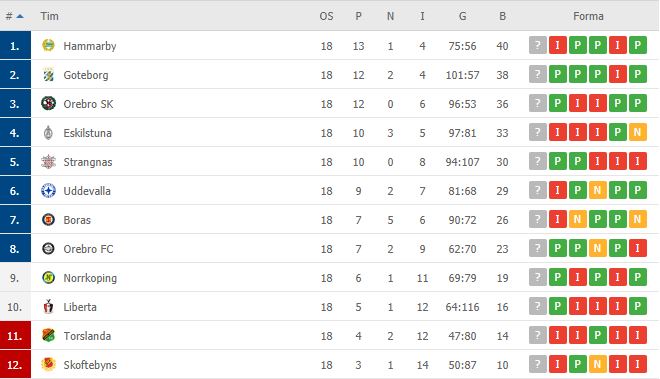 Current champions Hammarby are still at the top of the table with 40 points, having enjoyed a successful campaign so far. However, due to their loss in the last round, their rivals Goteborg are edging ever closer and now find themselves at a striking distance just two points behind.
Orbero, on the other hand, is just two points behind Goteborg and is lurking for any chance they can get to skip their rivals on the table. For that, they'll need to win each of the remaining rounds.
Three points behind Orebro is Eskilstuna, and they can be angry with themselves for not recording a single point in their last three matches which saw them drop a few places recently.
Strangnas and Uddevalla currently lead the bottom part of the playoff bracket trying to push for a better playoff berth. Boras (7th) and Overbro (8th) will play each other in the next round - a match that could secure Boras' playoff spot, or further complicate things in this highly competitive league.
Norrkoping, who find themselves just outside the playoff zone will try and find a form for the last part of the season, and for that glorious playoff push. By beating Hammarby and Orebro recently, they showed they can play with anyone in Sweden - just have to hold that form in a long run.
The last two teams at the end of the regular season will eventually get relegated and the battle for that 10th position that avoids relegation between Liberta and Torslanda is getting heated up. Two teams will face each other this weekend in what is sure to be a nervous match.
Bottom last Skoftebyns' situation is looking pretty grim at the moment. With six points away from the secure zone, they'll have to face some of the top teams in the country and beat them to avoid relegation.
According to the league schedule, the Swedish regular season will be completed by the end of January. It will be one of the first European leagues to complete its regular season. Stay tuned for more information from Sweden as the playoff draws evermore closer!