Italian elite futsal division is in full rhythm! Although Covid-19 made some trouble along the way, this week all seven matches of Round 19 were played.
Battle at the top of the table never stops as it is proven by leading Acqua e Sapone and their close runner up Italservice Pesaro who are lagging just one point behind with one match played more than their rivals.
Everybody in the playoff spots behind these two teams is very close, with the difference being just a few points between them.
The relegation battle is also very intense with three teams sharing an equal number of points.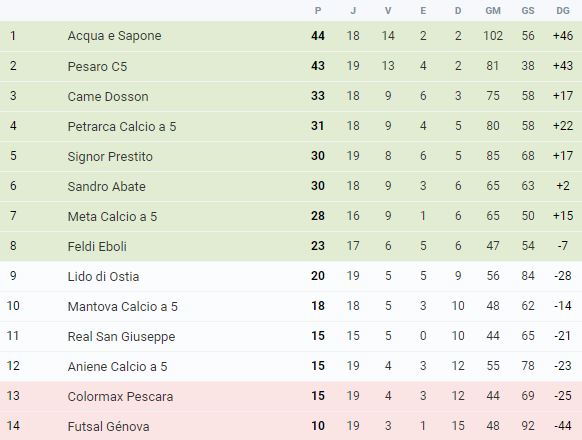 It is still too early to make any prognosis, but luckily we don't have to - for now, let's all enjoy the highlights from Italian Seria A Round 19!
Acqua e Sapone 6-1 Feldi Eboli
Italservice Pesaro 3-2 Colormax Pescara
Came Dosson 4-4 Saviatesta Mantova
Signor Prestito CMB Matera 6-6 Syn-Bios Petrarca Padova
Sandro Abate Avellino 6-2 Lido di Ostia
Meta Catania 4-2 CDM Futsal Genova
Cybertel Aniene 6-3 Real San Giuseppe