Azerbaijan justified the status of favourites with a 3-5 win over Moldova in Group 3 of the EURO 2022 qualifiers and qualified for Euro in the Netherlands!
In a tough game where both teams had their chances, Azerbaijan took the lead in the 7th minute through Hadi Ahmadi. Moldova took control of the first half, but couldn't find the net with a lot of their shots going wide of the goal.
Just as the second half started, Azerbaijan doubled their lead with a goal from Vassoura. In the 28th minute, Ramiz Chovdarov made it 0-3 for the visitors in Ciorescu. Last ten minutes a whole new show was on. Moldova took the risk playing with 5 players in the field and it paid off in the 31st minute when Andrian Lascu scored for 1-3. Iulian Cojocaru scored an own goal in the 35th minute and Azerbaijan was again 3 goals up. Moldova was back in it 20 seconds later with a goal from Sergiu Nicolaiciuc who made 2-4. Two final goals came in the 37th minute, Vassoura scored his second and then Moldovas' Andrei Negara made it final 3-5. The scorer of Moldovas' first goal Andrian Lascu was sent off in the final minute for a deliberate handball.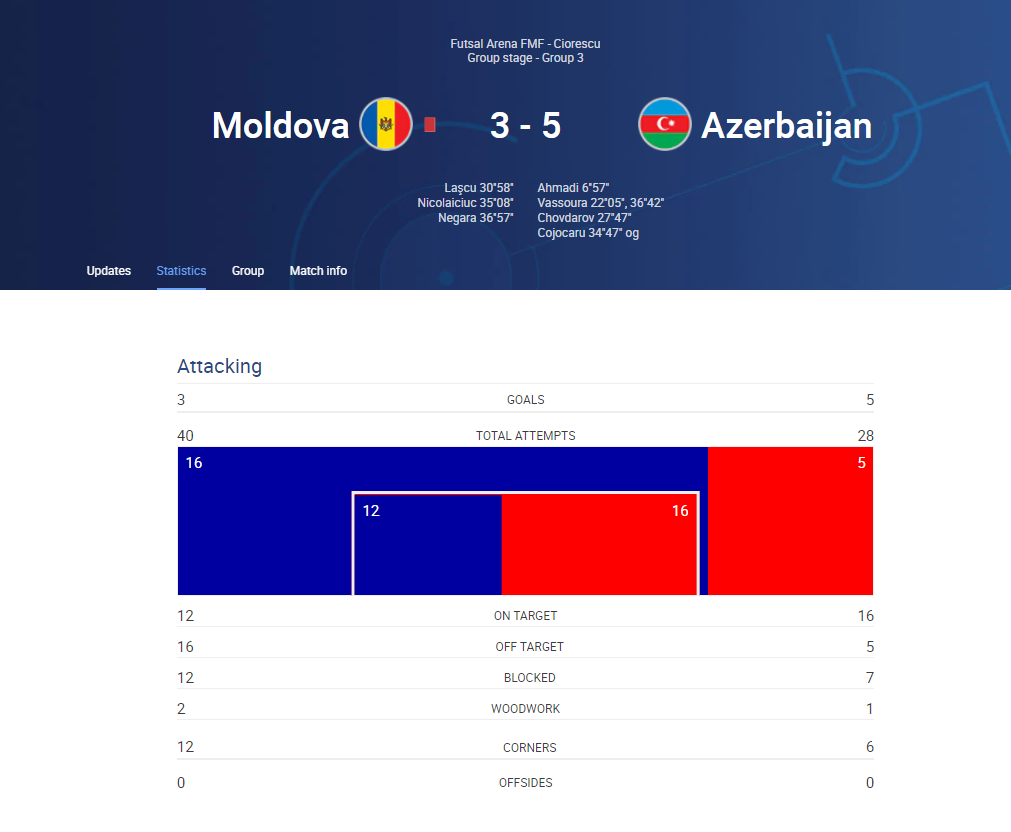 With this win Azerbaijan has qualified for Euro, and Moldova remains third while Greece is in the bottom place with four losses in four games. Azerbaijan will play their next game against Slovakia on the 8th of April while Moldova will take on Greece a day later.