From start to mid-April we will find out most of the remaining passengers to the UEFA Futsal Euro in the Netherlands. So far, including the hosts, seven teams are already looking for plane tickets and hotel reservations in Amsterdam and Groningen: Croatia, Russia, Azerbaijan, Bosnia and Herzegovina, Italy, and Spain.
The rest of the teams are in for quite a spectacular and exciting April qualification cycle and FutsalFeed brings you a breakdown of each group to see who has the most chances to book their trip to the Netherlands in late January of 2022. Let's begin...
Group 1
Croatia has qualified for 2022 Euro after a maximum score in the first four games. Croatia will, almost certainly, win the group unless they lose both matches against Denmark and Albania, and Denmark wins all three of theirs. And yes, Denmark needs to defeat Croatia with at least four goals difference to pip them in the group.
The second place of the group will most likely be decided after two matches between Denmark and Ukraine, which will be played in Zaporizhia (7 and 8 April). Albania has theoretical chances to qualify for the Euro, but they'll need to win their last two matches and hope for a favorable result in other matches while keeping their goal difference in mind.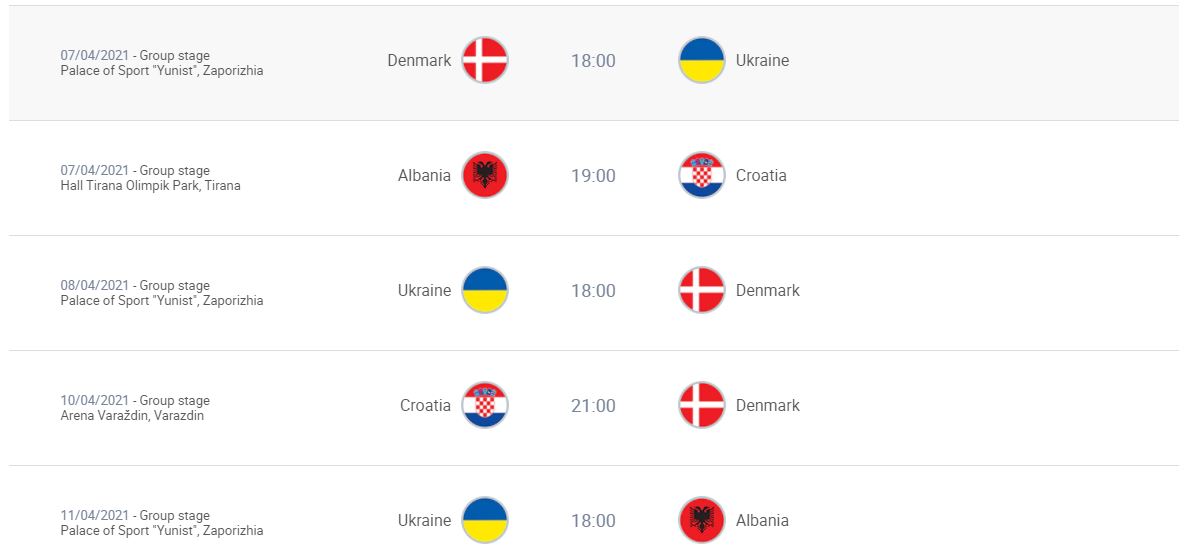 Group 2
Russia has qualified to Euro, and they will secure first place with a win in the next two matches against Armenia (away) and Georgia (home). They can also win the group with a draw against Georgia.
Georgia is in the best position for second place before the last two rounds. They have five points more than France, and if they draw in their direct duel in Tbilisi (9 April), they would finish second.
To qualify in the Netherlands, France has to defeat Georgia in Tbilisi for starters, then defeat Armenia at home court and hope that Georgia won't defeat Russia. Armenia lost all chances to qualify for the Euro.


Group 3
Azerbaijan qualified to the 2022 Euro with four victories in the same number of matches. They will go to the Netherlands either as a group winner or one of the best second-placed teams.
Slovakia still has theoretical chances to finish first in the group. To achieve that, first they have to beat Azerbaijan in their direct duel at home (8 April) and then beat Moldova away (13 April) and with hopes that Azerbaijan will lose against Greece. From today's perspective, the second place looks like a realistic scenario for Slovakia, unless…
Moldova generates an upset. Moldova first has to beat Greece away (9 April) and then they will play at home against Slovakia (13 April). Their first duel ended in a 4-4 draw, so their second match is a potential decider and we will keep a close eye on that match.
Greece finds itself in the last place in the group, without any chances to qualify for the final tournament – but they could mess someone else's plans.


Group 4
The fairy-tale of this year's qualifiers, Bosnia and Herzegovina, secured their berth at the final tournament with a maximum record in a tough group. They are safe and sound in the first place.
Serbia, Romania, and North Macedonia, all have chances to qualify for the Euro. They all must be thinking that with two victories they can secure second place in the group and have a good chance to qualify among the second-placed teams.
Serbia is a bit closer to that goal and with a victory against Romania (9 April) they would secure second place because even if North Macedonia manages to catch up with them, Serbia has a better head-to-head record against them.
Romania still has a chance to pip Serbia in the group if they win their direct duel, but they will also be needing that second victory against North Macedonia (14 April).
North Macedonia is in a bit of a tough situation because they are not depending exclusively on themselves. In their last two matches, they won't be playing against better-positioned Serbia, so even with two victories, they might end up short of second place.
Today, it is still too early to tell what would that second place mean for any of these teams' qualification status as all second-placed teams are dependent on the results and number of points from their counterparts in other groups. But it seems that we're in for a treat with Group 4 and things might get decided at the very end.


Group 5
Even though it is mathematically possible for Kazakhstan not to qualify for the Euro next year, it would be a huge surprise if they didn't. Currently at top of the group, having three wins from three matches and having a goal difference of +13. It's still not decided when will they travel to Budapest to play against Hungary.
Hungary and Belarus played four matches while Israel played three. Israel has to play Kazakhstan twice and go to Belarus. The last game of the group will be played in Minsk, where Belarus will face Hungary. With just three points separating Hungary in second and Israel in fourth, it just might come down to head-to-head matches.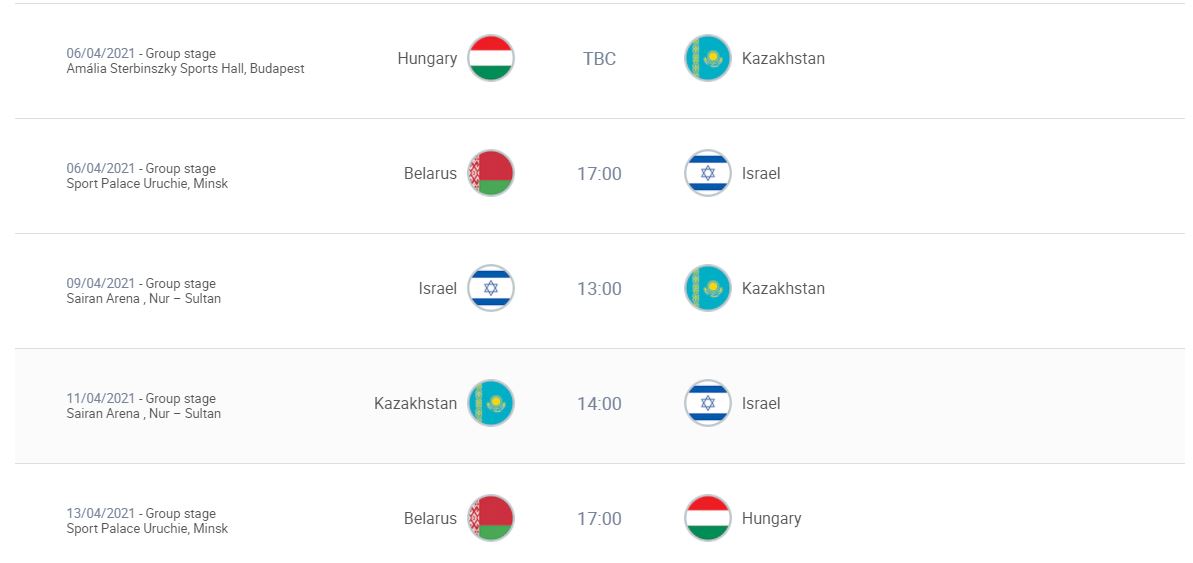 Group 6
This group is a very specific one because it contains Slovenia, the only team that has played five games in these qualifiers.
Spain is at the top and has already qualified for the Euros winning all four of their matches and can already prepare their bags for the Netherlands.
Switzerland is at the bottom of the group and has no chances as they lost both times to Slovenia conceding 23 goals in two matches.
Latvia has to win on the 8 April at home against Switzerland and then it will all come down to their last game in Slovenia. Mark your calendars, 12 April, Slovenia has a 1-0 lead from the first game.


Group 7
Italy is one of those teams that has a maximum record of four victories in four games. Therefore, Italy has secured a berth in the 2022 Euro before the last two matches. Head Coach Massimiliano Bellarte will have the possibility to test some new tactical ideas with his team in the next two matches.
Who will be the second-placed team? Favorites for this position are Finland and Belgium, whose direct duel in Finland (13 April) could be a deciding one. They currently have the same number of points, while their first match ended in a 3-3 draw.
Montenegro is not without chances, but they will have to achieve a minor miracle to get into the mix. First, they will have to win against Finland at home and then win against Italy away. Although, there is a scenario where Montenegro, to be second in the group, has to win against Finland, while Italy has to beat Belgium in the same round (8 & 9 April). Then, in the last round of the group (13 April) Finland and Belgium have to draw. Montenegro could then lose the last match against Italy without repercussions. But it is then possible that only 6 points will not be enough for Montenegro to qualify among second-placed teams.


Group 8
As expected, Portugal holds first place in this group, but things are far from over. With only one point less than Portugal, Poland, and the Czech Republic are waiting for their chance – and these two teams will face each other twice in April!
Portugal has to win both matches against Norway, who are without chances to qualify to the Euro, to clinch that first position. The Czech Republic and Poland will go head-to-head in two matches to decide (most likely) the second-placed team.
It is not impossible that the goal difference or even away goals scored could be a decisive factor in this duel. We're going to enjoy these matches in April!

What do you think who has the most chances to qualify for the final tournament, and who could make an upset? Let us know in the comment section below or on any of our social media channels!