Benfica and Sporting are still unbeaten in the Portuguese 1a Division after Futsal Dérbi de Lisboa ended with a draw (1-1). Their first match in the season (Sporting as a host) ended 3-3.
This was an evenly contested match, and it took until the 19th minute for Benfica to take the lead. Russian player Robinho got to the deflected shot first, then dribbled past two players, dropping them on the floor and scoring to make 1-0 for Benfica.
It was all Benfica at the start of the second half, but Sporting goalkeeper Guitta made some world-class saves. And as an unwritten rule says, when you don't score, you concede. One long ball was greatly controlled by Zicky Te in the 29th minute, who turned and smashed in a half volley to make it 1-1. That was the final score with a couple of chances in the last 10 minutes and Benfica trying with flying goalkeeper.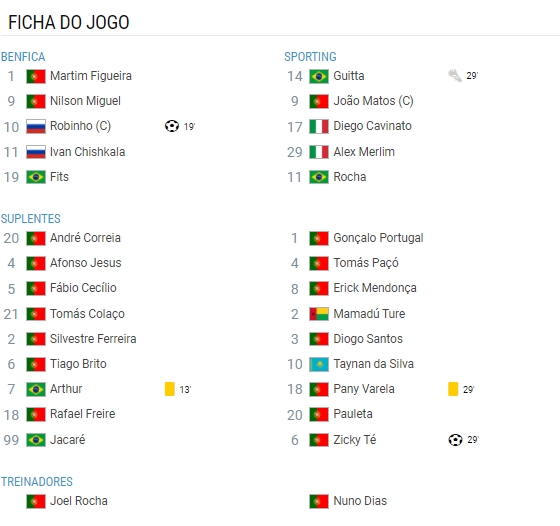 This draw keeps Sporting top with 72 points while Benfica has 70 points. Both teams have 4 games to go, and to prepare for the playoffs. Benfica will play their next game this Saturday away to Leões Porto Salva. Sporting stays in Lisbon to host Portimonense.
In other matches that were played on a Wednesday, Braga beat Azemeis 0-2 to hold on to the playoff spots. Azemeis didn't make it easy and only capitulated in the 38th minute when Vitor Hugo scored. Fabio Neves made it 0-2 in the last minute.
The third team of the league Fundão, won away at Candoso 6-4 after being 0-2 down. Fundao was scoring in streaks. Firstly they scored three in three minutes (16', 17', 18') and then three in five minutes (31', 34', 36'). Porto Salva also made a comeback, scoring 4 in the second half as they won at Burinhosa 2-5. Andre Galvao scored twice to keep up his great record. He scored 25 goals in 25 games.
Ciganos' late strike to make it 3-4 brought a win for Modicus against Dinamo Sanjoanense, which is at rock bottom with 8 points. It was 2-2 at halftime. Bruninho scored his second for Modicus to give them the lead in the 30th minute, but he was canceled out by Nando Costa, who also scored his second in the 32nd minute.