With only a few games left of the regular season, it's time to take a look at the Czech first league's playoff picture. Some teams have three, some have four and some have five games to play and try to reach the playoff spots.
Obviously, a lot of teams are already safe in their playoff spots, but they will try to get better positions. The top five teams in the league are safe and they are SK Interobal Plzen, FK Chrudim, Svarog FC Teplice, and Prague duo Sparta and Slavia.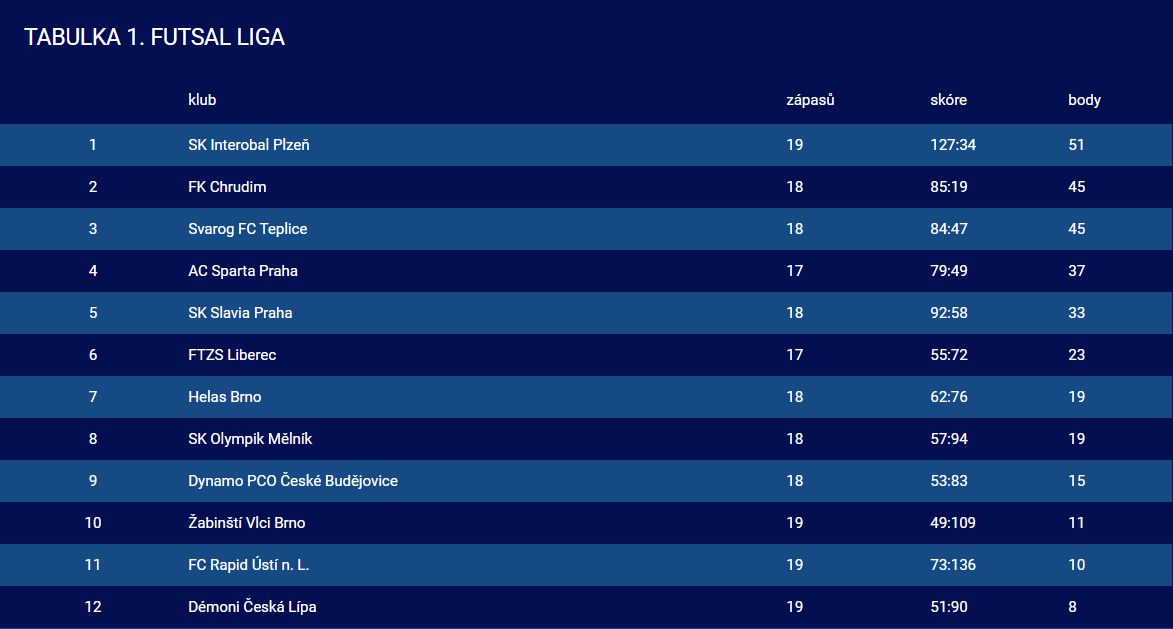 The only team that will not be seeing the playoff this year is Demoni Česka Lipa. They don't have the worst attack or the worst defense in the league, for now, but they have only 8 points from 19 games. The team from the north of Czechia took 7 points in their opening 4 games but then went on 12 games losing streak. They can still save themselves from relegation in their remaining three games. Their next two games are in Brno against Žabinšti and Helas while their last game of the season is at home against Sparta.
FC Rapid from Usti nad Labem is currently 11th in the league and in the relegation zone, but they have a chance, although a small one, to get to the playoffs. They will have to win all of their remaining games and that's more than they managed all season. They travel to Česke Budejovice to face Dynamo and then they will host both Brno teams. If they win the first two games and luck comes to their aid, they will have to better the result from their first game against Helas which they lost 12-5. Seems impossible but the chance is still there.
Žabinsti Brno are 10th and they have the chance to qualify for the playoffs but they play both teams that are behind them in the league and they will focus on staying in the league. Their last game is against the already safe Svarog Teplice. If they win all those games, they have a chance.
The team with the best chances of qualifying for the playoffs that isn't already there is Dynamo PCO Česke Budejovice. Dynamo has four games to play and their first two games are at home against Rapid and current champions FK Chrudim. Svarog and Slavia are their two away opponents. They need at least 5 points from 12 available.
Helas Brno is currently 7th but has the same amount of points as 8th placed Olympik Melnik. Helas is in front because they won twice against Olympik and have a 14-3 goal difference in those two games. Both teams have four games to go, but Olympik has to play four teams that are better than them in the table while Helas will play two teams from the relegation zone.
Along with Sparta, FTZS Liberec is the only team to have five games to go. Theoretically, Liberec can still finish fourth, but they can also finish outside the playoff places. They have games against Interobal who are first, Slavia and Sparta who are right in front of them, and Olympik and Helas are right behind them.
With a lot of the games left, some of the teams are destined to play after the international break in April. Czech Futsal will be exciting to watch because there are a lot of movements on the table possible. Keep your eyes on this one, it's going be to close.