Sporting defeated Barcelona in the 2020/21 UEFA Futsal Champions League finals after a thrilling match. Barça ha 2:0 lead at halftime, but Sporting managed to turn the result in the second period. Barça started playing with a flying goalkeeper, scored a third but couldn't manage to equalize and win the overtime.
Barça had a dream opener and scored in the very first minute of the match! Marcênio intercepted a pass in Barça's half, run a few meters and struck a ball by Guitta. In 4' Adolfo had a great chance from the close range, in the next minute Esquerdinha hit the post, and Adolfo missed another great chance after the bouncer.
After great Barça's start, Sporting started treating in 5', with Taynan da Silva having the biggest chance. It was a tight match with several attempts on both sides. In 12' Esquerdinha hit another post, this time with a header after Didac's assist. A good chance with a header had Ferrao in 15', but missed the target.
Sporting started pressing harder, but Barça managed to double a lead in 18' after a counter-attack when Ximbinha scored after a shot from the right side of the pitch.Barça fastly got the fifth foul but managed to end the first half without entering a bonus.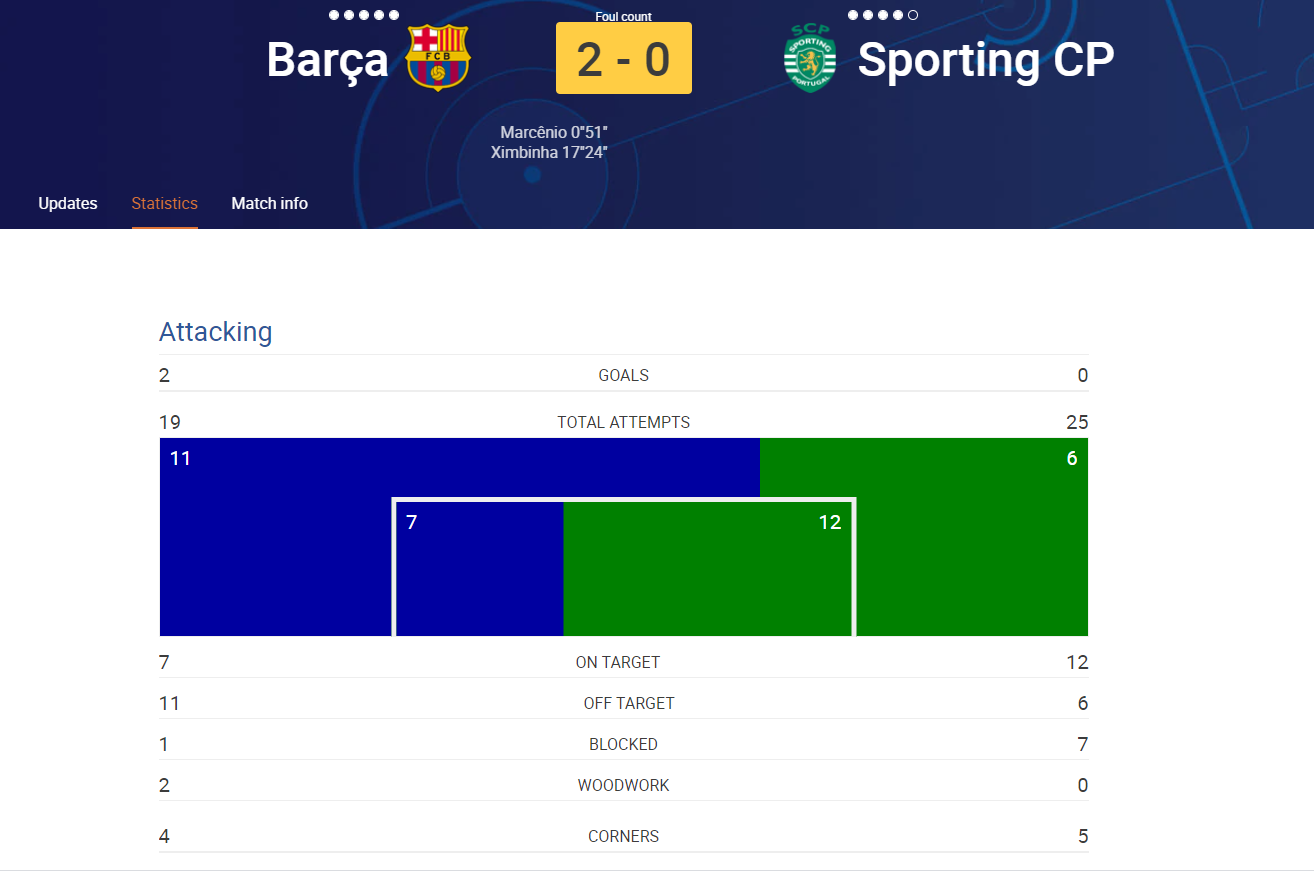 Dyego had the first chance for Barça in the second half and Asensio hit the third posts of Sportsing's goals in the match. However, despite Barca entering the second half better, Sporting scored in 25'. Tomas Paco assisted Zicky Te on the other post who scored in an empty net.
A minute and a half later, Sporting equalized! Panny Varela passed from the corner and Erick scored with a header for 2:2!
In 30' Paco had another great chance from a volley, bud Didac was secure. In 31' Sporting scored the third and got a turnaround. Zicky won a foul, Taynan hit the post and Joao Matics scored a bouncer from a close range!
In 37 Barca entered a match with a flying gaolkeeper but quickly lost the ball and Panny Varela scored after Erick hit the post. Three minutes before the end Ferrao scored the third for Barça and returned the uncertainty to the finals.
In the last few minutes, Futsal Blaugrana tried with everything they got but they didn't score and the title, for the second time in history, is going to the green-white part of Lisabon.