Dear futsal enthusiasts,
more than a year has passed since we published the first article on FutsalFeed, a global futsal platform that gathers worldwide futsal news, stories, interviews, and columns from eminent futsal experts
Besides FIFA.com, there are only several futsal websites covering global futsal news, such as FutsalPlanet and Futsal Focus.
But, as you can probably assume, it is not an easy job.
Futsal is rapidly growing and hides an infinite amount of interesting stories and people.
To cover all of them is quite a challenging job.
Therefore, we invite you to support our project with some of the listed ways below, give us an additional boost, and help us cover our interesting, dynamic, and attractive sport even better than we did so far.
1. Promote your products and services to your direct target audiences
FutsalFeed allows you to advertise your products and services to your target audiences directly. If you buy advertising space on our site or our social networks, you are not only helping us, but we are also helping you to achieve your direct marketing and sales goals. We are talking here about mutual cooperation.
Check our advertising page and see if there is some option that can be useful for your business:
2. Buy us a coffee (or a beer)
If you don't have an interest in advertising your products and services, but you like our content and would like to support our work, you can buy us a coffee (or a beer) at buymeacoffe.com/FutsalFeed.
Writing about global futsal topics is the best job in the world, but it is even better when you know you can relax after it with a hot cup of coffee or a cold beer.
3. Become FutsalFeed's Patreon
This is not a mere donation. Besides supporting our website, this is a FutsalFeed's membership program from which you can also benefit.
If you become "FutsalFeed's Fan" (€5 per month + VAT), you will be added to our Telegram Group and have excess to exclusive futsal content before posting it on Social Media, and we will put your name on FutsalFeed #WallOfSupport page.
If you become "FutsalFeed's Supporter" (€20 per month + VAT), besides everything from the FF's Fan package, you will have an opportunity to send us questions for the next interview with your favorite futsal player, communicate with FutsalFeed's editors, get exclusive merchandise for FF's Supporters and discount for #WearFutsal
4. WearFutsal
We recently launched a high-quality "futsalwear" that you can wear wherever you like - on your training sessions, to the nightclub, to your school or even work.
Inaugural WearFutsal collection consists of t-shirts and hoodies.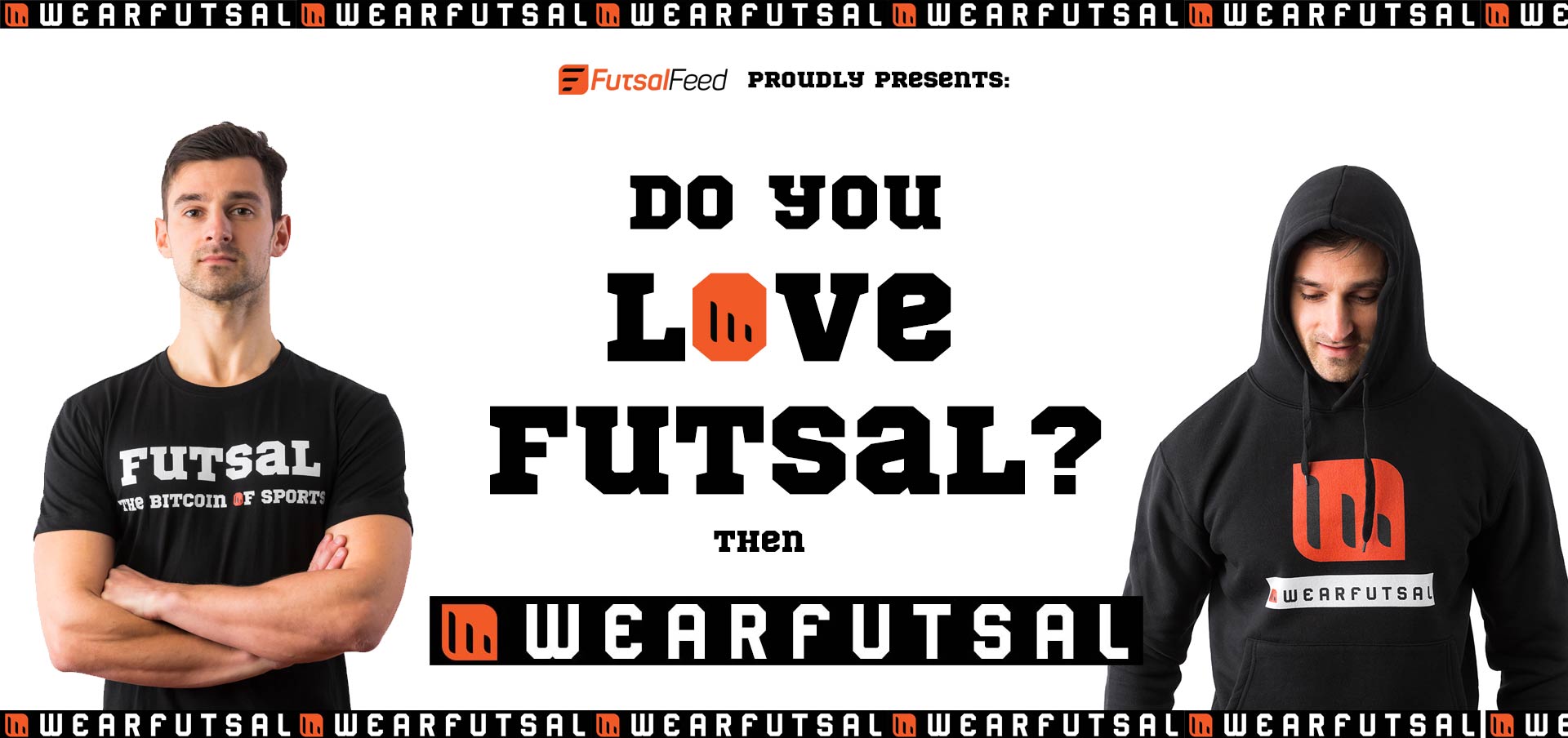 With "WearFutsal", you are not only supporting our project, but you are becoming an active participant in the fastest growing sport in the world.
This, of course, does not exclude you from supporting your local futsal clubs and communities in the same way.
Check our entire futsalwear and #WearFutsal.
+1 Read, like, share, and create our content
The easiest and maybe the biggest way you can support our project is by reading our originals and news articles, share them on your social networks and your Whatsapp, Viber, or Telegram groups. You can also create your own stories and news by uploading them in our "Send News" section.
We are not populist when we say that every reader means something to us. We really do mean that.
So please, share our content on your digital news and become our ambassadors.
Maybe you can start with this one. 😊