Next Tuesday (24 November) Lithuanian champion Vyts and Swedish champion Hammarby (Champions League debutant) will open the new season (20th edition) of UEFA Futsal Champions League with a one-leg match in Jonava Arena (Lithuania).
The initial start of the competition was moved due to COVID-19 pandemic and the competition format was changed, as well. Ther are no group stages, the whole competition will be held as a knock-out tournament.
45 teams (Scottish champion Perth Youth Futsal, unfortunately, had to withdraw from the competition) will participate in the one-legged Preliminary round which will be held from 24-29 November. 22 winners of those matches (Minerva advanced to the next round after PYF withdrew) will qualify for the Round of 32 in which nine best-seeded teams are already waiting (Barcelona and Inter Movistar from Spain, KPRF and Gazprom Ugra Yugorsk from Russia, Benfica and Sporting from Portugal, Kairat Almaty and Aktobe from Kazakhstan and Dobovec from Slovenia).
Round of 32 will be played between 12 and 17 January 2021, Round of 16 between 16 and 21 February 2021 and the Final tournament (best eight teams) on April or May 2021.
Champions of 51 UEFA members (Faroe Islands, Iceland, Liechtenstein and Moldova don't have their representatives), European champion Barcelona, as well as second-placed teams from Portugal, Kazakhstan and Russia will participate in this year's competition.
Favorites
The biggest favorites of this year's competition are Spanish and Portugal giants.
Barcelona Futsal is current European champion with a superb futsal names such as Spaniards Sergio Lozano, Jesús Aicardo, Joselito, Adolfito, Brazilians Ferrão, Dyego, Ximbinha, Esquerdinha (Russian Brazilian) and Portugal star André Coelho.
However, Barça entered the new Spanish First division terribly, securing only five points in the first eight matches. Nevertheless, they defeated the leading team Levante in the last round and proved their quality.
Inter Movistar is weaker than previous years according to the fact they were left without top players such as Ricardinho, Spaniard Carlos Ortiz and Brazilian pivot Humberto who all went to ACCS Paris. But they brought several new players such as Boyis from Barcelona, Cecílio from Levante and Martel and Dani Saldise from Osasuna.
Just like Barça, Inter entered new season not as expected, with only 11 points in 6 matches.
European champion from 2019 Sporting Lisbon still has one of the best teams in the world. Besides national team members such as Fernando Cardinal, João Matos, Erik Mendonça and Pany Varela, Sporting's star players are Brazilian goalkeeper Guitta, naturalized Brazilians Alex Merlim and Diego Cavinato (Italia) and Taynan da Silva (Kazakhstan).
In the current season, Sporting has nine victories in nine matches and has scored 60 goals (more than 6 goals per game). Cardinal (13) and Cavinato (11) are the best league's scorers, and Merlim is the best assistant with 12 assists.
Benfica Lisbon won Portugal championship in 2019 (in 2020 Portugal didn't declare champions due to abandoned championship due to Covid-19). They currently have, just like Sporting. 9 victories out of 9 matches, but have scored 16 goals less than Sporting,
During the summer break, Benfica lost two Coelhos. André went to Barcelona and Bruno to ACCS Paris. However, the Futsal Eagles signed one of the best Russian players, Ivan Chiskhala (ex Gazprom-Ugra), Brazilian international Arthur (ex Barcelona), Iranian futsal star Hossein Tayyebi (ex Kairat) and Nílson Miguel (ex Braga).
Besides them, the leading players of Benfica are Portugal national team members Andé Sousa, Fábio Cecílio, Tiago Brito, Brazilian pivots Fits and Jacaré as well as the veteran Robinho (Russia).
KPRF dominantly won Russian championship (with nine victories in nine playoff matches) and ended third in Europe, after losing to hosts Barcelona on penalties in semi-finals.
Led by naturalized Brazilians Rômulo, Paulinho and Simi Saiotti, Spanish internationals Lin and Raúl Gómetz, Brazilian Nando as well as Russian national team members Aryom Niyazov, Yanar Asarov and Georgy Zamtaradze, 'Communists' certainly belong to the narrowest circle of favorites for the title.
ACCS Asnières Villeneuve 92 is a team which can be placed in all three categories – they are a debutant, dark horse, but we decided to put them in the "Favorites" category because of the pure quality in their ranks.
During the summer transfer window, Futsal Galacticos brought Ricardinho, Humberto and Carlos Oritz from Inter Movistar as well as Bruno Coelho from Benfica and one of the most trophied coaches Jesús Velasco. Even before those superstars came to the City of Light, ACCS had a great team with Serbian star goalkeeper Miodrag Aksentijević, two great Moroccans Bilal Bakkali and Soufiane El-Mesrar as well as France national team players Landry N'Gala, Abdessamad Mohammed and Souheil Mouhoudine.
Dark Horses
Several teams can be considered as the dark horses of the tournament. It the front row there is definitely Kazakhstan champion Kairat Almaty which can comfortably be placed among the favourites of the competition. Team with Higuita and Dudu between goalposts, Suleimanov, Tursagalov, Orazov, Edson and Douglas Junior in the play can definitely defeat every team on Earth.
Gazprom-Yugra Yugorsk is a two-time Russian champion (2015 and 2018) as well as European champion from 2016. Last year they lost in the finals against KPRF and have several Russian national team players (Davydov, Lyskov, Afansayev, Shisterov) and some naturalized internationals.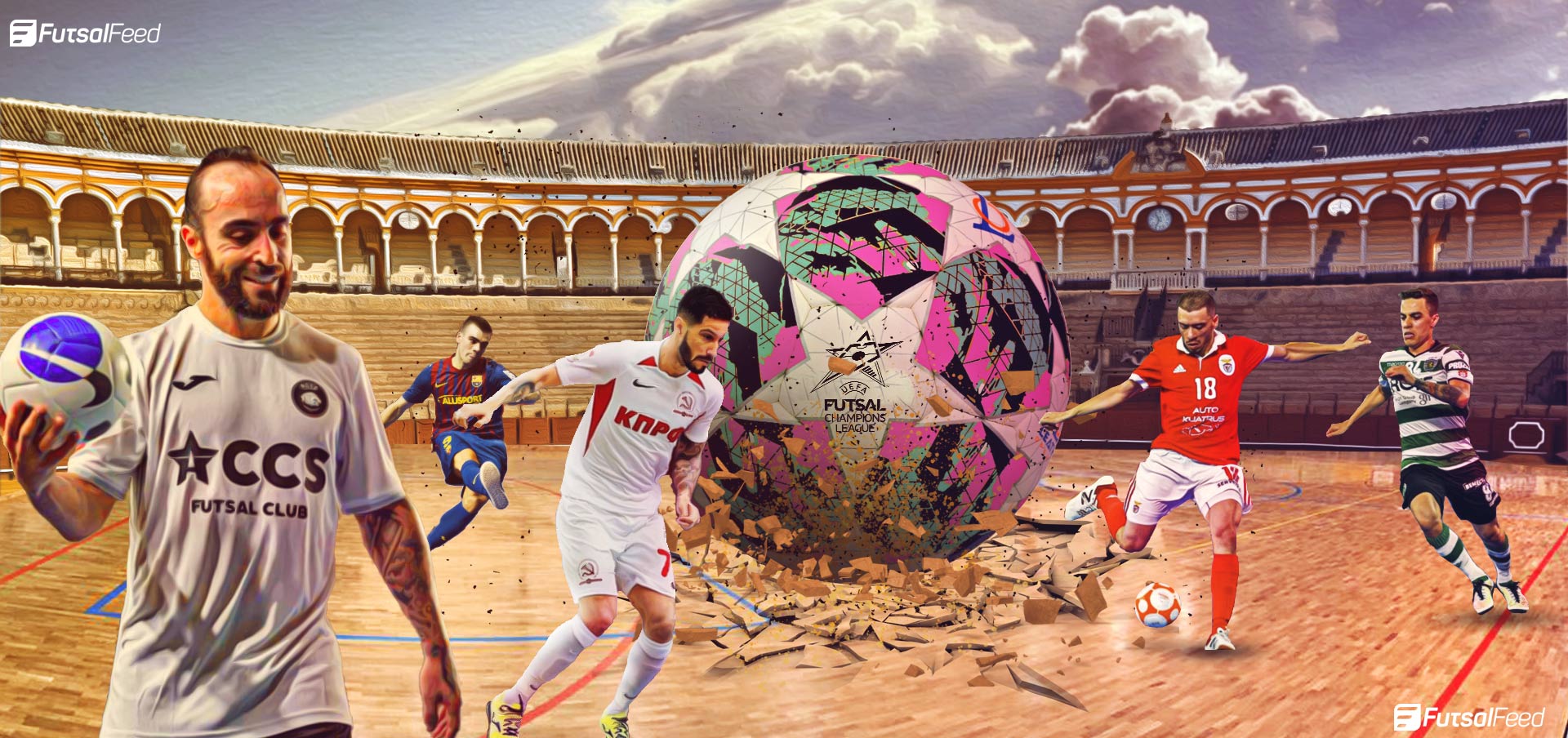 Slovenian Champion Dobovec is also a great team led by Croatian expert Kujtim Morina who gathered best players from Slovenia (Kristjan Čujec, Rok Mordej, Klemen Duščak 'Kleminho') and Croatia (Tihomir Novak, Vedran Matošević and Luka Perić).
Italian champion Italservice Pesaro is a team with several Internationals (Tonidandel, Gava, Taborda, Borruto, Salas, Guennounna), as well as Italian national team players and can also shatter the ambitions of any team.
Teams that can also be included in this group are Aktobe from Kazakhstan, Araz Nexçivan from Azerbaijan and Chrudim from the Czech Republic.
Debutants
In this year's edition, there will be 15 debutants out of which ACCS Paris is most recognizable. In the first round, they will play against Serbian champion Crvena Zvezda (futsal section of the famous Serbian football club).
Besides that match, it will be interesting to see the debutants from Croatia Olmissum Omiš (with several national team players such as Žarko Luketin, Kristijan Postružin, Matej Horvat, Stjepan Perišić and Josip Jurlina), and strong FC Salines Tuzla from Bosnia and Herzegovina.
All debutants: ACCS Paris (France), Akaa (Finland), Crvenza Zvezda (Serbia), Cherno More Varna (Bulgaria), Dolphins Ashdod (Israel), Hammarby (Sweeden), Olmissum Omiš (Croatia), Petrow (Latvia), Pristhina (Kosovo), Rosario Futsal (Northern Ireland), Salines Tuzla (Bosnia and Herzegovina), Swansea University (Wales), United Galati (Romania), Utleira Idrettslag (Norway)