With special enthusiasm, FutsalFeed is proud to present its first-ever player's shortlist for the FutsalFeed's Best Futsal Team 2020 Awards powered by Senda Athletics. The shortlists include players on five futsal positions: goalkeepers, defenders, right wings, left wings, and pivots. You, our dear readers, and worldwide futsal fans will be able to cast your vote for your favorite players on each of the positions to select the best player in 2020 for each of the positions.
(POLL AT THE BOTTOM OF THE ARTICLE)
---
Con mucho entusiasmo FutsalFeed se enorgullece en presentar la lista de los jugadores nominados para la primera edición del Premio FutsalFeed al Mejor Equipo de Futsal 2020, presentado por Senda Athletics. La lista de jugadores nominados incluye las 5 posiciones: arquero, cierre, ala derecho, ala izquierdo y pívot. Nuestros lectores y los fanáticos del futsal del mundo podrán votar para elegir en cada posición al mejor jugador del 2020.
---
Com grande entusiasmo, FutsalFeed tem o orgulho em apresentar a primeira lista de jogadores seleccionados (nominados) para o Prêmio de Melhor Equipe de Futsal de 2020 do FutsalFeed, com o apoio da Senda Athletics. O listado inclui jogadores nas cinco posições do futsal: goleiro, fixo, ala direito, ala esquerdo e pivô. Vocês, nossos queridos seguidores e torcedores mundiais de futsal, poderão votar nos seus jogadores favoritos para escolher o melhor jogador em 2020 para cada uma das posições.
(PISCINA NO FINAL DO ARTIGO)
---
Every team needs a coach and we have that covered as well. We have shortlisted six big coaching names from this year and it is your job to vote for one who you think was the best in 2020!
From Thursday, 17th December to Wednesday 30 December, we choose the best team of the year!
To not interfere in Futsal Planet's Annual Awards for best players, teams, and coaches, we do not choose the best player in 2020., but the best players in 2020 in every position (and one coach)!
The concept is simple… the futsal profession has chosen the top 6 futsal names on every position (goalkeepers, defenders, left wings, right wings, pivots, and coaches). You, our dear readers and futsal enthusiasts, will choose the best among them in our pool.
The player who gets the most votes in every position will become part of FutsalFeed's best team in 2020.
Think hard, choose wisely and select your Best Futsal Team 2020 powered by Senda Athletics!
Goalkeepers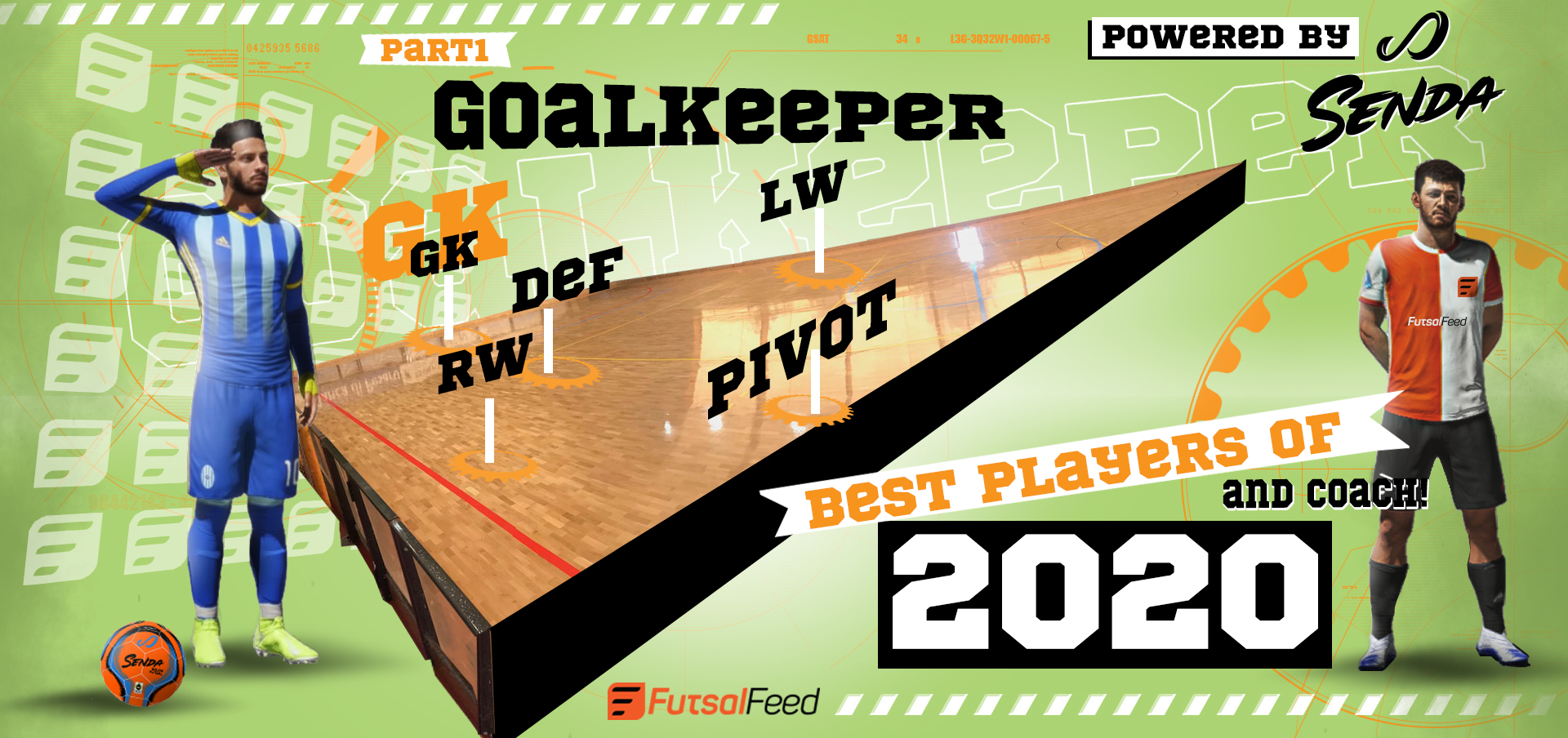 Leonardo de Melo Vieira Leite "Higuita" (Kairat Almaty/Kazakhstan), from famous Kairat Almaty, this Brazilian with a Kazakh passport continued to woe the world leading his team to another championship and his national team through the group qualification stage to another Futsal World Cup!
Nicolás Sarmiento (Palma Futsal/Real Betis/Argentina) is currently sitting at the top of the league table in Spanish LNFS with his Palma Futsal. Besides, he won the qualification tournament for the World Cup with his Argentina.
Ondřej Vahala (Sparta Praha/The Czech Republic) is the Czech national team goalkeeper who was instrumental in his team's qualification for their fourth Futsal World Cup. Especially in the final playoff match against Croatia.
Stefano Mammarella (Acqua e Sapone/Italy) with 36 years on his back, Mammarella is the most experienced goalkeeper in this competition. Nevertheless, this season, he is convincingly first in Italian Seria A with his team, who still have not recorded a loss with him at goal.
Thiago Mendes Rocha "Guitta" (Sporting Lisbon/Brazil) plays for the currently leading team in Portugal championship and is the Brazilian goalkeeper who represented his country in the South American qualification tournament's finals for the World Cup.
"Willian" Felipe Dorn (Joinville/Brazil) was recently elected into the Brazilian LNF Team of the Year. He found himself on this list after some great performances with his Joinville, who reached the LNF semifinals in which they lost against Corinthians.
Defenders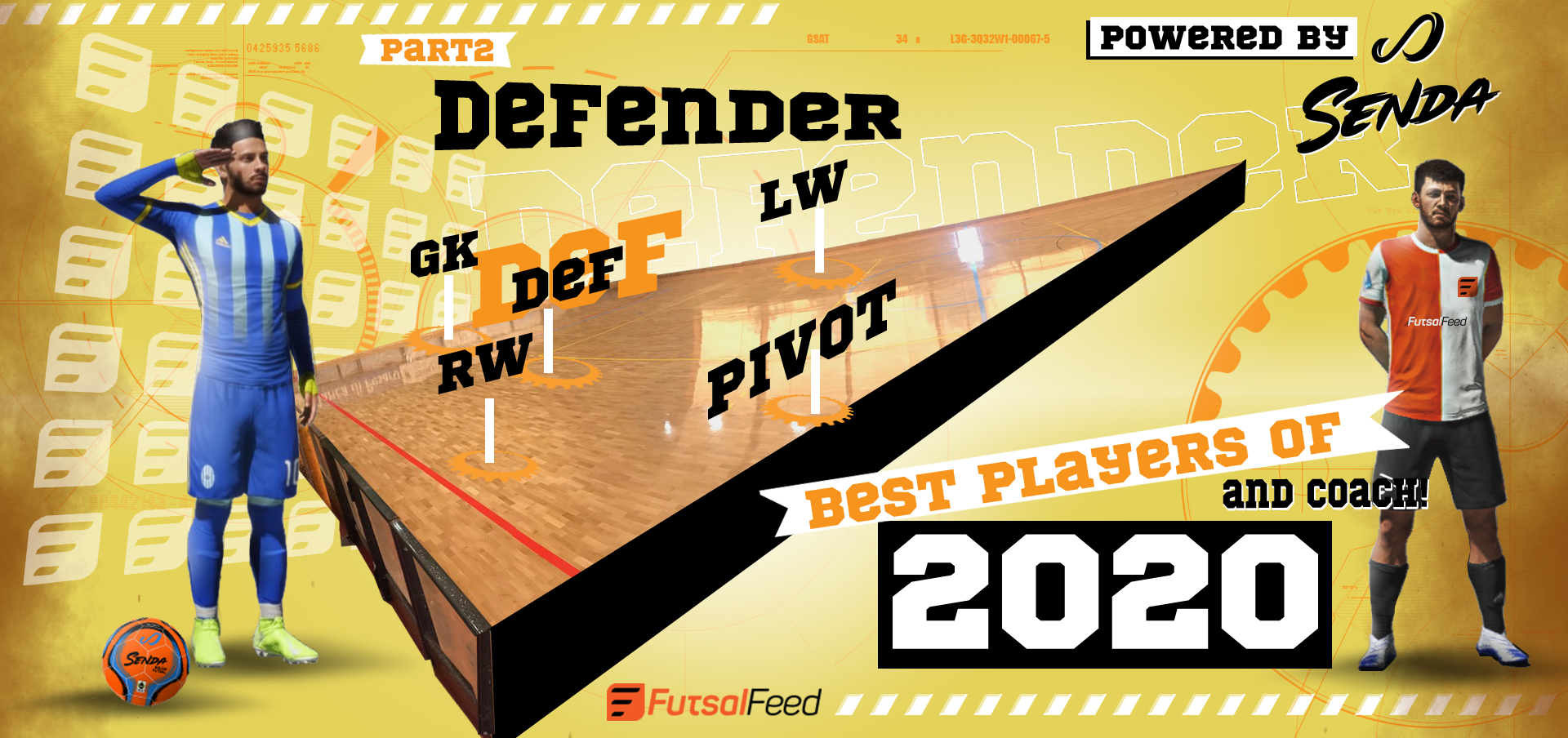 Bilal Bakkali (ACCS/Morocco) is a Moroccan international who plays in France champion ACCS. He led Morocco with plenty of assists in the Africa Cup of Nations 2020 campaign, won the international tournament Futsal Week and is one of the leading players of ACCS.
Carlos Ortiz Jiménez (Inter Movistar/ACCS/Spain) is one of the best Spanish players. This year he won the Spanish Championship with Inter Movistar, qualified for the World Cup with Spain, and currently is one of the leaders of mighty France champion ACCS.
Douglas Júnior da Silva Negreiros (Kairat Almaty/Kazakhstan) is a Brazilian-born Kazakh futsal player who plays for the famous Kairat Almaty. He is a multi-purpose player who scored four goals against Slovenia and Czechia in Kazakhstan's road to Futsal Mundial 2021.
Maximiliano Daniel Rescia (Levante/Argentina) plays in one of the best Spanish teams Levante (Rescia scored four goals in the current campaign). Last season he played a significant role in Barcelona's elimination in the league's quarterfinals. He had qualified with Argentina for the Futsal Mundial.
Rodrigo Hardy Araújo (Magnus Futsal/Brazil), Brazilian national team, and Magnus Sorocaba Futsal player. Magnus is the current finalist of the Brazilian championship. In 19 previous matches, Magnus has 16 victories and only three draws. He qualified with Brazil for the 2021 World Cup.
Rômulo Alves Nobre (KPRF/Russia) has charged Russia to the Futsal World Cup (goals against Azerbaijan and Croatia) and his team KPRF to their first Russian championship. He also scored against Barça in the Futsal Champions League semifinals and eventually won third place in Europe.
Left Wings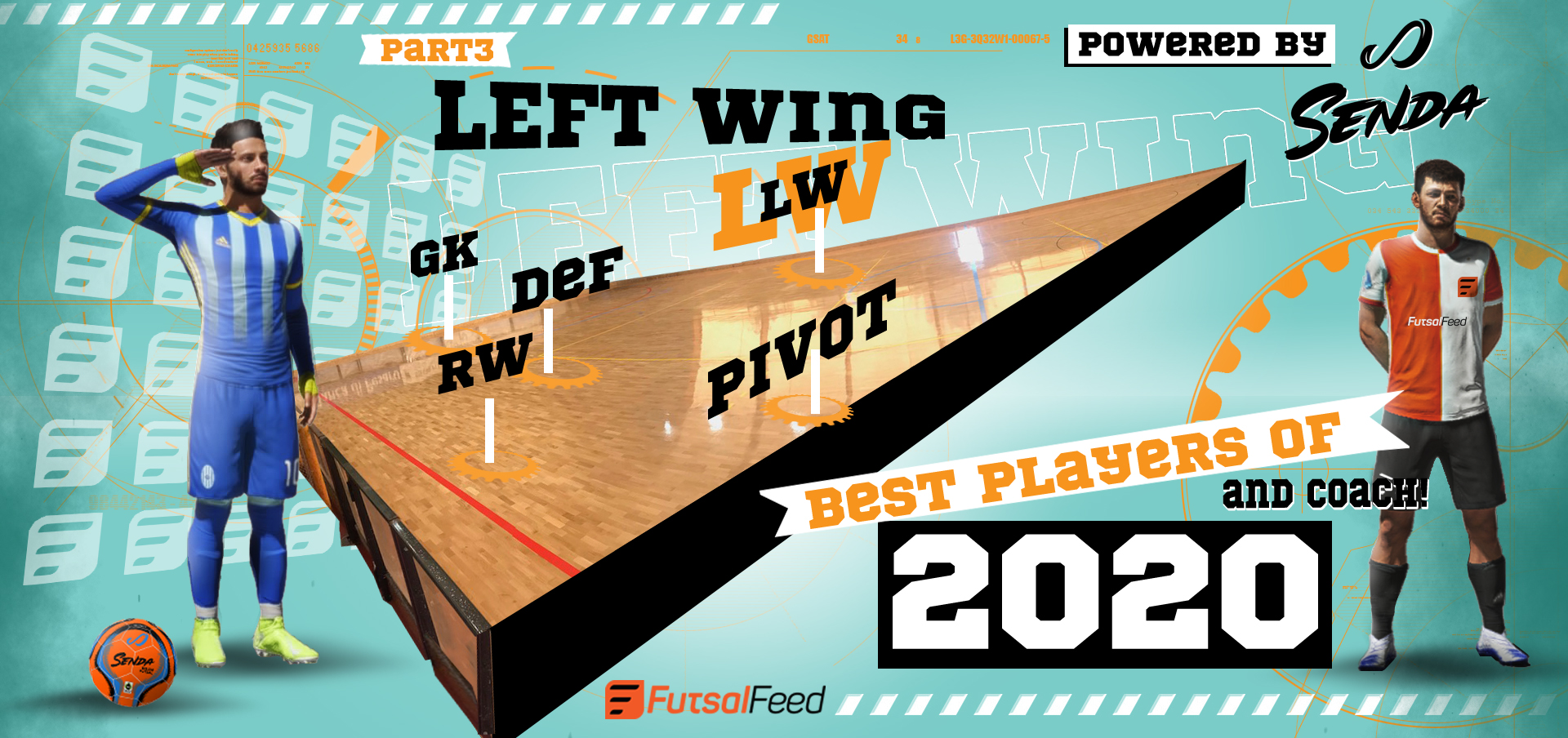 Hossein Tayebi (Benfica/Iran) transferred to Portuguese giants Benfica after successfully clinching another title with Kairat Almaty in Kazakhstan. Now he is instrumental in his team's success, having scored six goals already.
Leandro Cuzzolino (Levante/Pesaro Italservice Calcio a 5/Argentina) helped his former team Levante earlier this year to knock-out Barca from the LNFS playoffs. Later he helped his national team clinch the World Cup qualification tournament in South America and now continues his good form in Pesaro.
Leonardo Caetano Silva "Leozinho" (Magnus Futsal/Brazil) was recently elected as the best-left wing in Brazilian LNF. In 19 league games with Magnus this season, Leozinho doesn't know for defeat and plays in the league's final with eight goals on his tally. He also scored for Brazil in the South American qualification tournament for the World Cup.
Marko Pršić (FON/Serbia) is part of one of the best teams in Serbia. His five goals for the Serbian national team throughout the qualification groups and playoff have been invaluable as Serbia qualified for the World Cup ahead of Finland. In this duel, Pršić also was a key figure.
Rafa Santos (Nagoya/El Pozo/Brazil) won the Japanese title with Nagoya earlier this year. He was also elected to the Japanese Futsal Team of the Year. He then transferred to ElPozo Murcia, where he already scored six goals in this year's campaign.
Ricardo Filipe da Silva Braga "Ricardinho" (Inter Movistar/ACCS/Portugal) is one of those multipurpose players who can play on every position. After clinching another Spanish LNFS title with Inter FS, the Portuguese maestro went to French giants ACCS, where he is yet to lose a match. He scored five goals in the process, shared invaluable advice, and helped Portugal qualify directly to the Futsal World Cup.
Right Wings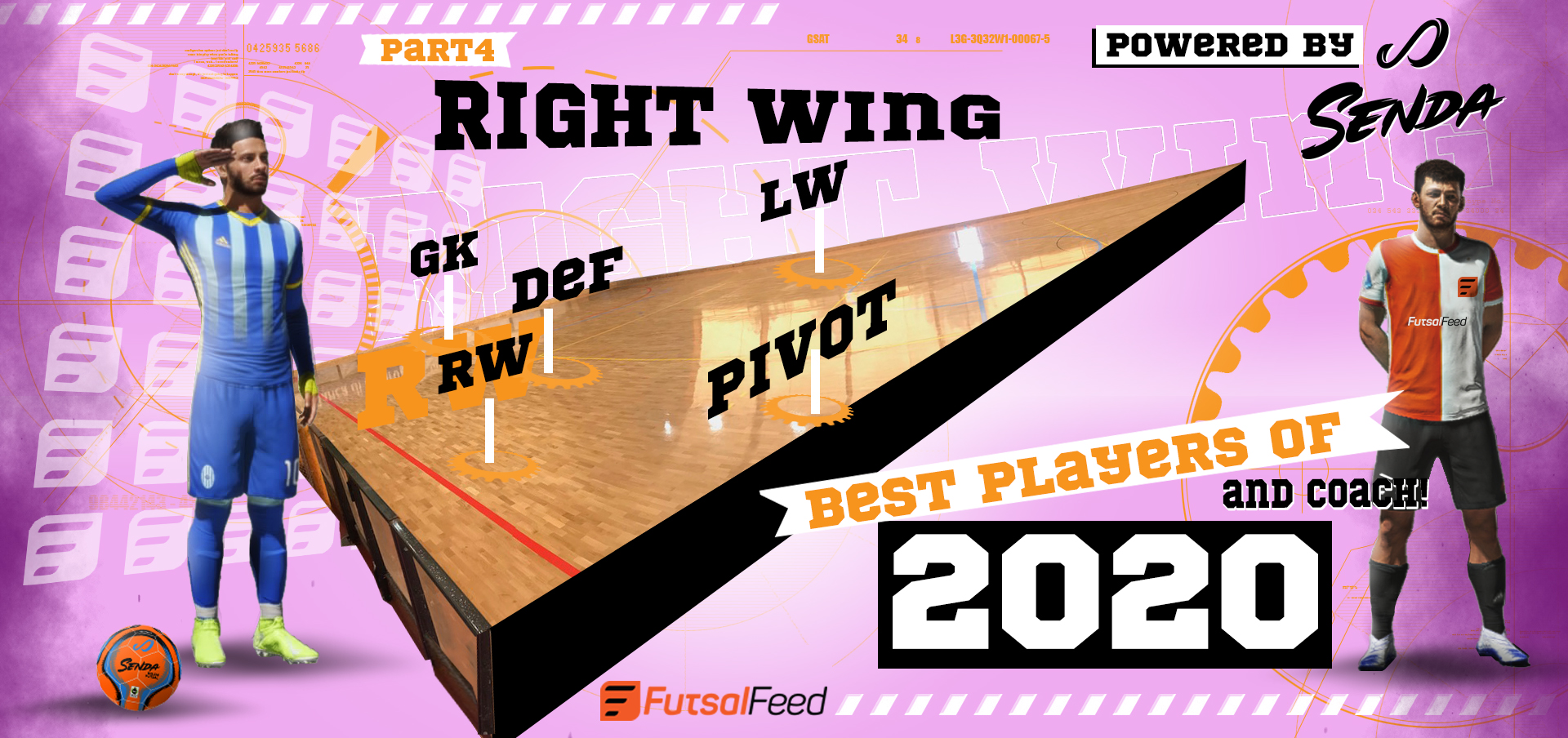 Constantino Guillermo "Vaporaki" Tello (Boca Juniors/Argentina) was one of the leading Argentinian players in the World Cup qualification tournament, which Futsal Gauchos won after defeating hosts Brazil in finals 3:1 with Vaporaki scoring one goal (fourth on the tournament).
Dyego Zuffo (Barcelona/Brazil) is a Brazilian international who plays for Barça. He scored in the Champions League finals against ElPozo, won Spanish Cup, and qualified with Brazil for the 2021 World Cup. He scored four goals in the current LNFS campaign.
Fabricio Bastezini "Gadeia" (Inter Movistar/Kairat/Brazil) is a Brazilian international who won the Spanish championship with Inter Movistar. Gadeia was also the leading goal scorer (8 goals) of the 2021 World Cup qualification tournament (Brazil lost in finals against Argentina).
Juan Gómez Salas "Cholo" (El Pozo/Paraguay), a famous Paraguayan international who played Champions League finals with ElPozo Murcia (lost against Barça) and qualified for the World Cup with Paraguay defeating Colombia, Perú and Ecuador.
Sergio Lozano (Barcelona/Spain) is another Barça's right-wing on this list. Lozano led Barcelona to the European championship (scored in semifinals), Copa de España, and qualified for the Futsal World Cup (scored twice against Ukraine in the Elite round).
Yanar Asadov (KPRF/Russia) is an extremely talented young dribbler who played a significant role in KPRF's road to the Russian championship and third place in Europe (Asadov scored in semifinals and match for third place). He also qualified for the World Cup with Russia.
Pivots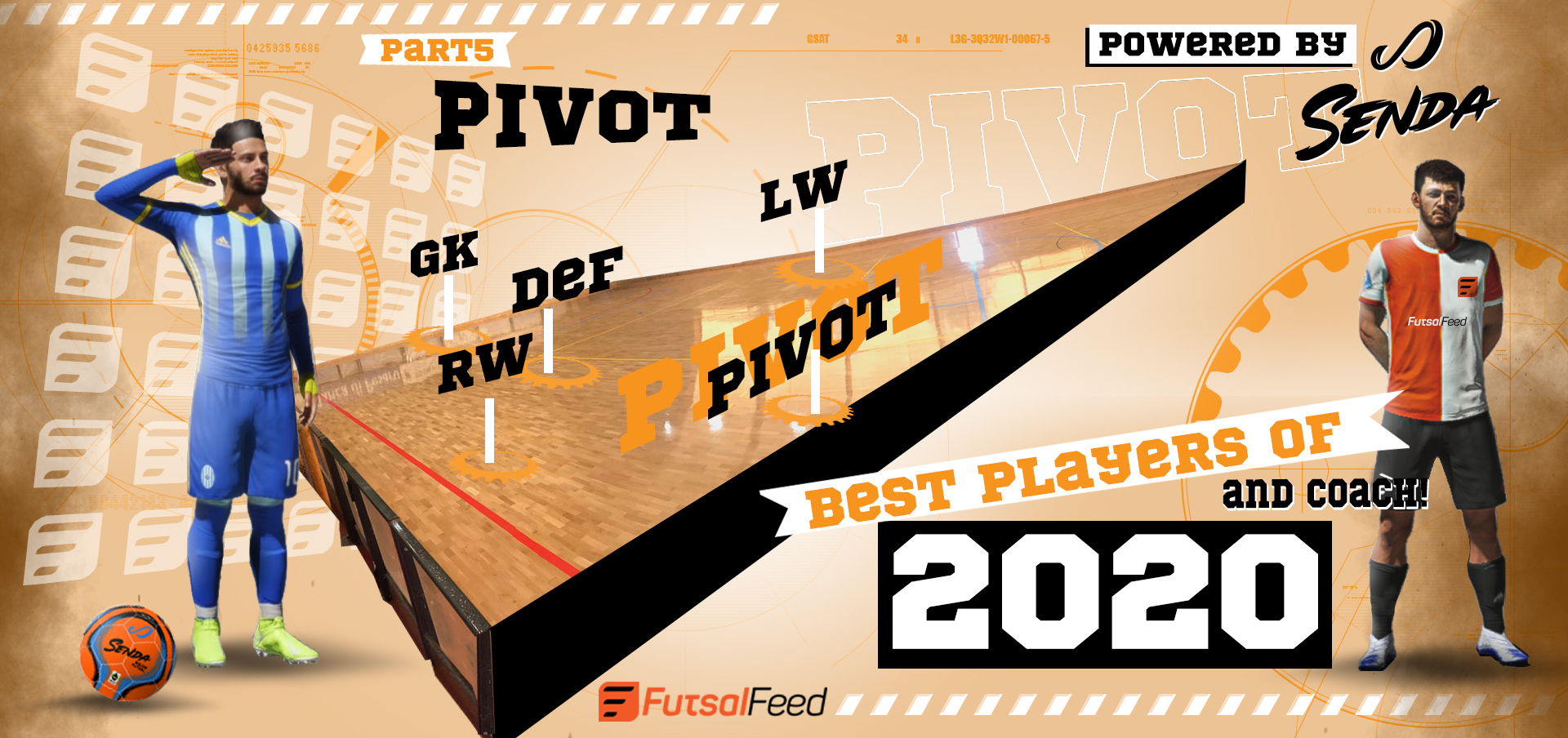 Carlos Vagner Gularte Filho "Ferrao" (Barcelona/Brazil) is, was, and will be the key figure in the Brazilian national team, which he proved this year as well. On top of that, he was one of the leading figures in Barcelona's push to the Champions League title this year, having scored a goal, a penalty, and making an assist. He continues to be Barca's dominant figure in the LNFS.
Cristian Borruto (Pesaro Italservice Calcio a 5/Argentina) was dominant at the start of the year with Italservice Pesaro and was a key figure in their success before the competition god abandoned. He continued his great form clinching the South American qualification tournament for the World Cup, with Argentina having scored in the final against Brazil. Borutto continues with his excellent form this season in Italy as well.
Deives Moraes (Corinthians/Brazil) is having a brilliant season with Brazilian giants Corinthians. After leading them to the Super Cup victory earlier, he plays in the LNF final, where he already scored in the first match. In total, Deives has impressive 14 goals on his tally this season.
Javier Garcia Moreno "Chino" (Valdepeñas/Spain) helped his team earlier this year reach the Spanish championship final as he was instrumental in that success. This season, he has eight goals out of 9 matches that he played and scored against Brazil in a recent friendly match. Great individual effort.
Jean Pierre Guisel Costa "Pito" (Inter Movistar/Brazil) is another Brazilian international with great individual success this year, having helped his national team reach the final of the South American qualification tournament for the World Cup and scoring in the final. He is also a key figure in Inter's system, where he scored five goals in this year's campaign.
Raúl Gómez (KPRF/Spain), a Spanish international, was instrumental in the KPRF's title-clinching historical success in Russia. He then played an important role in the UEFA Futsal Champions League Final Four tournament and continues to awe by his performances in Russia and Spain national team.
Coaches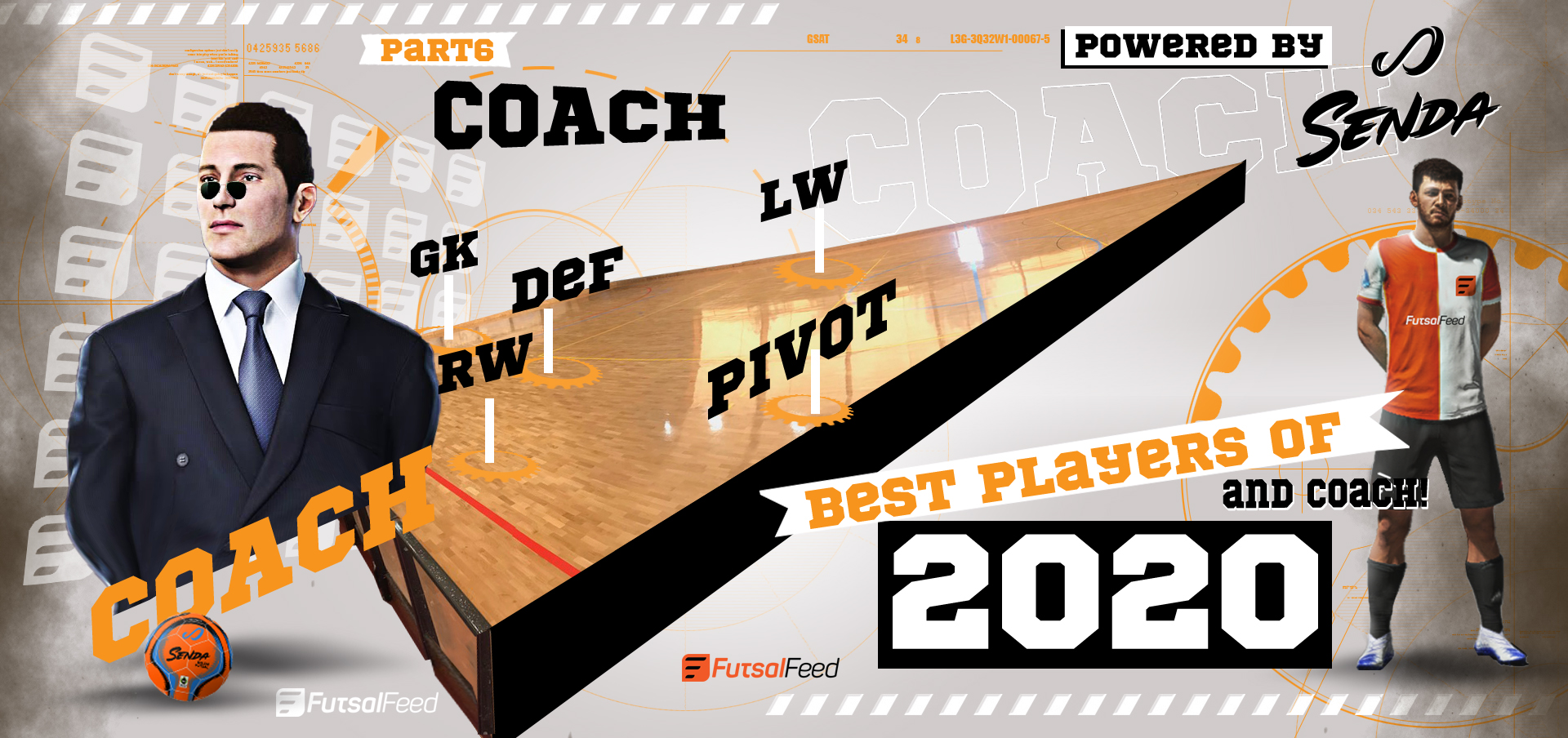 Andreu Plaza (Barcelona/Spain) Barça's head coach led Futsal Blaugrana in two title campaigns in 2020 – he won European Champions League and Spanish Cup. For a perfect year, he missed winning Spanish Championship (lost in quarterfinals).
Freddy González (Venezuela NT/Venezuela) led Venezuela for their first-ever World Cup qualification. After the loss against Argentina, Venezuela defeated Bolivia (3:0), Uruguay (5:1), and Chile (3:2) in World Cup qualifiers and secured a historic result.
Goran Ivančić (Serbia NT/Serbia) Serbian national team coach who led his team and qualified for Serbia's second World Cup in history. Serbia defeated Ukraine and France in the Elite round qualifying stage and Finland with 6:5 on aggregate in the playoffs.
Hicham Dguig (Morocco NT/Morocco) led Morocco to their third World Cup qualification in a row. At the beginning of a year, Marocco dominantly won the African Cup of Nations with an impressive goal-difference of 24-1. A few weeks later, Morocco dominantly won the international FutsalWeek tournament.
Ricardo Di Izeppe "Ricardinho" (Magnus/Brazil) coach of Brazilian finalist Magnus Sorocaba. In 19 league matches in 2020, Magnus has 16 victories and three draws. Ricardinho was also voted for the best coach in the Brazilian LNF.
Tomaš Neumann (Czechia NT/The Czech Republic) led the Czech Republic to a 3:1 win against Slovenia and 4:0 against Romania in the Elite round. As an underdog, they defeated Croatia after two 2:2 draws, including a penalty shootout, and sensationally qualified for the World Cup.
Honorable Mentions
Like with every similar list and competition, there are always numerous players (and staff!) who deserved to be placed on the awards shortlist. But, for some reason, they did not make the cut. This is the case with FutsalFeed's Best Futsal Team 2020 Awards as well.
Players and staff mentioned here have found their way to some of our expert's and editorial staff shortlists, but had to be left out for one reason or another. This is not to take something away from them, but to give them recognition for a fantastic futsal year they had. This is to thank them for giving us enjoyable and memorable futsal moments in a year that has been one of the most challenging in a long time for everyone in the world – we'd like to include them in our honorable mentions and wish to see them having another great (or even better!) futsal year next year!
Honorable mentions, sorted alphabetically: Alan "Brandi" Cuasnicú, Alex Rodrigo da Silva "Merlim", Andre Henriques Nunes Coelho, Artem Niyazov, Arthur Guilherme de Sousa Fortunato, Ayala Gary, Bruno Alexandre Dias Coelho, Carlos Espindola, Carlos Sanz, Dario Marinović, Daniel Saldise Martinicorena, Diego Simoni Cavinato, Dragan Tomić, Edelson Robson dos Santos "Robinho", Éder Fermino Lima, Elisandro Teixeira Gomes, Fabio Cecilio, Felipe Paradynski, Fernando Alberto dos Santos Cardinal, Fits, Francisco Javier Solano León, Ivan Chishkala, Jesús Nazaret Aicardo, Jesús Viamonte, Jovan Lazarević, Juha-Matti Savolainen, Jukka Kytölä, Kristjan Čujec, Lucas Martín Tripodi, Marcel de Mendonça Marques, Marcelo Gimenez, Michal Holý, Nacho Salgues, Nikolay Timofeyevich Antoskhin, Panu Autio, Rafael Katsutoshi Henmi, Santiago Pablo Basile, Soufiane El Massar, Taynan Da Silva Rego, Tiago Filipe Alves Brito, Tomáš Drahovský, .
Coaches: Carlos Chilavert, Diego Guistozzi, Marquinhos Xavier, Mićo Martić.

VOTE FOR THE FUTSALFEED BEST TEAM IN 2020: