Dear futsal enthusiasts,
this letter is referred to you. If you already don't know, FutsalFeed is a futsal website with a mission to become the number one place for all futsal enthusiasts around the world.
We are bringing you the latest futsal news from around the globe. We also create original content and columns by leading futsal experts. Besides, we share content from other relevant global futsal websites such as FutsalPlanet, FutsalFoucs, Uefa.com, etc.
Recently, we started our columnist section and are slowly building a columnist network. Currently, we have three respectful futsal names who are bringing experts' point of view to our readers. Quite soon we will announce more eminent futsal personas who will become a part of our team.
However, FutsalFeed is also a website on which everyone can create news or add an event and bring it to the attention of the futsal world.
At this moment, we are the most visited futsal website in the world and the no.1 website when you search on Google with keywords "futsal news" and "futsal news website".
So, tell us, why not take advantage of such a platform and promote your content, events and opinions on it?
Therefore, we invite all futsal enthusiast to send us information and stories from your part of the world. We invite local futsal journalists and websites to become our correspondents from their part of the world.
You can send us news quite easily - just go to the top right corner of the web page and click SEND NEWS :)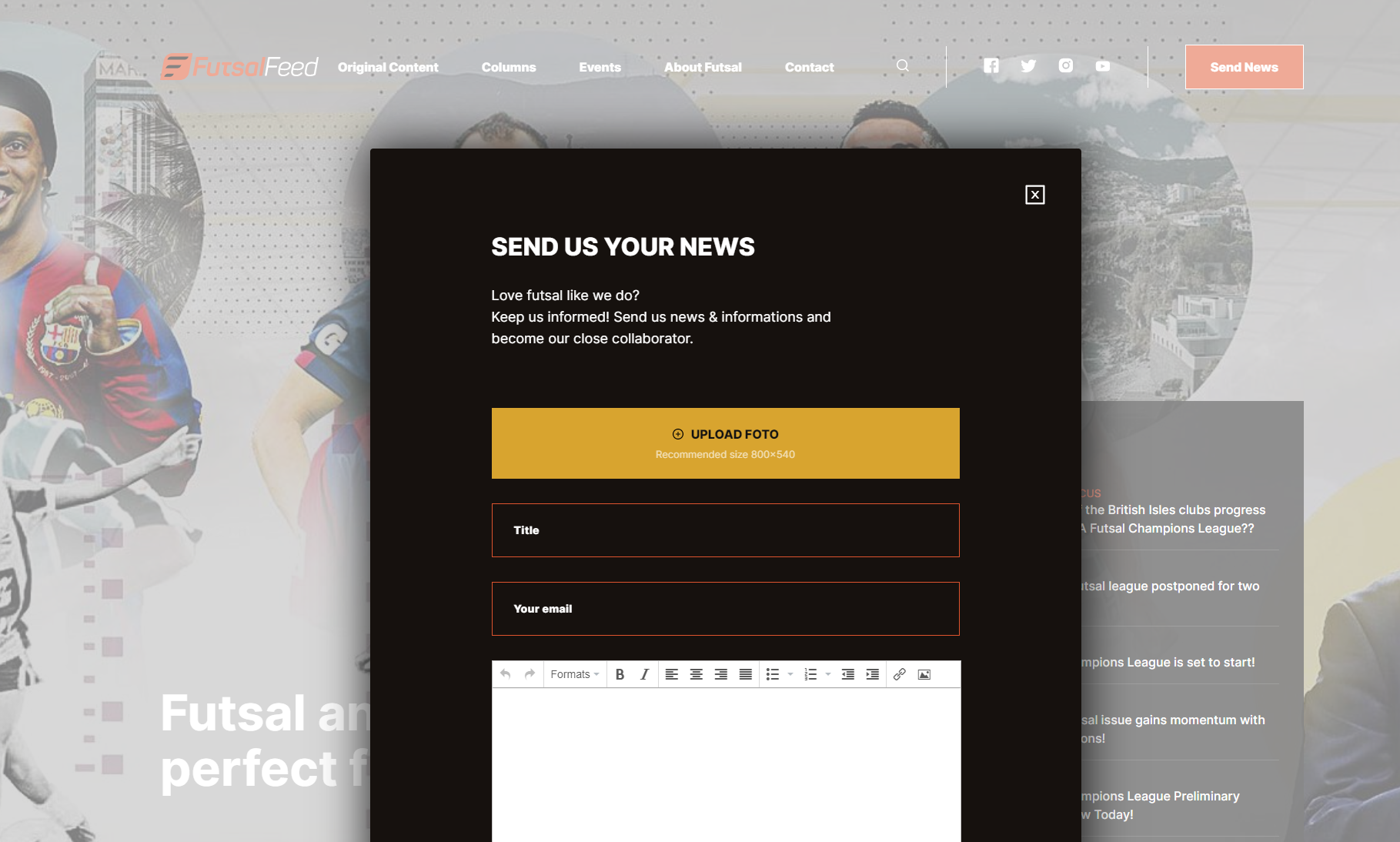 We, also, invite volunteers who:
want to develop their journalistic (and marketing) skills,
want to acquire knowledge in sports journalism and sports marketing,
want to gather invaluable experience in sports journalism and sports marketing,
want to get futsal (and writing) references which will help them in their further careers,
want to make connections and get contacts from the world of futsal,
want to promote their futsal content,
want to develop their English skills,
want to help in promoting this wonderful sport…
… to contact us and become a part of our team. If you are not perfect in English, it is OK. We have people who will proofread and correct your texts.
Unlike football, basketball and other "traditional" sports, futsal is not adequately covered on a global level. Our mission and vision are to help futsal get the coverage it deserves.
We invite you to become a part of our team. We invite you to help futsal become one of the most popular sports in the world.
P.S. If you don't have time or, for any reason, you don't want to become a part of our team or correspondence network, but you like our work and would like to support the project, you can become FutsalFeed's PATREON.