The tenth edition of the FIFA Futsal World Cup will be held from September 6th to October 5th at an undisclosed location.
Eight nations have submitted applications to host the tournament: Iran and India from Asia (AFC), Morocco from Africa (CAF), and Guatemala, USA, Mexico, and Nicaragua from North America (CONCACAF).
Explore exciting sports betting options on Sportsbook.Fanduel.com today! (18+)
A total of 24 teams will qualify for the final tournament, with one country qualifying automatically as the host and 23 teams qualifying from continental competitions.
The defending champion is Portugal, and the Russia has been banned from participation due to its invasion of Ukraine.
The qualification process differs based on the continents: teams from Asia, Africa, North America, South America, and Oceania will qualify through their respective continental championships, while only European teams will go through a qualifying tournament.
The Elite round, played between September and December 2023, will feature 20 remaining European teams divided into five groups of four.
The group winners will qualify for the World Cup, and the four best-ranked second-placed teams will enter the playoffs.
Europe will eventually have seven participants in the World Cup. The Elite round playoffs will take place from April 8th to 17th, 2024.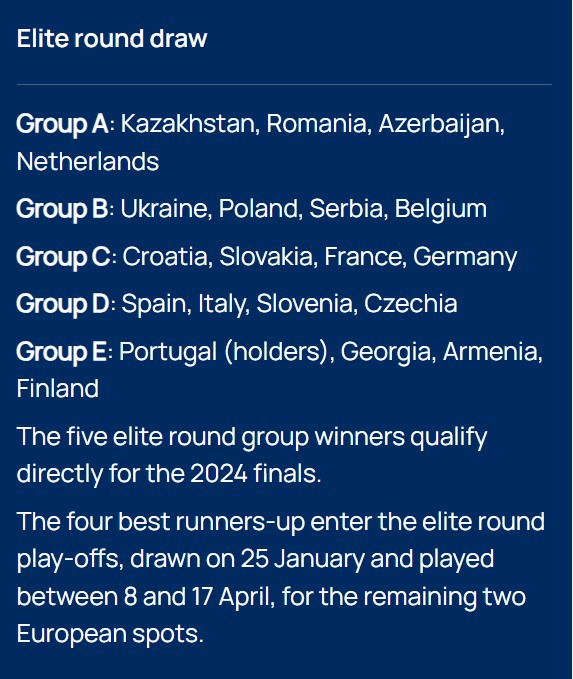 Share your thoughts on the World Cup qualifiers in our Facebook comments.
If you have a favorite team, feel free to explore a wide range of sports on SportsbookFanduel.com and bet responsibly on your preferred teams and players (+18).