Week 14 of the Spanish LNFS has come to a close and Palma Futsal still hold the top of the table after sharing points with ElPozo Murcia in a 2-2 draw. Barcelona destroyed Real Betis with a convincing 7-0 away win, while Inter Movistar drew against Santa Coloma 3-3. With a 4-1 win against Ribera Navarra, Zaragoza recorder their third win of the season entering playoff spots. Jean and Peniscola drew 2-2.
>>> Levante get back on winning path
Murcia and Palma Futsal share points in a second half drama
ElPozo Murcia hosted Palma Futsal this weekend and as both teams had a lot to play for in this match, they both decided to play cautiously, without exposing themselves too much in front. This resulted in a goalless first half.
Guests opened the scoring in the second half thanks to a goal by Rosa in the 23rd minute. However, Murcia quickly bounced back. With two goals in space of two minutes, thanks to efforts by Fernando and Paradynski, Murcia equalized and took the lead by the 30th minute.
Having been put in a hard position, Palma Futsal gave everything to try and score before full time. Their efforts were rewarded in 39th minute, when Rosa scored his second goal of the match, making the final result 2-2.
This goal also secured a very important away point for Palma Futsal who still hold the top of the table in Spain.
Barcelona destroy Real Betis as Adolfo scores four
Unlike Barcelona who were in a two-win streak, Real Betis was on a two-lose streak. After this weekend's match-up, both teams extended their streak as Barcelona cruised over Betis with a big 7-0 away win.
Barcelona were breaking Real Betis defenses for a long time and finally managed to find the crack just before half-time. Dyego put the Catalan team in front in 19th minute.
If Real Betis thought at the start of the second half that they could turn thing around, their dreams were shattered by Adolfo who scored his first goal in the 26th minute. Few minutes later, Adolfo already had four goals on his tally.
Coelho and Daniel added one goal each by the end of the match for a big Barcelona 7-0 win which sees them now enter playoff spots. After their bad run at the start of the season which saw them bottom last, Barcelona now seem to have catch their breath and looking ready for the remainder of the season.
Inter grabs one point just before full-time
Santa Coloma gave visiting Inter a good run for their money as Madrid's team managed to grab one point thanks to a goal in the last minute. But, first things first...
Bruninho opened the scoring for the guests in the early phase of the match. However, Santa Coloma's Corso scored before half-time to equalize the result for the Andorra-based team.
In the early phase of the second half, however, Cardona first put the home team in the lead, and few minutes later, Slovakian international Drahovsky extended the lead for Santa Coloma.
Inter had to be more aggressive in front and they dully delivered. First Martinicorena scored in the 33rd minute and in the dying second of the match, Morales Barbado found the back of the net to equalize the match and split the points with Santa Coloma team.
With this 3-3 draw, Inter now sits comfortably in playoff spots, while Santa Coloma are one of seven teams with 16 points on the edge of playoff spots.
Zaragoza extend Ribera Navarra's poor run
Currently last in the championship, Ribera Navarra's poor form continued after playing away in Zaragoza. Interestingly, the away team opened the scoring and got in front in 8th minute thanks to effort by Gabriel Vasques. Unfortunately for them, that was all they managed to produce in this match.
In the very next minute, Zaragoza equalised after a goal by Jamur. Retamar put the home team in front before half-time and they were looking comfortably.
Retamar added one more goal for the home side in the second half, only for Rojas to confirm a nice 4-1 victory for Zaragoza who are currently 8th - last of the playoff spots, but there is still so much more to go.
Jaen and Peniscola share points
Jaen, who are in the relegation zone, are looking to collect any point they can to get out of the "Red Zone". Before this match, Peniscola had a bad streak of 6 matches without a victory in the LNFS, coupled with another loss in the Cup against a lower league side.
Jaen's Brandi put the home team in front in 13th minute. Peniscola's Tuli equalized for the visitors just before the break.
Then, in the second half, things got turned upside down. In 29th minute, Orzaez scored and put Peniscola in front. However, match was far from over when Michel equalized for Jaen in the 33rd minute.
Michel got sent off the match in the 38th minute after collecting his second yellow card in the match. Peniscola had advantage on the court but did not manage to score another one before full-time, ending this match with a 2-2 draw.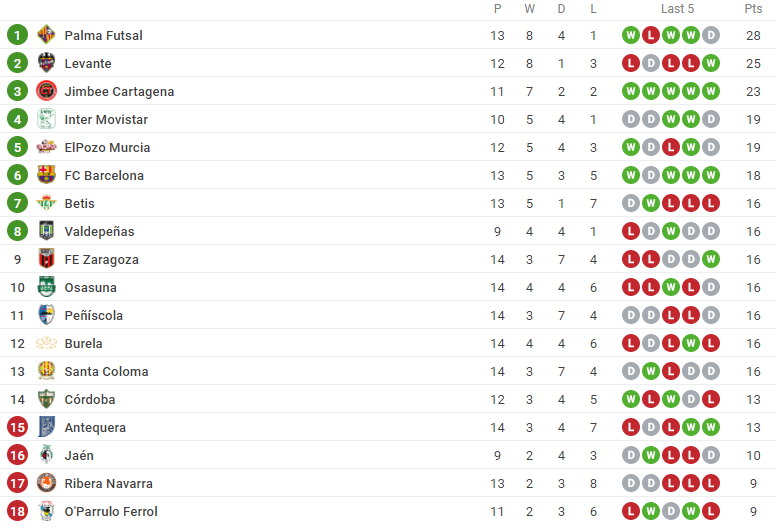 Best futsal goals, saves and plays from LNFS Week 14