In yesterday's (23 December) matches of the 15th round of Spanish LNFS, Jaen and Levante secured two away victories.
Jaén defeated the league leader Palma Futsal 3:2 with Felipe Mancha scoring the winning goal in the match's last minute!
The first half ended 1:1. Alan Brandi scored in 3rd, and Nunes equalized in 16. At the beginning of the second half, Mauricio scored for another Jaén's lead. In the 23rd minute, Fabio got a direct red card, but Jaén failed to score in a power play. Rosa managed to equalize 80 seconds before the end.
Palma continued to play with flying-goalkeeper, trying to win the match, but Mancha took advantage of that and scored 4 seconds before the end!
In the second match, between Inter Movistar and Levante in Madrid, Inter opened the scoreline in 3' with Martel's goal. However, Levante turned the result by the 16th minute after Gallo's and Esteban's goals. Saldise equalized in 18th for 2:2 at the half time.
In 25th Maxi Rescia (one of the candidates for the team of the season) scored third for Levante, and Rivillos secured the victory for the guests in the 40th minute. A few seconds later, Bruno Iacovino socred for the end result.
Palma and Levante end 2020 at the top of the table, with Palma having played two matches more. Jimbee Cartagena is third with one point (and two games) less than Palma. Inter is fourth with 5 points and three games less than Palma, and Barca fifth with seven points and one match less than the leading team.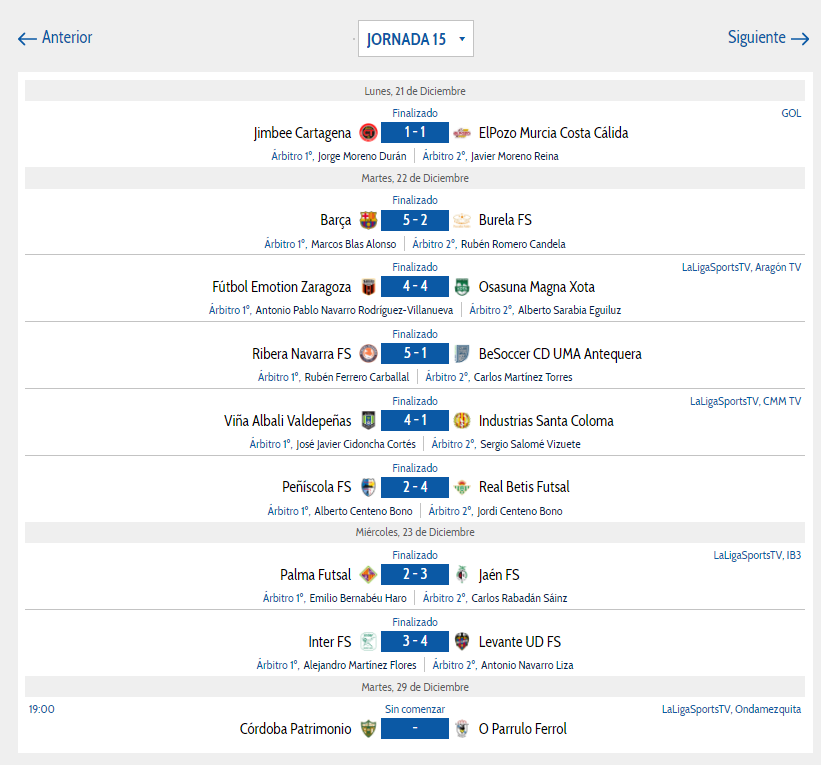 Table: