Last month, in cooperation with Senda Athletics, FutsalFeed has organized its inaugural awards for the best futsal team of 2020. Fans from all over the world had the opportunity to cast votes for their best futsal players on each position - including, of course, the best coach of 2020.
We registered close to 6000 unique votes. This kind of open and inclusive voting system for the best players of the year is unique in the worldwide futsal community and we are delighted that Senda Athletics were our main partners in this award ceremony.
Senda Athletics will provide unique futsal shoes to each of the winners who will find their names embroidered on the side of their Senda futsal shoes. This little detail makes each pair one of a kind in the world and a proper collectors memorabilia.
One last time before the next year's awards (wink-wink), we'd like to present the winners of the inaugural FutsalFeed Best Team of 2020 Awards powered by Senda Athletics!
Best Futsal Team of 2020 - Goalkeeper - Thiago Mendes Rocka "Guitta"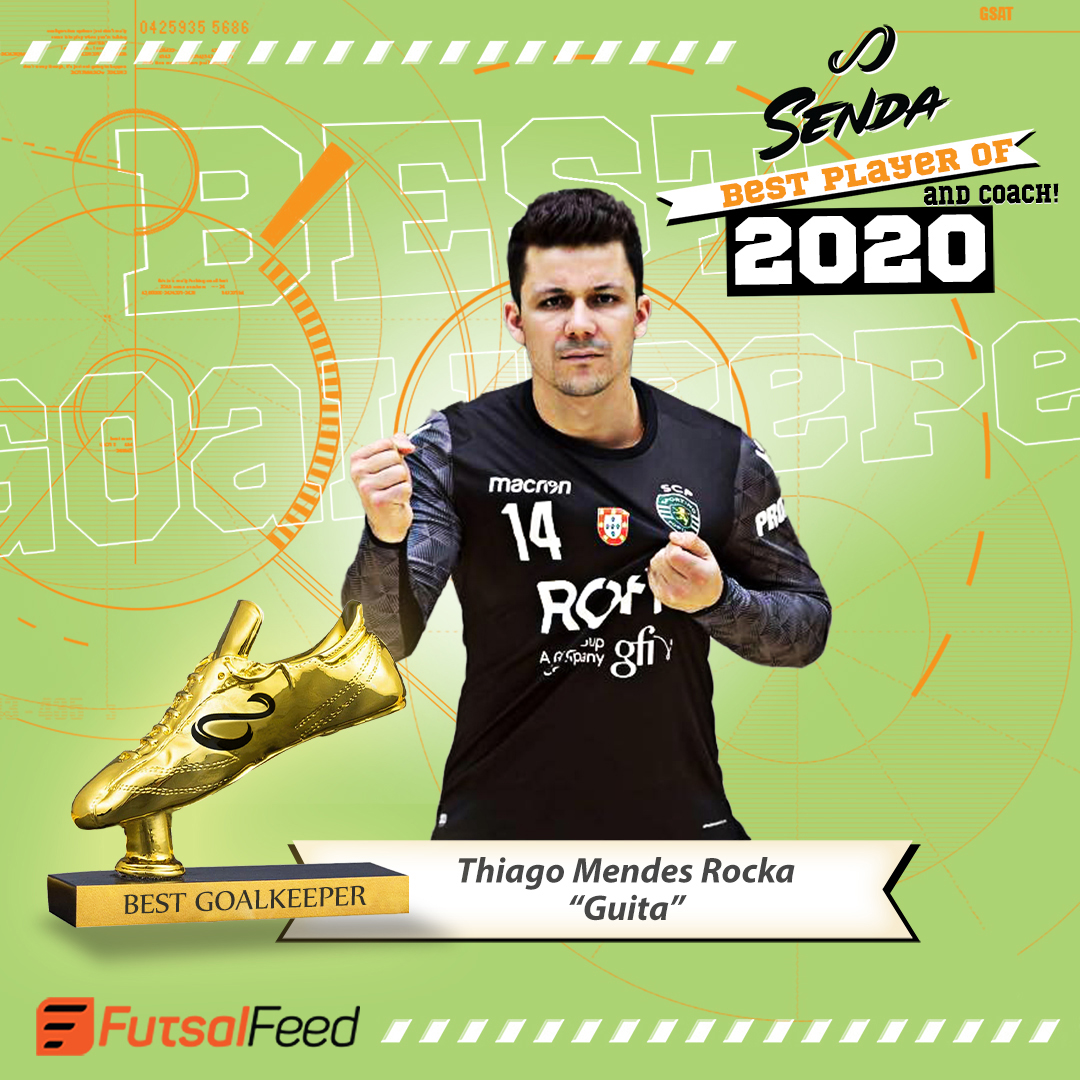 Brazilian international goalkeeper Thiago Mendes Rocka "Guitta", a magician who showed the full scale of his talent in the 2020 season representing green-and-white Lions from the Portuguese capital Lisbon, has taken the title of the best goalkeeper in 2020 season by winning 21% of your votes. The FutsalFeed team wants to congratulate Guitta on this award and we are looking forward to the new season to see what kind of magic Guitta has to offer!
Best Futsal Team of 2020 - Defender - Rodrigo Hardy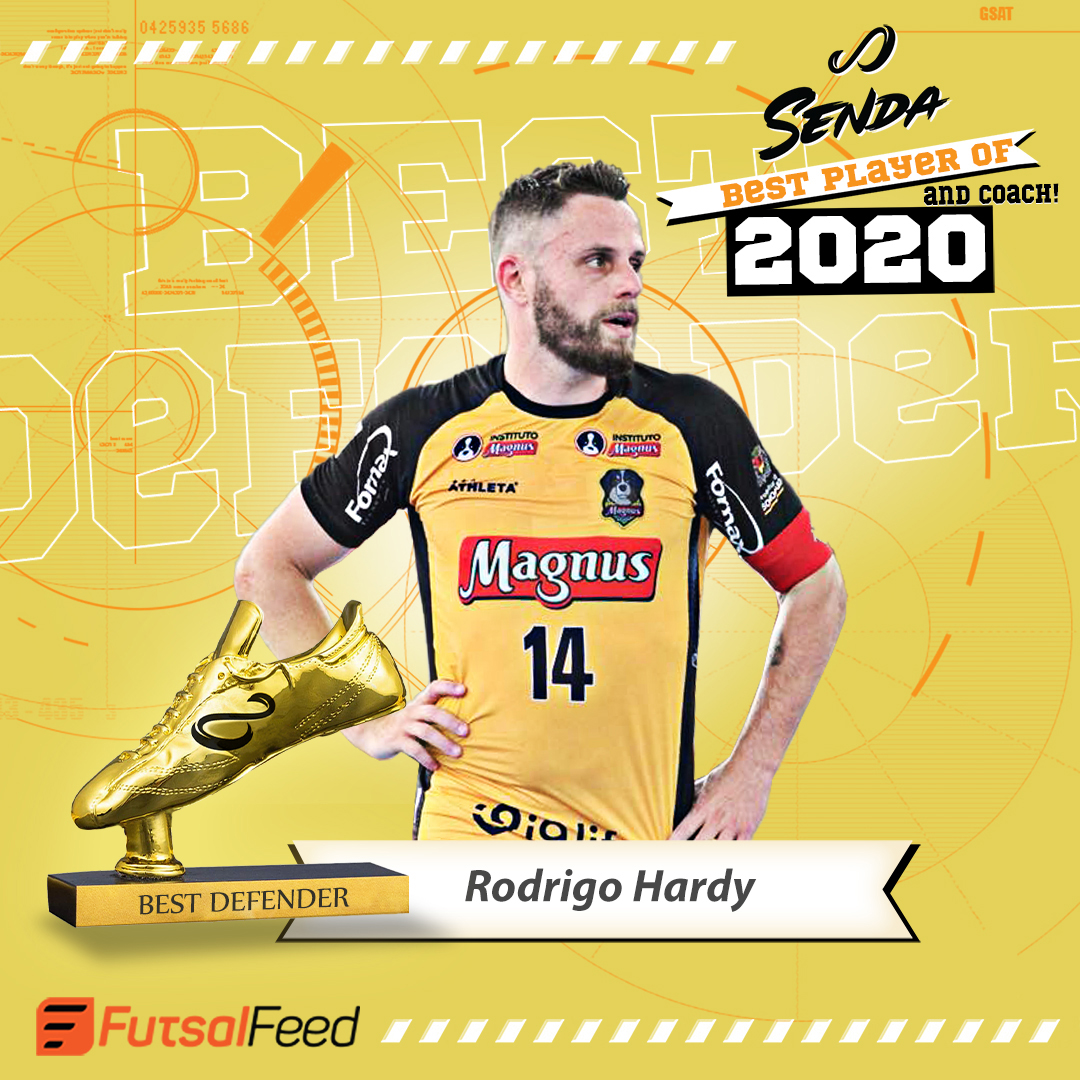 The award for the best defender was the most exciting category in this year's competition and the winner was decided in the final moments of the countdown. Brazilian national team defender Rodrigo Hardy was chosen by the fans for the title of the best defender of 2020. This award comes as a second big achievement for Rodrigo this season since he also won the Brazilian championship with his club Magnus Futsal (and State championship!) and managed to complete the season with an undefeated record of 17 wins and 3 draws. The FutsalFeed team sends their best regards to Rodrigo and are all excited to see more of his extraordinary talent in 2021!
Best Futsal Team of 2020 - Left Winger - Ricardo Filipe da Silva Braga "Ricardinho"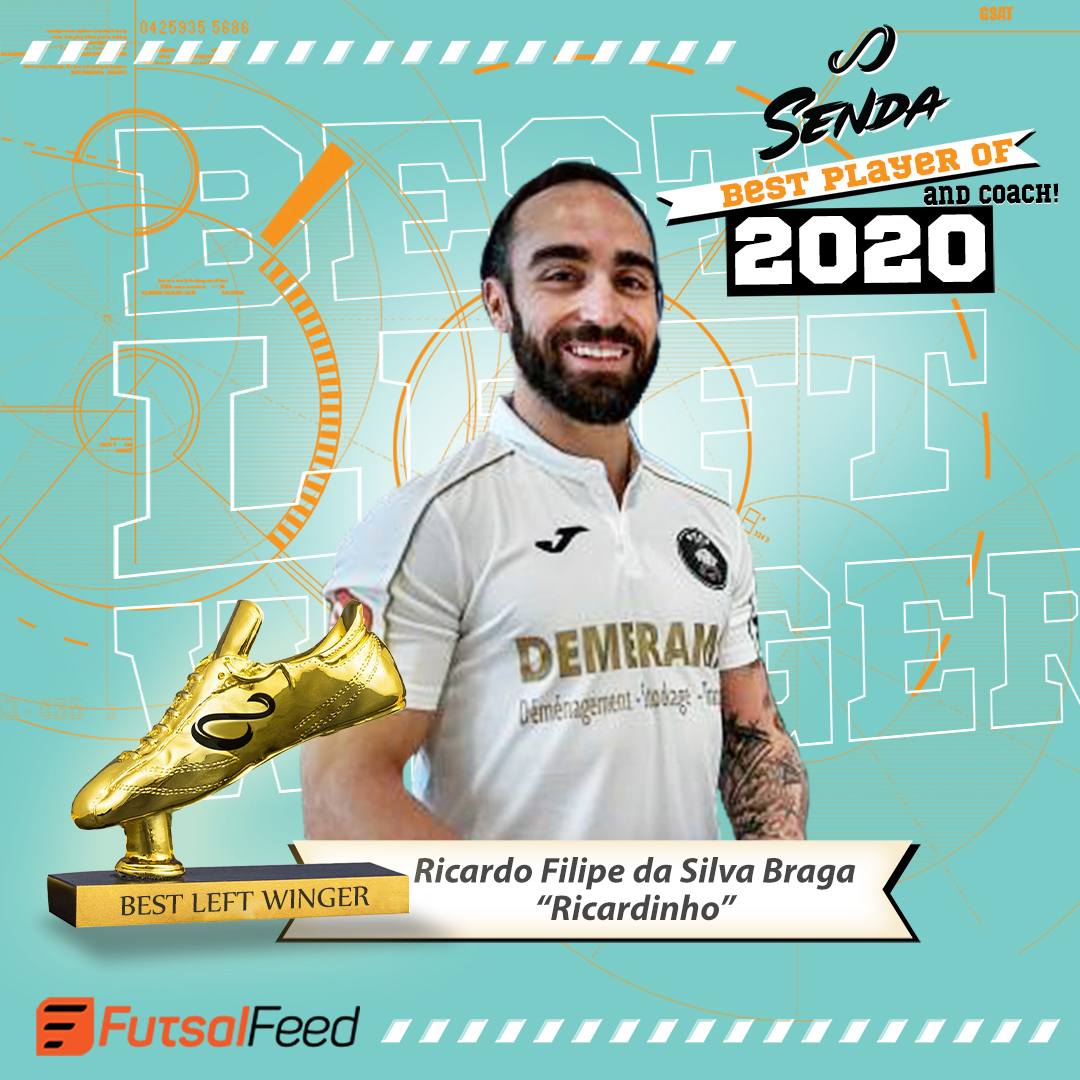 Ricardinho is a name that does not need much introduction when it comes to the world of professional futsal. He is also known as a futsal genius and a man who won it all - UEFA Futsal Cup (3 times), UEFA Futsal Euro where he also got the best player award and is the all-time top scorer in the competition. If that is not enough to convince you, Ricardinho also won a golden boot on the 2016 FIFA Futsal World Cup. After winning it all, Ricardinho also bagged himself a best winger of the season in the FutsalFeed Best Team of 2020 Awards with over 36% of total votes, leaving the competition at a safe distance. If you want to know more about this futsal icon you can find an article on FutsalFeed "5 things you didn't know about Ricardinho" - so go check it out!
Best Futsal Team of 2020 - Right Winger - Sergio Lozano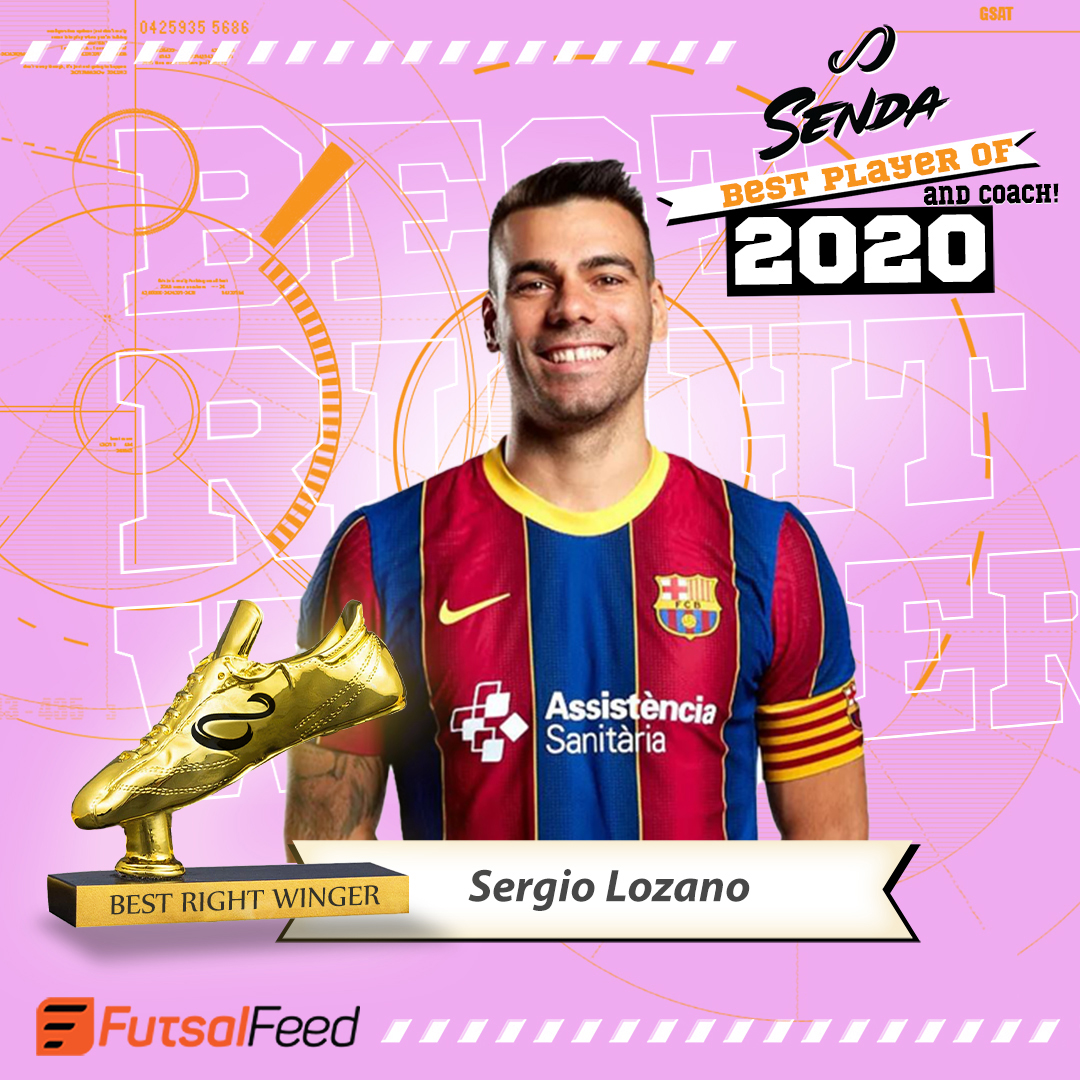 Spaniard Sergio Lozano took the title of the best right winger in the FutsalFeed Best Team of 2020 Awards with 34% of your votes, 11 percent more than two Brazilian internationals - his teammate from Barcelona Dyego Zuffo and Fabricio Bastezini "Gadeia", ex-Inter Movistar player and current Kairat winger. Lozano has been a member of Blaugarana since 2010 and has shown great consistency under pressure which secured his place as a standard choice for the Catalan giant in crucial moments. Lozano has had great success with Barcelona since he joined, from being awarded player of the year after his first season followed by many domestic and international competition awards. Despite long history with the club and playing at a high level, there is no sign of slowing down for Lozano and FutsalFeed will be following him closely in the new season.
Best Futsal Team of 2020 - Pivot - Carlos Vagner Gularte Filho "Ferrao"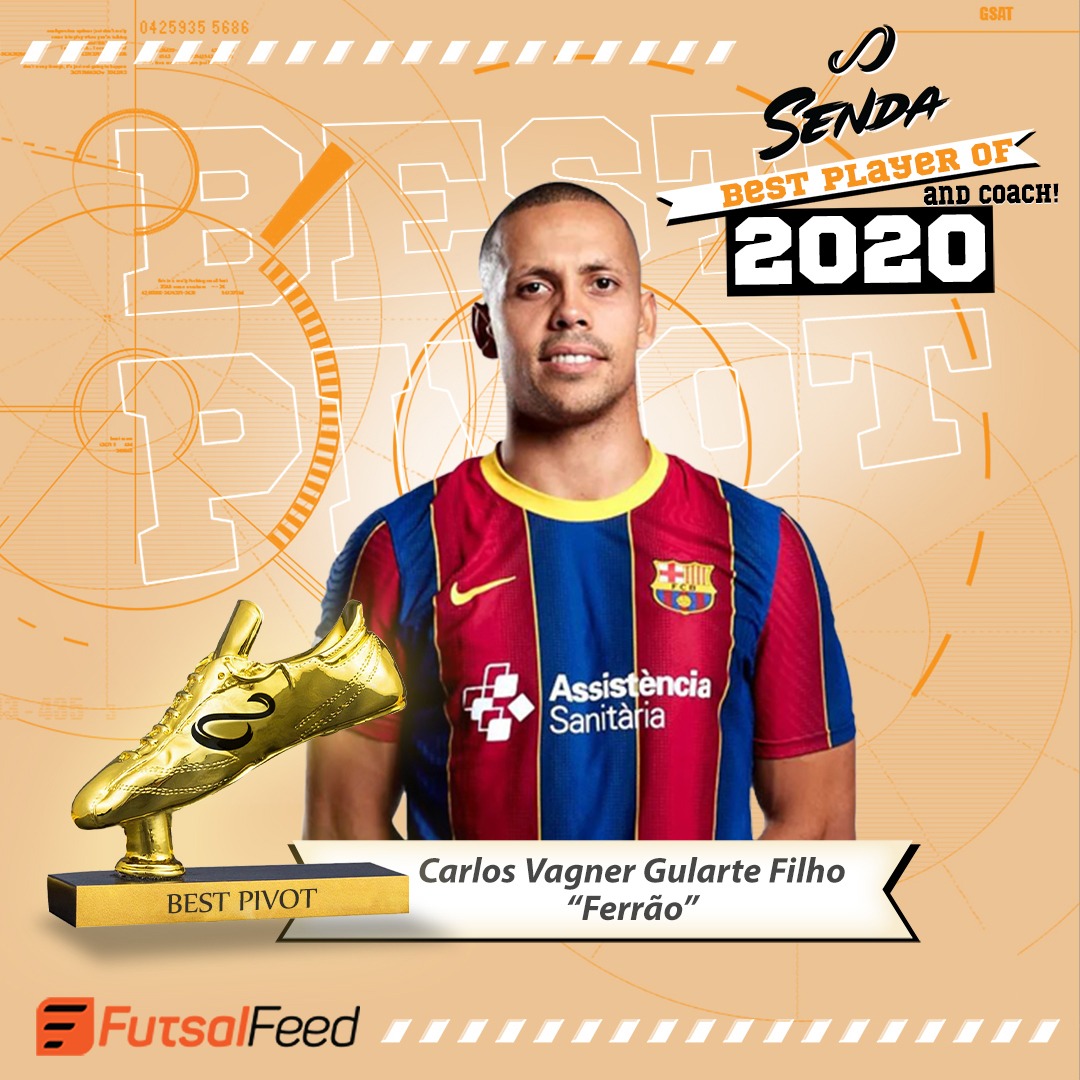 The best pivot of the year is Ferrao from Barcelona, who won FutsalPlanet's best men's player award in 2019. Ferrao is, was, and will be the key figure in the Brazilian national team, which he proved in 2020 as well. On top of that, he was one of the leading figures in Barcelona's push to the Champions League title this year, having scored a goal, a penalty, and making an assist. He continues to be Barca's dominant figure in the LNFS. Ferrao won 42% of your votes, leaving his compatriots Deives Moraes in second place (23%) and Pito in third place (13%).
Best Futsal Team of 2020 - Coach - Ricardo Di Izeppe "Ricardinho"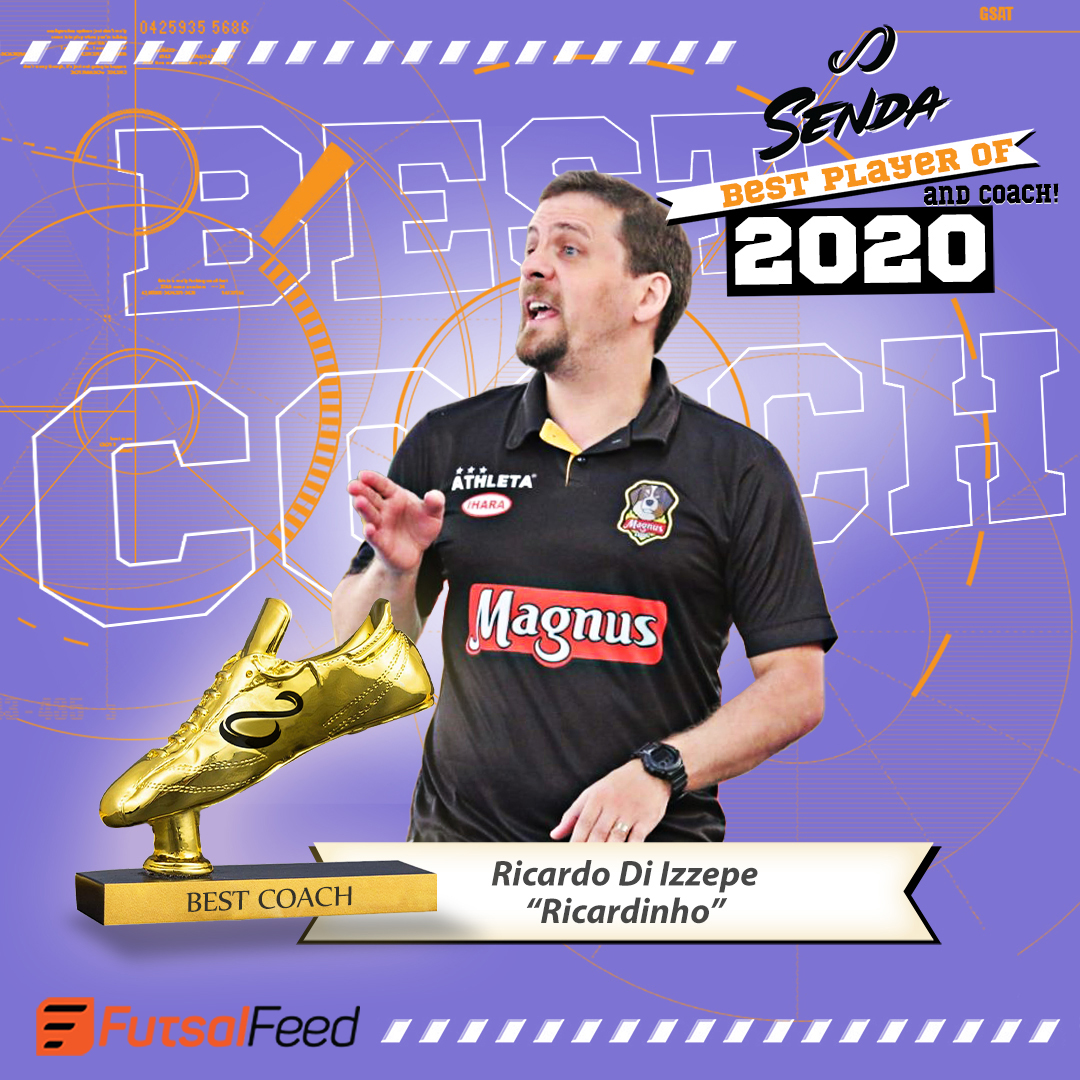 The best coach of the year is Magnus' coach Ricardo Di Izeppe "Ricardinho" who won the Brazilian national championship – without a defeat! More precisely, 17 victories and 3 draws in the entire season! On top of that, coach Ricardinho added another unbeaten champion run in the State championship as well. He got 34% of your votes, 11% more than the second-placed Goran Ivančić from Serbia, and 12% more than third-placed Andreu Plaza (European champion with Barcelona). Ricardinho was also voted for the best coach in the Brazilian LNF.
Best futsal wishes for the 2021 season
Once again, the entire FutsalFeed staff and Senda Athletics would like to thank every one of you who have cast your votes for the inaugural FutsalFeed Best Team of 2020 Awards.
We have already started making plans for the 2021 awards and are looking forward to watching all of these and many more futsal magicians on the court in the coming year. We wish you all an uninterrupted, healthy, and safe futsal season, filled with plays, goals, and saves in the fashion which only the best sport on Earth can offer!