I have written this commentary as a response to the official statement issued by the English FA in regards to the position and future of futsal within The Football Association. This commentary was written in my capacity as a mere futsal fan and enthusiast, as a person who wants to see futsal blossom in every corner of the world and who is saddened to see how one of the biggest and richest football associations in the world neglects an entire sport, while it should be leading by example. The views and opinions in this article are exclusively my own.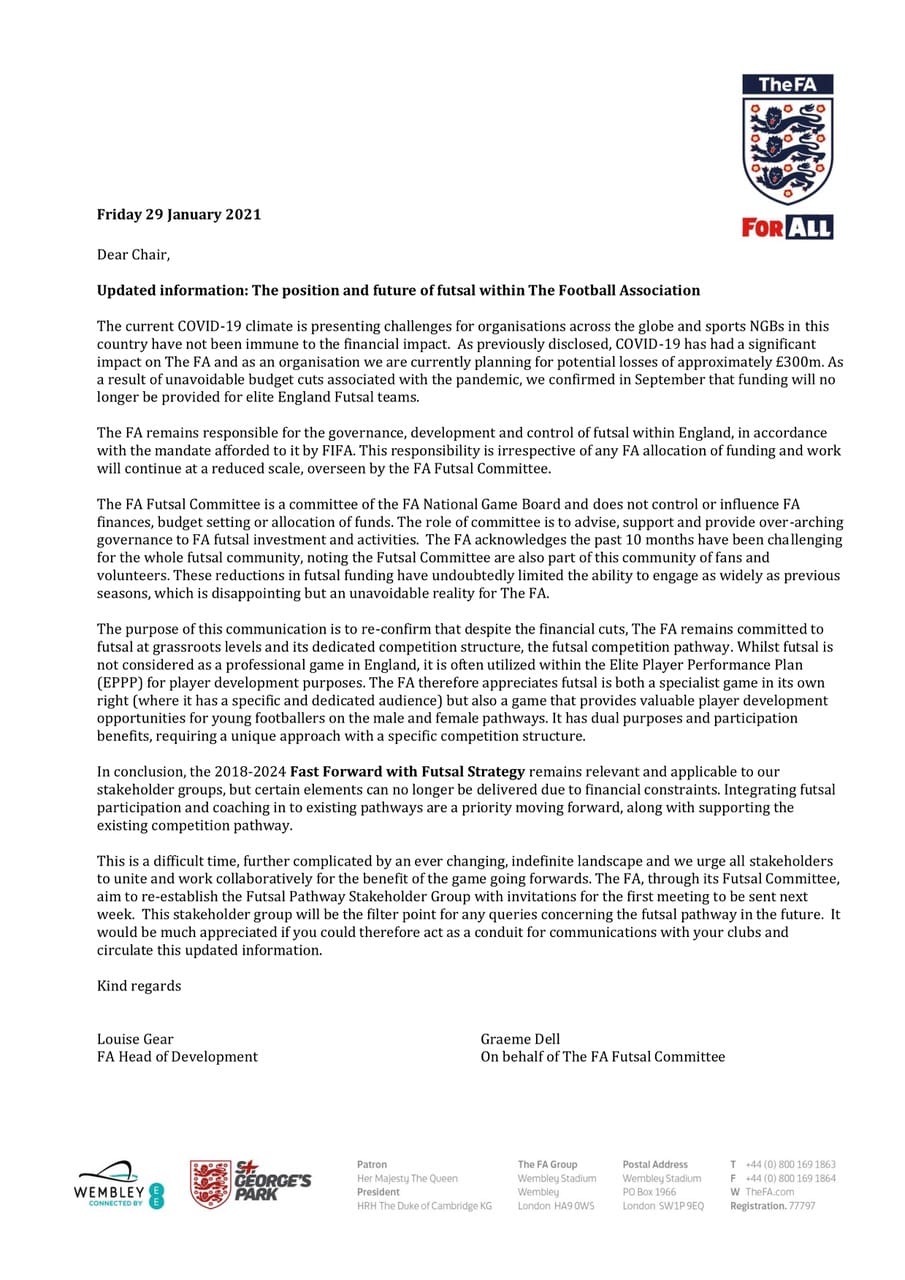 It has been roughly four months since the English FA's shocking decision to cut funding to the English futsal program and to disband the national futsal team. Now, after all this time, FA finally issued an official statement co-signed by FA's Head of Development, Louise Gear and Graeme Dell on behalf of The FA Futsal Committee. Judging by the initial responses, the letter sent out to the futsal community, unfortunately, only caused more discontent towards the FA from the futsal professionals across the country, but also the world, as the likes of the Brazilian national futsal team head coach Marquinhos Xavier reacted negatively to FA's official statement.
Shame!!!
And the powerful @FA continues to play with Futsal. The problem of Futsal England is a problem in the world of futsal. My solidarity with the Futsal professionals. pic.twitter.com/CTXOFyt691

— Marquinhos Xavier (@marquinhoxavier) January 30, 2021
In the opening paragraph, FA again reminded us that we're facing a pandemic situation and that they're counting on a potential loss of £300m in their organization. While I am not in any way disputing this, I also can't shake off the feeling that the budget cuts to futsal have been inappropriately high, especially after taking into consideration the unbelievably small percentage of the overall budget that was reserved for futsal. Meaning, were funds allocated to futsal really key in the overall budget scheme? Was it really necessary to cut basically all funding to futsal development? Was it necessary to withdraw the futsal national team from qualifications to a major tournament such as the EURO? Even despite the fact that English futsal professionals organized themselves and trained for the crucial match against North Macedonia with no help whatsoever from the FA, and were willing to travel but were sabotaged by their own organization?
Shocking letter released by @fa
FA: We govern & control futsal: Yet aren't meeting their duties of this responsibility
FA: It is not futsal committee who control funding: Irrelevant, don't care who is responsible, care there is funding.
FA: Funding cuts unavoidable: Not true. https://t.co/rjfGMCcd8z

— Doug Reed (@DougReedFutsal) January 30, 2021
The official statement gets even 'weirder' in the next paragraph where FA explicitly states that it is solely responsible "for the governance, development, and control of futsal within England," adding that this is not affected by the amount of budget allocated to futsal. If they are solely responsible for futsal in England, what is the use of them if they're not willing to work hard to find (or fight for) funds for futsal development? Is that the responsibility that English futsal professionals are after from people whose job is to develop futsal in the country and in whose hands they've entrusted this sport? I sincerely doubt it.
Fast forward with futsal strategy still relevant apart from the bit where they need to put money in and make a women's national team. Absolute joke @FA https://t.co/eXH2R9R01H

— Liam Palfreeman (@liampalfreeman) January 30, 2021
In the following paragraph, the official statement only confirms that the FA's Futsal Committee has absolutely no control over the budget allocated to futsal and that its purpose is to coordinate investments and activities laid out by the FA, calling this current situation "FA's unavoidable reality". Yes, you've read that right. Cutting almost the entire £900.000 allocated to futsal annually is an unavoidable reality to an organization that generated an incredible turnover of £467m during the 2018-19 season. Let that sink in for a while.
Now, in continuation, after the FA has cut funding to futsal, disbanded the national team, and called the current situation an unavoidable reality, they want to re-confirm with the futsal community in England that they are in fact committed to futsal development from grassroots level to futsal competition structures. No problem, but the FA should not be surprised if the English futsal community decides that they don't believe in and that they've lost their respect towards FA's decision-making process. Because the current relationship between the FA and the futsal community is one of a twisted step-mother and her child, making life really miserable for the child, but continually telling it how much she loves it. It does not add up.
Seriously, @FA ? Is this your "committment"? pic.twitter.com/1UDKNj1OAf

— Futsalplanet.com (@futsalplanet97) January 30, 2021
The FA's official statement concluded with a reassurance that the 2018-2024 Fast Forward with Futsal Strategy "remains relevant and applicable", but that "certain elements can no longer be delivered due to financial constraints". However, the question remains: if you unilaterally decide to cut practically all budget for a sport, and it is more than obvious that certain elements will not be delivered, how does your entire strategy remains relevant and applicable if there are no funds to keep it relevant and applicable? FA's principled support to futsal means little to the futsal community when it's not backed up by any financial means and when the FA has done so many anti-futsal development moves in these few months alone.
Therefore, having all of this above in mind, the FA's call for unity and collaboration with futsal stakeholders in the final paragraph of the official statement seems unreal, unsympathetic to the futsal cause, and above all - insincere. It also seems at the first glance that the proposed meeting with futsal stakeholders will be the start of some new futsal pathway, which also comes as a surprise, because in the same statement, FA confirmed their principled support for their already existing strategy.
Update is that... there's no update https://t.co/YZfgs2iCEs

— Joe Payne (@Payne_Joe6) January 30, 2021
Covid-19 has affected practically ALL national football associations and their futsal partners and stakeholders. But none of the governing associations took such hard and inappropriate measures and budget cuts towards futsal. Quite the opposite. Some have invested further into futsal, bringing it much closer to full professionalism and investing in its brand and competition recognition.
The way in which England's Football Association treated futsal during this crisis shows signs of complete ignorance towards their futsal community and generally towards futsal as a sport. The fact that it took them four months from their initial devastating decision to come up with this unconvincing letter, further confirms their lack of interest in this topic.
I sincerely hope that this unfortunate situation with Covid, and associated with it the futsal situation in England will resolve in a favorable manner for futsal professionals, enthusiasts, and fans. We have no doubt that futsal enthusiasts across England have done their lion's share of work in the popularization of futsal, but it would be nice if their governing organization would genuinely support them in any capacity.
Domagoj Vlahinić
FutsalFeed Writer & Assistant Editor