Like thunder from clear skies, English Football Association (FA) decided to cut funding for futsal and grassroots football. This internal document was leaked by Guardian newspaper, but it was confirmed shortly after by the FA. FA's Covid-19 cost-cut strategy turned out to be devastating for futsal community in England as it foresees removal of all national teams, including youth, senior and women's national team whose formation was planned, and it severely cut funding to its futsal program.
Budget cuts to English futsal
And it is not like futsal already received big pieces of the financial pie from the FA. In all these years, futsal was limited to 'scraps of the table', but even those 'scraps' were enough for futsal enthusiasts in the country to start developing their own and recognized futsal scene. To illustrate, annual funding for futsal has been cut down from £900.000 to £125.000. The FA's official website states that they've invested £165 million in the last financial year, and it's hard to comprehend why futsal, having one of the smallest budget in the organization, received almost a 100% cut.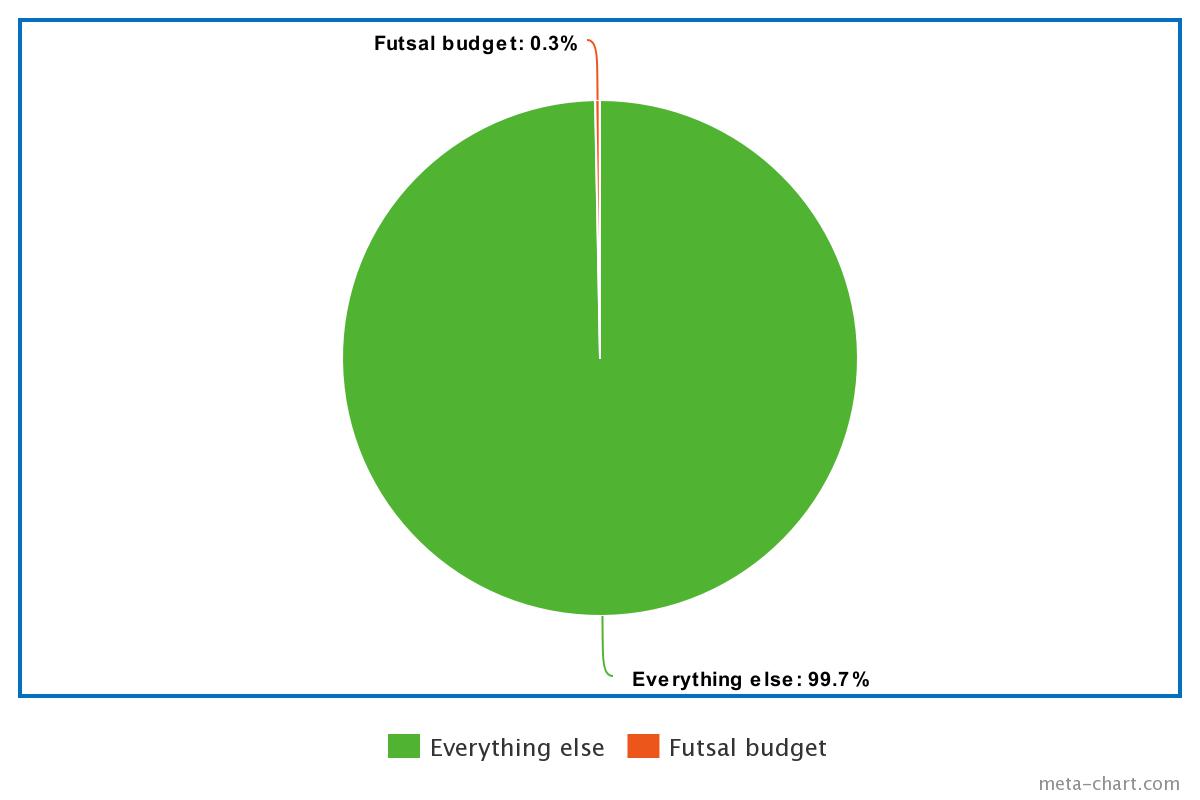 Even more disappointing than financial cuts, is the official position of the FA towards futsal and their subsequent explanation for cuts. The internal document states that "futsal has only a 'limited link' to the ambition to win a major 11-a-side tournament". To still perceive futsal predominantly as a developmental sport for football shows lack of strategy for development of the sport itself, which comes as a surprise when FA themselves said that participation in this sport has doubled in recent years.
"It's astonishing that futsal is being dropped after the past 10 years of the FA saying this is the future and that it was the game we're looking to use for kids to get the techniques and tactics in their DNA." said an unnamed coaching tutor for Guardian. Another reason why this comes as a shock is because it's so out of place and out of the current narrative taken by futsal enthusiasts world-wide. English FA decided to cut funding for futsal, while in the same time, Germany has all set up for formation of their Futsal-Bundesliga, France is building a big Futsal Centre in Lyon and Spain just approved a financial package worth €8 million for further development of futsal.
English futsal community reacts
Doug Reed, England's national team player with more than 100 caps for the team and one of the most vocal promoters of futsal in England (and world), wrote a fantastic blog post in which he detected problems in relationship between FA and futsal. We strongly recommend that you take the time and read Doug's in-depth analysis of the problem and listen to the solutions he believes are still viable.
Reactions from English futsal community were, as expected, angry and loud, but very much on point. Futsal players, enthusiasts and fans from all over the world joined in to voice their opposition towards FA's cut policy and offered their support. Soon afterwards a viral hashtag appeared: #FutsalForAll. It is a response to FA's own slogan 'FA for all', which apparently discriminates against futsal. The hashtag "campaign" was followed by a question: "What is your favorite futsal moment?" and it was great to see people sharing their fondest futsal memories which showed how global and all-inclusive our sport has become.
An online petition was also started on change.org to Save Futsal in England. "We seek to petition Oliver Dowden, Secretary of State for Culture, Media & Sport to direct Tim Hollingsworth, Chief Executive Officer of Sport England to investigate and review the governance across The Football Association that contributed to the choice they have made to all but eliminate funding of their futsal programs, including the cessation of England national futsal teams and player development pathways for young boys & girls engaged with futsal." states in petition's description. In the moments of writing this article, more than 3500 people have signed it and the number continues to grow constantly. At FutsalFeed.com we hope you will join this initiative and voice your concern. You can do so by clicking this link right here!
Shortly after the budget cuts, England Senior Men's Futsal Team, who are preparing for their UEFA Futsal Euro playoffs, issued an official joint statement in which they condemn the recent decisions made by the FA. In their statement, they also raised "a serious concern" at "lack of transparency" in decision to remove all national teams and cut funding. One key note from the statement is that FA's decision was brought without "consultation or engagement with key stakeholders in futsal". England's futsal players also asked for a meeting with FA's CEO, but their request was not acknowledged by time of writing of this text. Their statement was however covered by BBC Sport who emphasized the sentence in player's joint statement that this is "an attack on the sport".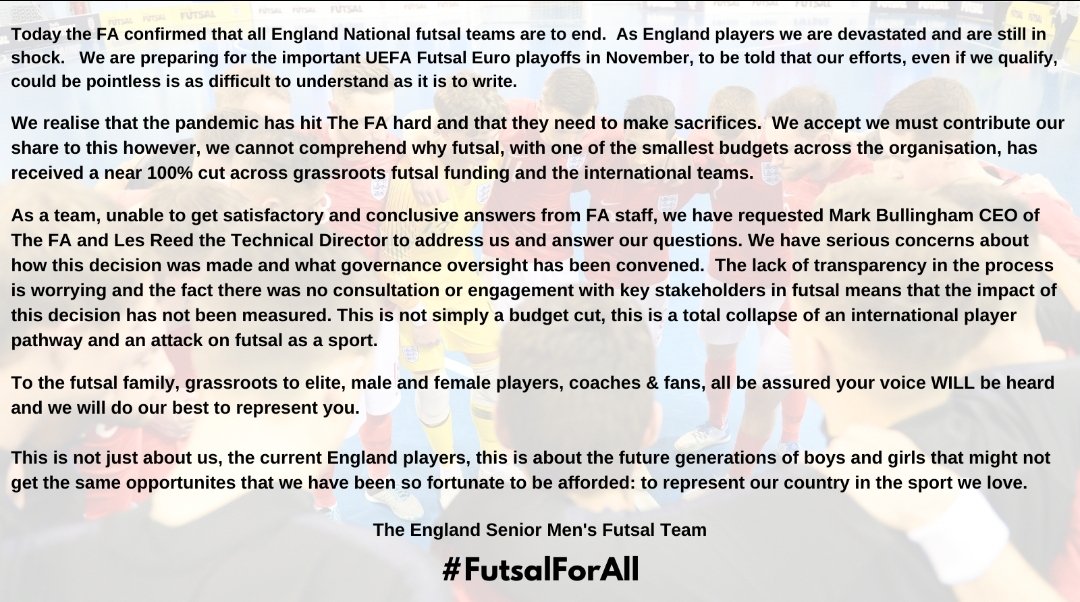 Future of futsal in England?
Situation with futsal in England is currently very dire, but hope still remains because futsal is one of the most resilient sports on the planet. It confirmed that on numerous occasions throughout the world and Doug Reed in his article offers a similar mindset: "What has happened has exposed the issues that have long existed so that they have become undeniable. It is now time for action to implement plans that will effectively drive futsal's development and popularity. It would be inexcusable if we fail to take advantage of this opportunity that has been presented to us. We have the power to ensure continued insufficient progress doesn't mean future generations miss out like today's."
On a side note and as a closing statement, UEFA has 55 members. Out of the 55, five don't feature a national futsal team: Iceland, Lichtenstein, Faroe Islands, Luxembourg and Republic of Ireland. Is England really the sixth? We hope not, but we will know more after their play-off match vs North Macedonia. Until then, we offer our support to futsal enthusiasts everywhere in England – don't give up the good fight!
What's your opinion on these decisions made by the FA? How do you think futsal community should bounce back? Let us know in the commenting section on any of our social media channels!