Round 23 of the Italian Futsal Seria A has been completed and the playoff picture is slowly taking shape with three rounds left to play (for most of the teams). The top two duo, Italoservice Pesaro and Acqua e Sapone, recorded victories to keep them at the top.
Avellino and Catania recorded a third loss in a row that put a dent into their playoff position expectations, but everything is still up for grabs most of the teams in those positions are just a few points away from each other.
The relegation battle continued, with Lido di Ostia recording an important victory against Mantova, their direct rival in the relegation battle.
Most of the teams have only three more rounds to play before the playoff begins!
Round 23 highlights:
Sandro Abate Avellino 1-2 Italservice Pesaro
Acqua e Sapone 6-2 Colormax Pescara
Came Dosson 5-5 CDM Futsal
Cybertel Aniene 3-3 Syn-Bios Petrarca Padova
Feldi Ebioli 4-3 Real San Giuseppe
Signor Prestito CMB Matera 3-1 Meta Catania
Saviatesta Mantova 3-4 Todis Lifo di Ostia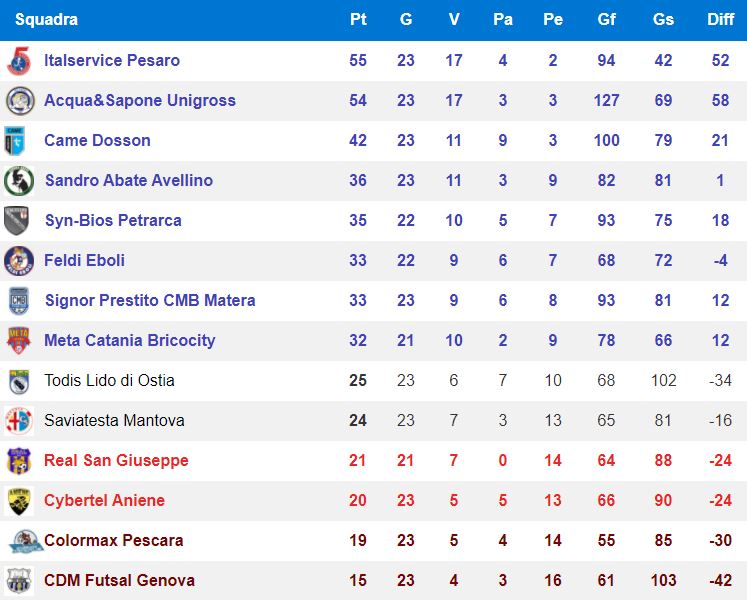 >>> 4+1 easy ways how can you support FutsalFeed