Viña Albali Valdepeñas and ElPozo Murcia Cista Cálida played a fantastic game in the postponed 18th round match of the Spanish LNFS. Darió scored an opener for ElPozo in 8', and guests had a 1:0 lead at halftime. Rato equalized in 24', and Cainan got Valdepeñas' first lead in 28'. Pacheco equalized in the same minute, and Sergio González got another lead for Valdepeñas in 33'. A minute later, Fernando equalized for a second time, and Alex García scored for another host's lead (4:3).
Afterward, ElPozo played with flying-goalkeeper. Marcel equalized in 39', and Pacheco scored his second goal in the last minute of the match. Paradynski had an opportunity to score another for ElPozo, but he missed the penalty from 10m.
Inter defeated Jaén 5:3 after a turnaround in the last nine minutes of the match. Guests had a 1:0, 2:1 and 3:2 lead, but hots managed to secure another win with three goals in the final part of the match. Brandi opened the scoreline in 4', and Bingyoba equalized with an own goal in 11. Carlitos scored another for Jaén in 13', and Borja equalized in 16'. Mancha put Jaén in lead for the third time in 31', and Boyis equalized - for the third time - in 31'.
Inter then got a win with Cecilio's (37') and Jesús' (40') goals.
With these wins, Inter jumped on the fourth place, and ElPozo remained sixth with two points and one match less than Inter.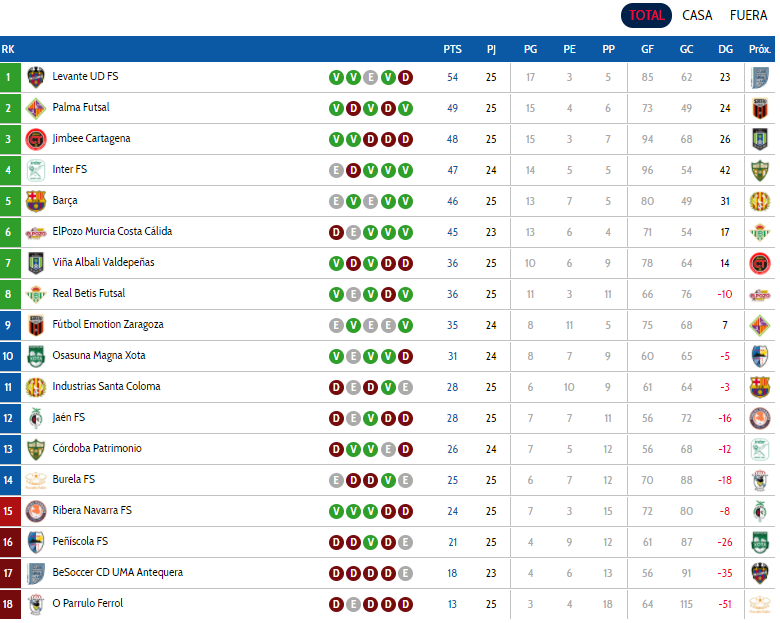 >>> 4+1 easy ways how can you support FutsalFeed