The start of the Russian Superleague's playoff is today! All games will be broadcasted live on AMFR TV Youtube's channel.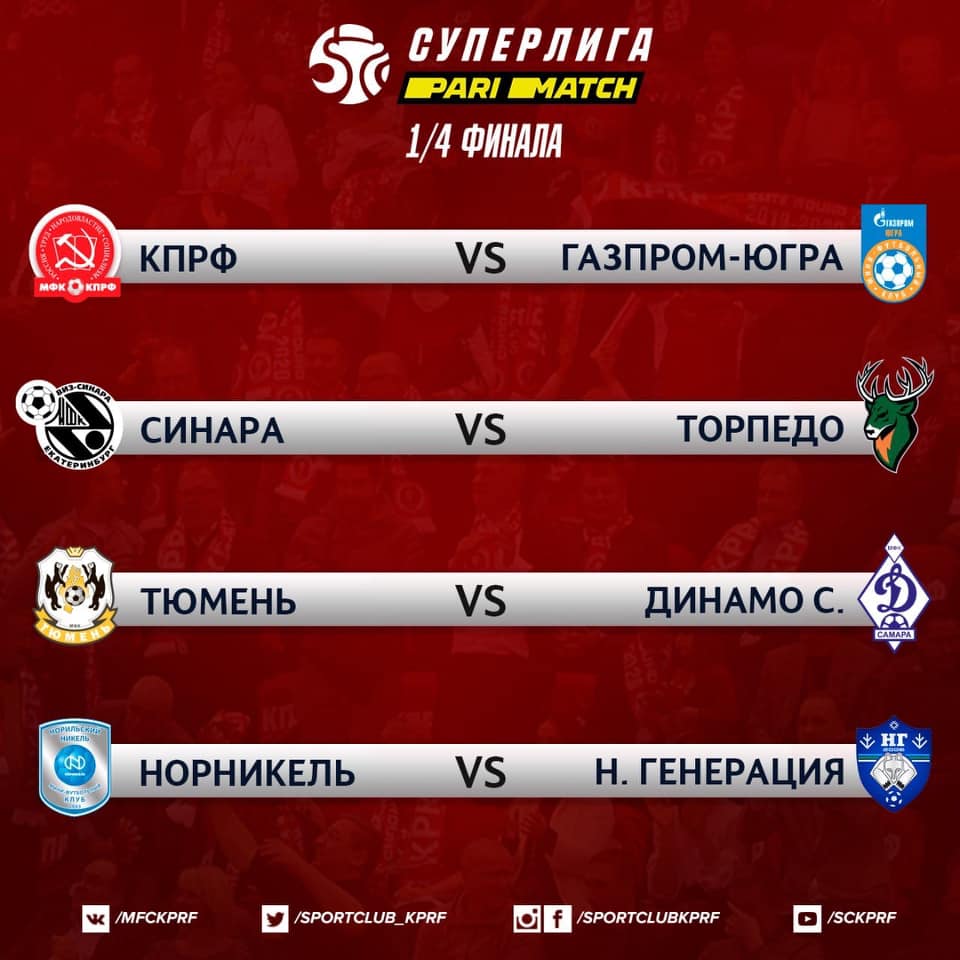 KPRF vs Gazprom-UGRA
Last year's league finalists and the Futsal Champions League Final Eight participants, will meet in the first playoff round. By some indicators, it seems that this could be a hard win for UGRA, maybe even in five games.
KPRF team is experiencing a number of problems in the roster, with Romulo's status still widely unknown. Lin is left without strong conditions, and pundits are expecting that KPRF will be busy in the summer transfer window. How to motivate players in that case? It's a task for Beso Zoidze in a season of ups and downs.
UGRA is also having some issues with stability, but they have won the Cup title and the team still has more to come.
The match starts at 14:30, local time.
Sinara Yekaterinburg vs Torpedo Nizhniy Novgorod
Sinara, the winner of the league stage, is expected to cruise over Torpedo who's recent form is not looking positive at all.
Yekaterinburg's side is in a good mood and with the experience of players such as Abramov, Prudnikov, Fahrutdinov, and ambitious young players of their system they are looking on course for major things.
But it will be a very interesting duel of goalies: Sinara's Putilov and Torpedo's Ivanyak.
The match is on schedule at 17:00, local time.
Tyumen - Dynamo Samara
This is a series to watch! Last year they met in the same round and went through five games with finally Samara giving up on some plans. Right now Tyumen also has the advantage of home court, but leaders are not in the best condition.
On the other hand, Samara hasn't played for a long time. They have prepared for a play-off in Belarus and previously changed the head coach - Gorbunov out, Larionov in.
Dynamo wants to be in the Futsal Champions League in near future, but is it time already to shock the futsal community?
We will find out around 17:00, local time.
Norilsk Nickel - Novaya Generaciya Syktyvkar
Norilsk was second in the regular-season phase and all of their players are in a good shape. Adaption of Brazilian-born futsaleiros is done. And now they could be the number one contenders for the title. Syktyvkar's team is always attractive to watch with a brave heart and aggressive and dynamic style of play (have a look at Egash who for the next season can be on the KPRF side).
But knowledge, tactics, and technique will be Norilsk instruments for a quick semifinal spot.
The last match of the quarterfinal's first leg is on schedule at 19:30, local time.
Once again, you can watch all matches live on the official YouTube channel of the Russian Futsal Association, on this link right here!
We wish to thank Kirill Zemskov who submitted this news bulletin. You can do the same with futsal news from your country by clicking the 'Send News' button at the top of our website!
>>> 4+1 easy ways how you can support FutsalFeed