Two earlier postponed matches in the Spanish LNFS have been played during the weekend. After defeating playoff hopefuls Real Betis, Burela FS finds itself on the verge of escaping the relegation zone. In the other match, Barça drew with Jaén who are also lurking for a playoff position.
Burela FS 5-3 Real Betis Futsal
Thanks to Renato's two fast goals by the middle of the first half, Burela took the lead against Betis. Bocao managed to strike a goal for Betis in that same period, but there were no more goals in the first half.
Betis equalized by the middle of the second half after Javi Rodríguez deflected one free-kick shot into his own net.
However, Quintela scored to get Burela back in the lead and Renato finished his hat-trick a minute later to extend their lead.
In the very last minute of the match, Emilio Buendía scored for Betis, with Lucho extending Burela's lead once again just before the final whistle.
Jaén 2-2 Barça
With a point secured against Barça, Jaén is still very much in contention for the playoffs as the season edges to its end. Barça is one of the teams that are at the top of the LNFS, with just a couple of points shy from the first position.
Antonio opened the match for Jaén in the best possible way - with a goal in the opponent's net. But, it didn't take long for Esquerdinha to equalize the result, and then for the same player to completely turn things around before half-time.
Despite plenty of scoring opportunities in the second half, we only saw one more goal. It came in the very last minute of the match and saw an effort of Carlitos, who equalized the match for Jaén.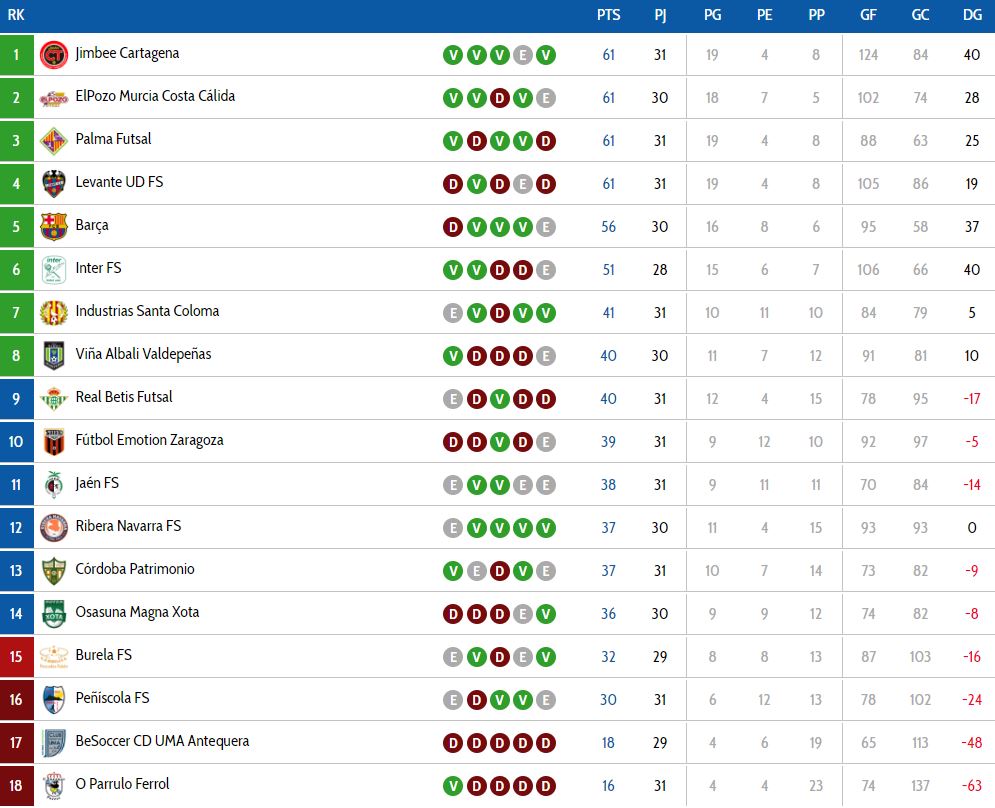 The Spanish elite futsal division continues with Round 32 (of 34) this Tuesday (18 May)!
>>> 4+1 easy ways how you can support FutsalFeed