The qualifications for the Futsal European Championship in Netherland 2022 are underway and a new batch of exciting futsal matches is ahead of us.
All teams have already played two matches in their qualification groups. The team that has attracted maybe even most of the attention in the first two games is undoubtedly Bosnia and Herzegovina's national team – commonly known as "the Dragons".
Bosnia and Herzegovina never attended any major world tournaments and, for sure, the Netherlands 2022 would be the dream for all Dragon's players and fans!
Opening with two significant victories, against Serbia 2:4 in Novi Sad and 2:1 against Northern Macedonia in Zenica, Bosnia and Herzegovina is closer than ever to participate in a big competition!
That is why - we had the opportunity to discuss with Mr. Ivo Krezo, the Bosnia and Herzegovina national futsal team's selector about these qualifications, the previous two games, and the general status of Futsal in Bosnia and Herzegovina.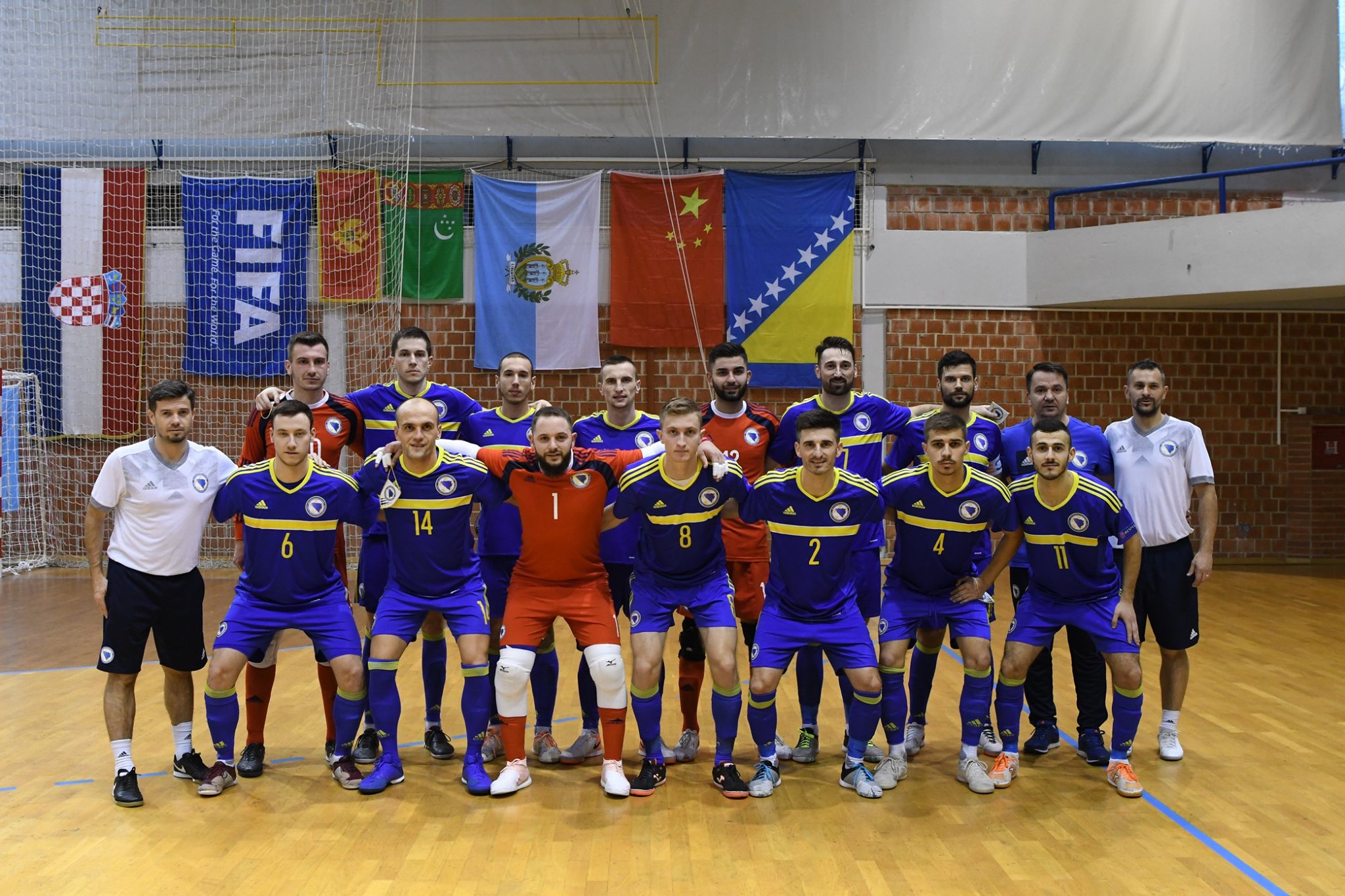 Small town futsal champions
Let's start from the beginning... We know you were a futsal player when you were younger. When and how has your futsal career started? What were your first futsal steps? From where did this love towards futsal as a sport come?
"The city of Livno is known for its futsal tradition, and the promoter of its city has always been MNK Seljak, especially at that time in the early '90s. I started playing futsal when I was 18 years old."
"MNK Seljak made the most significant success by becoming the Ex-Yugoslavia champion and achieved a 3. place in Europe. It was easy to fall in love with the sport because, as a young player, it was a great thing that a club from a small town could be a state champion and play in Europe, which is a dream for every player."
"At the same time, I played football in local NK Troglav. At the end of 1995., I started attending a college in Zagreb, where I joined the futsal team Promet Orkan, where today's Croatian National Team coach, Marinko Mavrović, played together with his brother Zdravko, one of the best players in Croatia and beyond."
"In 1998., we became futsal champions of Croatia. After graduating in 1999., I returned to Livno and rejoined NK Troglav in football and Seljak in futsal. After a few seasons in Seljak, I went to MNK Ljubuški, where we were the champions of the Federation of BIH and one of the major contenders to the national title. Then I returned to MNK Seljak, where we also won first place in the Federation league, and again MNK Seljak was one of the most important teams in Bosnia and Herzegovina during these times."
"During this period, I have always been a member of the national futsal team of Bosnia and Herzegovina. A tremendous success was playing a barrage against Spain for the qualification to the World Cup."
"The next step in my futsal career was MNK Split. Former Croatian national coach Mato Stanković was there at that time. In the mentioned period, football World Cup bronze medal winner Robert Jarni played at the club and was the league's biggest star."
"After MNK Split, I continued my career in Knin – I started playing for MNK Kijevo Knin. I stayed for two seasons there. It was the last team I played before returning to my hometown in Livno to continue to play for the local club where I stayed until the end of my career."
Keeping up with the rest of the pack
Can you describe the difference in futsal that was played then and now? As far as we can see, Spain is still untouchable. Which European national teams have risen the most, and which have fallen the most in the last 20 years?
"The Spaniards are the forerunners of everything in futsal, from the first unofficial European Club Championship, today's Champions League, to other novelties in futsal. It is not surprising that they are still at the very top of European and World futsal. Of course, the reason for that is the strong national league and many top players, both domestic and foreign."
"Alongside Spain are Portugal, Russia, Italy, and the national teams with Brazilians in their ranks, namely Kazakhstan and Azerbaijan. Croatia, Serbia, the Czech Republic, Ukraine, Slovenia, Hungary and, Romania, which are right behind these national teams that I have listed before are also very worth mentioning."
"Compared to the futsal that was played before, you can see the difference primarily because some game rules have changed. There are more ways to analyze matches using the technology available to us; twenty years ago, some things were just impossible."
"Also, futsal is becoming more and more popular. Countries are investing more in futsal, especially in Finland, France, and the Netherlands. I want to emphasize that the Bosnian and Herzegovinian national team is currently right behind these national teams with the best rating so far, 14th place in the UEFA ranking, and 33rd place in the World ranking."
After you finished your futsal playing career, you have started coaching. You have been mostly engaged in the club MNK Seljak from Livno, your local futsal club. Do you manage to do both the national head coach and MNK Seljak coach functions simultaneously?
"Yes! I first started as an assistant coach to Vinko Vukoja, and after that, I became the first coach. MNK Seljak is my club and big love, which helps me work with outstanding commitment and professionalism. Being MNK Seljak coach and head coach of the Bosnia and Hercegovina national team is a great honor and, at the same time, a significant obligation to me."
"It is undoubtedly a dream for every coach to be the coach of his country and represent it in the best possible way. I am always trying to coordinate my obligations and perform both duties the best I can."
At the top of the group
We see from the results that you manage to perform both functions excellently! We congratulate you on the victories in the qualifying matches against Serbia and Northern Macedonia, especially considering that you couldn't count on Radmilović, Galić, and Aladžić, essential players for Bosnia and Herzegovina national team! Bosnia and Herzegovina is currently at the top of its qualification group, and can dream of great futsal success – qualification at EURO in the Netherlands in 2022!
"Thank you. We did not expect such a good opening, especially not a victory over the Serbian national team. We secretly believed that we could surprise them in Novi Sad and we succeeded to open the qualification group in the best way with 6 points from two games."
"These victories are even more critical because we were missing three players from the first team. Even much stronger teams would feel that they are missing. We are now in first place in the group, but this can change after the next two matches. We need to stay firmly on the ground and advance game by game to achieve the dream of going to the European Championships in the Netherlands next year."
Two games against Romania are ahead of you. How to prepare for them? Are they the first favorites of this group? Can Bosnia and Herzegovina beat Romania on the momentum of the previous two games? Are all the players available to you?
"Romania is a high-quality team and, with Serbia, the favorite of our group. They have already played in the European Championships, and they have more experience in that field than us. The victory against Serbia showed us that we can oppose even the best national teams in Europe with the right approach. My assistants and I are aware of the situation."
"There is no room for any relaxation. We are preparing ourselves for the upcoming matches through the analysis of their previous games and we hope for a positive outcome. All the players are available now, and I hope that they will stay that way and there will be no significant changes in the lineup."
Futsal in Bosnia and Herzegovina has a lot of potential
What is the status of the futsal in Bosnia and Hercegovina? What is the quality of the league compared to other leagues in Europe, especially in the Balkans' neighboring countries? Where futsal in Bosnia and Hercegovina needs improvements? What is the primary step in the development of the futsal in Bosnia and Hercegovina?
"The futsal in Bosnia and Herzegovina is continually getting better. FC Salines and FC Mostar SG raise our futsal level by bringing exceptional quality foreign players and coaches. Other clubs that are still on an amateur level work hard and give their best to help develop futsal in Bosnia and Herzegovina. Our league is unpredictable and exciting."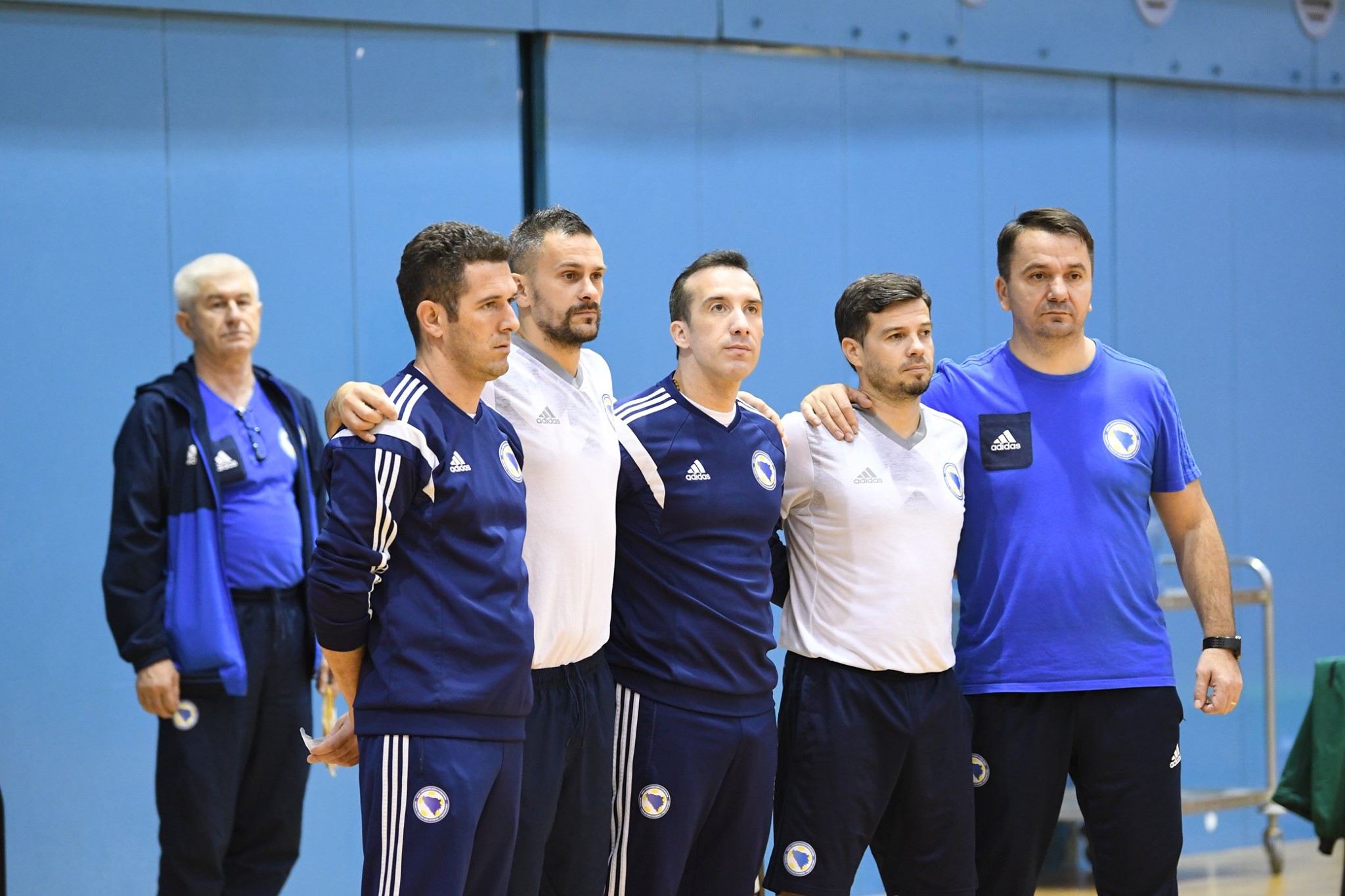 "We still have much room for improvement to catch quality futsal from the best European leagues. Still, we have shown with our clubs in Europe that we are on the right track and that for Bosnian and Herzegovinian futsal – the best is yet to come!"
What is the future of futsal in Bosnia and Herzegovina? How do you work with youngsters? Can we expect to see some new talents in the future that could contribute to Bosnian and Herzegovinian futsal growth?
"It is difficult to predict the future, but I hope that our European Championship qualification will be the biggest invitation to new players, spectators, and investors in futsal. It is necessary to increase the number of training in clubs and work on coaching staff's education."
"A big step forward for Bosnian and Herzegovinian futsal is the U19 league, played in a tournament format. With the founding of the league, we started working better with young players in their clubs, and through the U19 league, we can already see some new talents that will be the future of their clubs and national teams."
What is your biggest sport desire in 2021?
"Of course, my biggest wish is to qualify with the national team for the European Championship. I also hope my team MNK Seljak will stay in the Bosnia and Herzegovinian Premier Futsal League!"
FutsalFeed thanks Mr. Krezo for his time and wishes him good luck for the rest of the qualifications, and we hope that he will achieve all of his sports goals this year!