Many times, many futsal pundits everywhere, asked the question what does futsal need to become more visible, popular, recognized… Answers varied, but the general premise remained the same. Hard work, professionalism, investments, a healthy environment, and positivity have been crucial parts of the answer. MNK Olmissum, current Croatian futsal champion, stood out from the rest embracing all of these virtues and created their futsal success story thanks to it.
Located in a picturesque little town of Omiš in the coastal region of Croatia called Dalmatia, right at the mouth of the emerald-green river Cetina where it pushes through its famous canyon and enters into the blue Adriatic Sea, this club now represents the Croatian futsal scene in the UEFA Futsal Champions League Round of 16.
A fantastic success if we consider that the club was formed only in 2015. Since then, they have pushed through the local and regional divisions, only to win the national title in their debutant season in the Croatian top futsal flight, surprising those who didn't pay close attention to what Omiš "Green and Blue" did along the way.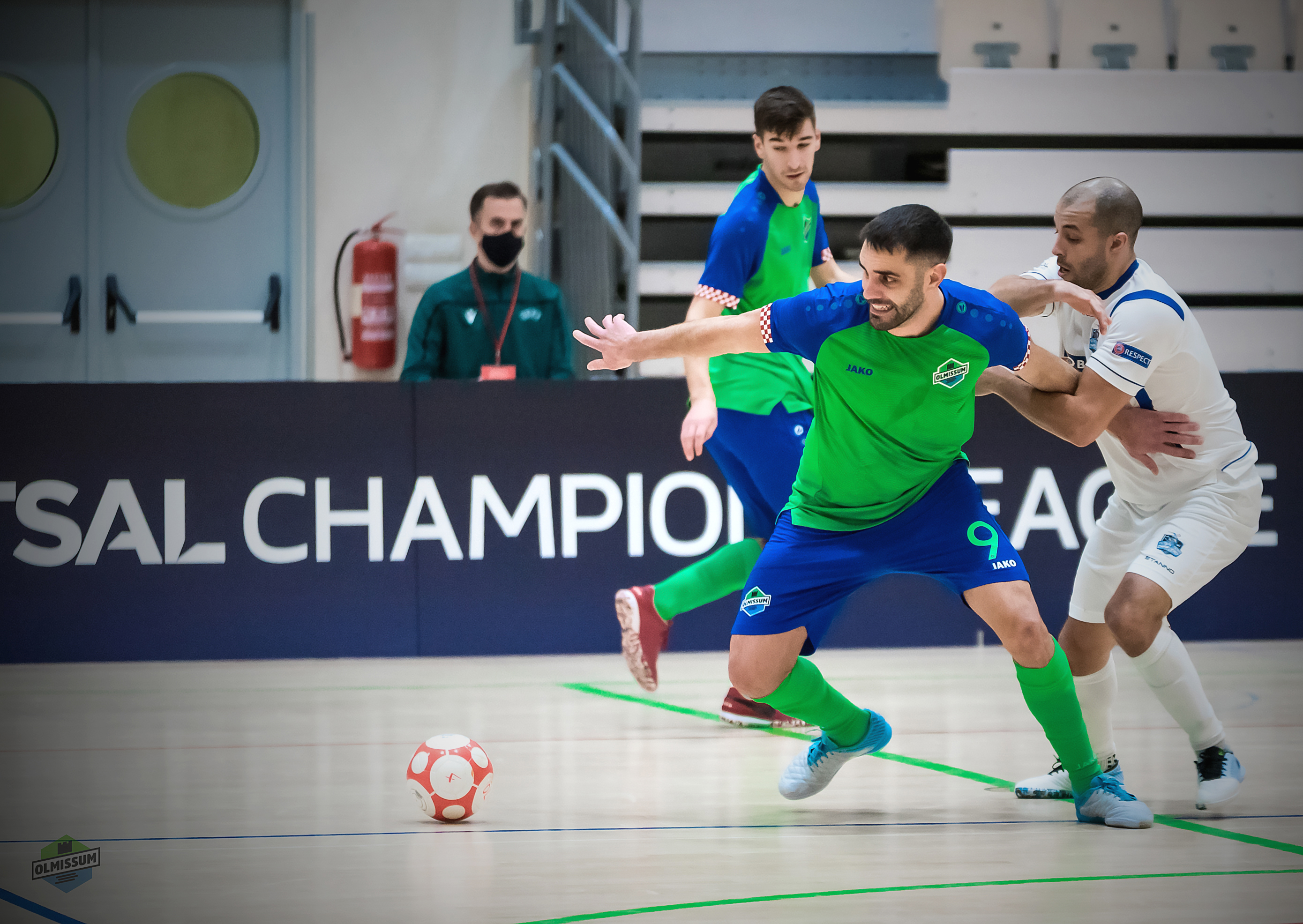 Unlike many of their now-defunct rivals, MNK Olmissum always had a long-term vision. None of their successes come as a result of a short-term investment of a particular "sugar daddy" pouring his money into the team for his own personal gain. This club was set up by the community for the community with a mission to positively influence the entire way people think of futsal and sport in general.
FutsalFeed was given an opportunity to take a closer look into the organization of this successful club that plans to become a role model to its rivals when it comes to questions of structure and long-term development. We had a lengthy, but incredibly informative and insightful chat with the MNK Olmissum's founder and president Mijo Milavić, their head coach, young and talented Duje Maretić, and Olmissum's Director Mr. Juraj Grizelj, with whom we had a talked about the fantastic work they did in the club's marketing department, who turned things 'on its head' in regard to the Croatian futsal marketing sphere, to get an entire picture of their success story.
Dignifying people with futsal
For starters, we had a talk with the club's president, Mr. Mijo Milavić. We asked him to introduce us to the club and tell us in a few sentences how they found their way at the top of the Croatian futsal.
"MNK Olmissum from Omiš was established in July of 2015 with the intent to capture and dignify as many people possible with futsal and to influence the society by drastically lifting the standards – in local public but in the sporting community as well. Although I am not a big sports person, my focus is primarily on projects in architecture and design, as a local patriot and fan of all types of football, I decided to build a club from the scratch."
"With me as a founder, club president, and main financier, I called my childhood friend Josip Škorić, who was just finishing his career as a professional football goalkeeper, to be in charge of the sporting segment of the club. In addition, we called an experienced futsal expert from Split, Ivica Krstulović-Opara, who suggested we hire Ivica Osibov as our first head coach. After three seasons, we hired our current coach Duje Maretić."
"We had multiple plans, but with the passage of time, I found additional motivation from the acceptance of the home crowd that was manifested in a huge number of kids (around 130) on training and our youth system, and packed stands in our sports arena (SD Ribnjak). That acceptance and happiness of people around us gave us that extra push in the back to persist on our way up."
"I had thoughts of achieving high places with this club, even the very top, but honestly, I did not expect it to come this fast, especially because of the rough experiences in the lower divisions. However, it may sound a bit paradoxical, but those rough times actually helped me and the team because they did not discourage us but taught us new things and made us stronger. I experience those three trophies (League, Cup, Super Cup, authors note) from 2020 as a by-product of our meaningful work and as a prize that I had the courage to enter into this project."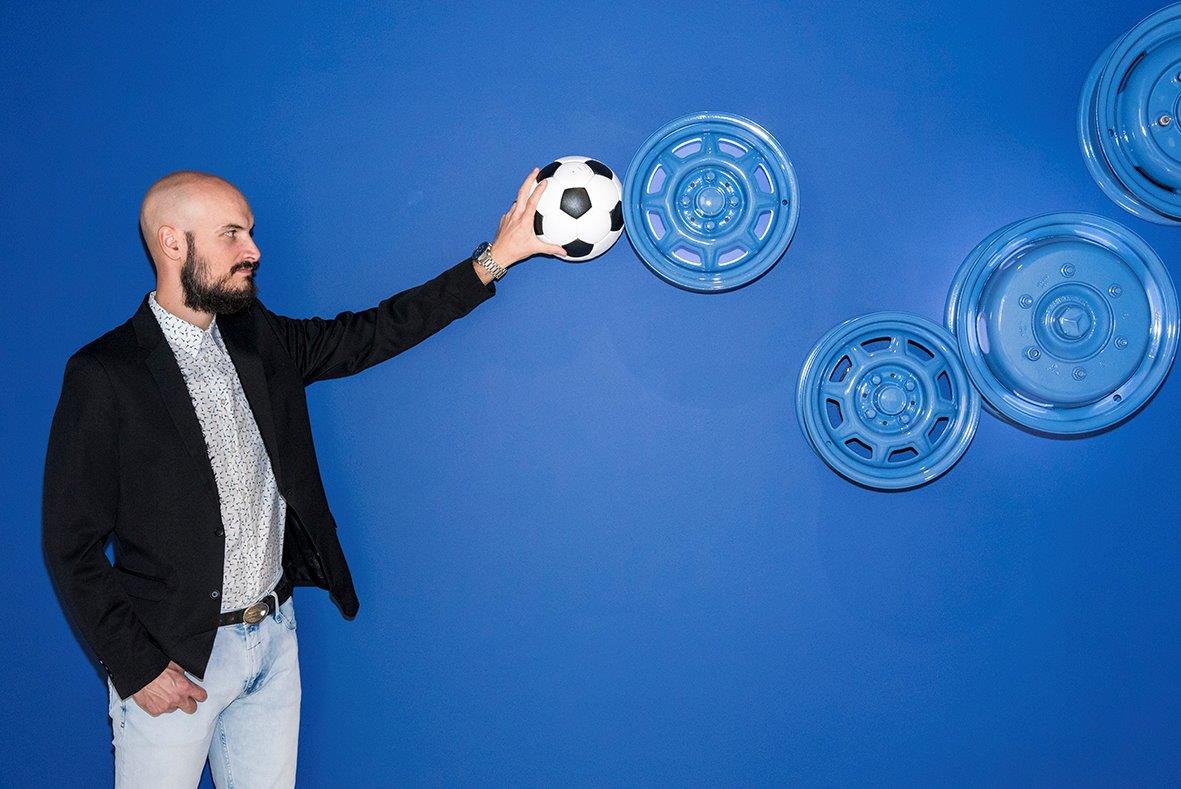 MNK Olmissum grew with each passing year in every segment of the club and the organizational one always went side-to-side with the successes on the court. How did your growth look from regionals leagues to the UFCL Round of 16?
"Exactly, we deliberately followed this order: infrastructure – principles – board/staff – image, which if it is consistent attracts players and fans, which is the main precondition for the result."
"At our first meeting, I told my associates that we have to organize everything perfectly under the motto: "The chain is only strong as its weakest link". I knew that the only thing which is not possible to replace with hard work and investments is the club's history, so we immediately dedicated ourselves to work with our youth sections, and our senior team members were predominantly in their twenties who wanted to train modern futsal. Because of this principle, we had some stumbles in the Third and Second division where we had to repeat the campaign has been short of the promotion for just one point."
"But our long-term strategy paid off when we achieved a miracle in our first season in the First division where we won the league! We always picked players primarily based on their character. We wanted them to be the living role models to the future first-team players, with their behavior, starting from when they say hello in the club's corridors, as well as with their top-notch performances on the pitch where kids cheer for them from just a few meters away. That symbiosis on the last matches before lockdown resulted with mutual hugging and celebrations after goals."
"Anyway, when we entered the First division, we decided to expand our pool of players from Dalmatia (coastal Croatia, authors note), including our experienced and well-known goalkeeper, with most potent players from entire Croatia. That turned out to be the correct move. Now we can say that we are the first club after a long time who are among the best 16 clubs in Europe with an exclusively home-grown roster. Our players are at the top of their game, or just getting there, and we are very proud of the fact that usually around six "Green and Blue" players get involved with the national team."
You can't fool the kids
Many people are not familiar with this, but you are the owners of your own sports arena. Many professional clubs in the world cannot say the same thing. How much does the ownership of your own arena help the growth and success of one futsal club?
"Yes, as a family enterprise, with the help of the local authorities, we invested roughly 30 million Kuna (circa 4 million Euros, authors note) into this complex that has two sporting halls. My company now owns one of these halls, seven offices and four locker rooms with the business area of almost 1000m2 where we plan to organize fan-corner, Caffe bar and children's playground in the coming months."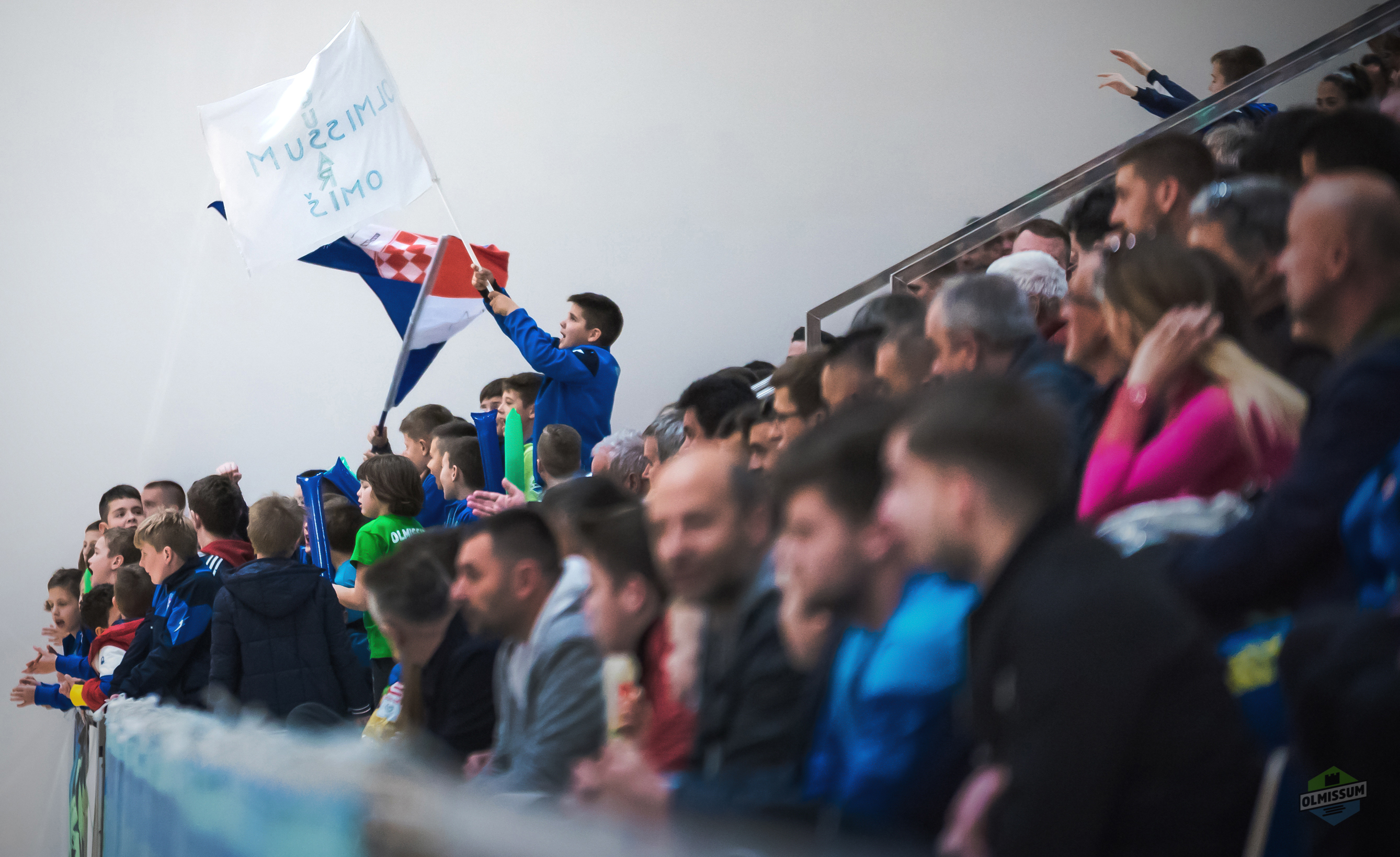 "We seek perfectionism, so the UEFA's delegates found no remarks in regard with the organization of our home matches in the last few months in the UEFA Futsal Champions League. Of course, all of this enables us the top conditions, but most importantly, it enables us everyday closeness in regard to human contact. This closeness connects us as a true sporting family. As soon as this unusual condition passes, we will try to organize world-class educational futsal seminars and meetings."
How would you compare MNK Olmissum with the rest of the clubs in the Croatian futsal league, mostly in regards to their roster, budget, organizational structure, number of fans, etc.?
Uhh, I usually avoid all comparisons, maybe that is why we are so different from everybody else. Besides my own visions, I learn from workers in sport from every part of the world. The inexorable league table is therefore the best possible and realistic reflection of one club's strength, which is determined by finance, for sure, but there are so many examples around us where money definitely does not bring success. People who are not aware of this tend to "break their teeth" easily. We signed players as "cream on the top" of already arranged structural elements of the club."
"I wish to point out that my biggest dream was that we fill out the large sports arena in our little town, and now we are witnessing something that was beyond my wildest imagination. Before almost exactly one year ago, in front of a crowd of 700 people or more, when we took the lead in the championship for the first time ever, local kids were very vocal in their support with their hand-made banners – then, we, unfortunately, faced all these Covid restrictions. And then – surprise! Because where one door closes, God opens the window: in the league play-off, a group of 10-15 of our fans shouted "Champions, champions!" behind the glass so everyone inside the hall could hear them. They continued to support us during a big cold outside after the victory against Charleroi, waiting for their favorite players to come out of the hall so they can chant to them. To me, this represents the universe, there is nothing beyond this because you can't fool the kids."
Despite good work put in, futsal in Croatia deserves more
Having a very successful futsal project with Olmissum, how do you perceive the growth of futsal in Croatia and the rest of the world?
"It is quite obvious that some European superpowers take giant steps forward in regard to strengthening their leagues and national teams. Let the wheel of history turn forward, of course, but we also have to keep watch of the world's trends and know what the next steps are. The formula that I advocate is looking inwards to ourselves and give much more attention and seriousness to the work we do. No matter what, that old phrase that you have to first clean in your own back yard before going out to preach to others seems to be completely true."
"Croatia will always have very talented players and we have to attract these players with our own actions that visibly stand out from the surroundings. I believe that we can create a much stronger product for our futsal league, which is already highly viewed and competitive, and of our national team which is tenth on the FIFA world ranking list. Fresh steps forward are visible on television and internet, even from the local football association, although I am confident that futsal deserves much more."
In last weeks, you surprised the Croatian futsal public with the singing of Franco Jelovčić, the captain of the Croatian national team. Seems to us that you're not letting your foot off the gas pedal.
"We saw a chance that you can't let go. Especially because in those weeks we were searching with one eye for a right-winger. Our own Valerije Jurić, struggling with an injury, heroically opened the scoring against Charleroi, but will now have to pause for a while. Croatian national team captain Franco Jelovčić turned overnight from our big wish to our number 7. However, circumstances dictate that this loan deal will last only until Summer. I expect Franco to lift the entire game to the next dimension, and to believe in a miracle, together with all of our players, in the duel against the mega team from Moscow. That attitude has always been our forte."
Only the start of something big
As our talk slightly shifted towards the current team and this season's ambitions, we turned to MNK Olmissum head coach, Mr. Duje Maretić. Maretić is a young coach still in his twenties, but one that has already won everything there is to win in Croatian futsal. His ambition does not stop there, though. Maretić took the helm of the club in the Second division. How big of a challenge was that for you as a young coach at that moment?
"Even in the second division, MNK Olmissum was very well organized and one big and serious project. I was impressed to receive a call from a club of such stature and organization, but it also seemed unreal due to the fact I was only 26 years old at the time. However, I believed in myself, and with the help of the board, that goal of reaching the First division was absolved."
"Now, when I take a look back at that period, I see how much everyone in the club progressed and how those years were merely a start of something big. I am very proud about that first season in Olmissum because we faced problems that we, as a young club, solved in style."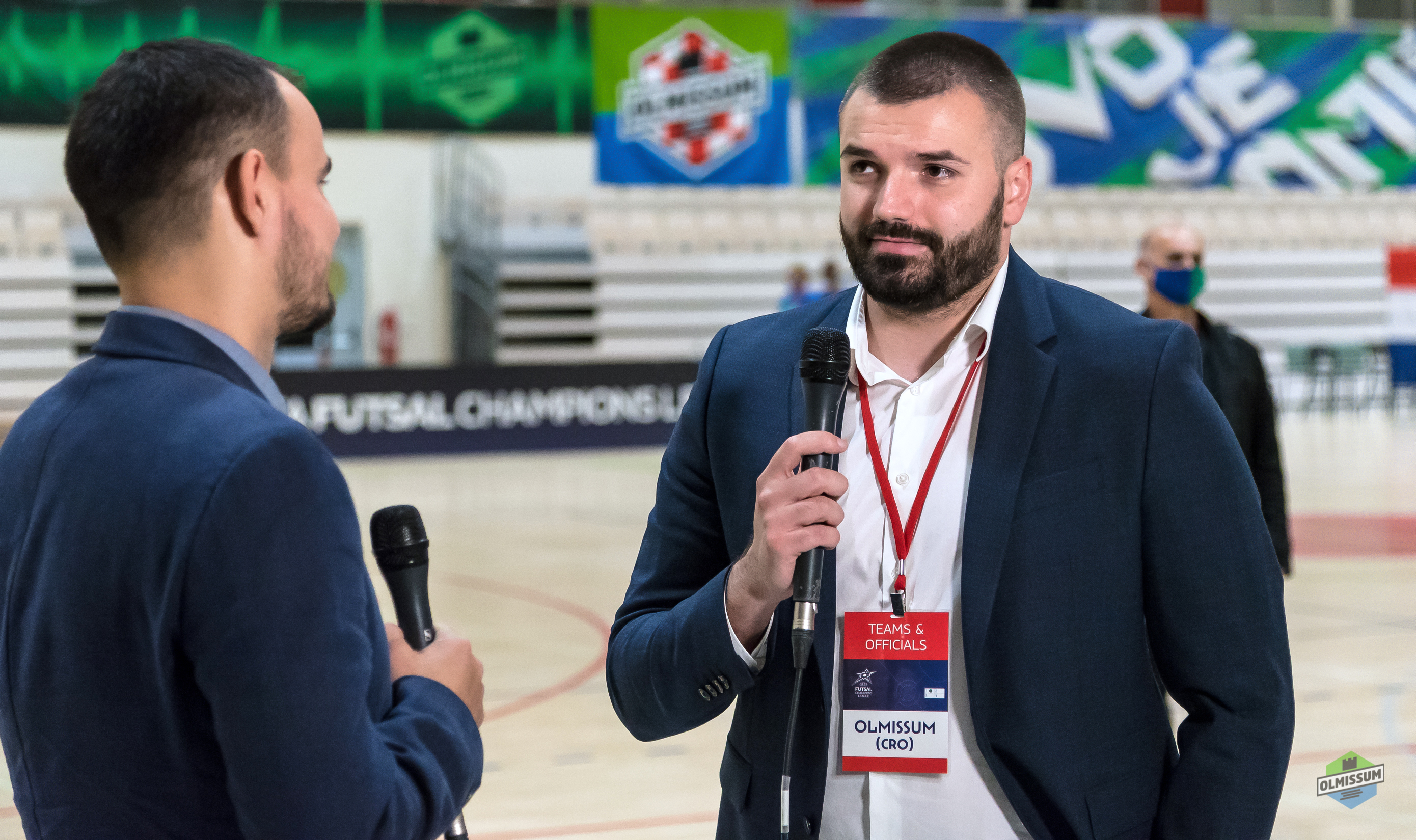 Your team's performances in the debutant season in the first division won the hearts of many futsal fans around the country. Did you really expect to win the title in the very first season?
"I have to admit that we formed our roster with the long-term success in plan. A chance was presented to us in our debutant season and we took it. We filled ourselves with experience and that champion's feeling, which is very important because, as a team, we are entering our best years. Our key players are 30 years old, and we have a compound of young and talented players. All preconditions to bringing a lot of joy to our fans in the coming years are with us."
Last season, the Croatian futsal league was filled with some extraordinary talented players. Winning a league in such strong competition was surely the cream on the top?
"Yes, I think that 2019/2020 futsal season had the highest quality of players in Croatian history because all clubs were very strong on the organizational and financial plan. This pandemic put a dent in all of that. I am incredibly sorry that the playoff was not played in front of the spectators and fans because all arenas across the country were full each week, and it was fantastic to play in such an ambiance. I hope that when this nightmare with the virus finally ends people will flock into arenas once again."
Enjoying the Futsal Champions League
Can you comment on the form of your team in the previous matches in the Futsal Champions League and where do you think Olmissum is in regard to the remaining 15 teams in the competition?
"As debutants, all of this is new to us. We had some luck with the draw, and in this pandemic situation, we were the hosts in all three matches. The match against Estonian Viimsi was never in question due to our quality and it was nice to begin our European campaign with a big win. The second round against the Belgian champion FT Charleroi was a huge challenge because we did not know what to expect. Our opponent did not play regularly because their league was suspended. It is very important that we secured the berth in the Round of 16, where our futsal representative simply has to be, in my opinion."
"In regard to the remaining 15 clubs in the competition, and from what I saw so far in the Futsal Champions League, I think that with our style of play and with our quality we are somewhere around the 10th place. But it is pointless to discuss this because to me the pitch is the only criterion. Simply put, the best 8 teams are the world for themselves in regard to investments, infrastructure, and players. Which does not mean that Olmissum with the continued good work, and that us Croatians, can't squeeze into this selected company."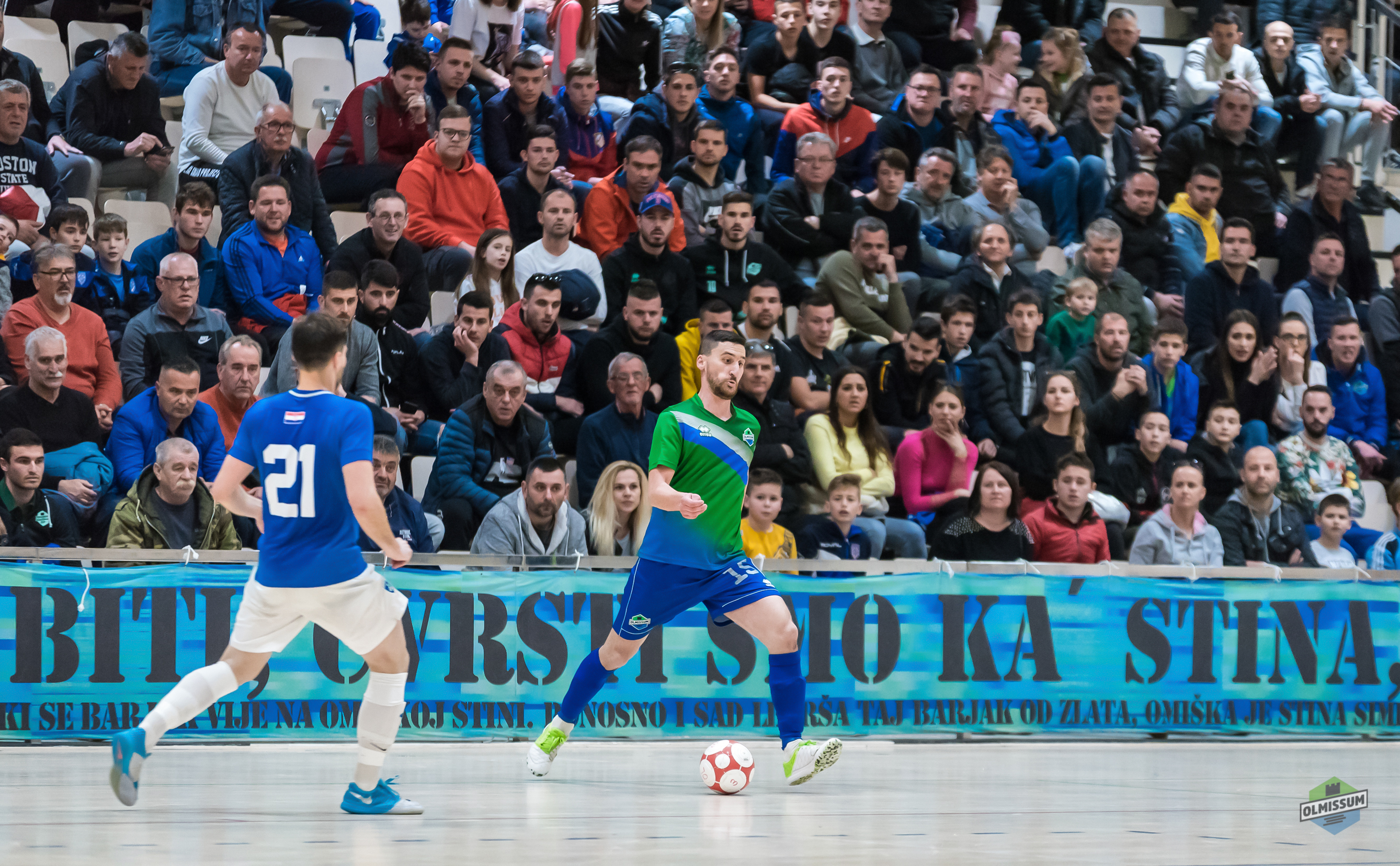 The draw decided that your next opponent is the Russian KPRF. How do you value your chances in that match and in the remainder of the competition?
"Honestly, I hoped to avoid them, Barcelona and Sporting CP because I find these three clubs to be the favorites for the title. As we analyze KPRF more and more, I am getting more confident that we can parry such a strong opponent if we show courage and concentration, and of course a bit of luck.
"We play in our home arena and I have been repeating to my players that we are the masters here, even if we play against Barcelona. We play against a fantastic KPRF team made of Russian internationals, naturalized Brazilians, two superb Spaniards… but if the Russians think that they will come to Omiš and easily secure the berth for the Final 8 tournament – they are mistaken. We will show who and what we are. We owe ourselves that and to the hard work we put in to reach this stage."
During the course of this season, you also became the assistant coach to Mr. Marinko Mavrović, the new head coach of the Croatian national team. What are your expectations from the upcoming qualifying cycle for 2022 EURO?
"There are no other expectations except qualifying to the 2022 EURO in the Netherlands. The first national team gathering was absolved successfully with two victories. We are now facing two key matches against Ukraine for which we have to prepare very well. It is very pleasant to cooperate with coach Mavrović and a huge privilege to work with all these players. We have to continue to grow, secure that EURO, and show how talented we Croatians really are."
Keeping futsal close to the heart during the pandemic
After we discussed all these sporting and organizational aspects of MNK Olmissum that brought them so much spotlight and success, we turned to Mr. Juraj Grizelj, the Director of the club to talk about all the exquisite work they have done in the marketing department of MNK Olmissum.
Their success was always coupled with fantastic marketing, especially in the digital area, and they reformed the way that now most Croatian futsal clubs operate on social media, setting the bar pretty high. We were interested in how hard was it for MNK Olmissum to become a recognizable brand in Croatian futsal?
"From its creation, Olmissum started to invest in its visual identity parallelly with the building of its sporting segment. This included the recognition of the name Olmissum, which is one of the old Latin names for the town of Omiš, coupled with green and blue colors as a connection of the Adriatic Sea and Cetina river."
"At the time when we 'seriously' started our work on the social media, more precisely with everyday graphic designs, videos and photo galleries, it was not a problem to impose ourselves as leaders in that sphere of Croatian futsal because most of our competitors had neglected and superficial profiles that were not timely updated."
"Our biggest advantage was that one year ago, during the first lockdown, when almost all sporting clubs in Croatia have put their social media on hold, we started with our strategy of everyday interactive and informative graphic posts that were very well accepted and gave a good analytic result. We did not save money on banners, billboards, city lights, or anything that freshened the thoughts about futsal and "Green and Blue".
"This was followed by success on the court, and now our social media inboxes are a proper little "post office", with "million" different questions, suggestions, praises, wishes, and so on…"
Where do you see space for further advancement? But not just with Olmissum, but in Croatian futsal as well, in regard to the marketing area?
"I definitely have to praise all Croatian clubs with the work they've done in this season, compared to the last. Everyone implemented a live stream of their home matches and viewership results are very big. They all put more effort in their social media posts and today it is much more updated and available than it was one year ago."
"I honestly think that Olmissum played a big part in it as a role model. Croatian Football Federation also showed signs of life on its social media in regard to the national futsal team, and we expect them to show some involvement on the club level in the future."
"Olmissum itself has its own plans on how to continue to bring joy to our online crowd, until they come back on the stands, of course. We intentionally did not make our official website live yet, because it is in its final stages of completion and it will definitely not be a "regular" website, that is all I can say for now. Parallelly, we are working on additional education of the people that are working in the club's operative."
Popularizing futsal is the key
How would you compare Olmissum's marketing in regard to other Croatian sports collectives (with emphasis on futsal)?
"Marketing, of course, depends on the club's budget and the staff professionals that they have access to. For most of the clubs in Croatia, volunteers do most of the work, which lowers the promotional quality and quantity. Therefore, one shouldn't hold a grudge to these clubs whose improvement is slow, but still visible."
"Just as well as Olmissum, regardless of its budget, billboard availability, official bus in club's colors, city lights, and other marketing specifics, cannot parry the clubs in the top tier of Croatian football in regards to marketing, there is a similar difference in futsal, where us and Futsal Dinamo, who is also doing an excellent work in that regard, and the rest of the clubs in the futsal league, who have issues resolving their current problems in this hardship times."
"Olmissum now represents Croatian futsal in its country but also on the European scene and it is our opinion that we are on a good way to improve and popularize futsal in the interest of all clubs in the First and Second Croatian Futsal League."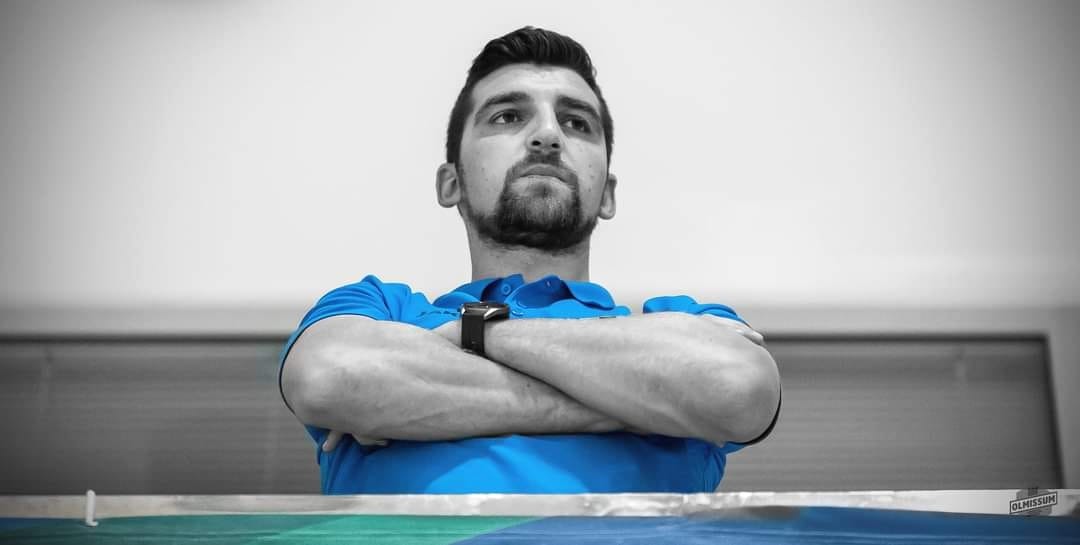 Futsal in Croatia is the most widespread amateur sport. Some version of it is played in practically every corner of the country. Can futsal in Croatia, coupled with good club's marketing staff, make that 'boom' that futsal fanatics in Croatia dream of for years and become the number one indoor sport in Croatia, if it already isn't?
"With this question, we come to one of the main operations of our club that is less known in the public. Olmissum is an organizer of Omiš Winter League (Omiška zimska liga, authors note), more precisely two local futsal leagues that cumulatively have 24 teams and around 450 players/members, that play their competitions in our arena. From that league, we saw a surge of futsal fanatics, a big number of Olmissum fans, including young local players that proved their skills on the amateur level and were invited to join MNK Olmissum."
"Of course, this league is coupled with the marketing of the teams themselves, and it promotes futsal and the clubs who enjoy their 'professional' status in the local amateur league."
"We emphasize this local league as an example of how you can popularize futsal a lot. Small strategic moves, like the ones where national team members Perišić, Horvat, Luketin give trophies, take care of the clock, write match minutes and vote for the best player of the match mean a great deal to the amateur players who can only watch these kinds of players on TV."
"Moves like these make people fall in love with futsal and that is an important part of the formula if we want to become the number one indoors sport in Croatia."
"It is a fact that all of us, from successful to not-so-successful, took our first footballing steps on the street in some sort of 4v4 or 5v5 football variant. That more than clearly shows just how a big base and potential futsal had from its inception. Now, all there is to do is to recognize that talent and guide it into hard work and knowledge."
"By making futsal closer to the people, through social media, up-to-date information, as much as interviews and statements from the people involved possible – futsal has the capacity of becoming a very powerful sport."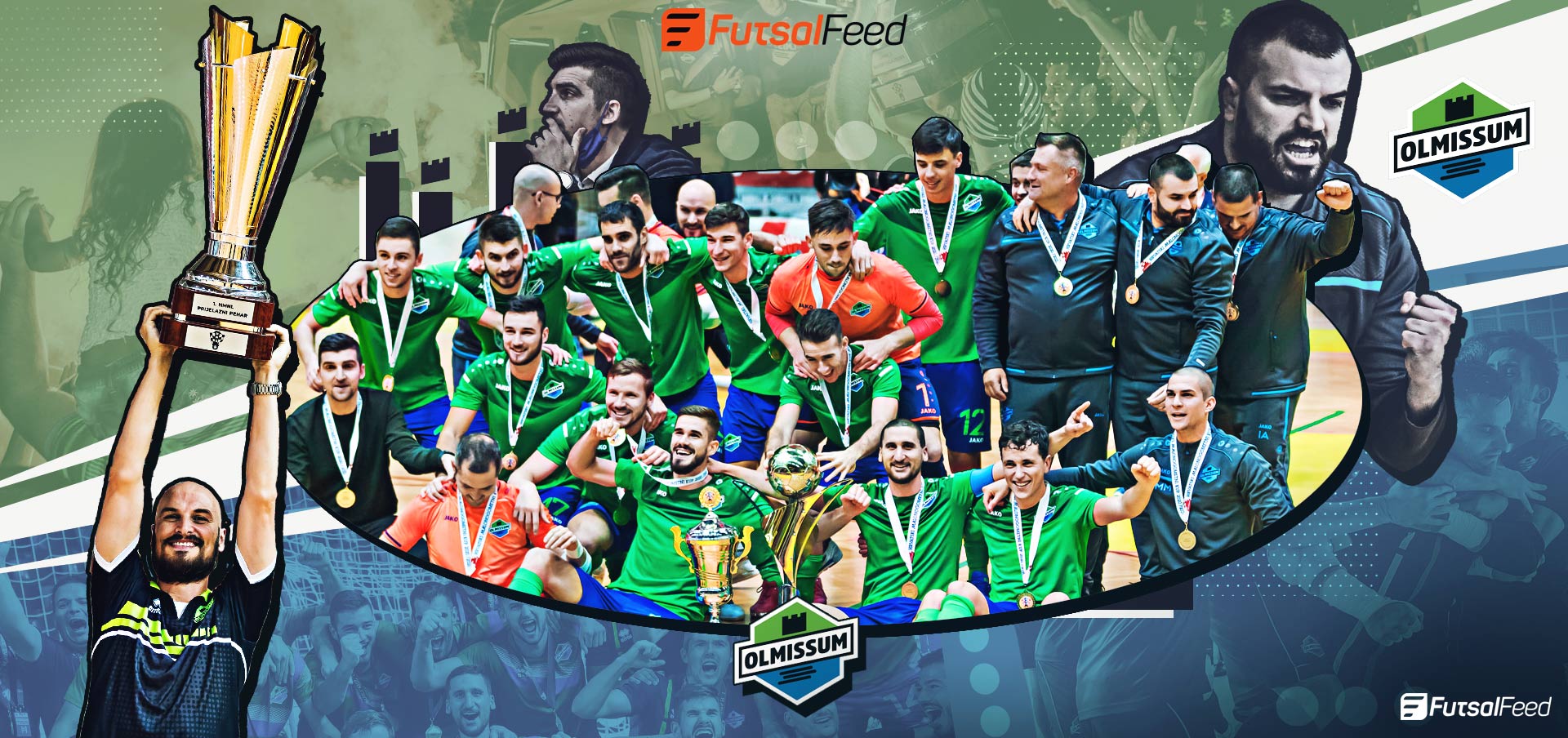 With that final statement, we wish to conclude this comprehensive report about MNK Olmissum - a futsal success story that still has a lot of fuel in its tank. A living proof that hard-work, long-term planning and vision, and investment into futsal pays off significantly, especially when it becomes attached to its local community.
FutsalFeed thanks MNK Olmissum staff for their help and availability with this interview and thanks for their continued support and love to futsal.