Even if you are not a keen and avid futsal enthusiast, and if you do not follow this sport every day, you probably have heard about 7Futsal. If you follow futsal daily, especially on digital platforms, you have undoubtedly heard about this popular platform.
7Futsal, pronounced as Seven Futsal, is one of the most popular futsal communities globally, with over 1.4 million followers on social media!
7Futsal has grown to (at the time of publication of this text) 924k followers on TikTok. It has 457k followers on Instagram and 81k followers on Facebook.
Those numbers are even more incredible since they were acquired in just two years!
Therefore, we took the opportunity and talked with the creator and owner of the popular futsal platform, Vince Van de Vreken.
Can you tell us more about your popular platform?
Seven futsal is a concept I started in September 2018. Long story short: futsal players, clubs, and federations send me their videos. I edit and share them on all social media platforms through the 7Futsal accounts. That results in an engaged futsal community between the fans, players, clubs, and federations. Each video is a collaboration between the ones associated with it, from which we all gain more reach and followers. Overall, I act as a promoter of our sport.
How did it all start?
Since 2015, I have managed my futsal club's social media accounts in the Belgian first division called CKB Puurs, which later on evolved in FT Bornem-Puurs. At the end of the 2017-2018 season, our futsal club decided to quit, and I still had the accounts with around 10 thousand followers combined. At the time, there wasn't an account representing the global futsal community on social media. The ones that existed were kind of amateurish and only focused on a specific country. I felt like I could do better, so I started the 7Futsal account. The '7' comes from my shirt number and 'Futsal' as our sport's international name. Seven futsal was born. I was sharing videos from all over the world to a global audience using the universal English language.
7Futsal is active on all popular digital platforms…
To gain brand awareness and to reach as many people as possible, it's essential to be present where the audience is. That's why Seven Futsal is on Instagram, TikTok, Facebook, Twitter, Youtube, and LinkedIn. You can also find my content in the r/futsal subreddit and my Facebook group.
According to the number of followers (924.000+), TikTok is the most valuable platform for you. Why is that, and what are the specifics of that platform compared to others?
I wouldn't say TikTok is the most valuable yet, compared to Instagram, even though it has the most followers. Growing is just a lot easier on an emerging platform. I started the 7Futsal TikTok in September 2019, when most people still thought it was an app for children filming themselves doing "stupid dances". I commenced posting 2-3 futsal videos a day as I did on all the other platforms, which turned out pretty good. TikTok became the hype of 2020. The platform is focused on sharing videos with music or sounds in the background. The power of TikTok is in their 'For You' page, which is different for every user based on their interests. In my experience, users spent very little time on the 'Following' tab. The TikTok algorithm is built that every video has a chance of appearing on people's 'For You' page. The more people interacting with a video will make it go viral and creates a chain reaction of people visiting your account and checking out your other videos. Many users watching content and very few users posting content results in a lot of organic reach.
How much time do you spend searching and making videos?
Honestly, I have no idea. Searching videos doesn't take that much time. As I mentioned before, people in the business send me videos via direct message or e-mail daily, and I have good contact with content suppliers. The amount of time depends on the video. Some videos only take 5 minutes to edit, while others take up to half an hour. I recently started working a full-time job. So, I try to work a few hours on videos during the weekend. I always have some extra videos prepared and a wide archive to choose from.
Freekick Routine 💯🔥 #7futsal
IG: yoyyets, ektorpfutsalklubb pic.twitter.com/xVAA8NeLGw

— Seven Futsal 🇧🇪 (@7futsalbe) January 12, 2021
Did some of the famous players contact you and commented on your videos? What is the general response of the public (besides having a considerable amount of followers)?
Seven futsal took off very well. From the start, I felt appreciation from the futsal fans and the street soccer culture. As I posted more videos, the professional players joined our community. It took me eight months to get the first 100 thousand followers. A special moment I can remember is when Falcão, the King of Futsal, started following me. Today, the list is endless. There are thousands of professional futsal players who follow and interact with Seven Futsal every day. They like, comment, and share my posts in their story. The futsal world is relatively small, and you get the feeling that everyone knows each other. In the early days, I was amazed by the comments from all the players. A few years before, I watched YouTube videos of those players, and now I can talk to them. That is the power of social media.
One-Touch Play 🤩🔥 #7futsal
w/ Marcel Marques @ElPozoMurcia_FS @LNFS pic.twitter.com/pU953uqclH

— Seven Futsal 🇧🇪 (@7futsalbe) January 2, 2021
You are from Belgium; what is your story and connection with futsal?
I grew up playing football at my local club. To improve my skills, I went to a football school on Sunday. Being one of the better players at ten years old, the technical trainer who played futsal in the first division introduced me to the club. I instantly fell in love with the game. Having Sever's disease for two years, a type of bone injury in which the growth plate in the lower back of the heel becomes inflamed and causes pain, I couldn't play futsal or football. I still played on the streets even though the doctor told me to rest. I missed the transition to the big field in football because of the injury, and it never felt the same afterwards. I wanted to touch the ball more frequently and play more tactical, so I skipped football training to play futsal. At 14 years old, I went all-in on futsal. Resulting in me joining the U21 team at 16 and start training with the first team every week. My dad was a futsal goalkeeper in his younger years, and he joined the club as a board member along the way. Later I started doing the social media of the club. Playing futsal and following the ins and outs of a futsal club at the highest level in Belgium for ten years made me visualize futsal the way I look at it today. The first connections with Belgian futsal players, coaches, and teams were born there.
The rise and fall of Belgium futsal
At the beginning of institutionalized futsal, Belgium was one of the most successful futsal nations, reaching the first-ever World Cup's semifinals in 1989. From 1985 to 1988, ZVC Hoboken played four consecutive finals of the Futsal European Clubs Championship, winning two European titles (1985 and 1988).
In the first six editions of the UEFA Futsal Cup (2002 – 2007), Belgium Champion Action 21 Charleroi reached semifinals on five occasions, winning the European title in 2005 (against Dinamo Moscow).
However, Belgium national team didn't qualify for the last seven major competitions (they participated in Euro 2014 as a host nation). Halle-Gooik is Belgium's most successful club in the previous decade. However, the current champion is Futsal Team Charleroi, the successor of the famous Action 21 Charleroi.
What is the situation with futsal in Belgium in general?
In Belgium, there are two futsal federations. One is affiliated with FIFA, the other with the AMF. My club has played in both first divisions. The Federation affiliated with the AMF is bleeding since 2017, as they no longer receive a subsidy. This was one of the reasons our club stopped existing. It also caused a shift from clubs changing to the FIFA side and the organizations and clubs becoming more professional step by step. Most teams in the first division are semi-pro. FP Halle-Gooik is the only professional sports team. Due to the Covid-19 crisis, there was a break since October. The first division will start again in February, but this season the championship will be played in one round, and there won't be play-offs. Without public and weekly Covid tests, it will be a financially challenging year for futsal clubs in Belgium.
Savage Skills🔥 in a friendly by Belgium 🇧🇪 vs Georgia 🇬🇪 #7futsal
IG: omar_rahou18 @RoyalBelgianFA pic.twitter.com/s6DFIiy4Uo

— Seven Futsal 🇧🇪 (@7futsalbe) January 4, 2021
Your champion Charleroi will play against Croatian champion Olmissum in the second round. What are the expectations?
Charleroi is the underdog. They won convincingly (13-1) against Lynx FC (Gibraltar) in the first round, but Olmissum is still on another level. Olmissum might take advantage of their league not being paused by the Coronavirus, while Charleroi has lack of competition rhythm since October. They could only train during this period, but don't underestimate them. Charleroi has many experienced players with individual qualities like Karim Chaïbaï, Ibrahim Adnane, Reda Dahbi, and Omar Rahou, who is the current Belgian top scorer and best player of the league. Combined with the enormous fighting spirit of, for example, Soufiane El Fakiri, they can surprise in the UEFA Futsal Champions League. Hopefully, they can follow in the footsteps of the Brazilian-tinged Action 21 Charleroi. I've had the opportunity to train with some of these players from back then, like Luiz Aranha and Lúcio Lima Rosa, when they played at our club for a few years. I have learned a lot from them about the game of futsal. Write it down: Charleroi knows no fear, and they will be ready!
In the 2022 Euro Qualifiers Group stage, Belgium will play against Italy, Finland, and Montenegro. What are Belgium's chances to secure its place in the 2022 Euro in the neighbouring Netherlands?
I predict Italy will become the first in the group. Belgium and Finland will compete for second place. So, they will need to be within the best six runners-up to secure their place. Montenegro shouldn't be too much of a problem because the Red Devils already won against them in the qualifying round and have three head-to-head wins overall. If faith is in their favor, Belgium can take some points against Italy. Belgium is currently 29th in the Futsal World Ranking, so we still have some growth margin to equalize our national Football team. The Royal Belgian FA is investing more in futsal thanks to Roberto Martinez, the Belgian national football coach and technical director, a big fan of futsal. People often forget that futsal and playing on the streets are based on our national football team's success. In Belgium, Dries Mertens, Axel Witsel, Moussa Dembélé, Michy Batshuayi, and Radja Nainggolan all have a background in 5-a-side where they developed their technical skills. The Belgian futsal team is on the right track. On a technical level, we're among the best, but we still have to grow professionally and physically. It's been some time since we could qualify for a big tournament, so hopefully, when Covid's all over, Belgian futsal fans can cross the border to support our country.
> Belgium Futsal Story: Hope for Better Future!

Which club do you support in Belgium and which in the world?
When it comes to this topic, I'm a bit against the grain. As a kid, I never felt the desire to choose a team I would support. I'm just supporting the team I'm playing for, and I don't change teams. In Belgium, I have a slight preference for FT Antwerpen. Just because they are the closest club to where I live. Being in the position where I manage Seven Futsal, I find it important to be a neutral spectator. This gives me the advantage of judging videos objectively and enjoying every action of our beautiful sport.
The Future of Futsal
What is your view on futsal's future perspective?
My whole life, I got the feeling I need to fight for futsal. In the end, it's all about a lack of money. With our club in the first division, we had to work three times as hard to get less sponsorship than a local football team. Futsal being under football's wings results in limited opportunities for the wrong reasons. Look at what's happened in England recently, where the FA is cutting the funding with 90% of what already was a small piece of the pie. Football associations are making the following mistake: They see that futsal benefits football players in countries such as Brazil, Argentina, Spain, and Portugal. So, they will add it to their academy model as a way to improve football players.
But in those countries, the success was achieved by developing futsal as a game itself, not to improve football players. People still see futsal as football's little brother, and I want to change that. The underlying goal of the Seven Futsal is to inspire people to start playing futsal. Futsal is growing rapidly, but with actions like this, it's like going two steps forward and one step back at a time. FIFA is not pushing it enough. They should follow the image of AFC and UEFA, which gives it more coverage. In a Utopia, futsal is distinguished from football, and there is one united futsal organization instead of lots of different ones with a small variation in rules. Futsal will go through the roof and will finally become an Olympic sport.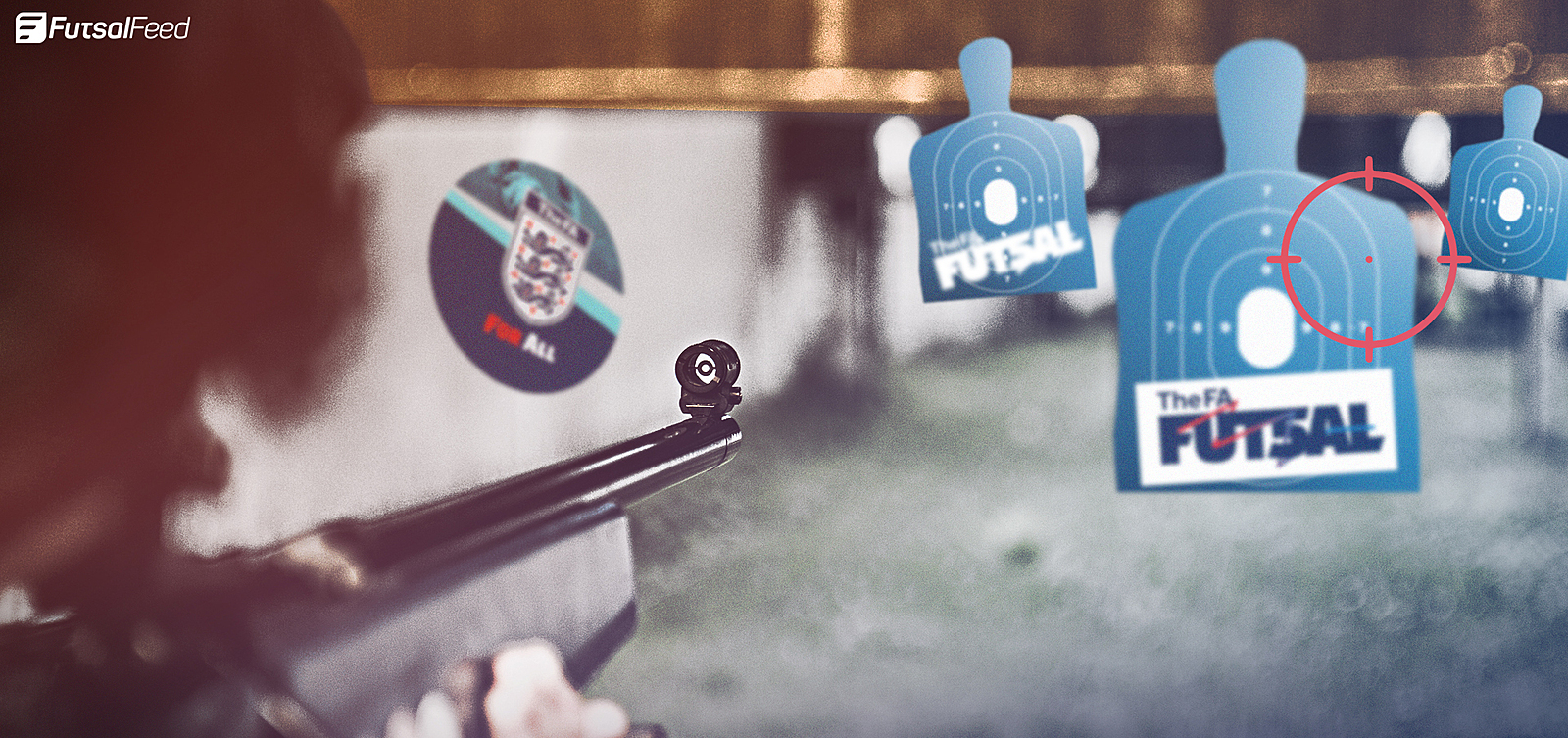 The last question, did you vote in FutsalFeed's Best Team of 2020 poll, and what is your's best squad of 2020?
Yes, of course. My Best Team of 2020 is 100% Brazilian. In goal, I've put Guitta. This year, he was the most complete goalkeeper, highlighted by his goal in the derby with Sporting against Benfica. Rodrigo Hardy, as a defender, was the backbone of Magnus this year. Dyego Zuffo, as a left-wing, was unstoppable and decisive for Barcelona with his efficient dribbling and amazing shooting power. I went for Leozinho as a right-wing. He emphasized why he was voted Best Young Player in the world in 2019. He's a technical genius, and I enjoy his style of play a lot. As a pivot, there is one player that stands out: Ferrão. The best coach of the season was Ricardo Di Izeppe, the Magnus' coach winning the championship undefeated was a unique achievement.
> Winners: FutsalFeed Best Team of 2020 Awards powered by Senda Athletics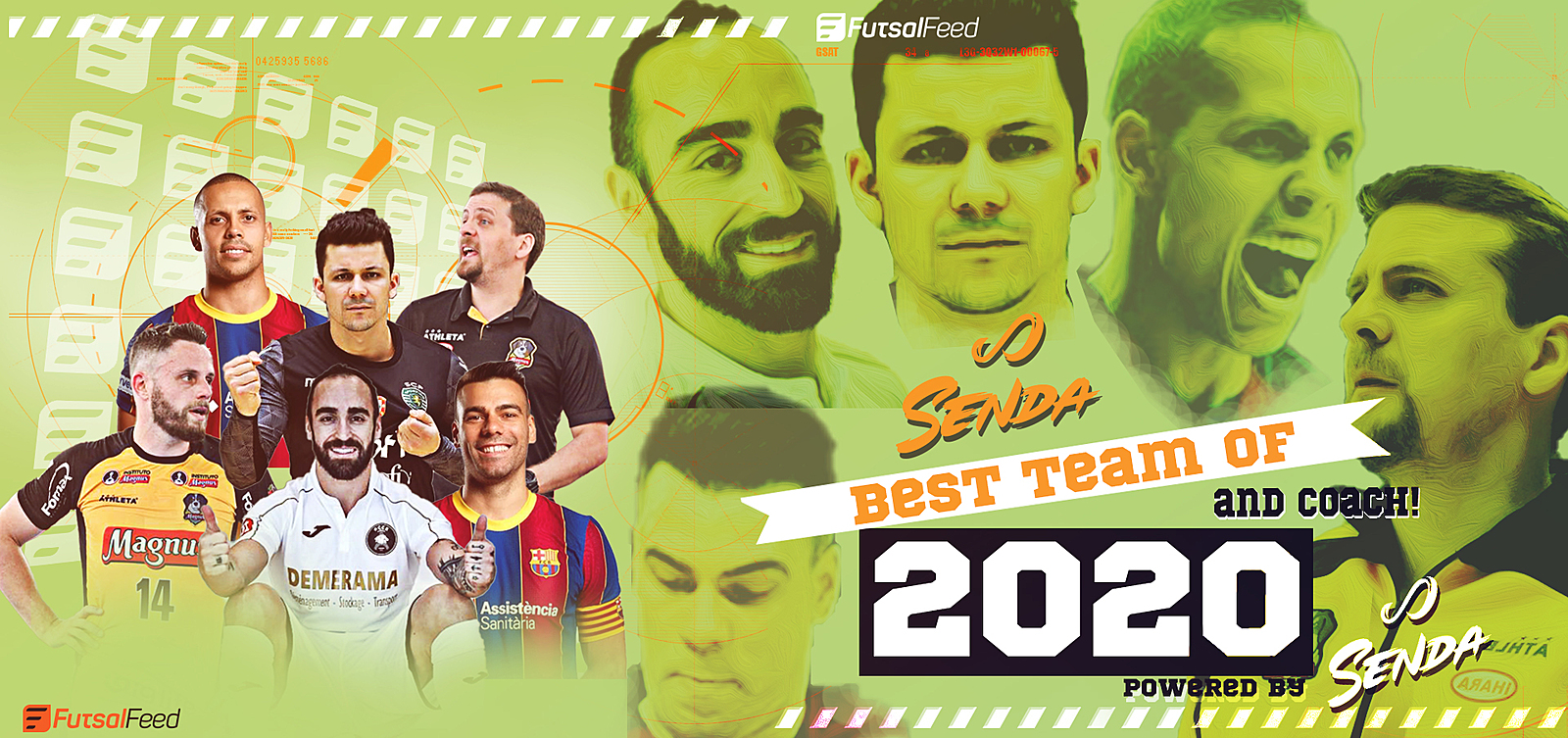 In the end, 2020 was a strange year. I hope that everything can go back to normal in 2021 so we all can play again and enjoy our beautiful game", told us Vince Van de Vreken in the end.
You can find more about Seven Futsal HERE.