The inaugural FutsalFeed's Best Futsal Team 2020 Awards powered by Senda Athletics is over! In the last 14 days, you, our dear readers, had an opportunity to vote for the best players (and the best coach) among six elected candidates on each of futsal's positions: goalkeepers, defenders, right wings, left wings, pivots, and coaches.
Therefore, after more than 5700 votes, the best team in 2020 is: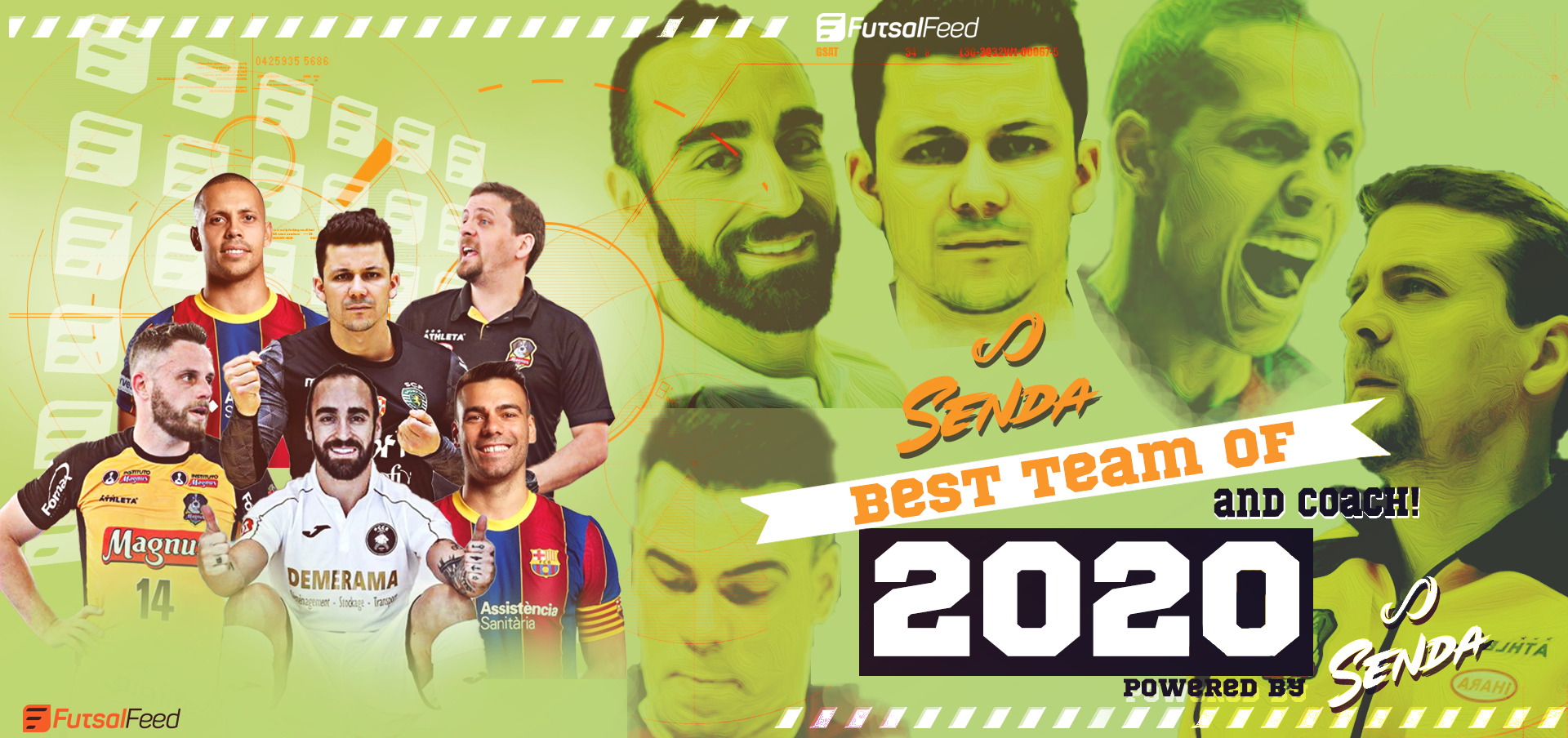 Brazilian goalkeeper Thiago Mendes Rocka "Guitta", who plays for Sporting from Lisabon, convincingly won the best goalkeeper's title in 2020, winning 21% more votes than his naturalized compatriot Leonardo de Melo Vieira Leite "Higuita" from Kazakhstan. By popular vote, the third-ranked goalkeeper in the world is Ondřej Vahala (Sparta Praha/the Czech Republic) with 10 percent of your votes.
The most exciting duel took place for the defender position. Even though Spain international Carlos Ortiz Jiménez (ACCS) led through most of the competition, Brazilian champion Magnus Futsal and national team member Rodrigo Hardy took the victory in the "foto finish", with only 5 votes more than Ortiz!
The first winger position is reserved for arguably the best player in the globe, Ricardo Filipe da Silva Braga "Ricardinho". He got 36% of your votes, leaving his competitors at a safe distance. Second-placed Marko Pršić from Serbia got 23% of the votes, and Brazilian Leonardo Caetano Silva "Leozinho" 19%.
Sergio Lozano won was elected to the second winger position with 34% of your votes, 11 percent more than two Brazilian internationals - his teammate from Barcelona Dyego Zuffo and Fabricio Bastezini "Gadeia", ex-Inter Movistar player and current Kairat winger.
The best pivot of the year is Carlos Vagner Gularte Filho "Ferrao" from Barcelona, who won FutsalPlanet's best men's player award in 2019. Ferrao won 42% of your votes, leaving his compatriots Deives Moraes in second place (23%) and Jean Pierre Guisel Costa "Pito" in third place (13%).
The best coach of the year is Magnus' coach Ricardo Di Izeppe "Ricardinho" who won the Brazilian championship (and state championship!) – without a defeat! He got 34% of votes, 11% more than the second-placed Goran Ivančić from Serbia, and 12% more than third-placed Andreu Plaza (European champion with Barcelona).
Every voter could vote only once for their candidates, and winners will be rewarded with new, top-of-the-line Ushuaia Pro Futsal Shoes from the competition's sponsor Senda Athletics.
We are thankful to all of you who took your time and voted for the best futsal players in 2020.
We would also like to thank a large number of nominated players and the international media websites and pages who shared the poll and invited their followers to vote for their candidates.
GOALKEEPER:
1. Thiago Mendes Rocka "Guita" (sporting Lisbon/Brazil) 44%
2. Leonardo de Melo Vieira Leite "Higuita" (Kairat Almaty/Kazakhstan) 23%
3. Ondřej Vahala (Sparta Praha/The Czech Republic) 12%
4. Nicolás Sarmiento (Palma Futsal/Real Betis/Argentina) 8%
5. "Willian" Felipe Dorn (Joinville/Brazil) 5%
6. Stefano Mammarella (Acqua e Sapone/Italy) 3%
DEFENDER:
1. Rodrigo Hardy Araújo (Magnus Futsal/Brazil) 27%
2. Carlos Ortiz Jiménez (Inter Movistar/ACCS/Spain) 27%
3. Douglas Júnior da Silva Negreiros (Kairat Almaty/Kazakhstan) 23%
4. Rômulo Alves Nobre (KPRF/Russia) 11%
5. Maximiliano Daniel Rescia (Levante/Argentina) 8%
6. Bilal Bakkali (ACCS/Morocco) 4%
LEFT WINGER
1. Ricardo Filipe da Silva Braga "Ricardinho" (Inter Movistar/ACCS/Portugal) 36%
2. Marko Pršić (FON/Serbia) 23%
3. Leonardo Caetano Silva "Leozinho" (Magnus Futsal/Brazil) 19%
4. Hossein Tayebi (Benfica/Iran) 8%
5. Rafa Santos (Nagoya/El Pozo/Brazil) 8%
6. Leandro Cuzzolino (Levante/Pesaro Italservice Calcio a 5/Argentina) 6%
RIGHT WINGER
1. Sergio Lozano (Barcelona/Spain) 34%
2. Dyego Zuffo (Barcelona/Brazil) 23%
3. Fabricio Bastezini "Gadeia" (Inter Movistar/Kairat/Brazil) 23%
4. Constantino Guillermo "Vaporaki" Tello (Boca Juniors/Argentina) 8%
5. Yanar Asadov (KPRF/Russia) 7%
6. Juan Gómez Salas "Cholo" (El Pozo/Paraguay) 5%
PIVOT
1. Carlos Vagner Gularte Filho "Ferrao" (Barcelona/Brazil) 42%
2. Deives Moraes (Corinthians/Brazil) 23%
3. Jean Pierre Guisel Costa "Pito" (Inter Movistar/Brazil) 13%
4. Raúl Gómez (KPRF/Spain) 8%
5. Cristian Borruto (Pesaro Italservice Calcio a 5/Argentina) 7%
6. Javier Garcia Moreno "Chino" (Valdepeñas/Spain) 7%
COACH
1. Ricardo Di Izeppe "Ricardinho" (Magnus/Brazil) 34%
2. Goran Ivančić (Serbia NT/Serbia) 25%
3. Andreu Plaza (Barcelona/Spain) 24%
4. Tomaš Neumann (Czechia NT/The Czech Republic) 10%
5. Hicham Dguig (Morocco NT/Morocco) 4%
6. Freddy González (Venezuela NT/Venezuela) 3%