Round 31 of the Spanish LNFS was played this weekend and we are nowhere near solving the puzzle at the top of the table. In fact, the top three teams now have an equal number of points and matches. But let's take it step by step.
>>> (HIGHLIGHTS) Time to unfold the drama at the top of LNFS as Round 30 starts
Palma Futsal 1-2 ElPozo Murcia Costa Cálida
A derby of the week as both teams are at the top and especially now as ElPozo Murcia with this weekend's victory edges just one point off the top of the table and Palma Futsal.
Marcel scored for ElPozo Murcia in the 19', just before half-time. In the second half, ElPozo Murcia continued where they left off - with a goal in 22', thanks to an effort by Rafa Santos.
Palma Futsal managed to score and get back into the mix in 32' thanks to an effort by D. Nunes, but that was all they could scrape from this match.
Córdoba Patrimonio 6-3 Levante UD FS
A very important victory for Córdoba as they get away from the relegation battle just below them. Could this be the one that confirmed their first division status? We'll have to wait just a tad more and see.
They furiously opened the match against the league runners Levante, scoring four unanswered goals. Two of them were scored by Pablo del Moral, with Zequi and Saura joining in on the scoresheet.
In 27' Jesús Rodríguez scored an own goal putting Levante on the board, but Prieto was quick to extend Córdoba's lead once again. Esteban and Marc Tolrà then scored for Levante, giving them some hope, but not before Zequi scored his second of the evening and secured a huge victory for Córdoba!
Ribera Navarra FS 5-2

Fútbol Emotion Zaragoza

Two playoffs hopefuls squared off this weekend with Ribera Navarra as hosts taking a victory against Zaragoza and a leap towards playoff positions.

Ribera Navarra opened the match in the best possible fashion for them, with Lemine opening the scoring in 1' and Pedro extending the lead in 10. Zaragoza was able to strike back in 18' thanks to an effort by Eloy Rojas.

In the second half, Gabriel Vasques and Lemine with his second goal of the day gave Ribera Navarra a substantial lead by 29'. Adri Ortego scored for Zaragoza in the next minute, but that proved to be it from the Zaragoza team as in the very same minute, Adri Ortego scored in his own net.
Peñíscola FS 2-2
Jaén FS
The only match that ended in a draw this weekend was the one between Peñíscola and Jaén. Peñíscola is trying to escape the relegation zone, while Jaén is hoping to catch the last train for the playoff spots. They edged towards them thanks to their good recent and lossless form.
Jaén's Bingyoba scored in the first half, a lead the saved all the way until the second half. Orzáez equalized in 23', with Tuli turning things around for Peñíscola in 37'. But futsal is futsal, and in the dying seconds of the match, Marcao scored for Jaén keeping their lossless form alive and securing a nice point on an away day.
Inter FS 0-3 Industrias Santa Coloma
A huge victory for the Santa Coloma team as they take three points while traveling away to Madrid. Things immediately were off to a rocky start for Inter as Bermusell scored for Santa Coloma in 2'.
Throughout the entire match, Inter was not able to find a way behind Borja Puerta on Santa Coloma's goal as he recorded a clean sheet. Inter's hopes were diminished in the last few minutes of the match when David Álvarez scored two more goals to seal the victory for the guests.
Viña Albali Valdepeñas 1-2 Osasuna Magna Xota
While traveling, Osasuna managed to record a victory that will be important for them to retain their first division status for next season. Valdepeñas on the other hand will be disappointed as they could have jumped into the playoff spots with a victory.
César opened the scoring for Osasuna in 5' and they held to that result throughout the first half. Rafael Rato equalized in 34', but Bynho gave all three points to Osasuna in the dying second of the match!
Barça 3-1 Real Betis Futsal
In their first match after the UEFA Futsal Champions League final, Barça defeated Real Betis Futsal.
But things were off to a rocky start for them as Elías put the guests in the front in 7'. Povill equalized for Barça in 15' and teams went to the break leveled.
Dyego in 32' and André Coelho in the last moments of the match secured a victory for Barça that sees them move closer to the top of the table.
Jimbee Cartagena 7-0 O Parrulo Ferrol
A blowout victory for Jimbee Cartagena against already relegated O Parrulo Ferrol that saw two hat-tricks.
It is also worth noting that Cartagena managed to break O Parrulo only in the second half when we saw the first goal. But from then on it was a one-way road for Cartagena.
Andresito and Waltinho were hat-trick scorers, while Lucão joined them on the scoresheet with one goal. Jimbee Cartagena now ties at the top of the table with Palma Futsal and Levante.
Four full rounds of the Spanish LNFS are left on the schedule, with an odd postponed match here and there. We can't recall a season-ending being so dramatic at the very top of the table and we're looking forward to seeing how it all unfolds before the playoffs.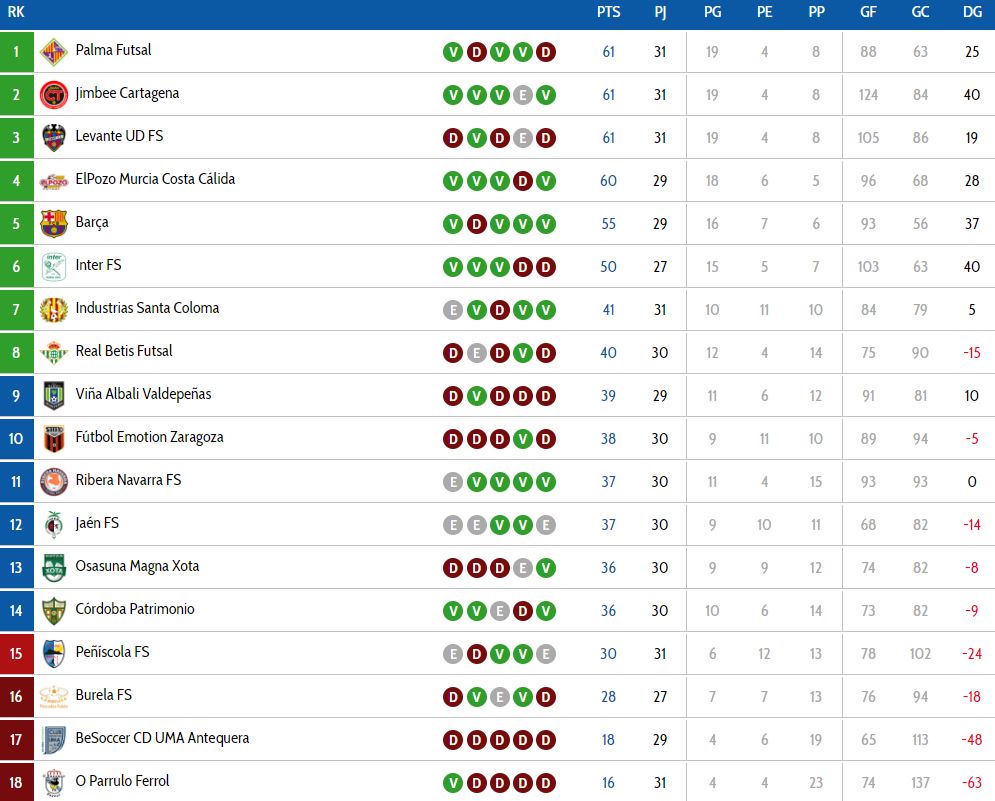 >>> 4+1 easy ways how you can support FutsalFeed