Three postponed matches from earlier rounds were played this mid-week in Spain and the final result was - three draws.
>>> (HIGHLIGHTS) Getting very crowded at the top after Spanish LNFS Round 31
Córdoba Patrimonio 0-0 Viña Albali Valdepeñas
A quite unusual result for a futsal match, but still a friendly reminder that things like these still happen from time to time. Nevertheless, it was a quite interesting match with both teams producing meaningful goal-scoring opportunities but both goalkeepers decided to record a clean sheet.
A point sees Córdoba pip Jaén in the 12th position, albeit they have the same number of points, just like Ribera Navarra on 11th. Playoff spots are just three points away while Córdoba edges away from relegation places and are now seven points clear. Depicts just how close everyone in LNFS is.
On the other hand, this point saw Valdepeñas pip Real Betis Futsal in the 8th position, the last one that leads to playoffs. Last year's LNFS finalist now has everything 'in their hands' and all preconditions for a big playoff battle are met with three more rounds of futsal to go.
Burela FS 6-6 ElPozo Múrcia Costa Cálida
Burela FS, who after this draw find themselves in 16th place, the relegation zone, still have everything to play for. Even if they don't manage to escape the relegation zone, the 15th position secures them a chance in play-out. They are just one point away from 15th place, with 3 matches played less than 15th Peñíscola.
And they showed great resilience against ElPozo Múrcia who chase the very top of the table and could have taken it if they have managed to defeat Burela, but in the end, they managed to scrape a point. They now share the first position with three more teams, although ElPozo Múrcia played one match less than their competition at the top.
Múrcia's Marcel opened the scoring in 5', but with an own goal. A bit later, in space of two minutes, Rafa Santos and Pol Pacheco turn things around for Múrcia. However, an equally good effort by Renato and Pitero for Burela turn the tables in Burela's favor. And just before the break, Marcel scored to equalize the match for Múrcia.
A good second-half opening for Burela saw them go two goals up, thanks to efforts by Renato and Iago Míguez. Paradynski scored for Múrcia to stay in the mix, but things must have seemed dire for his team when Renato completed his hat-trick a few minutes later.
But, Múrcia's fighting spirit sees them rise to challenge, and thanks to two late goals by Pol Pacheco and Darío they took a point from this match.
Inter FS 3-3 Fútbol Emotion Zaragoza
Another match-up between two teams who have everything to play for. Inter is secure for the playoffs but they still can finish at the top of the division, while Zaragoza is trying to catch the playoff spot, being just one point shy.
Adri Ortego opened the scoring for Zaragoza at the very beginning of the match, but Cecilio equalized for Inter immediately afterward. Nevertheless, Javi Alonso and Retamar scored for Zaragoza before half-time to secure a 3-1 away lead at the break.
It is also worth noting that Cecilio got sent off in 19' after his second yellow card of the day.
In the second half, Inter expectedly rushed to salvage something from this match and their efforts were rewarded in 33' and 38' when Tripodi and Borja scored to secure a point for the Madrid team.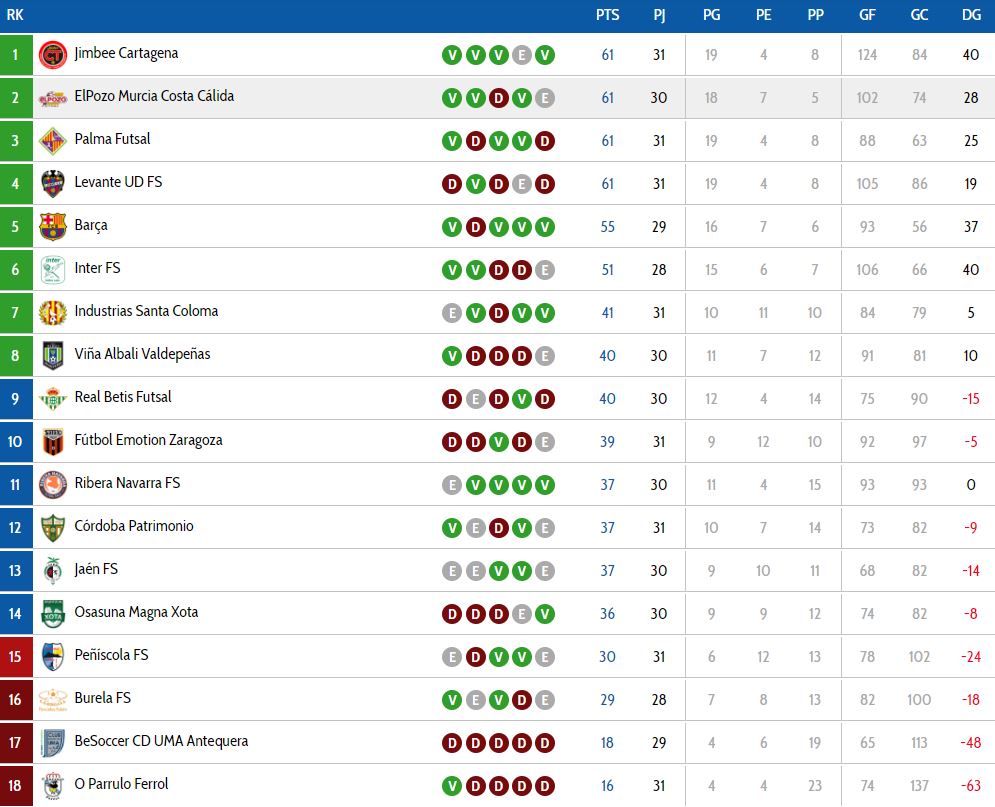 >>> 4+1 easy ways how you can support FutsalFeed