The Round 32 of the Spanish LNFS started yesterday with five matches. Ribera Navarra, Betis, O Parrulo, Zaragoza, and Barça recorded victories as teams are battling for positions from the top to the bottom of the table. Round 32 will continue today, and there will be two more rounds of futsal before the end of the league stage.
>>> Spain: Burela with an important victory, Jaén and Barça tie
BeSoccer UMA Antequera 1-4 Ribera Navarra FS
Unfortunately for Antequera, they have already relegated to the second division. Ribera Navarra is still in contention for a playoff position and their approach to this match was rewarded at the end. It is very worth noting that Riber Navarra have won 5 matches in a row.
We waited for a full 30 minutes of active play to see the first goal in the match. Dani Martin opened the scoring for Ribera Navarra, and Lemine extended the lead soon after.
Only then did Raul Canto score for Antequera, and that was everything that we saw from them goal-wise in this match. Until the full time, Lemine scored his second of the day, with goalkeeper Gus also scoring in the end.
Real Betis Futsal 3-1 Peñiscola FS
Real Betis Futsal recorded a very important three points for their playoff battle, while this loss will hurt Peñiscola, whose battle to avoid relegation took a big blow.
The match was controlled by Betis who scored three unanswered goals thanks to efforts by Elías, V. Arévalo, and Borja Blanco.
Peñiscola's R. Orzáez has softened the blow for his team in 36', but they were unable to produce more.
O Parrulo Ferrol 4-3 Cordoba Patrimonio
A very interesting match between already-relegated O Parrulo Ferrol and Cordoba Patrimonio. With this victory, O Parrulo escaped the bottom league position, for a while anyway, while this loss severely hurt Cordoba's chances for the playoffs. Their focus will now be to avoid relegation in the next two rounds.
The first half of the match went goalless. But immediately after the restart, D. Xavier and Thalles scored for O Parrulo putting them in the lead.
However, with three relatively fast goals by Lucas Perin, Boyos, and Shimizu, Cordoba turned things around and hoped they have bagged three points.
But Kevin Chis and Miguel scored two even faster goals for O Parrulo that saw them record their first league victory in a month.
Osasuna Magna Xota 3-6 Futbol Emotion Zaragoza
Zaragoza will take this victory as they continue their push to the playoffs and they need results like these. Osasuna will fight to avoid relegation.
Just before half-time, Osasuna's R. Martil scored for the lead. Juninho extended Osasuna's lead soon after the restart.
However, immediately after, Sante Basile scored Zaragoza's first goal of the evening. In fact, Zaragoza scored five more unanswered goals to completely turn things around. Juanqi, Dian Luka, Javi Alonso, Retamar, and goalkeeper Ivan Bernad all put their name on the scoresheet.
Zurdo softened the blow for Osasuna with a late goal, but it is Zaragoza who celebrates a second-half goal bonanza and new three points.
Burela FS 1-4 Barça
Burela is fighting to avoid relegation and currently finds itself in 15th position, the one that leads to the relegation playoffs. Barça is fighting for the top of the table and edges closer to that goal with this away victory.
Barça's goalkeeper Dídac opened the scoring in the 9' of the match. In the second half, Iago Míguez equalized for Burela, but that was all that his team managed to do goal-wise for the remainder of the match.
Dyego with two more goals and Ximbinha with his goal brought this match to an end and three important points for Barcelona.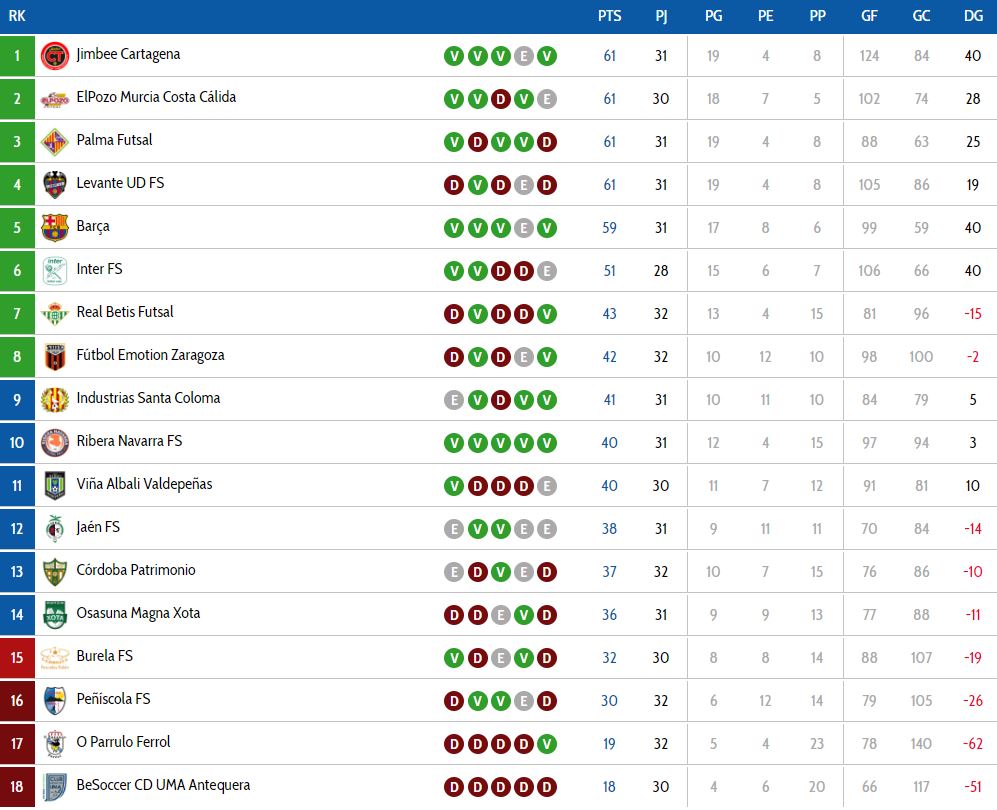 The Round 32 of the Spanish LNFS will continue later today with four interesting matches:
Santa Coloma - Valdepeñas
Levante - Inter FS
ElPozo Murcia - Cartagena
Jaen - Palma Futsal
>>> 4+1 easy ways how you can support FutsalFeed