The Spanish LNFS Round 33 continued yesterday with the majority of matches being played. Thanks to the victory against Cordoba, ElPozo Murcia is back on top of the table with one more round to go. Levante is out of contention for the top as they lost against Valdepeñas, who most likely secured the playoffs.
>>> Spain: Palma opens Round 33 with a victory, Barça and Murcia went goalless
Cordoba Patrimonio 1-2 ElPozo Murcia Costa Calida
Cordoba is fighting to avoid relegation, but they couldn't avoid a defeat in a match against ElPozo Murcia who is now back on the top of the league table.
Darío opened the scoring and put Murcia ahead at the break. Pol Pacheco extended Murcia's lead in the second half. Saura softened the blow for Cordoba, but that was all they could scrape from this match.
Viña Albali Valdepeñas 5-2 Levante UD
An interesting match between two teams who have a lot to play for. With this victory, Valdepeñas practically secured a playoff position. Levante lost all chances to finish the season on the top of the LNFS.
Rubi Lemos put Levante ahead in the opening stage of the match. However, thanks to two goals by Catela, Valdepeñas turned things around by half-time.
Catela finished his hat-trick in the second half, just before Roger tried to get Levante back into the match with a goal of his own.
However, Cainan and Chino finished the job for Valdepeñas with two more goals in Levante's net before full time.
Barça 5-2 BeSoccer CD UMA Antequera
With no special drama, Barça defeated Antequera who are already relegated to the second division. Barça, on the other hand, secured the playoff a long time ago.
Barça scored four goals in the match before Antequera could answer. Ferrao, Aicardo, and Daniel with two goals scored for Barça before Joaki and David Velasco softened the blow for Antequera. Adolfo extended Barça's lead in the dying seconds of the match.
Inter FS 5-1 O Parrulo Ferrol
Inter FS has finally recorded a victory to end their bad streak. This time there was no drama whatsoever in a match they controlled. Daniel Saldise scored two goals and he was joined on the scoresheet by Boyis, Eric Martel and Pola.
Morioka scored a consolation goal for O Parrulo Ferrol.
FS Peñíscola RehabMedic 2-2 Burela
In a direct relegation duel, Peñíscola lost all chances to survive in the first division after a draw with Burela. In the worst-case scenario, Burela will now play a playoff match to remain in the elite division, but they still have a chance to pip Cordoba by the end of the season.
Agustín Plaza scored a few minutes before half-time to put Peñíscola in the lead. However, in the second half, Renato and Matamoros turned things around with two quick goals in 29' and put Burela in the lead.
In the final minutes of the match, Rahali equalized, but that was all that Peñíscola could do as they say goodbye to the elite Spanish futsal division.
Osasuna Magna Xota 2-2 Ribera Navarra FS
With this draw, Osasuna is still not out of the woods. Theoretically, they can still face relegation and they will have to put in a good performance in the last-round match against Inter. Ribera Navarra will most likely finish the season after next week.
Bynho put Osasuna in the lead in the opening stage of the match. However, his teammate Martil was forced to concede an own goal just before half-time.
Ribera Navarra turned things around with a goal by Minguez in the second half. Mancuso equalized for Osasuna a few minutes later and that was all goals that we saw in this match.
Round 33 of the Spanish LNFS will finish today after two remaining matches. Zaragoza will face Santa Coloma and Jimbee Cartagena will host a match against Jaén FS.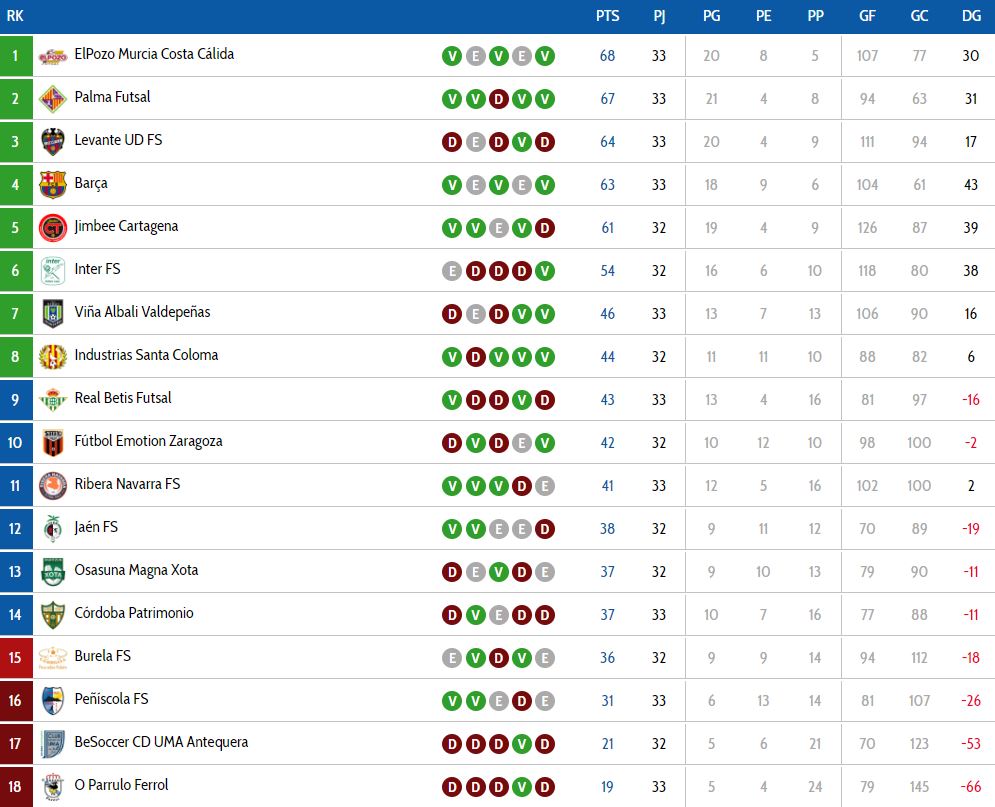 >>> 4+1 easy ways how you can support FutsalFeed