The Spanish LNFS is edging towards the finale of the league stage of the championship. Round 33 (of 34) started yesterday with a match between Palma Futsal and Real Betis Futsal. Palma defeated Betis to take the provisional pole, while this loss will hurt Betis' playoff chances who don't hold everything in their own hands now.
In today's recap, we also talk about matches that were postponed earlier in the season and which took place during the weekend. Most notably, a derby match between Barça and ElPozo Murcia ended in a goalless draw. Very untypical result for futsal.
Inter FS team recorded another loss, this time against playoff position holders Valdepeñas. Burela recorded a victory that just might see them escape the relegation zone.
>>> Antequera manages to secure a victory against Inter FS
>>> Murcia makes a leap towards the top, Levante and Palma won't let go
Palma Futsal 1-0 Real Betis Futsal
A minimal victory in a hard-fought match for Palma Futsal. With one match played more than their competition at the top of the table, Palma Futsal now took the provisional lead position, with two points ahead of ElPozo Murcia and three points ahead of Levante.
The sole scorer for Palma Futsal in the match against Real Betis was Higor in 23' of the match. This loss will hurt Real Betis' chances to secure the playoff as they will have to defeat a strong Jimbee Cartagena in the last round and hope that the other teams won't record victories.
Barça 0-0 ElPozo Murcia Costa Cálida
In a postponed match from Round 29, Barça welcomed league runners ElPozo Murcia.
The derby ended in a most unusual result for futsal - a goalless draw. But, the beauty of futsal is that even goalless matches are very much worth watching and enjoying. A special shout-out to Dídac and Juanjo who recorded a clean sheet in the process.
Viña Albali Valdepeñas 7-3 Inter FS
With the exception of victories in the UEFA Champions League and Copa del Rey, Inter FS did not win a league match in the last 6 games, or more than one month's time. The last time around they lost with a very young roster, but against Valdepeñas, Inter played in full strength.
Boyis put Inter in the lead at the start of the match. However, already by half-time, Valdepeñas turned things around with three goals, efforts by Álex García, Dani Santos, and an own goal by Raya.
Valdepeñas continued scoring in the second half, as Álex García scored his second of the day to extend the lead to 4-1. Eric Martel softened the blow for Inter, but Valdepeñas did not allow any surprises. Immediately after, Catela and Chino scored two more goals for the home side.
By the end of the match, Cecilio scored for Inter and Sergio González scored for Valdepeñas. Inter still has three matches to play until the end of the league stage and it is unlikely that they will move up or down from the sixth position.
Valdepeñas now holds the eighth position, the last one that leads to playoffs, and has everything in their own hands.
Burela 4-3 Ribera Navarra
With this victory, Burela is now in a good position to avoid relegation, at least the immediate one. Ribera Navarra's playoff chances severely dropped after this loss.
Quintela and Iago Míguez gave Burela the lead, with Terry scoring just before half-time. Soon after the restart, Terry scored his second goal to equalize the match.
In 35', Gabriel Vasquez turned things around for Ribera Navarra, scoring a goal and putting them in the lead for the first time in the match.
However, in a dramatic finish, Javi Rodríguez first equalized, and then Renato scored for Burela's victory in the dying seconds of the match.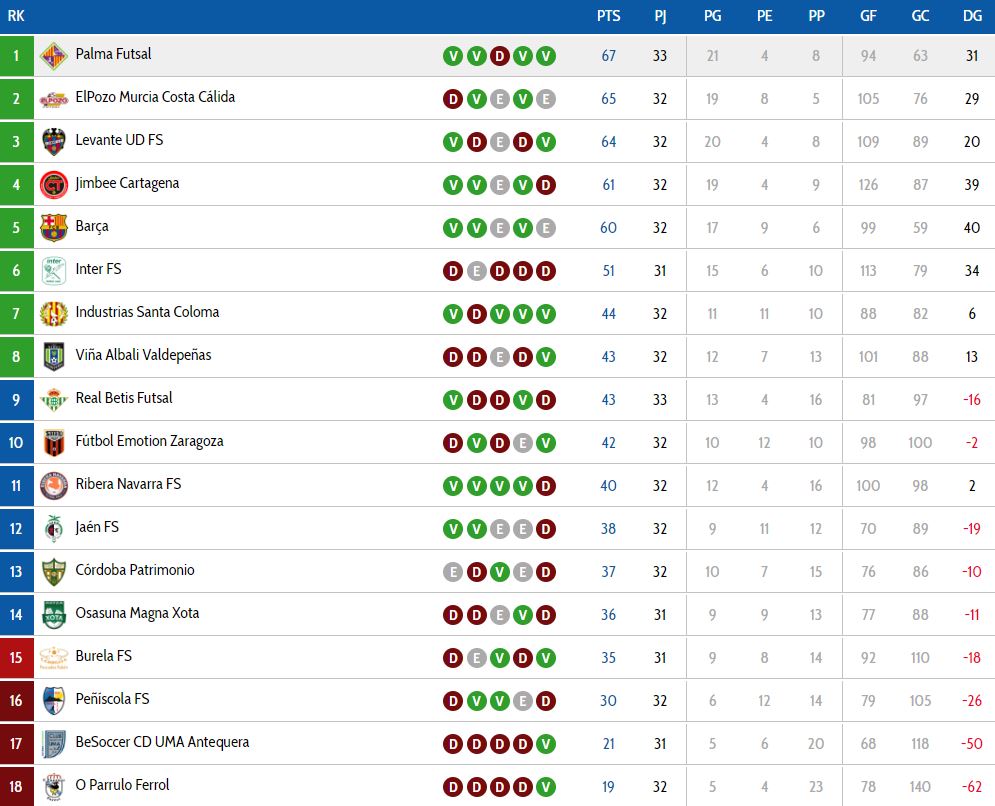 Round 33 of the Spanish LNFS continues today with the rest of the matches:
Barcelona - Antequera
Osasuna Magna - Ribera Navarra
FS Valdepenas - Levante
Cordoba - ElPozo Murcia
FS Peniscola - Burela
Movistar Inter - O Parrulo
Zaragoza - Santa Coloma
Cartagena - Jaen
>>> 4+1 easy ways how you can support FutsalFeed