Round 33 of the Spanish LNFS ended yesterday with two matches being played. Jimbee Cartagena defeated Jaén, while Zaragoza won against Santa Coloma in a direct duel for a playoff position. Two more matches will be played today, but these are postponed matches from earlier rounds. This Sunday, all teams in Spain will play the final league round before the playoff.
>>> Murcia back on top, Valdepeñas defeated Levante
Futbol Emotion Zaragoza 5-2 Industrias Santa Coloma
A huge, huge victory for Zaragoza, whose season could have finished if the result was opposite. This way, Zaragoza pipped Santa Coloma for a playoff position and awaits the last league round with everything in their hands. However, in the last round, Zaragoza will face a strong Levante team.
Santa Coloma now has to defeat Osasuna in the last round, which will be everything but easy as Osasuna is fighting to avoid the relegation playoff.
And it all started perfectly for Santa Coloma. With two goals in the first half, thanks to efforts by Alvarez and Drahovsky, Santa Coloma took a 2-0 lead to the break.
But it didn't take too long for Zaragoza to equalize. Dian Luka and Juanqui scored goals to make this happen and when Javi Alonso scored in 35' to turn things around, Santa Coloma had to play more aggressively to scrape anything from this match.
However, that kind of mentality was not awarded this time as Zaragoza scored two more goals by the end of the match to confirm their victory, thanks to two goals by Eloy Rojas.
Jimbee Cartagena 3-1 Jaén FS
Jimbee Cartagena can't be first on the table anymore, but there is a big difference between finishing the league stage in 2nd or 5th place. They are now fighting to be positioned as better as possible and victory against Jaén will help them in that regard.
On the other hand, Jaen will have to face Cordoba in a direct duel to avoid relegation playoff in the last round of the championship, after a series of bad results.
Thanks to an effort by Mellado in the first half, Cartagena took a 1-0 lead to the break. Around a half-hour mark, Carlitos equalized for Jaén, intriguing us with an interesting final stage of the match.
But in the last two minutes of the match, Franklin and Jesus gave an advantage for Cartagena which proved enough for the new three points.
Two more matches are on schedule for today. In a postponed match from Round 30, Osasuna will host Inter FS. Inter can't go up or down on the league table, but a victory for Osasuna will secure them a place in the first division for next season.
In the second duel, already relegated Antequera will face Burela who are currently holding 15th position, the one that leads to the relegation playoff. With a victory today, Burela can jump all the way to 12th place and push Cordoba in a bad spot.
Both matches are on schedule at 20:00 local time.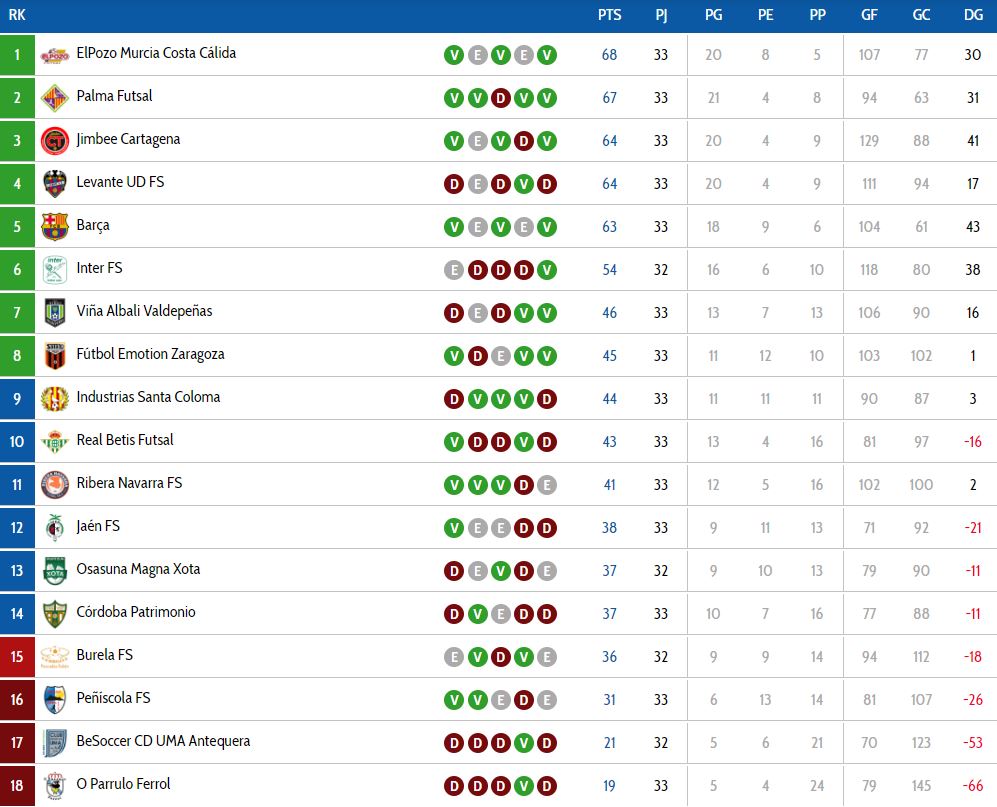 >>> 4+1 easy ways how you can support FutsalFeed