All postponed matches from earlier rounds of the Spanish LNFS have been played and in the last batch of them yesterday, Burela recorded an important point against Antequera that now sees them jump over Cordoba to avoid the relegation zone. But two teams have an equal number of points and it will all come down to the last round.
In the other postponed match, Osasuna defeated Inter FS and is now 3 points away from the relegation zone.
>>> Zaragoza pips Santa Coloma for a playoff spot, Cartagena wins against Jaén
BeSoccer UMA Antequera 4-4 Burela FS
A very exciting match was played yesterday between UMA Antequera and Burela that could also be crucial for the relegation battle. With a point scraped in the last moments of the match, Burela has now pipped Cordoba on the league table and now sits in a position that secures the first division for next season.
And it started quite well for UMA Antequera. Two quick goals by Cobarro saw them take advantage after the first 10 minutes of the match. Renato scored for Burela a few minutes later, but Cobarro finished his hat-trick just before half-time.
In 30', Joaki extended UMA Antequera's lead and it seemed that they could take all three points. But the furious response from Burela saw them leave the court undefeated.
Quintela was the first to score, followed by a goal by Matamoros in 39'. In the final moments of the match, Iago Miguez equalized and brought a very important point to Burela.
But to remain outside of the relegation zone, Burela will have to fight hard in the last round against Palma Futsal, who are looking to finish the league stage on the top of the table.
On the other hand, Cordoba will play against Jaen in a direct duel to avoid relegation. Their potential draw could be disastrous for Burela if they happen to lose against Palma.
Bear in mind that in futsal it is never over until it is really over.
Osasuna Magna Xota 3-1 Inter FS
Osasuna recorded a very important victory against Inter which just might see them avoid any relegation shenanigans. Osasuna is now three points clear from the red zone, and any positive result against Santa Coloma in the last round will mathematically secure them a place in the first division next year. But that won't be easy, because Santa Coloma is giving it all to secure playoffs.
After a goalless first half in a match against Inter, Osasuna took the lead in the second half thanks to a goal by Linhares in 25'.
A bit later, Cecilio was forced to concede an own goal, extending Osasuna's lead. Bynho further extended Osasuna's lead in the 40', and only then did Inter manage to soften the blow, with a goal by Boyis.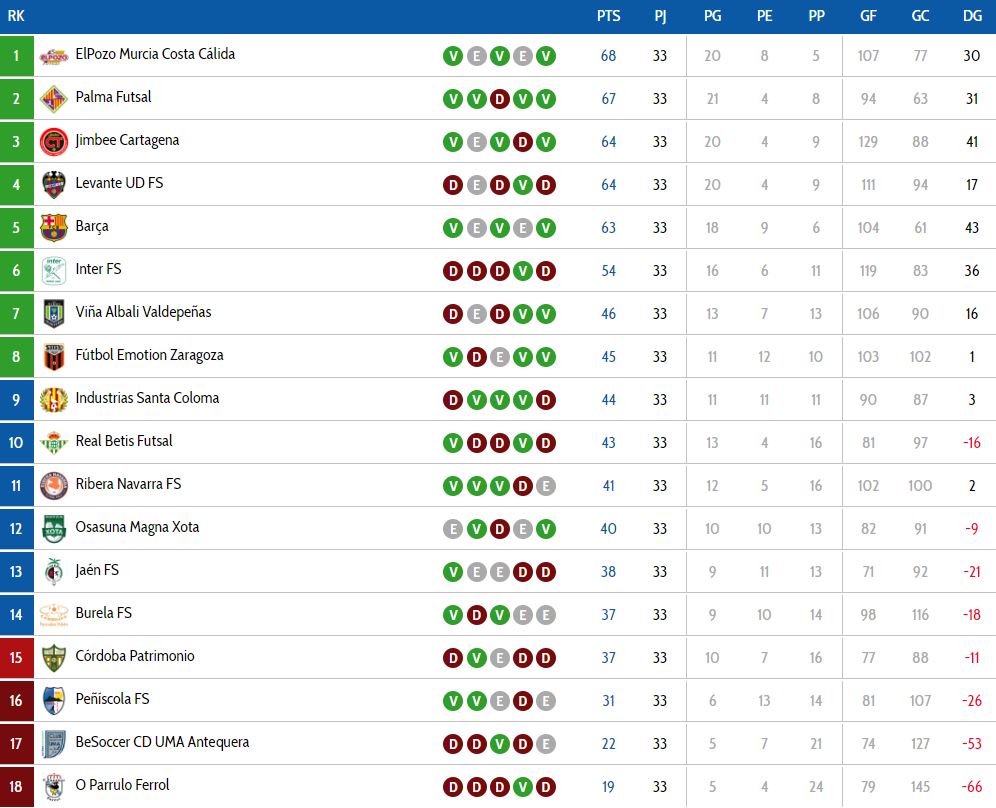 This Sunday, 30 May, everything will be resolved. After 33 rounds, teams are fighting for positions throughout the table. The battle on the very top is still not decided. Some teams are pushing for a better playoff berth. Others are locking in for the last round to secure a berth in a playoff whatsoever. And finally, a couple of teams is giving it all just to avoid relegation playoff, as three bottom teams already said goodbye to the first division.
All of round 34 matches start at the same time.
>>> 4+1 easy ways how you can support FutsalFeed