After eight months packed with futsal action across Spain, the league stage has finally come to an end. After plenty of drama, ElPozo Murcia Costa Calida tops the league table, despite losing in the last round against Inter FS.
Fútbol Emotion Zaragoza and Viña Albali Valdepeñas secured the playoffs in the last round, while Burela will have to compete in the relegation playoffs to stay in the league.
Peñíscola FS, BeSoccer CD UMA Antequera, and O Parrulo Ferrol relegated.
But there is not much time for rest as the playoff begins already this Wednesday (2 June)!
>>> Spain: Everything set for the last round on Sunday
💪⚽ 𝗖𝗮𝗺𝗽𝗲𝗼𝗻𝗲𝘀 𝗱𝗲 𝗟𝗶𝗴𝗮 𝗿𝗲𝗴𝘂𝗹𝗮𝗿

😍 Gracias afición, patrocinadores, Club y familias por ayudarnos a hacerlo posible.

👋 Ahora a por los Play Off!! #OrgullososdeserElPozo pic.twitter.com/yjxYSaSaD8

— ElPozo Murcia FS (@ElPozoMurcia_FS) May 30, 2021
ElPozo Murcia Costa Cálida 1-2 Inter FS
A last-round derby match went to Inter's side who defeated ElPozo Murcia while traveling. Despite this loss, ElPozo Murcia managed to secure the top of the table and the best playoff berth.
In 4', Marcel put Murcia in front, but in the very same minute, Inter's Borja equalized. Eric Martel scored for Inter's lead before the break and the Madrid team had the lead at half-time, which they managed to hold until the end of the match because we didn't see any more goals.
Burela FS 4-4 Palma Futsal
With everything on the line, these two teams played a fantastic match. D. Nunes scored at the beginning to put Palma Futsal in front.
Renato equalized for Burela, but only after the restart in the second half. Then Iago Míguez extended Burela's lead with two goals scored. In 37', Vilela also scored two goals to equalize for Palma.
In the next minute, Javi Rodríguez scored for another Burela's lead, but in the dying seconds of the match, Lolo equalized for Palma, sending Burela to the relegation playoffs.
✍️𝗖𝗿𝗼́𝗻𝗶𝗰𝗮 | A los Laranxas les sobran 11 segundos para certificar la permanencia.

𝗘𝗹 𝗽𝗹𝗮𝘆 𝗼𝘂𝘁 𝗲𝗻 𝗲𝗹 𝗛𝗢𝗥𝗜𝗭𝗢𝗡𝗧𝗘#APorTodas #Burela #Futsal #SomosFutsal #FutsalHeart🧡

— Pescados Rubén Burela FS (@burelafs) May 30, 2021
Levante UD FS 2-5 Fútbol Emotion Zaragoza
Only victory was an option for the Zaragoza team against a strong Levante squad who topped the league table on a number of occasions this season. And they duly delivered, securing the playoffs.
Zaragoza's aggressive start was rewarded in 7' when Javi Alonso scored for the lead. Araça managed to equalize the match before half-time.
However, Zaragoza was unstoppable in the second half. With goals by Dian Luka, Santi Basile and two more goals by Javi Alonso to complete his hat-trick, Zaragoza secured a substantial advantage. Marc Tolrà softened the blow for Levante in the closing stage of the match.
O Parrulo Ferrol 1-1 Viña Albali Valdepeñas
It was quite close, but Valdepeñas has secured a place in the playoffs with a last-round draw against bottom last O Parrulo Ferrol.
Raúl scored for O Parrulo Ferrol at the beginning of the match, complicating life for Valdepeñas players. It took a while, but Dani Santos finally equalized for Valdepeñas in 29'.
Although we did not see any more goals in the match, Dani Santos' goal secured a much-needed point that saw his team push through to the playoffs from the final, 8th position on the league table.
Ribera Navarra FS 2-5 Barça
Ribera Navarra was safe before the last round, without any chances of securing the playoff. Barça, on the other hand, had a lot to play for and in the end, it paid off. Thanks to this victory, and losses by Cartagena and Levante, Barça pipped them both on the league table.
Barça was dominant and they have scored five goals before Ribera Navarra was able to strike back. Ferrao, Adolfo, Daniel, Povill, and Aicardo all scored for Barça.
David and Dani Martín scored for Ribera Navarra to say bye to this season.
✅ Triunfo en Tudela para acabar terceros
🔜 El Inter, rival en cuartos 👇 https://t.co/0EIqIc5lxO

— Barça Futbol Sala (@FCBfutbolsala) May 30, 2021
Real Betis Futsal 5-4 Jimbee Cartagena
Arguably the most interesting match for a neutral observer in the last round was between Real Betis Futsal and Jimbee Cartagena. Real Betis could have secured the playoff with this victory if some other results went in their favor... but they didn't. After 34 rounds, they were left just one point short.
V. Arévalo opened the scoring for Real Betis in 11', but Andresito equalized for Cartagena before halftime. Adresito with his second goal of the match and Waltinho then put Cartagena in the lead by the middle of the second half.
In space of just two minutes, Borja Blanco scored two goals for Betis with Emilio Buendía joining him on the scoresheet. Their efforts turned the match completely around and Betis was now in the lead.
This lasted until 38' when Waltinho scored his second to equalize the match one more time. However, in the same minute, Rubén Cornejo scored for Betis and they took the lead they did not drop until the end. Unfortunately for them, this big victory won't mean too much.
Industrias Santa Coloma 5-1 Osasuna Magna Xota
Another interesting match of LNFS' last league round saw Santa Coloma defeat Osasuna 5-1. Santa Coloma was battling for playoff positions and in the end, they were left short, despite having the same number of points as Valdepeñas. Osasuna, on the other hand, secured their first division status despite the loss.
The first goal of the match came in the second half and it was an effort by D. Álvarez to put Santa Coloma in the lead. Juninho equalized for Osasuna a few minutes later, but then Santa Coloma scored four more unanswered goals. Drahovsky recorded a hat-trick and D. Álvarez scored his second in the end.
Jaén FS 2-3 Córdoba Patrimonio
An interesting match was being played at the bottom of the table between Jaén and Córdoba, with both teams trying to avoid relegation. Córdoba's victory was crucial in this respect, while Jaén can be lucky that Burela lost two points seconds before full time because this way Jaén secured the first division for the next season.
Although the end result might suggest otherwise, Córdoba was in control as they have scored three goals before Jaén found a way to the back of their net. Saura, Shimizu, and Pablo Del Moral were the scorers.
In the last seconds of the match, Jaén scored two goals thanks to efforts by Felipe Mancha.
📣 ¡¡FINAL, FINAL, FINAL, FINAL!!
🟢 Un año más... ¡¡SOMOS DE 1ª!!
🏆 1ª División - Jornada 34
⚽️ @JaenFS 2-3 @CordobaFutsal
➡️ Pese a las muchas dificultades de la temporada, el trabajo dio el merecido premio. ¡Enorme este equipo! ¡Gracias, afición!#JaenCordobaPatrimonio #LNFS pic.twitter.com/F10XL1AMtn

— Córdoba Patrimonio de la Humanidad (@CordobaFutsal) May 30, 2021
BeSoccer UMA Antequera 1-2 Peñiscola FS
In a match between two relegated teams, the visitors took the spoils, but it was Antequera's Raúl Canto who scored for the lead in the second half.
However, Tuli and Paniagua scored for Peñiscola by the end of the match to record a consolation victory and goodbye from the first division for now.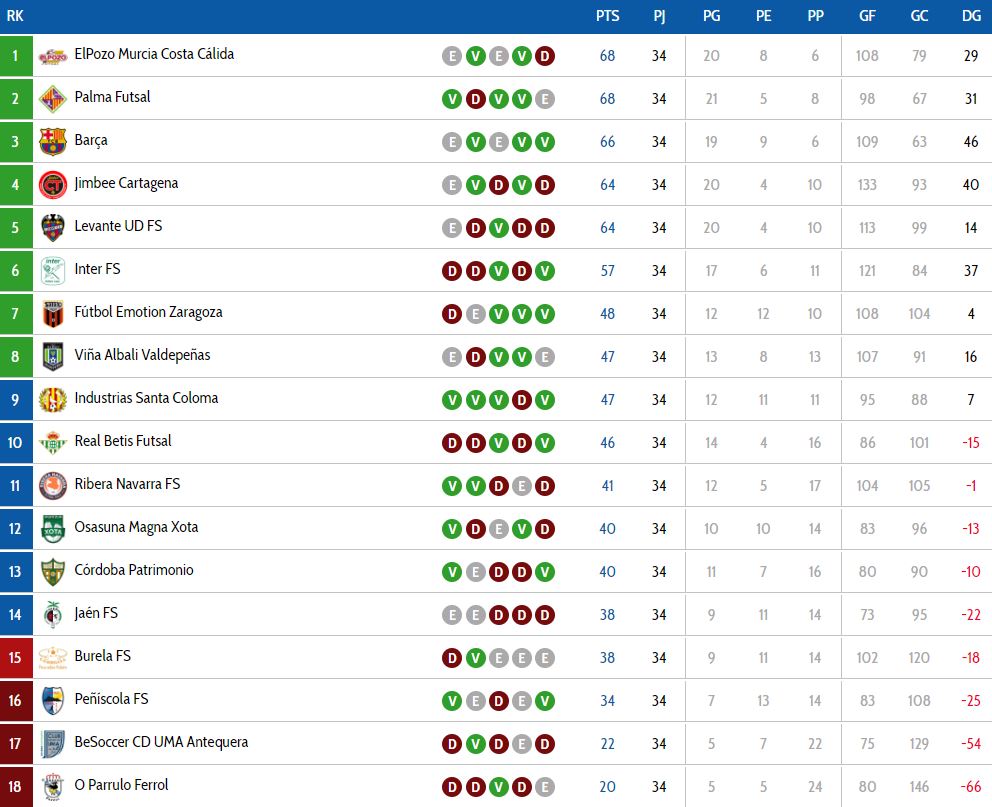 LNFS Playoffs
This concludes the 2020/2021 LNFS league stage! Playoffs are on the schedule for Wednesday (2 June) and these are the pairings:

>>> 4+1 easy ways how you can support FutsalFeed