After having all three defeats in Euro 2016 qualifiers and securing only a draw in Euro 2018 qualifiers, the Norweigan futsal national team finally did it! In the current Euro 2022 Qualifiers, Norway passed the Qualifying round after defeating Wales (7:2) and hosts North Macedonia in Skopje (2:1).
Norway got a tough group in the second qualifying phase, with European champions Portugal and strong teams like the Czech Republic (World Cup participant) and Poland. But, none of these teams are insurmountable. Norway could fight and play against each of them.
True, it would be quite a surprise if the Norwegians would qualify for the next phase. However, it would not be science fiction if the Futsal Løvene were in the fight for second place until the last round.
Unfortunately, after opening two Euro qualifiers matches, this second scenario really does look like science fiction…
Due to the COVID-19 pandemic, the Norwegian national team could not travel to Brno for the two qualifying matches against the Czech Republic.

That means that Norway started the second phase of the Euro 2022 qualifiers with two defeats and a 0:10 goal-difference. Not because they played awful, but because they weren't allowed to play.
Since one of our eminent columnists is Silvio Crisari, the Italian coach at the head of the Norwegian national team, there was only one solution:
Ask him to bring our readers an inside look at the situation with the cancellation of matches against the Czech Republic?
"Unfortunately, I could never have imagined such a catastrophic event. Not only did we take four steps backwards, but above all, the opportunity of a dream we believed in a lot to qualify for the Euro 2022 was thrown away. Mathematics still gives us possibilities. Unfortunately, the concrete chances are very few, given the goal difference of minus 10", said Crisari in the beginning and continued:
"We did not expect something like that could happen. However, Norway is a country very attentive to the health aspect and rightly. The country puts the safety of the peoples first. No one would have thought that Covid-19 would last all this time. Unfortunately, UEFA also has technical times to respect, and therefore we have to take note of all this and get over it".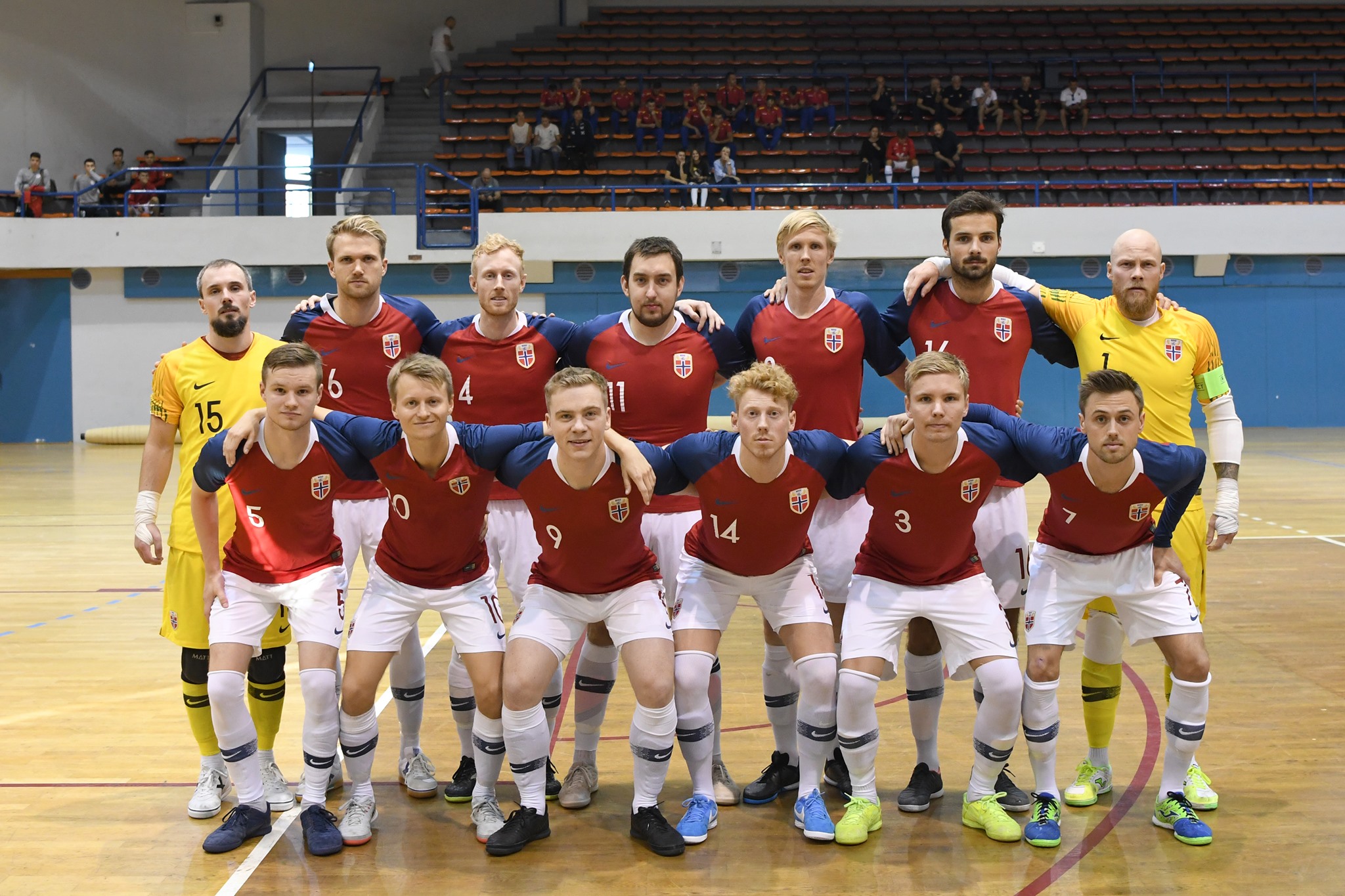 At the beginning of March (5th and 8th), you are supposed to play two matches against Poland. Again, both games were supposed to be played in the opponent's city, this time in Lodz.
Will you be able to travel to Poland?
"Today, the situation is slowly improving, but the worst is not over. The Norwegian futsal championship has been suspended. But the NFF is doing everything to honor the UEFA commitment, and despite the quarantines that will have to be held, there is a good chance that we could go to play both matches in Lodz".
After entering qualifiers with two 0:5 defeats at "the green table" it will undoubtedly be challenging to motivate your players for the next matches….
How are you planning to do it?
"On this aspect, I want to be honest: I am proud to coach a national team of real Vikings. In this case, there is no need to look for reasons. Every time we go out on the pitch, we feel the adrenaline very strong; wearing the Norway shirt and representing a nation makes us incredibly proud. Every time we hear our nation's anthem, we feel the goosebumps, and all the motivations of the world are born from there. We will try to score 12 points and then see the final position of our ranking.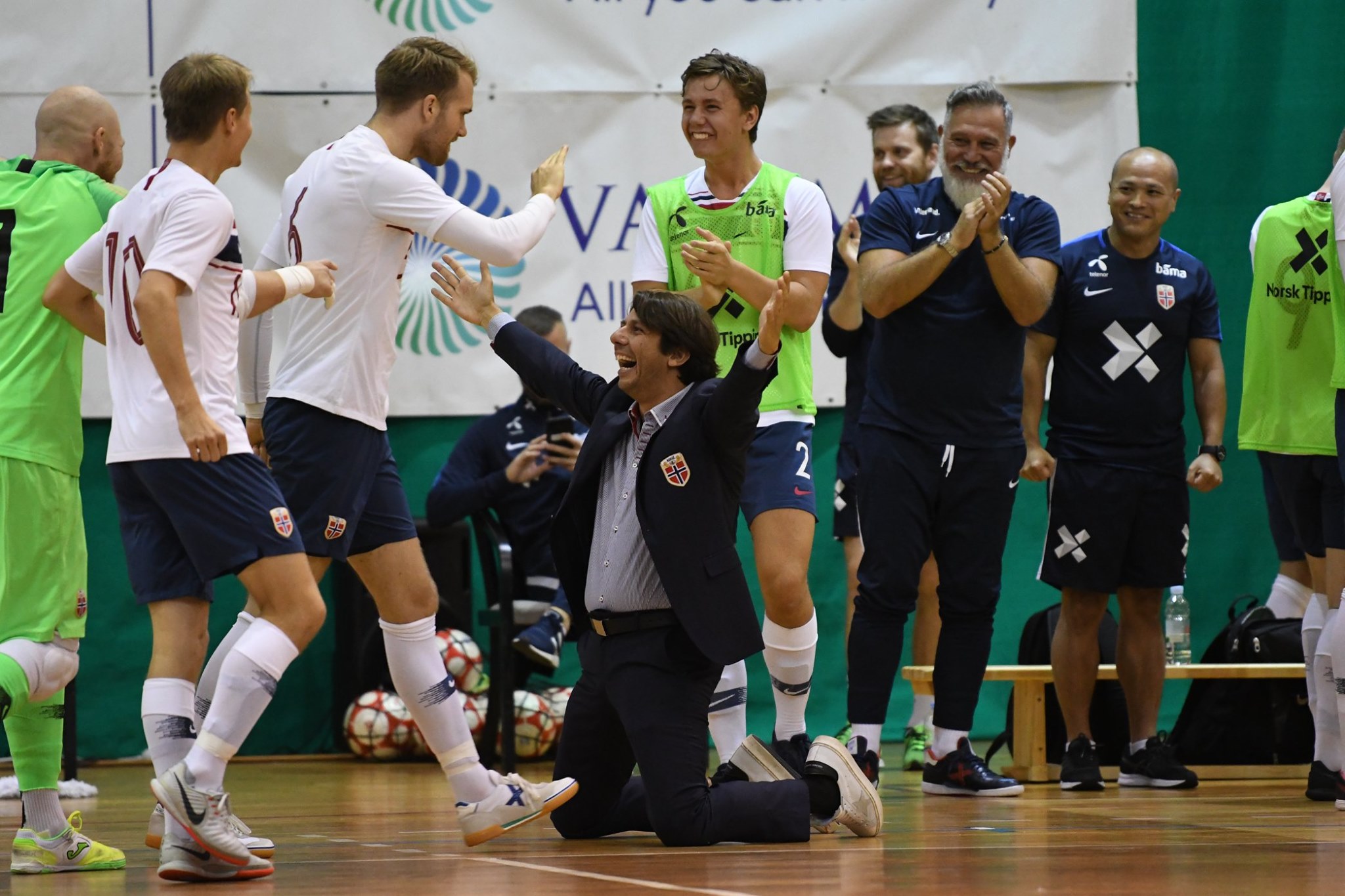 Ok, let's take a look back and put aside the current "bureaucratic" problems of the Norway National Team.
What was your coaching journey before coming to Norway?
"Before coming to Norway, I have had many experiences, all very different. One essential detail marked my career: I have NEVER stopped studying. Behind me, there are 20 years of a coaching career, 20 years of studies on all direct and indirect subjects that could help me improve. I have coached seven different clubs, won four championships, two times been elected as the best coach. Then, I have been the coach for two years in the football academy of AS Roma, have experience in Japan, United States, China, and finally got the call from Norway. And I am proud to be here".
Since 2018 you are a Technical Commissioner and the head coach of the Norwegian Futsal National Team.
How would you compare the situation in the Norway NT when you started your role and now, almost three years after…
"Meanwhile, thank you for this interview. Telling such important experiences is always stimulating. I have to tell you that when I joined the national team in 2018, it was challenging. Norway's national team had a few results, but there was no right mentality above all. The players I saw in the first rallies had many physical and technical skills, but few had a "winning mentality". And without the winning mentality, you cannot reach goals. We worked a lot on many aspects, such as inactive balls, different ways of playing, etc. But, we learned one thing above all - to solve problems, which has improved us a lot.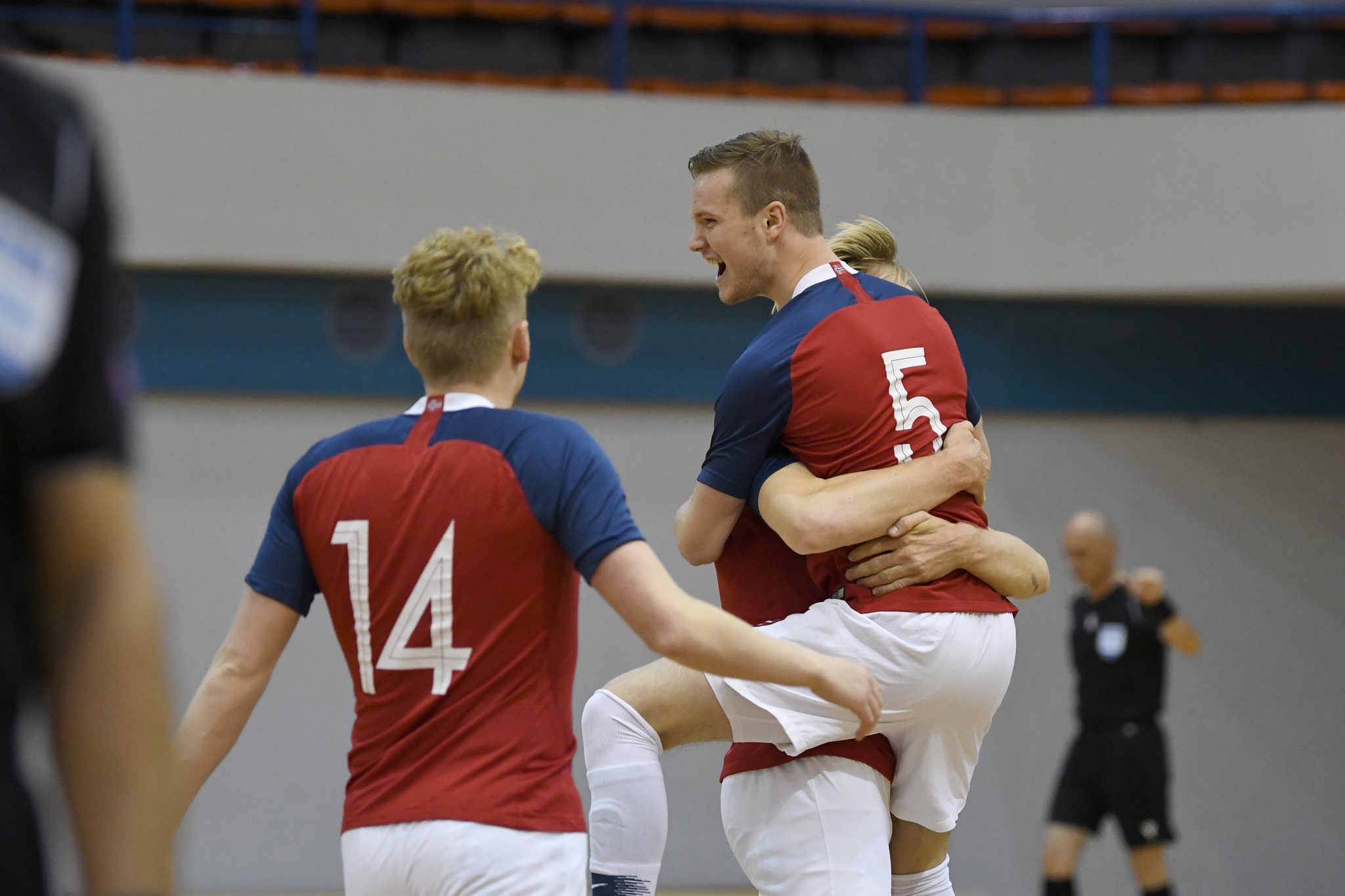 In just two years, we got from playing the Nordic Cup as protagonists to finishing second behind Finland, and a few months later, gaining direct access to the Euro 2022 main round.
In which segments there was the most significant progress…
"100% on inactive balls! We have learned to believe in that segment, and our scores have increased significantly. We have grown from 6% of realizations to 16% in a short time. Obviously, it is not the only aspect. As we said, we were able to solve problems. We started learning to code situations and solving them based on our knowledge.
… and in which there is the biggest room for improvement?
In the teams I have coached, the average goal in inactive balls has always been a number between 21% and 34%. That already partially answers the question. Another aspect that we need to improve a lot is the fast technique. However, we are building a protocol to be applied already by futsal schools in the country.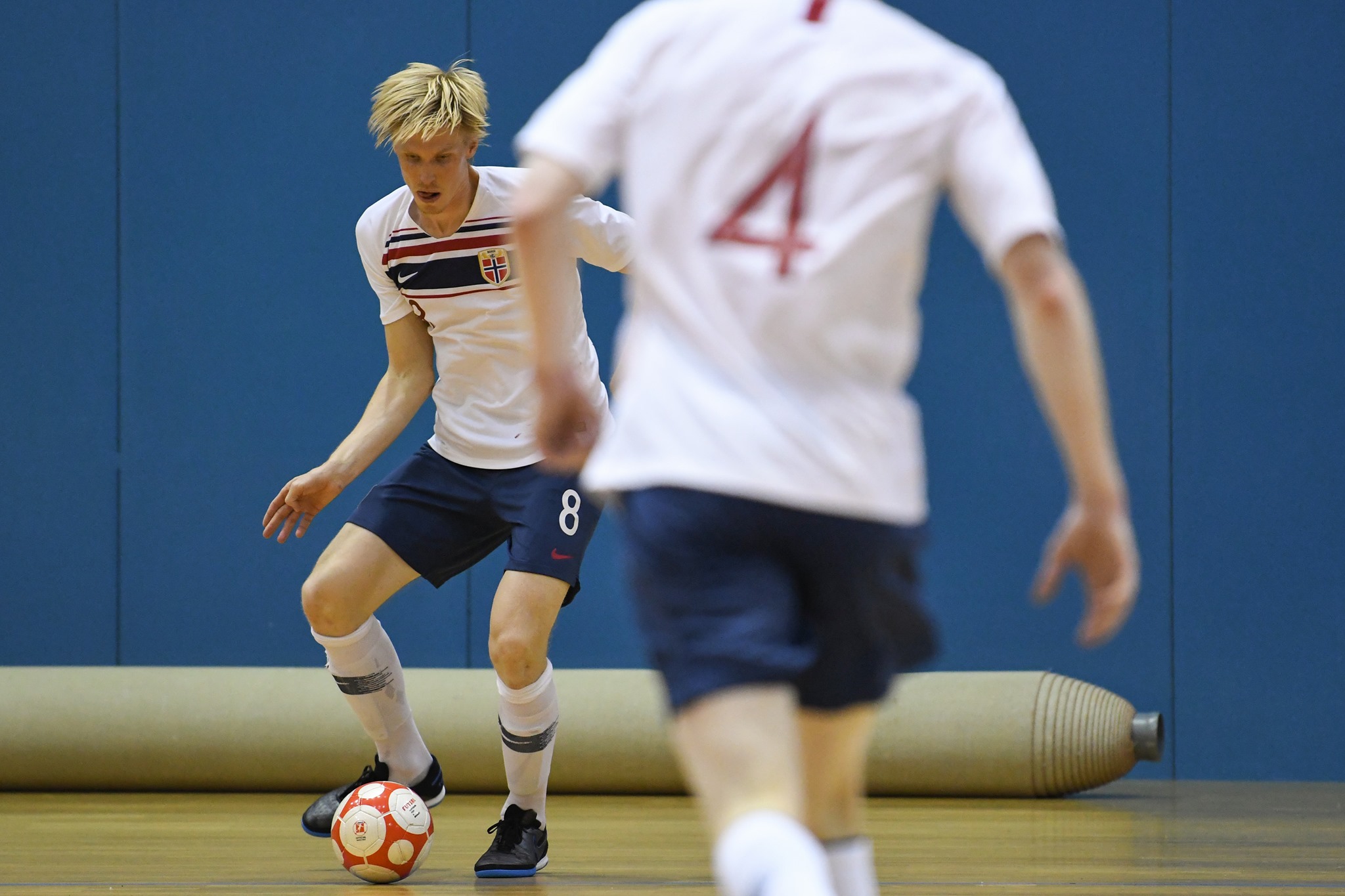 What is the general situation with Norwegian futsal - what is the league system, the organization of clubs, and young categories?
"When the NFF contacted me, I was very proud of their choice because we started a project. The Federation has carefully listened to my thoughts regarding the growth of Norway's futsal movement. Currently, there is no national under-19 championship or even a women's championship, while Norwegian football is very strong in both of these categories. That gave me great motivation. The Federation has put in a development contact person (Iver Strandheim), and together we have planned a lot of education. I can't wait for the end of the COVID-19 crisis to start this project".
How do you agree with the other selectors of the Scandinavian national teams? It is known that Finland made massive progress with Mićo Martić, Sweeden is now thriving with Matija Đulvat, as well as Denmark with Nikolaj Klein Saabye…
They are all great coaches. I must say that the work done by Mico Martic was what stimulated other nations to improve themselves in the game of futsal.
>> Mićo Martić: The Futsal Explosion is already happening!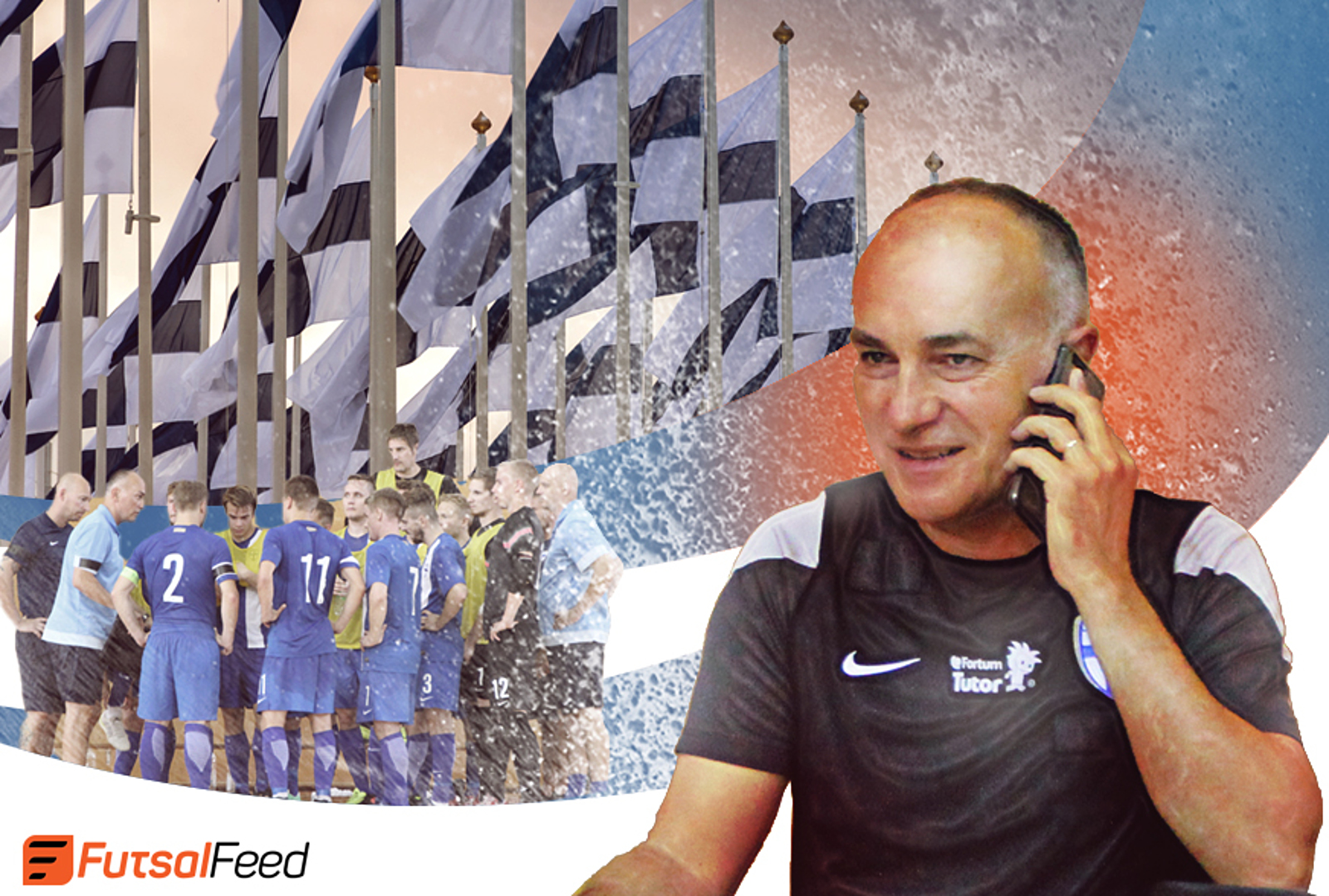 After finishing fourth in Nordic Cup 2018, you won second place in the last tournament in 2019 (Finland – host, and winner).
In case the Nordic Cup 2021 takes place, do you think you can go one step further?
"Absolutely yes! You always have to improve. For us, that means only one thing: trying to win the Nordic Cup!
The Norwegian football national team has immense potential. The current generation is exceptionally talented and is led by two wunderkinds Erling Haaland and Martin Odegard.
What is the situation with young Norweigan futsalers? Are there any "Håland and Ødegaard "?
You miss another big talent, Jens Petter Hauge (21 years). Last year he was the best player in the Norwegian league and is currently the AC Milan player. As I mentioned before, football is practiced a lot in Norway. Thanks to the NFF system, futsal is also highly regarded. However, futsal must "level up" now. Start to invest in knowledge, in the youth sectors, and in the women's league. I'll tell you an anecdote, Jens Petter Hauge is a futsal fan and has also played in the national championship. He has the physique and the mentality to play many sports. I'm happy to be able to watch him in a high-level football team like Milan.
>> Football and Futsal: The Perfect Fusion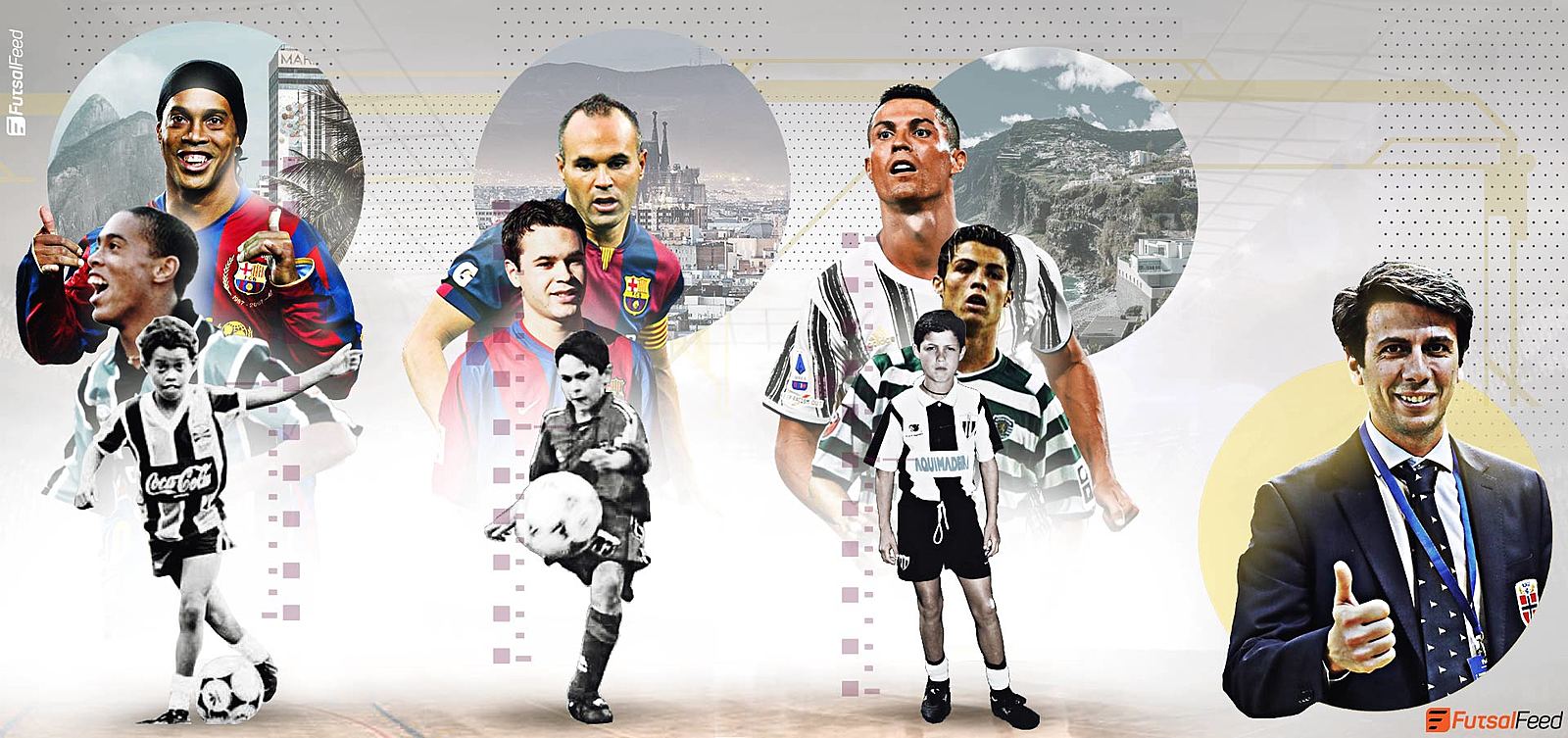 Since you are Italian, we have to ask you about the Italian national futsal team. Futsal Azzurri failed to qualify for the World Cup but started great in Euro qualifiers achieving two convincing victories against Montenegro (3:0) and Finland (7:4) with new head coach Massimiliano Bellarte?
"When driving a Ferrari like Italy, a top 10 national team in the futsal ranking, the only thing you have to do is "check it" and avoid doing "strange things" that send the car off the road. I wish him the best of luck.
And, when we mentioned World Cup, what are your prognosis on the biggest favorites, but also the biggest Dark Horses?
"Brazil and Argentina will be the favorites, in my opinion. The ones that could fail are Spain and Portugal. Spain for the COVID situation that penalized the country a lot, and Portugal because Ricardinho is 35. His age could be a little problem for the team".
Since Crisari is the only Italian coach to have all futsal degrees (UEFA C-B and A) and have all football degrees (UEFA C-B and A), he writes in his established columns mostly about the connection between futsal and futsal.
Does futsal benefit more from football or vice versa?
Futsal can improve players a lot, especially if, as children, futsal technical aspects are integrated into the methodologies of football. Another important factor is to train in reduced spaces to improve the space-time reaction capacity. Futsal works a lot in the one vs. one and the universality of the player. Another aspect in which futsal benefits footballers is to make a defender able to shorten the space between him and the attacker. Taking much more courage in the technique often makes him an added midfielder and, therefore, an additional player in the offensive phase.
>> Futsal and Football: What are the qualities of today's top modern defenders?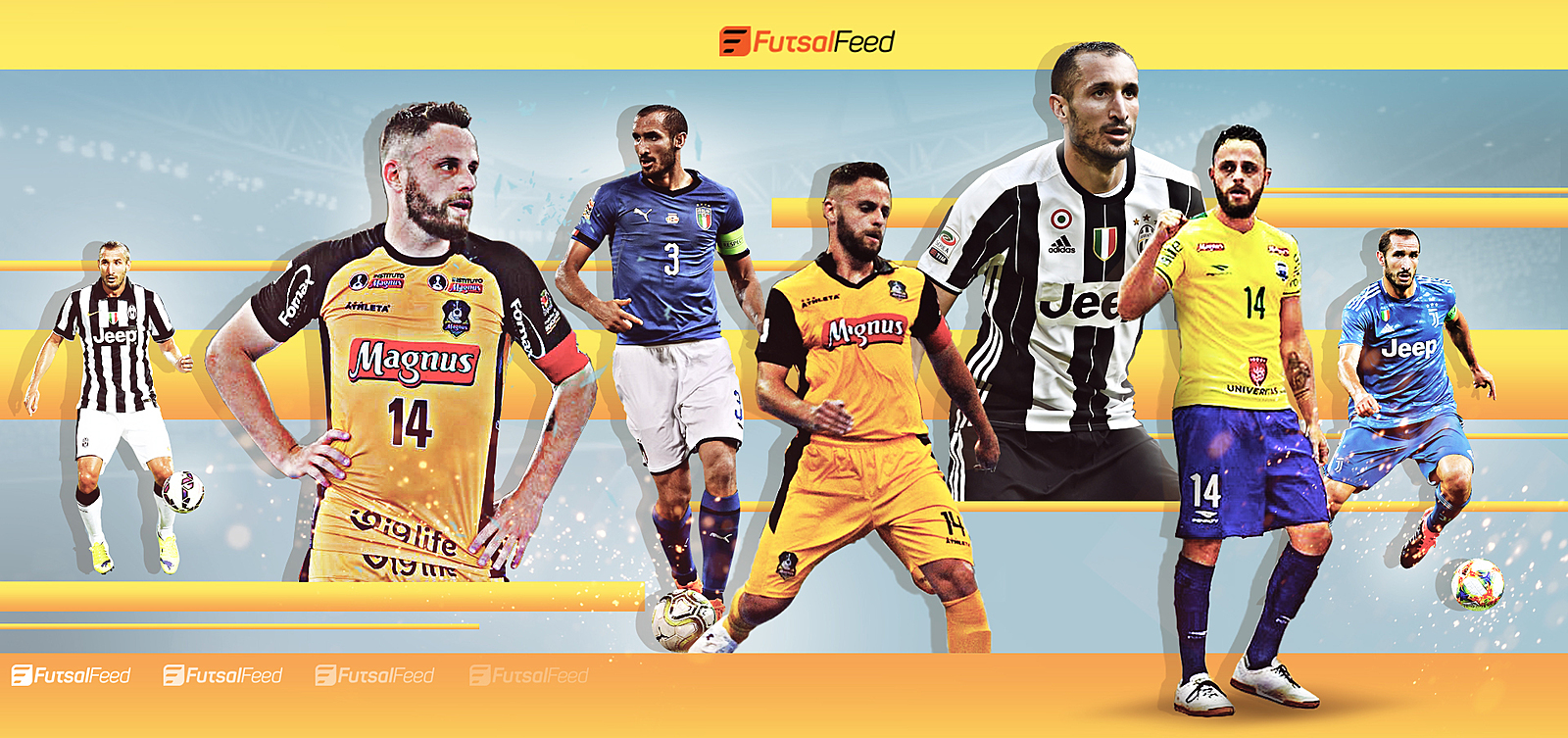 "Football can also improve a futsal player. In my opinion, in football, they train more intensely on an athletic level, and if we manage to have futsal players with the physique of professional footballers, we will have a considerable improvement in the futsal system".
Not to reveal your columns' topics, what would you say is the most important thing that futsal can take from football and vice versa?
"I would say that futsal must take physical coaches from football, and football must take the ability to play fast in reduced spaces from futsal".
>> Futsal and Football - How to use the talented player to obtain numerical superiority?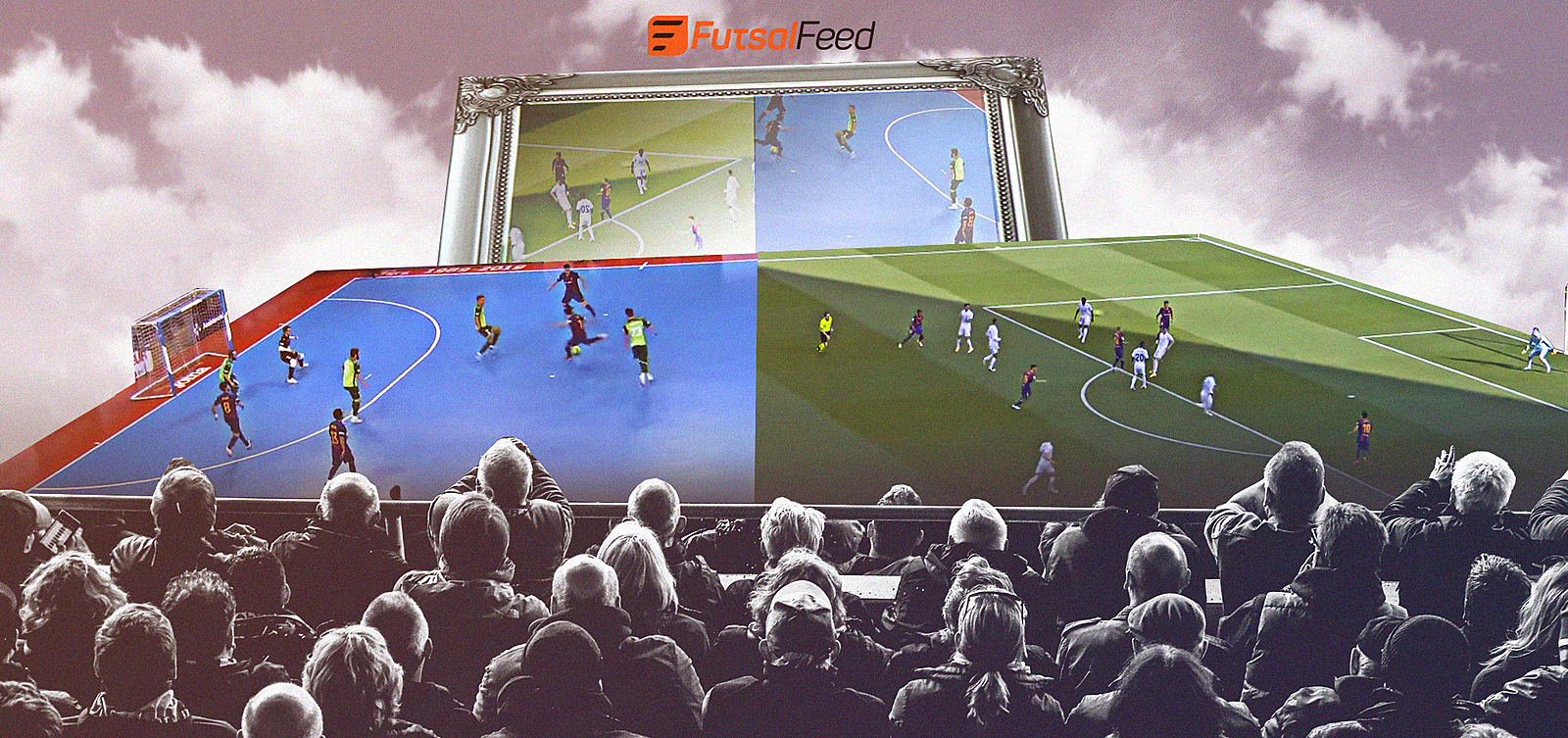 We wrote a few articles about famous footballers who played futsal in the early stages of their careers.
What is the best footballing futsal team of all time, in your opinion?
"This are my top ten players: Neuer, Ronaldinho, Zidane, Totti, Ronaldo (Luis Nazario de Lima), Maradona, Iniesta, Messi, Cristiano Ronaldo and Neymar"
>> What is the best Footballing Futsal Team ever?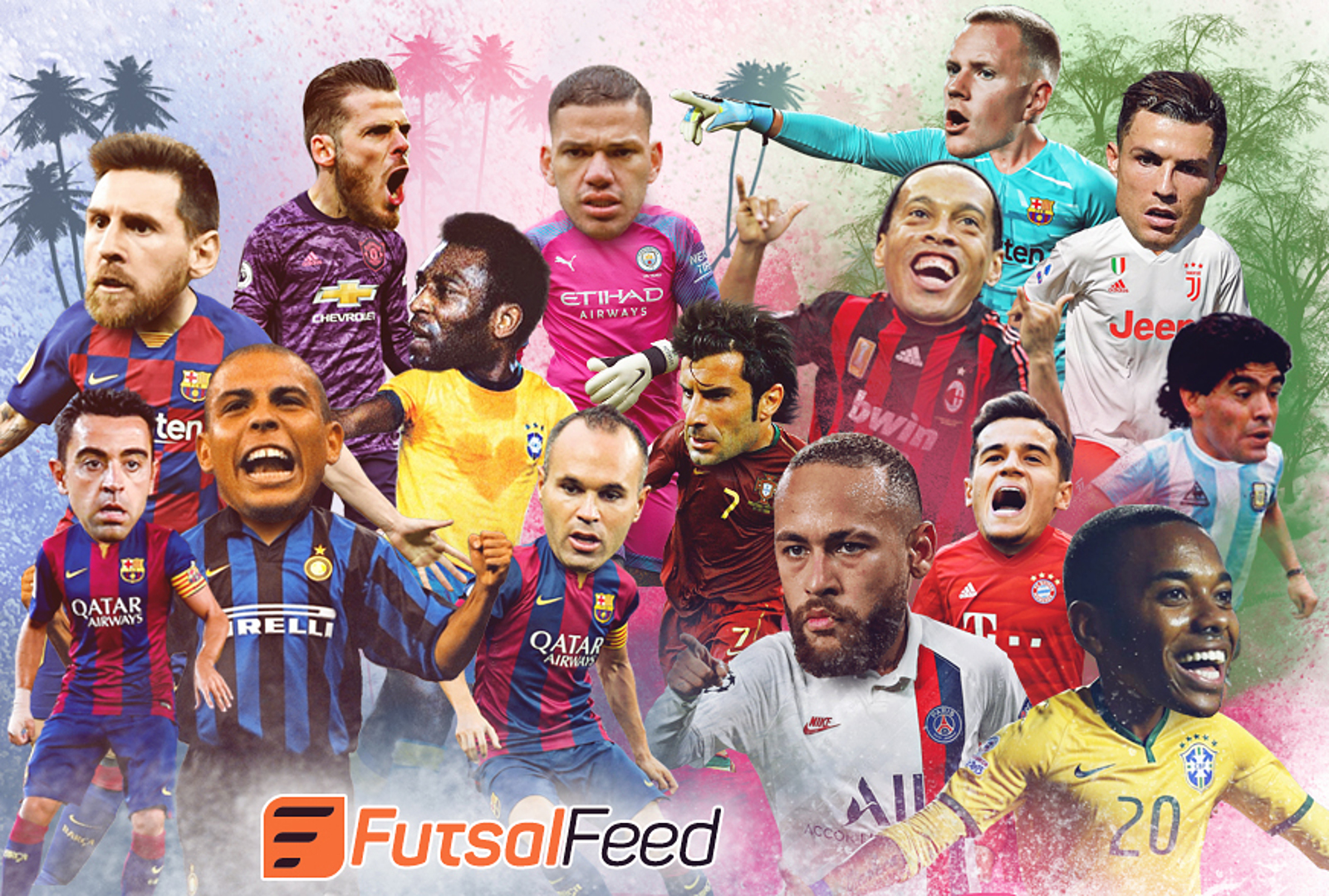 Lastly, can you reveal the next column's title to our readers, or will it remain a secret?
We've talked so much that I want to keep it a secret, but I just can't do it; the next column's title will be: "The importance of the ball, the tool of the player at the heart of the game."
In the end, we have nothing else to say but that we can hardly wait for Crisari's next column and that we hope that the Norwegian national team will be able to travel to Lodz for qualifying matches.