Since the beginning of FutsalFeed we have planned to talk with one of the biggest futsal experts and influencers in the world, and the inventor of the iconic futsal catchphrase – Futsal is Here! His name is, of course, Mićo Martić, and he is the head coach of the Finland national team.
The reason why we have called Mr Martić now, and ask him for an interview, is Live webinar about Transitions in Futsal which he runs on the Zoom application with two other futsal experts, Dušan Matić from Serbia (one of our experts) and Frane Despotović from Croatia.
So, we seized that opportunity and talked with Martić about many different things, all, of course, related to futsal…
First of all, how are you spending these days of self-isolation due to coronavirus pandemic?
"I am at home (Zagreb, authors note), following the instructions of the medical experts. Currently, I am working on several futsal projects and preparing for a new beginning when the whole situation with the virus will end. I must admit, I miss working on the field. I miss FIFA and UEFA seminars. With this live webinars, we are fighting back. Futsal Virus is strong, maybe even stronger than Coronavirus!"
In his long career as a futsal player and a coach, Martić clinched many trophies and competitions. He became Finland's national team coach in 2013 and profoundly changed the Finish futsal in last seven years. Lately, Finland ended second in the Elite round of the 2020 FIFA Futsal World Cup Qualification, defeating Belarus (4:2), and drawing against futsal superpowers Portugal (hosts) and Italy (both matches ended 2:2).
Finland will play two matches against Serbia in the play-off for the World Cup. The matches should have been played a few weeks ago and the new date is still unknown (there are some speculations the playoff will be played in late July or early August).
"I am sorry we didn't play the play-off match in April, both we and Serbia were in a good form and I believe those would be two great battles. The sports hall in Vantaa (in Finland, authors note) was sold out two hours after the tickets were released. Hopefully, we will soon know when the World Cup in Lithuania will be held. Then, we can discuss new dates of the play-off matches".
Besides reaching the play-offs for the World Cup, last year (2019) you defeated Spain in a friendly match. It is really amazing what your team has achieved in several years. What is the key to such fast growth of Finnish futsal?
"A few things. First of all – organization. Then, the players' and my associates' love for futsal, their desire to progress, to thrive and believe in themselves. I am fulfilled coach because I am working with these people. The Finnish FA treats futsal as any other part of it, in a professional and responsible manner. There are professionals who take care of our sport which is, therefore, constantly progressing. The climate, the character of Finnish people, the good facilities, the small competition of other indoor sports have pushed futsal to the high position by the number of registered players and the number of spectators on our matches", says Martic and continues:
"I believe that well organized and qualitative training of coaches has contributed to have more professional clubs, which are functioning much better than before. Such an approach ultimately develops better players and, therefore, the better national team".
What are your chances against Serbia in the play-off?
"We respect the quality of Serbia, but we are not afraid. We believe in ourselves and dream of winning. We are eagerly waiting for the match dates, to start preparing for them. We will certainly have our chances, I hope we will be lucky and good as we used to, and that we will seize the given opportunities".
What are your predictions, will there be the World Cup this year at all?
"I don't believe the World Cup will be played in September, maybe in December. Probably it will take place next year. We are waiting…"
Did your players get a training plan to maintain their form while there are no group training?
"Yes, they are all active, trying to stay in as good shape as possible. Both the national team and their clubs sent them training plans. I am in contact with all my players all the time. In coming days, we expect confirmation for the completion of the Finnish league".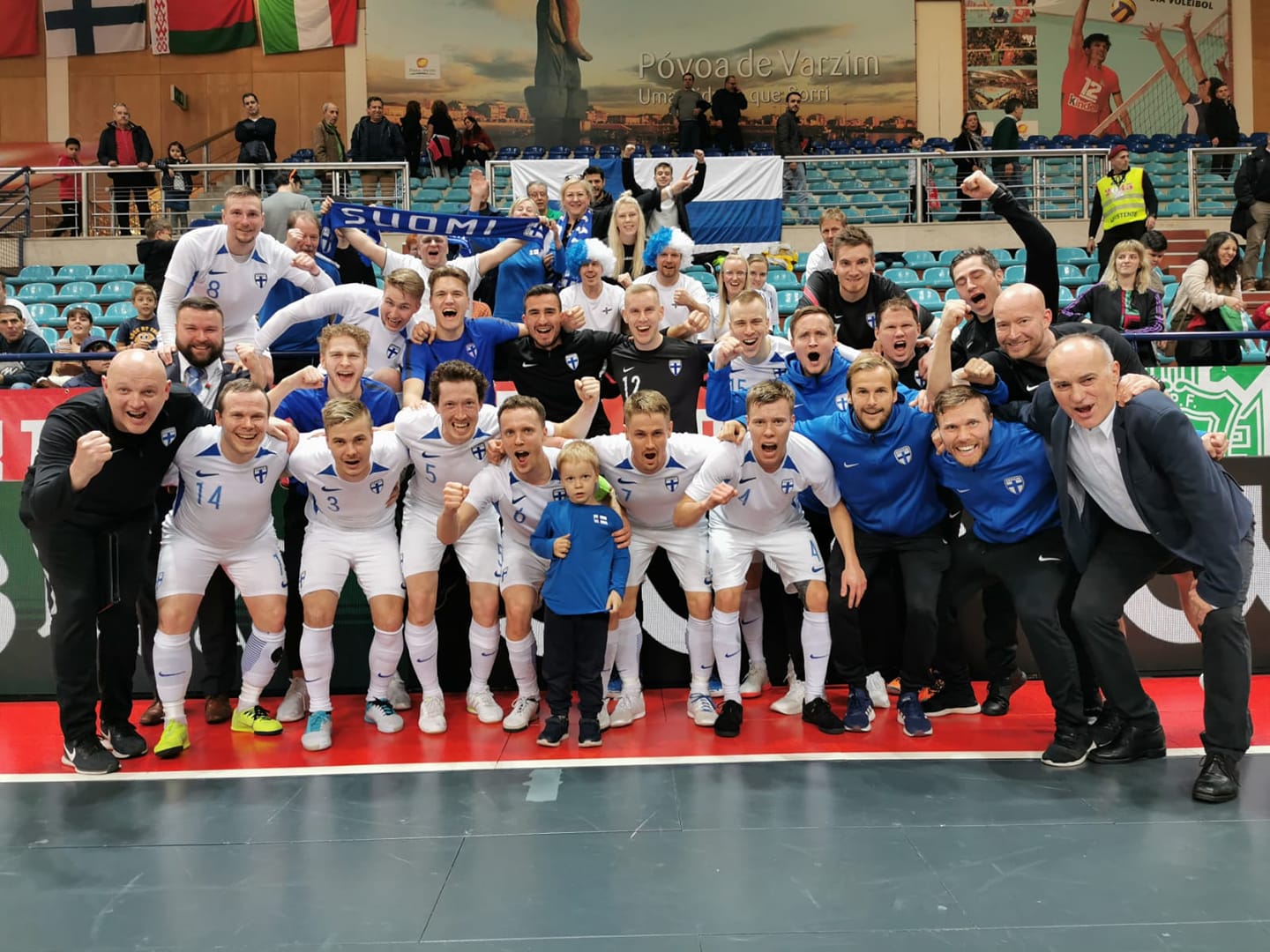 How will, in your opinion, coronavirus impact not only futsal, and futsal clubs, but the sport as a whole?
"In the current situation, one cannot predict anything. The situation is extraordinary. No one knows how the clubs will react. Only later will we be able to estimate what impact will corona have on futsal and sport in general. Futsal is in the same situation as all other sports entities, we are waiting, observing, thinking…".
Regardless of the crisis, what is the future of futsal? We can see that "your" Scandinavians started heavily investing in futsal several years ago, afterwards France, England and Germany also started developing domestic futsal….
"Futsal is a dynamic, exciting and energetic sport. It is related to football, his "older brother", which is one of the reasons why it became so popular and why it is spread all around the world. The national associations are investing in futsal, FIFA and continental associations are trying, but, in my opinion, they can and must do even better. Internet, which is definitely "our" medium, has given us a new impulse, global visibility. Therefore, the quality of the whole sport has risen and it pushes us forward".
When can we expect a real futsal explosion?
"Well, it is already happening. With entering the Olympic games, establishing new competitions, with educations of coaches and with even more love for our sport, will lead us to heat and, I believe, to the status of the most popular indoor sport in the world!"
In the introduction, we have noted that besides you are one of the biggest futsal experts, you are also one of the biggest futsal promotors in the world. You have established famous and relevant website Futsal Planet about which we have recently written in the interview with your colleague Luca Ranocchiari. Can you give us your view on the whole Futsal Planet project and how much the website has contributed to the promotion of futsal in recent decades?
"It is the project that Luca (Ranocchiari, authors note), Danilo (Lemma, authors note), me and a handful of futsal enthusiasts from all over the world is running – with more or less success – for more than 20 years! The website will soon experience rejuvenation, we will implement some new sections which, we believe, will restore Futsal Planet's former position. We are not megalomaniacs, we work when obligations allow us, guided by the fact that the availability of information is very important for our sport. My energy and love for this sport have not dried up, therefore, I see myself with the Futsal Planet in the future, alongside the values that this project promotes".
At what rate does futsal progress? Can you compare the status of futsal in the period when you launched Futsal Planet and today? How far futsal has progressed in tactical, organizational, promotional, and other terms?
"The differences are enormous, like between heaven and earth! The modern futsal is the one I have dreamed off and it amazes me. The speed, the strength, the attractiveness, the art, the decision making. There is definitely no such demanding and dynamic sport like ours. Basketball, handball, volleyball, water polo… I really like those sports, but they cannot compare with futsal. Futsal has something special, and THAT is the reason why, when you try it, you can't get rid of it. THAT is the reason why this sport has spread all around the world in a short period".
As a futsal website, you have established Futsal Planet Awards for the best players, coaches, national teams, clubs and referees in the world. How satisfied are you with this year's selection and, in general, with the status of this award?
"Every sport has its heroes. Futsal Planet Awards are a way to emphasize those heroes further, to reward them, give them importance. Luca Ranocchiari does the lion's share of the work in that segment. I only assist him. There is nothing better than transparent voting of people who we believe love and know our sport the best. I believe we have found good mechanism, and that the awards have been progressing for many years without discords. The Awards are progressing in accordance with our sport".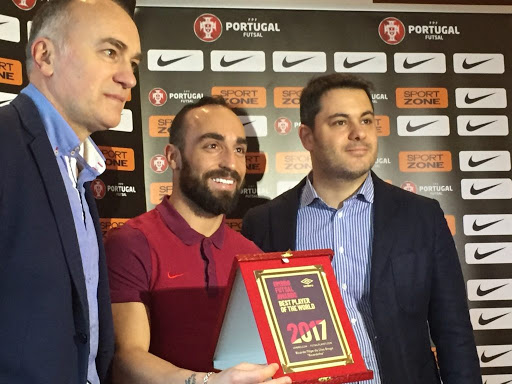 The big awards winning ceremony for the Futsal Planets Awards should have taken place at one of the biggest futsal events ever, at the major futsal conference "Futsal is Here", followed by two international tournaments in Poreč, Croatia, as a part of Futsal Week. Given the situation, it is quite certain that this event will not take place, at least not in a scheduled form.
Will you organize the entire event later in the year or will you wait for 2021 and organize the ceremony for the Futsal Planet Awards 2020?
"Too bad. It was a big opportunity to reward best in our sport in front of 20 teams (12 Under 19 and 8 women teams) that should participate at those tournaments and a large number of futsal fanatics that announced their arrival for the "Futsal is here" congress and ceremony award. The idea is good, but I do not believe it will come to fruition before 2021 due to known circumstances".
As one of the media patrons of the tournament (alongside Futsal Planet), FutsalFeed is one of the "guests" at Futsal Week. How would you present the tournament to our readers and what would you say - how has such tournament influenced the promotion of futsal in the world?
"For me, that tournament is a great opportunity for hanging out with my futsal friends, coaches, players… The Futsal Week team, that has been striving to maintain the highest standards of the tournament for seven years, is the group of fantastic people, friends and lovers of this game. Spending each day with them makes me happy and proud that we have been able to start something from nothing, maintain it and, hopefully, push it forward for many more years. "Futsal is Here Congress" will be a "cherry on top", and a definite consort of our team".
For the end, let's return to the reason why we have called you. On Wednesday (29th April) at 6 pm you, Dušan Matić and Frane Despotović are having Live webinar on the Zoom application. The topic is Transition in futsal. The limited number of participants, for only 20 euros, will not only listen to three futsal experts, but they can also talk with them, ask them questions in real-time and enter the discussion. What else can attendees expect?
"The first webinar on the same topic was made in our native language Croatian. The response was more than satisfactory and I believe we will continue with the free Webinars in Croatian very soon. The webinar with the same topic in English will be held on Wednesday. There is a place for 100 participants, and I believe that all seats will be filled".
What topics are you preparing for the future?
"We have a lot of ideas, but we don't want to make any specific plans because we are doing this because we love this sport and our affection for it. There is no desire for self-promotion. The main goal is to have fun with colleagues from all over the world. As for the next topic, I believe it will be "A way out of the pressing".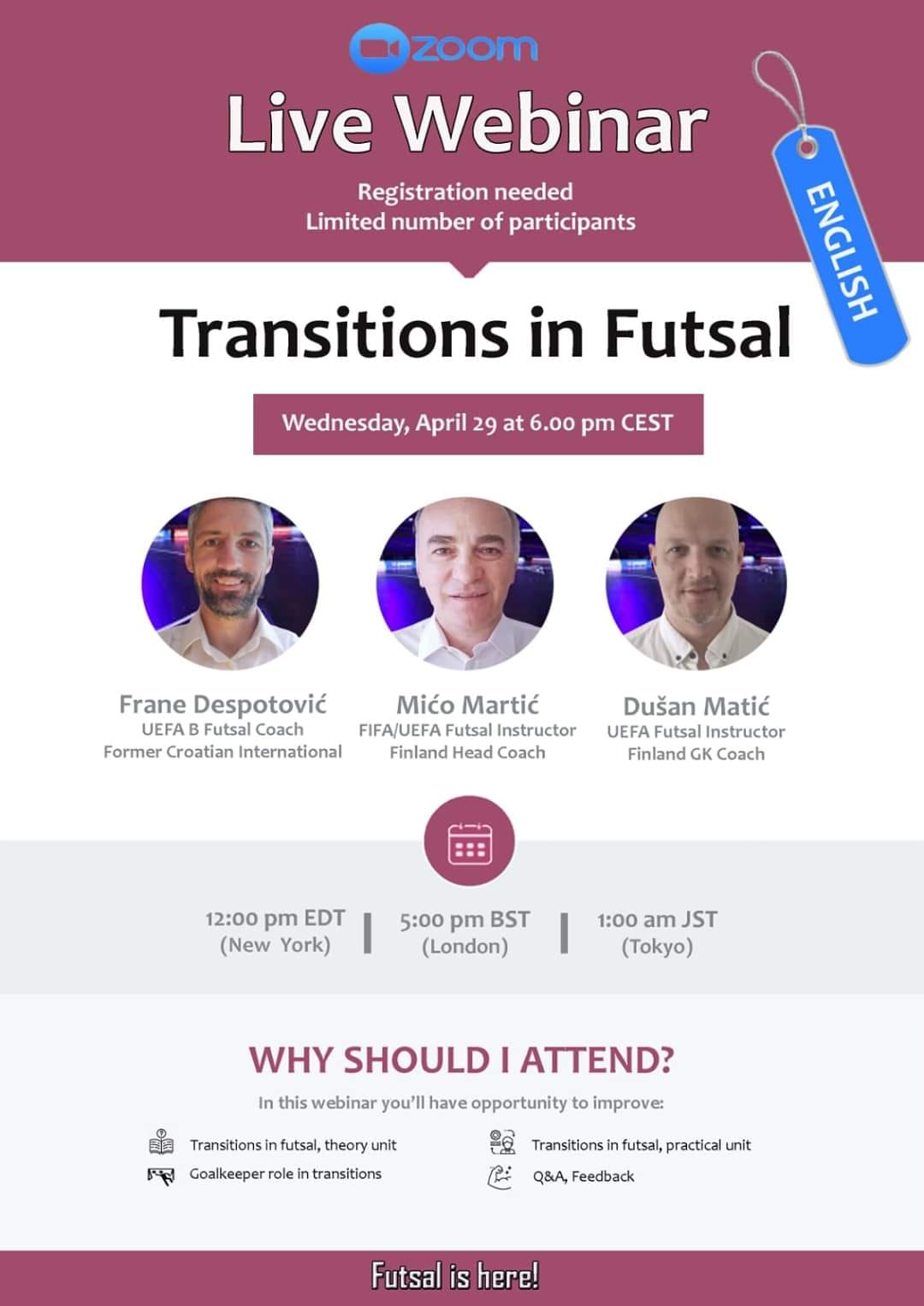 >>> 4+1 easy ways how can you support FutsalFeed