In roughly three months since FutsalFeed opened its virtual gates to you, our dear readers, we had a pleasure to publish interesting interviews with many national team managers (France, Morocco, USA, Moldova, Turkmenistan, China to name a few…), futsal coaches, futsal influencers and many more people that shape the modern game. Today, we had a unique opportunity to talk with one of the pioneers of futsal journalism, although he insists that after all these years he remains simply a futsal addict!
Luca Ranocchiari is an Italian futsal fanatic who has already been collaborating with many futsal websites from Europe, South America and Asia before the mid-90s when he settled with FutsalPlanet.com, but has continued to help grow awareness for futsal with every chance he got. He is one of the people responsible for delivering futsal news and results from across the world before the time when the information was travelling with such ease. It was only proper to do an interview with such persona and discuss many topics of futsal interest, as his input is very valuable in today's fast-moving world.
Today, most of the information is located just a few clicks or taps away. However, twenty or more years ago it was not as easy as that. So to start our interview, we were wondering if Luca could tell us something about the very beginnings of futsal journalism. "Oh, gosh! Usually, I really struggle to give an interview as I honestly and firmly believe that journalists, or just humble futsal addicts which is how I consider myself, should not be under the spotlights which are destined to players, coaches and managers of the game. I don't really care about being influential or recognized. On the opposite I really feel more comfortable while I stay "in the shadows", but I've always tried to support the game in every way.
Also, I really hope we can be a whole community rather than circles, that would help! I just remember Mićo (Mićo Martić, author's comment) and his "hot" fax line and me getting crazy to get scores or information. We both were in love with futsal since at least the end of the 80s but FutsalPlanet.com came later in 1997 thanks to Mićo's crazy but endless enthusiasm. It was very hard to succeed, but we had a huge passion by our side helping us every day. In the end, many people joined us, just because they shared the same love for this unbelievable game. There were few websites, and media in general, covering futsal and its international stage. If I look back I see that period as an unforgettable one, it's so good to see some of the people who met at that time and are still here fighting for it."
Times did change a lot since then, but enthusiasm about the sport itself remains alive and kicking in today's 'new futsal generations'. Could you maybe give a brief comparison of media coverage of futsal today and 'back in the day'? "A comparison would not be fair and I believe it's not possible as the "tools" were extremely different. When we started with FutsalPlanet, people covering futsal were just a little amount of "fans" doing that for passion, travelling all around the world and counting on their own pockets to achieve that. Everything was "slower" and much more complicated but that was not really an obstacle and I guess we enjoyed that period more than today. Everything was new and exciting, like the nature of futsal itself. Modern life is faster and "shared life" through the social networks feverish activity. Good or bad? Probably both options are true. "
Let us talk about modern-day issues futsal is faced with. The argument that futsal needs more media coverage for it to be able to attract new sponsors and fans and to grow as a sport can be heard from many futsal enthusiasts all over the world. Would you agree with that assessment? "No, we don't need more coverage: we do need a better one! More expertise, specialized and verified information rather than gossip or hysterical and obsessive sharing. We need people really committed to the game, wanting to spread information and not just their ego as it often happens today. We would need people and real media, not just "accounts or pages". But, I want to underline a crucial point: information is not the only source for sponsors or fans, it's just a short chapter of a bigger story. Today there's a worldwide misbelief in futsal: people consider a match broadcasted in television or internet as a key for the development of the sport and even federations or futsal committees "sell" this idea to show people how good they are. But "development" includes much more, from FIFA headquarters to every single member of the community (media included)."
FutsalPlanet.com was obviously a big success in your journalist, or should we say – futsal addict career. For many of us, it was a point of reference when searching for futsal news. How hard was it to gather so many collaborators from all over the world? "FutsalPlanet belongs to Mićo Martić and he deserves the credit for it. I've no journalist career at all, maybe you will be surprised of it, and never looked for success but as I mentioned before I've tried to help this game as I've fallen in love with it, so my choice was to do that through FutsalPlanet.com, with Mićo. The key point is that our website is for futsal and not for us. It's a common passion shared by many people since the beginning, so our collaborators are part of this story and their "recruitment" has been a natural consequence of their love for the game. They are actually friends rather than collaborators and it's amazing to note that some of them are still with us after almost 25 years. If we managed to support the game and its development somehow, even in a small way, then we completed our mission. But that's not over yet: we will keep it up as this website is basically or way to return the favour to the best sport on Earth, for every day of emotions, happiness and entertainment it provided to us."
Let us stick a bit more with FutsalPlanet. FutsalPlanet Awards are arguably the best thing that came as a result of the famous website. Last month, we saw its jubilant 20th edition that we already discussed on our website. How important FutsalPlanet Awards are to you and to the sport, players, coaches and women who are playing futsal more and more? "Maybe you're right as this could be the external perception of Futsalplanet. But that's not true for me: if I had to claim something basic for our "creature" I would talk about its independent information. I'm probably too rigid on this point, but I wouldn't accept releasing content "for friends" or "against enemies" (if any!), while today everything seems to be a battle of egos in which you have to choose your side to support. But usually in this kind of "wars" both competitors lose.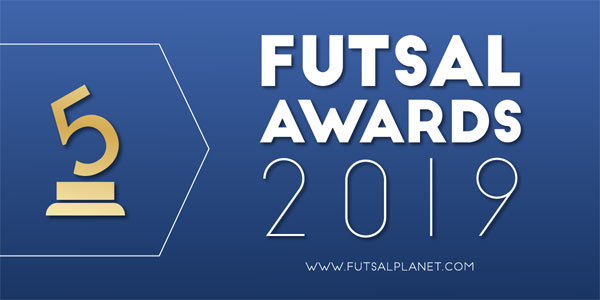 The Futsalplanet Awards are just another contribution we tried to provide to the game and its actors, as per the European Golden Shoe. Twenty years ago, they started just like a game, now you can see local or national media reporting about winners, nominees and so on. What is the purpose? Well, probably there's no sure way to determine if a player is better than another, or who's the best ever. However, that's not the main point: the awards are our way to serve players (with special reference to the women game which is more in need of it), coaches and teams in order for their work to be recognized as they deserve. Regardless of what people can think, we have no preference about winners or nominees. And no, we usually don't include our best friends, girlfriends or relatives on the list! In twenty years, but of course, with special refer since the beginning of "social networks domination" on people's lives, we got congratulations, criticism and even insults for the Awards, but all is good and you learn to deal with it. You soon understand what to take into account to improve your work."
You have been following futsal intensely for decades now. Was there a certain event at that time that, in your opinion, changed our sport for the better? Something that made futsal front-page news. "Nope. That has been and will be a gradual process, achieved day by day. Then, everything depends on the expectations you have of futsal. For a crazy addict like me, our development will surely always be so slow, inadequate and insufficient. But at the same time, I know a lot of patience and work is needed to reach our desired goals for futsal."
What do you think, what that futsal needs to become even more visible in today's world? "If you attend, for example, a UEFA Futsal Champions League Final Four you can think we are already there because the standard (level of the game, organization, etc.) is definitely high. But that's the elite and we must think about the foundation of the sport where things and financial resources are different. FIFA commitment, continental Confederations, National FAs, refereeing, clubs structure, women futsal, youth players' formation, media… I could list one thousand points which, once achieved, will mean a turning point for futsal. We're still far from it but that is not a good reason to desist."
And how important do you consider the inclusion of futsal in the Olympic Games would be to the sport? Would that be a cherry on the top of the hard work done by thousands of futsal enthusiasts around the world? "We have learned to talk through slogans and refrains and the "Olympic Games inclusion" has soon turned into one of them. No, I don't really believe that this is a basic point for our game, though the Buenos Aires experience for our young players was obviously a kind of milestone under this point of view. But one thing is supporting the introduction of futsal in the Olympics (I do, why not?), different stuff is believing we need this to succeed.
There are a lot of unknown disciplines that are only mentioned during the Olympic Games and then forgotten until the next edition. So, do we want to enjoy the "daily glory" for our merits or wait for the spotlights for one month, every four years? The answer is easy and I believe that the Olympic Games should rather be targeted as a consequence of previous work and success gained by our sport through the "right way" and development."
"Just to mention one (often forgotten) point which is basic: how can we elevate the standard of the game if we still have, all around the world, different bodies claiming for the control of the game on international and/or local stage? We have two or more World Cups, Continental competitions, different national teams and countries where more than 10 bodies set up leagues and tournaments in an absolute mess. And currently no effort or discussion on this topic. We need a "unique" futsal, a community working for the same goal."
I am sure many of our readers will be interested to hear your opinion about current futsal power rankings. The Futsal World Cup that was supposed to be held this year in Lithuania is now under question due to the Coronavirus outbreak. Nevertheless, if the World Cup would start today, who would be your biggest favourites and who would you consider being 'dark horse' of the championship? "Unfortunately, the World Cup can't be considered a priority right now and its postponement seems to me like something as painful as obvious and inevitable. I'm not so good in forecasts but I always start from Brazil considering that is still (and probably will be for a long time) the only nation still able to produce a great amount on young players every year, given their youth futsal impressive quality. Then, of course, we have three European Queens like Spain, Portugal and Russia that can claim the title, as well as the "warriors" of Argentina who will defend their unforgettable 2016 triumph. Last but not least, the unbelievable talent of Iran, an amazing futsal nation. The underdog can come from Africa, as their level is improving edition after edition. My preference is and will be for nations that build their own players at home, that is the purpose of a national team and the (lost?) meaning of an international competition for national selections. Let's hope for a great World Cup in Lithuania, whenever it will be played!"
To conclude, what are Luca Ranocchiari's plans for the future? Are you planning any new interesting projects in futsal? "I'm always available and glad to join projects which I consider beneficial for futsal. But my priority is and will be Futsalplanet.com as this is my independent space and I will try to keep it and protect it. Mićo and I, we're extremely different persons but somehow we found a way to join forces and keep this up. So, why should we end this?"
Thank you Luca for this conversation and for your unique perspective of our sport. We have discussed so many things in this interview, from media coverage, growth throughout the years, Olympics, FutsalPlanet Awards and now we are asking you! Do you agree with Luca, or do you have a different perspective on some of the issues? Let us know in the comment section below – we want to hear opinions from all the futsal addicts!
>>> 4+1 easy ways how can you support FutsalFeed