Writer: Oliver Milošević
In today's world of sport, especially in football, we have seen some national "sports colonies".
Today, we can, for example, follow the Portuguese colony at Wolverhampton FC while we have never forgotten the Dutch colony in Barcelona.
Talking about today's futsal, we have had a similar example this season – Croatian colony in Italy!
It has found its place between three lakes Lago Superiore, Lago di Mezzo and Lago Inferior, inside the triangle Milan – Venice – Bologna.
That is the city and futsal team – Mantova Calcio a 5, Mantua.
Three Croatian players are currently collecting their appearances for the club from the Lombardy commune: Ante Daničić, Luka Suton and Mirko Hrkač (Croat from Bosnia and Herzegovina). However, just a few weeks ago there were three more Croats in that club from Italian futsal Serie A - during the winter transfer window, coach Frane Despotović, Blago Gašpar and Marko Kuraja left the club.
In Mantova Calcio there is also Juha–Matti Savolainen – an ex-player from 1st Croatian Futsal League club MNK Crnica, as well as Strahinja Petrov, futsal representative of Serbia.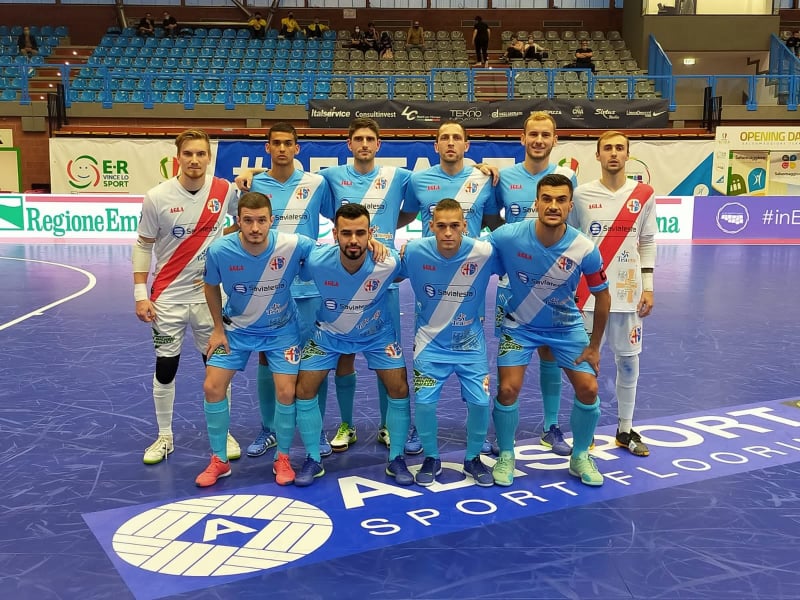 (Foto: Mantova Calcio a5 Facebook Page)
As you have noticed, what happened in Mantua was a real rarity in the world of sport, especially in the futsal world – so FutsalFeed had the opportunity to talk to Mantova Calcio a 5 captain – Ante Daničić!
Daničić is a futsal player who has made an impression of a man full of strength, physical fitness and a player that has always given 100% of himself in every match. A typical example of a player that every futsal coach would definitely like in their team.
The half-season of playing futsal in Italy has already passed, what are your impressions about Mantua?
"The situation in Mantua is currently getting back to normal as players return from national team gatherings, and the winter transfer window is coming to an end. There have been a lot of rumors, offers, and negotiations during this period. We can't wait for things to stabilize completely. So far, we have had one departure and two new arrivals", said Daničić in the beginning and continued:
"The impression after the first 4-5 months is positive. It is nice to compete at this level, to play against top players who are very famous on the world futsal scene".
How much has the situation with Covid 19 impacted training, matches, but also life in Italy?
"This new life caused by Covid is undoubtedly not so good. It brought us games without fans, a lot of postponed matches, and a busy schedule. I can say that it does not suit me. I like full stands, electrified fans. That's what gives me the force to fight, and for sure, I miss it a lot".
Do you like life in Italy?
"Life in Italy is beautiful, although it is under the significant influence of Covid 19, so I can't say that one does enjoy life to the fullest".
This is not your first international sports experience. You have played football in Greece and Bosnia and Herzegovina. It certainly has helped you to adapt to new challenges as soon as possible…
How did you react to the new city, new club, and unknown environment?
"Yes, this is not my first international experience! I was 20 years old the first time I left Dubrovnik to play professional football in BiH, in NK Posušje, for two years. After this experience, I went to Greece, in Volos, to play for Niki Volos. In regards to futsal, I played half a season in Germany for Futsalicious Essen. These experiences have helped me a lot in my life in Italy. I want to point out the time I had in Greece, because I was among 16 Greeks and 3 Argentinians, so I had to adapt and learn the language as soon as possible. I have learned Italian in elementary school, so the language barrier has not been a problem. I communicate with everyone in Italian, which has drastically improved in these five months".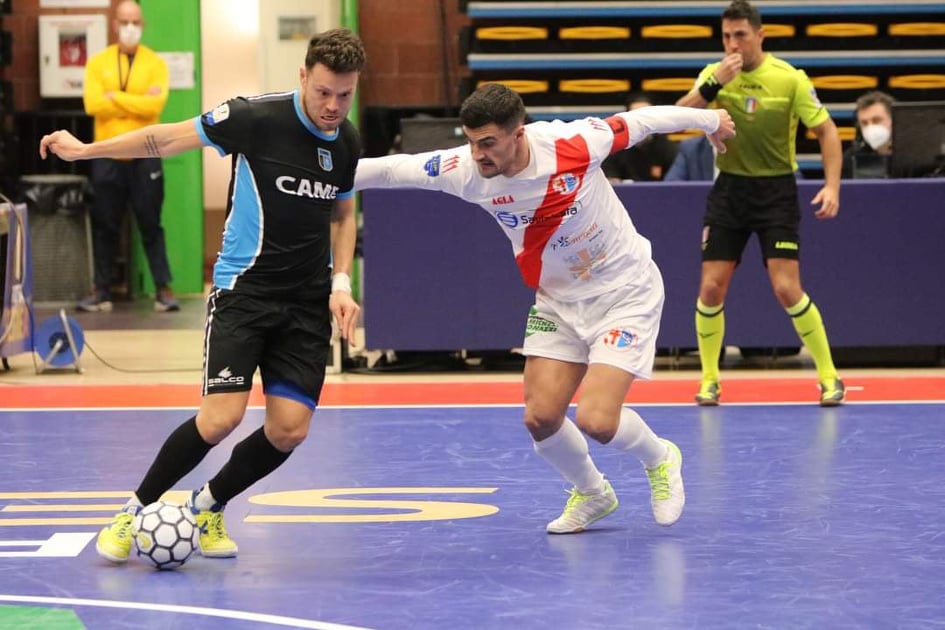 (Foto: Mantova Calcio a5 Facebook Page)
It is undoubtedly a great privilege and a responsibility to wear the captain's armband in a club like Mantova!
How are you doing?
"The captain's armband came to me unexpectedly since I was one of the last reinforcements in the summer transfer window. Coach Despotović, who insisted on my arrival, gave me that confidence. So far, I have had many discussions with him about futsal ideas. He liked my human qualities and concluded that I should be captain. I am immensely grateful to him for that".
We have noticed that the fans and the management love you, do you like that role?
"Honestly, the captain's armband somehow put me in the foreground. I have experienced that team captains here are somehow valued more than in Croatia. At every step, they call me Capitano, from people in the club, teammates, to commentators and people on the street. So here in Italy, it feels like it's a vital role".
After a slightly better start to the season, Mantova fell into a crisis of results. After this latest victory and a draw, Mantova found her place in 10th position in Serie A. Surely it can be better.
But let's start from the beginning. What have been the goals of the team in general at the beginning of this season?
"At the start of the season, the goal was to stay in Serie A. The first ten places certainly guarantee to remain in the league. I think that the reality of the team is between the 8th-10th position. The start of the season was great, even too good to be true. After that, we had many games postponed, along with the pause for national teams. I have also sustained a minor injury in the meantime, from which I have recovered quickly".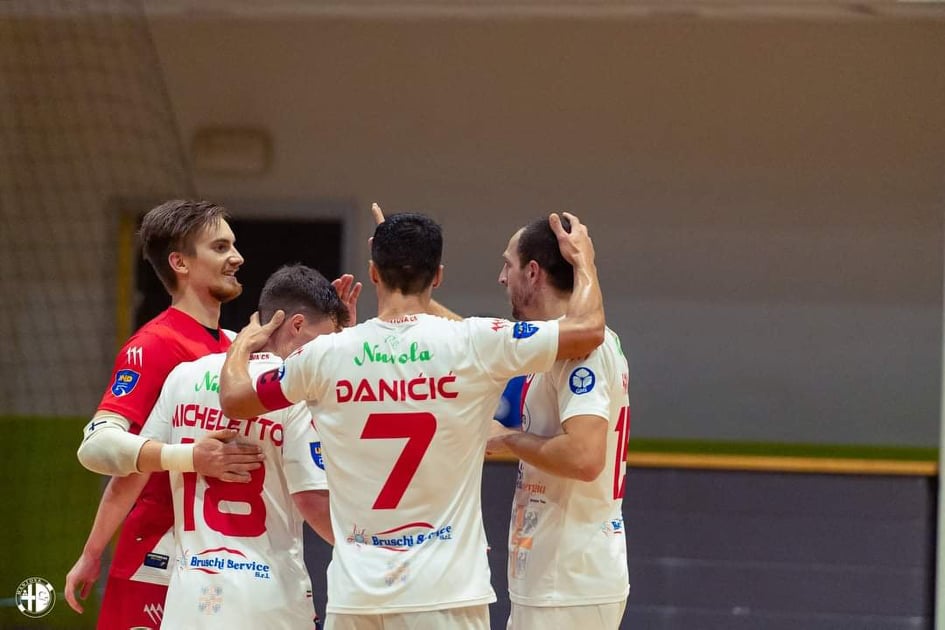 (Foto: Mantova Calcio a5 Facebook Page)
"Most of us were without games for more than 30 days, meaning we were not in a good physical condition with a strict schedule ahead of us. We had a match every three days. Unfortunately, we did not react as we should have during that period, and Mantova fell on the Serie A table. We lost some points that we were supposed to take, a bit of a lousy atmosphere crept in due to the mentioned results. Unfortunately, the club decided on the easiest possible move for them, and that was a change of coach".
Coach Despotović has left the club during the winter transfer period. How did the teammates react to his departure?
"Frane Despotović gave us all confidence. He decided that we are capable and ready to play at a high level of Serie A. He believed we could face these challenging obstacles, beat teams like Pesaro, a club with three winners of the last World Cup and many Italian internationals. So, his dismissal affected us. He was not only our coach but a friend and great support. Blago Gašpar decided to return home for family reasons and because he was not satisfied in Mantua. I think that if Frane remained, Blago would stay with us until the end".
Jeffe is the new coach of the club.
How does the team feel about him?
"Jeffe is a well-known futsal name in Italy. He played at a high level for many years, and last year after the departure of coach Duda to Spain, he took over the coaching staff at the Real Rieti, the club where our Franco Jelovčić played. One can quickly notice he was a good player. He understands all the situations from the game and can easily explain his futsal ideas to us".
Have you noticed any changes?
"Every coach has his idea and style of play, and although there are no radical changes, the coach wants us to understand his rules and ideas as soon as possible. The emphasis is on defense, the practices of what to do in each situation, and some basic moves in the attack; the basic rotation should be our "forte" in the organization of our attacks. He also wants the pressing game to be played in a slightly different way than it was with the former coach. So I'm looking forward to not retreating in front of anyone but outplaying them instead".
What is the most significant difference between Croatian and Italian futsal?
"The difference between the Croatian and Italian league is definitely in the organization and its seriousness. Here all players are professionals, although not officially because the league is amateur "on paper". But, all players are engaged exclusively in futsal, i.e., they do not do any other work besides playing futsal. While in Croatia, the situation is such that 90% of players work, study, and play futsal in their free time. In Italy, the concentration of quality is much higher, and every game is challenging, and every result is possible. I would say that the games are physically much more demanding because the game is much faster.
How different are the training and the matches? To what do Italians pay the most attention?
"Training does not differ so much, but the number of training varies. We do 7 per week, while in Square (Dubrovnik, Croatia), we had 4, with a limited duration of usually 1 hour. Here in Mantua, we have our own gym, and in the vast majority of cases, we set our dates so that the duration of the training does not limit us".
Have you watched the first two performances of the Croatian national team in the Qualification for UEFA Euro Futsal 2022 in the Netherlands?
I watched the first game against Albania while I didn't watch the second game against Denmark. I am glad we started with 2 wins.
What do you think about the appointment of the new coach Marinko Mavrović?
"I am glad that the former coach was replaced because it was evident that no progress has been made in the last period. On the contrary, two big competitions were missed, which in my opinion should not have been missed. I don't know how much the new coach Marinko Mavrović will manage to shake up the situation, but I am convinced that things will start to get better. I am sure that the interpersonal relations and communication between the staff and the players will be higher than it was so far".
>> The Dispute in Croatian Futsal... parts One and Two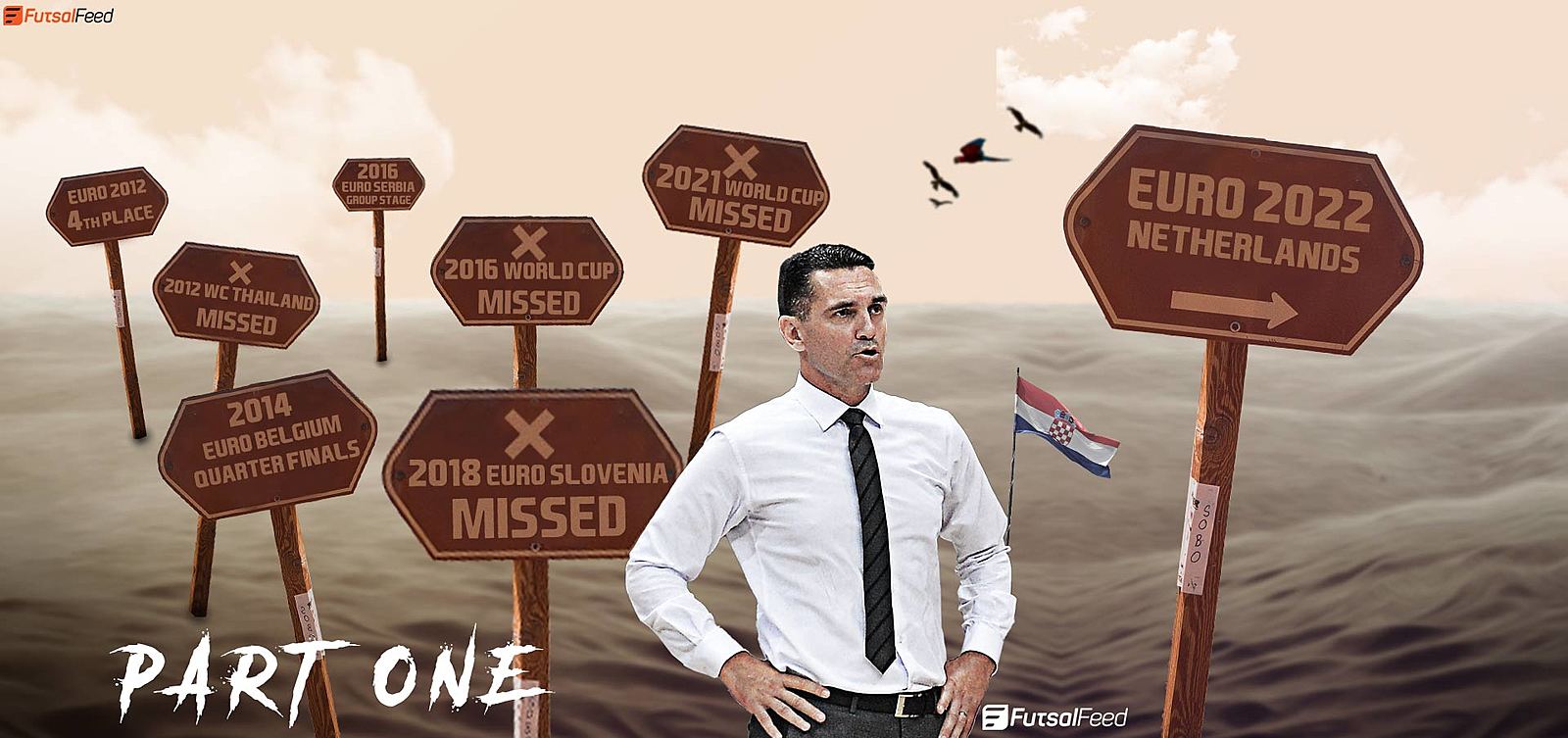 If everything were ideal, the Netherlands in 2022 would undoubtedly be a perfect opportunity to say goodbye to a national team career.
Do you think there could be an opportunity for such or similar scenario?
Honestly, I am not an essential part of the team that has been together for a long time.
"I have not contributed anything to the team, so I do not hope to be invited in the future. I do not expect to be a participant in any future competition. If there were no injury and knee surgery at the first meeting with the national team, I would maybe have managed to impose myself during this period, but at this moment, it would be challenging. I have also never felt the last coach's trust, so I think that the new coach Marinko Mavrović does not prefer me as a player and I don't have his trust. In that case, it is better to invite one of the younger players who will be a pledge for the future and who will benefit more from all that. If it happens to me to make an excellent transfer to one of the top 5 clubs in Italy in the future, if I play at a reasonable level and achieve good results and the staff decides that I could help them, I will gladly respond to the invitation.
Have you been thinking about the future? Until when do you think you will be playing futsal?
"I honestly don't bother overthinking about the future. I am happy to be able to play futsal and do what makes me happy. When the moment comes, and when I find that futsal is not a pleasure but a burden for me, I will stop playing. I thought that moment came last summer after a great pain with injuries and a relatively bad season. I was not appreciated in my club Square. I decided that it was enough. Fortunately at the urging of Frane Despotović, I joined an Italian adventure where I am going through one of most beautiful moments of my futsal career".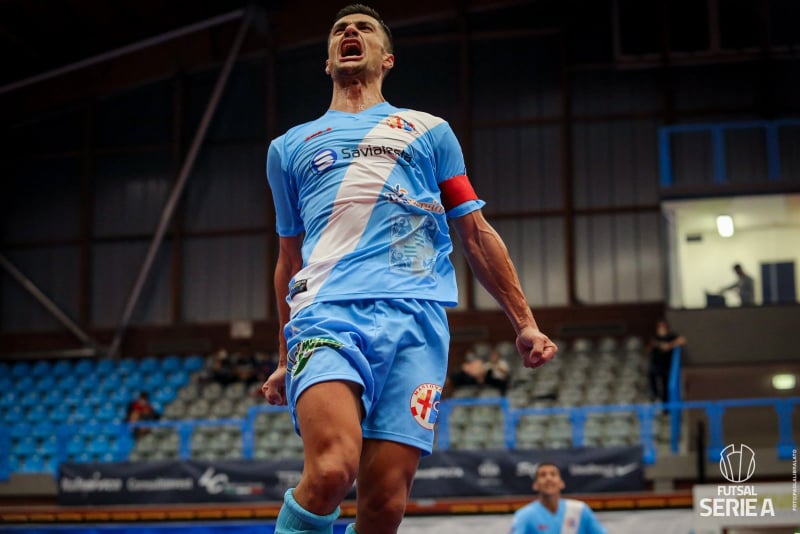 (Foto: Mantova Calcio a5 Facebook Page)
Have you thought about a coaching career? We know that you applied for a futsal coach C license….
"Before I went to Italy, I thought intensely about how it would be like to coach some senior teams in the future. But, after the experience in Italy, I am convinced that I am not ready for coaching the senior team yet. I am currently applying for a futsal C license at the HNS Academy (Croatian Football Federation), and I hope to gain it by the end of the season. I want to work with children, share my knowledge and experience with them. I think that would make me happy in the future and that I would enjoy it".
You speak both Italian and German; there are certainly opportunities for some foreign engagements…
"I speak many languages, which can help me in my future coaching career. Futsal in Germany began to develop rapidly. I also gained many acquaintances in Italy, but I think that the coaching job is a big sacrifice and that a lot of sacrifices must be made to succeed as a coach.
In that career, bags, and suitcases always have to be ready, and there is a lot of family suffering, and I would not want to afford that for my family in the future. It's enough that they suffer and struggle with me while I'm still playing, so I wouldn't want to afford that even when I'm done with an active playing career".
What is your biggest sport desire in 2021?
"The biggest sports wish in 2021 is to be healthy. I have no other wishes".
At the end of this inspiring and motivating conversation, FutsalFeed thanked Ante for this conversation. FustalFeed readers could get acquainted with the opportunities and obstacles he and his Croatian colony face in Italy.
In the end, the FutsalFeed team wishes them good luck for the rest of the season and the achievement of their sports goals.
For all of us, FutsalFeed also wants the world pandemic to come to an end so that we can finally follow the performances of Serie A and other futsal leagues live.