After the interview with representatives of one of the smallest nations on Earth, San Marino, we have jumped to the other end of the spectrum of the most populous countries in the world, to talk with the representative of the People's Republic of China.
One thing that San Marino's and China's national futsal team have in common is the nationality of their head coaches. After the 53-yeard old Roberto Osimani, who manages San Marino, our today's guest is 45-year old Italian coach Sergio Gargelli.
As his official website claims, Gargelli is "the globetrotter of futsal. A passionate futsal coach and unshakable optimist dedicated to the growth of futsal all around the world." His first international experience was in Japan, 13 years ago, eventually becoming a assistant coach of Japan national team with which he won two Asian Cups. Then he managed Vietnam with which he played in the World Cup 2016 and defeated Brazil in friendly match, which is, until today, the only Brazilian loss against one Asian team in history.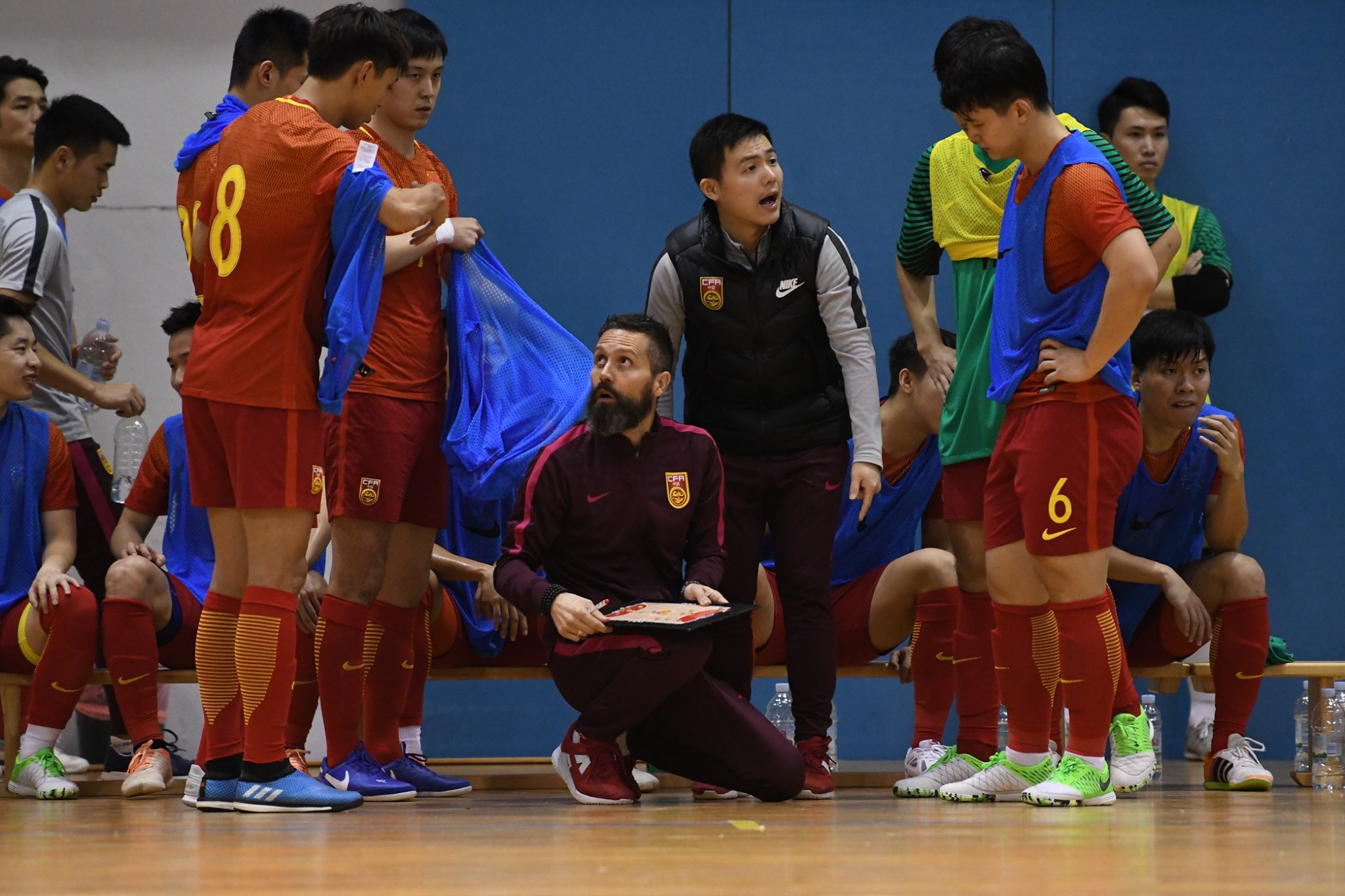 Gargelli after the experience in Vietnam I went to Indonesia, but the suspension of the country from international competition made an immediate stop to the collaboration, the passed from Qatar Leading Qatar Sports Club and Shahania. The only European national team he managed was Norway from 2016. till the end of 2017. Afterwards, he went to China, first becoming a coach of Dalian Club, winning the Chinese League in 2016/2017, and then, from the 1st January 2018, started as the national team coach, "with the ambitious target to bring China to 2020 World Cup and reform completely the futsal in the giant of Asia".
Before the discussion about China's chances in the Asian Cup which begins at the end of February 2020, we asked Gargelli about the differences of coaching all those countries and clubs he managed during his peculiar and rich career.
"When I went out for the first time and started coaching in Japan, I thought I could copy and paste what I did in Italy. But, after a little time, I discovered it is impossible, because the culture, the food, the history, the tradition, the player physiognomy are completely different. So, the most important thing is to adapt your idea of how you see futsal to the country you are working in. You cannot copy and paste something you did elsewhere. If you do, you will fail".
So how did you manage to overcome those obstacles?
"After I had some problems with results I adopted my style of teaching to the reality of Japan. So, whenever I go to another country, first I must learn about them, about their culture and adapt my futsal way of teaching and training style to them".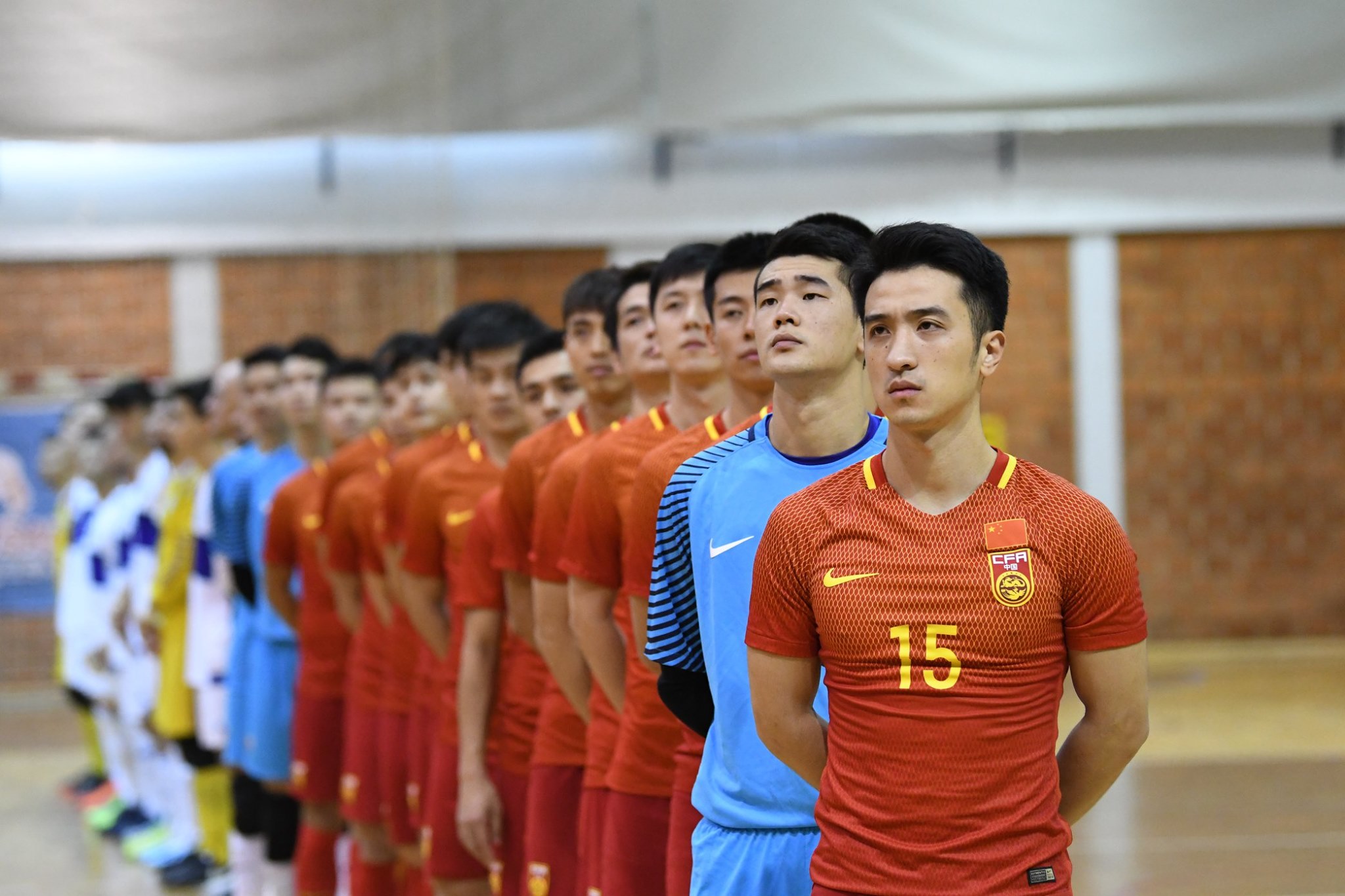 And what is the situation with futsal in China? When it comes to football, the Chinese government has released a comprehensive football reform a few years ago. Their goal is to become the best Asian country by 2030 and win a World Cup by 2050. Is the futsal incorporated in that comprehensive football development program?
"Unfortunately, no", says Gargelli, "at federation futsal is considered as something they have to do. There is no development plan, our team is relatively old because China has only a few futsal clubs, out of which only one is considered professional. There is no clear development plan, no clear strategy. And I am not talking only about the national team, there is neither development of the youth categories. Some short tournaments around the year……even in the past years also there weren't those tournaments"
After all countries he has worked in, Gargelli says China's national team is the most difficult one to work in.
"China is Big, and futsal is not so developed, there are some rules for university students who cannot move from a city to another with same curriculum university that blocks the development of the futsal in the country. Adding to this, there is only of club which can be considered professional, all the other clubs are very far from that and in China is not possible to use systems as in Vietnam or Thailand where the National team train like a club.".
So, football in China is much more structured?
"Well, yes, but football is also quite a new sport for Chinese people. Even though it has great government investment, it still is not as popular as traditional Chinese sports, like table tennis or badminton, even the basketball but due to the great investments…..the future will be surely brilliant".
During the Futsal Week Winter Cup held in Poreč from 16th to 21st December 2019, China clinched the third place, they lost against the first two teams, Bosnia & Herzegovina and Montenegro, and defeated Turkmenistan and San Marino.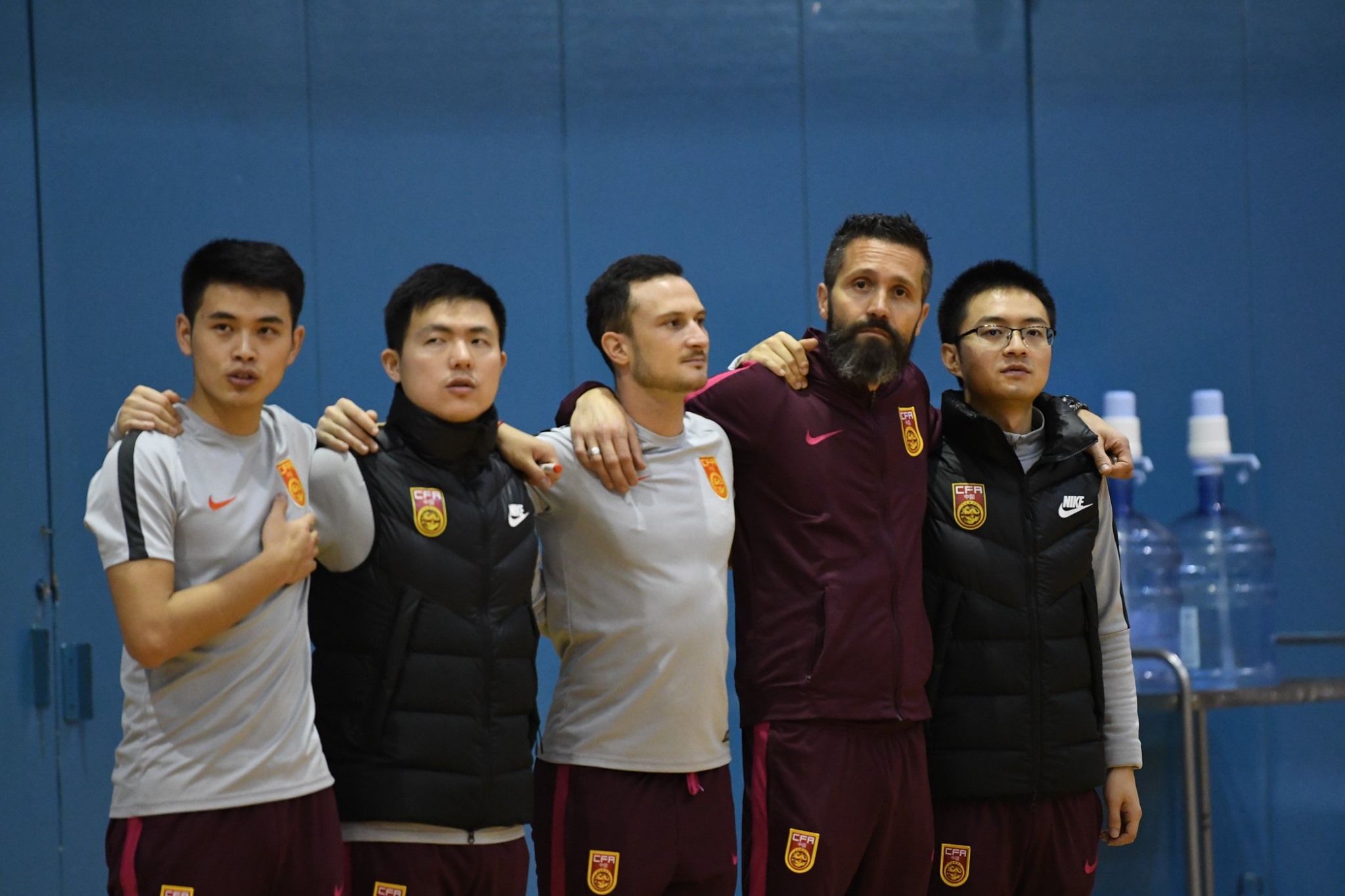 China played offensive futsal and could compete with the quality of other national teams.
"We showed that we are not far from those countries in general, but when talking about details, we are still very far from them. And, the details are fundamental in terms of results. So, we still need to make a lot of progress in that segment".
How big is your talent pool to choose from and what is the structure of the Chinese futsal league?
"The first division has 12 clubs, that, until the last year, they played in three rounds, home, away and playoffs. But, from this year, the first division has only two rounds, home, and away matches, without play-offs. Even though I advised the FA and clubs they don't accept playoffs. First, China is very big, and it cost a lot for clubs to move across the country, all the time. Second, even though there is a lot of indoor futsal complex in China, clubs have to reserve them a lot in advance, so it is difficult for some clubs to invest money for the playoff games since they might not qualify to them".
And what about the lower leagues, University, youth, and amateur futsal?
"There is a second division, but it is not a league, it is organized as two tournaments. The first tournament lasts one week then the best 8 teams play another tournament, and the best two teams from that second tournament play against the last two from the first division. The winners of those matches secure the spot in the elite league", says Gargelli and continues:
"When comes to University futsal we have another big problem. It is called "The rule of a university". So, if you start studying at one University, you cannot change to another university, even to ones with the same curriculum. You have to start from the spot. That blocks some players who might want to play futsal since there are only three universities who invest in futsal".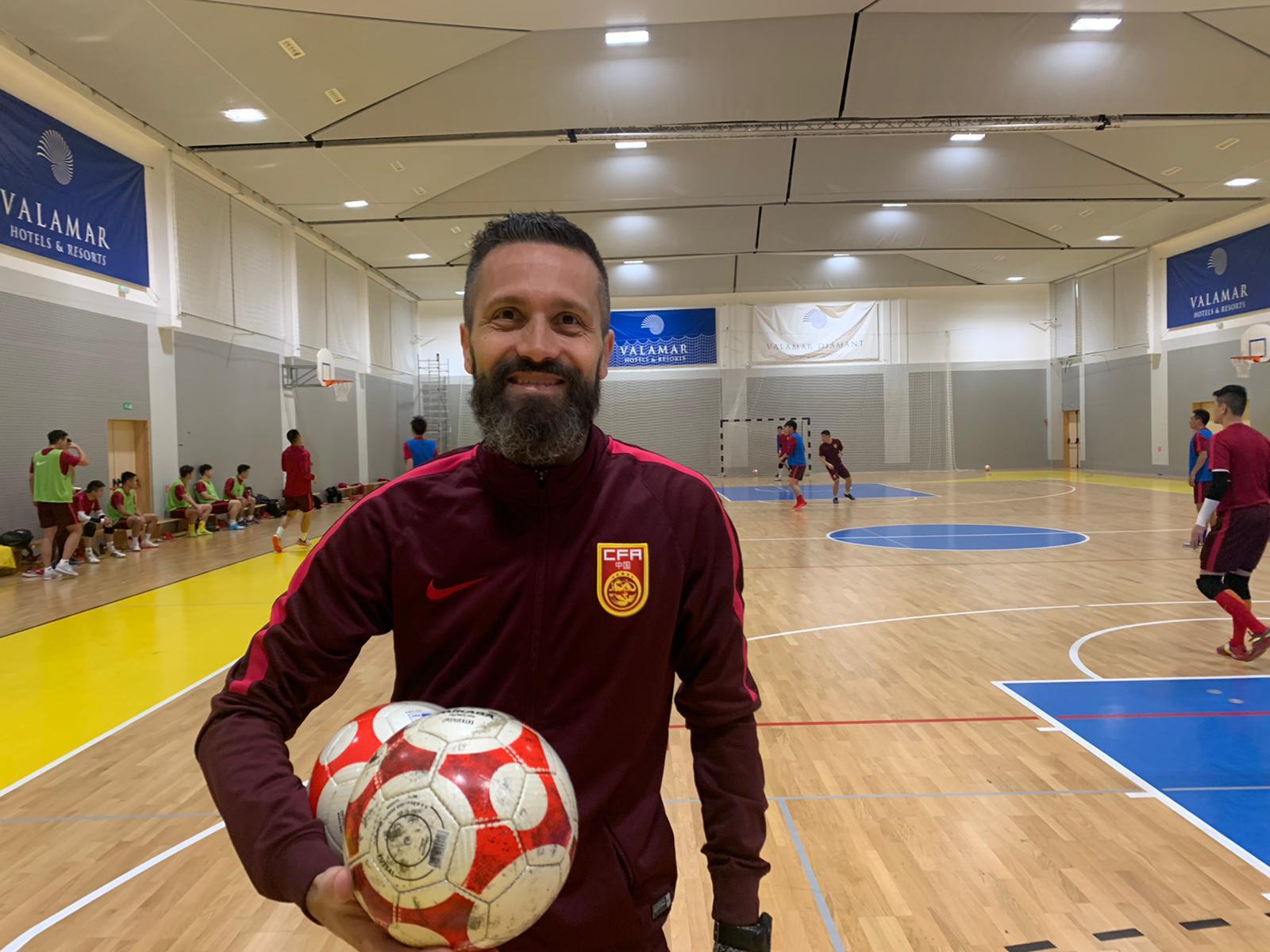 Gargelli says that there are some youth and local leagues, but they are either organized more like tournaments, not leagues. Most of the young lads play football, not futsal, he says.
So, is it difficult to select a squad for a national team?
"Actually – no. As I said, there only a few clubs in China so I have a limited amount of names to choose from. For example, for the Asian Cup, which is also a World Cup qualifier, I will need to invite some players who have stopped playing futsal and they did not compete for the last two years. There are no new players to choose from. The amount of futsal players in China is very limited".
China will play in the group with Uzbekistan, Bahrein, and Indonesia at the Asian Cup which will be held in February and March in Turkmenistan (China defeated Turkmenistan on the Futsal Week Winter Cup Poreč). What are your chances?
"All of those countries are in front of us in the Futsal World ranking. Uzbekistan is the most experienced team and the favorite of the group. Indonesia is a country with extreme potential in futsal and I believe it can become one of the top four countries in Asia. They have lots of competitions, quality, and fast players. But, their problem is to manage energy. Luckily, we play against them in the third match so we have a chance to qualify for the knockout stage. And our dream is, of course, to reach the World Cup which will be played in Latvia this year. How? Let me keep some secrets, so my opponents don't know what I am saving for them", says Gargelli in laughter.
During the Futsal Week Winter Cup, you played equally with experienced European (Balkan) teams and finished in front of the Asian team Turkmenistan and the European team of San Marino. Are you satisfied?
"I am. We played two friendly matches before the tournament, so we knew that it will be difficult to stay at a high level in terms of low fatigue. So, in the decisive third match against Montenegro we were very tired, had a lot of mistakes that are related to concentration. We had problems with passing, ball control, and movement. It was our fifth straight match and theirs first", says Gargelli and concludes:
"But with matches against strong teams against Turkmenistan and Bosnia and Hercegovina, I am very satisfied. We played two good matches. I believe that we deserved victory against Turkmenistan, and did not deserve defeat against Bosnia and Hercegovina. If we didn't get the red card at the crucial moment, the match could have ended in the other direction. But if we want to qualify for the World Cup we need to get even closer to those teams. I believe that we will".
>>> 4+1 easy ways how can you support FutsalFeed