Author: Oliver Milošević
After an interview with the Italian National Team Head Coach Mr. Massimo Bellarte today FutsalFeed brings you, our dear readers, an exclusive interview with Stefano Mammarella, the iconic Italian futsal goalkeeper.
Mammarella delighted futsal fans throughout the world for almost 20 years now with his fantastic moves, reflexes, game sense, and defenses. This 37-years old futsal giant has been named the Best Goalkeeper in the World three times (2011, 2012, 2014) by the prestigious Futsalplanet Awards.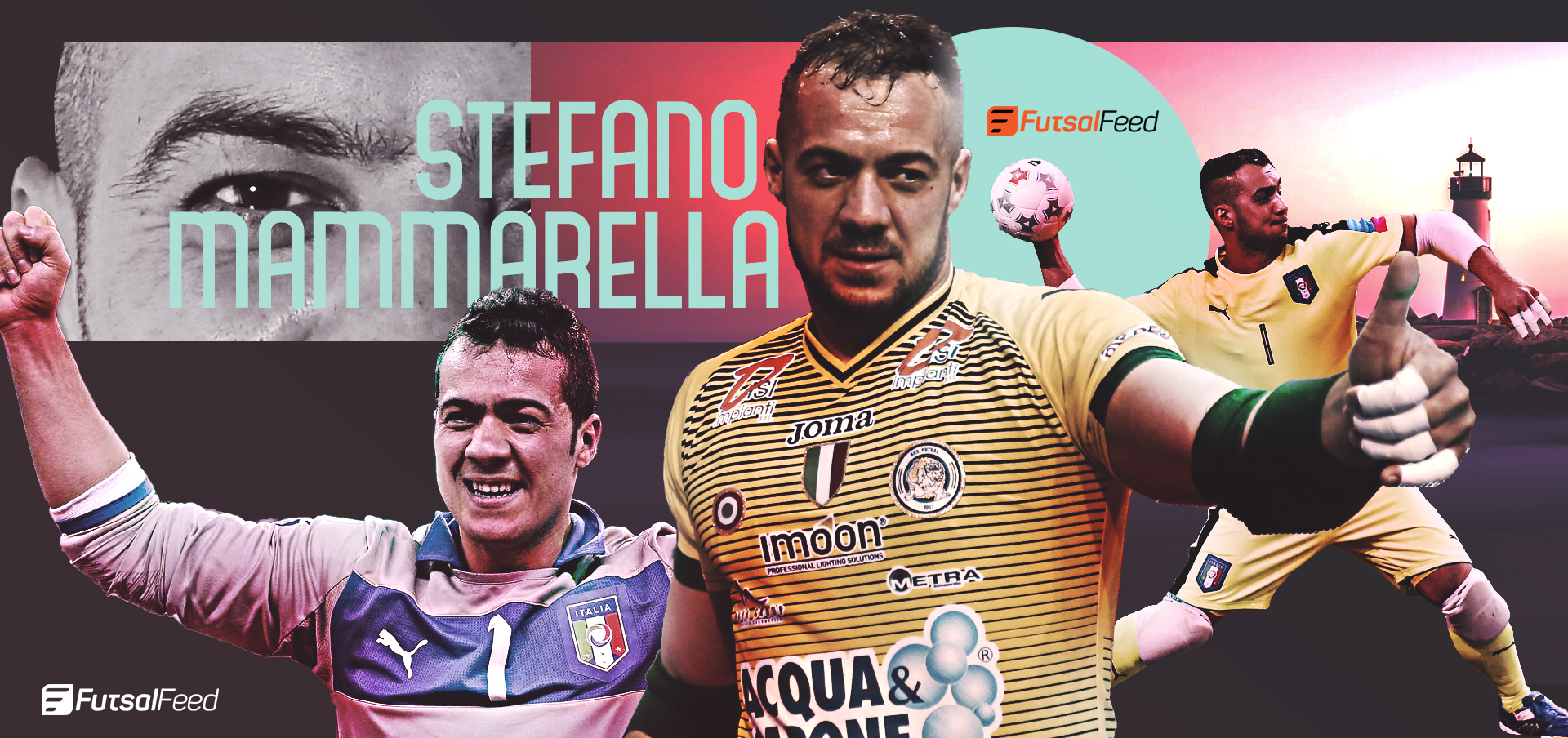 In his impressive futsal career, Stefano Mammarella played for his local team Chieti from 2003 to 2009. He then moved to play for Montesilvano until 2013, when he transferred to Acqua e Sapone, where he still plays today.
He has won the Italian Futsal Seria A two times (2010, 2018), Coppa Italia three times (2014, 2018, 2019), and one Super Cup (2010). Mammarella is also the UEFA Futsal Cup (predecessor to the UEFA Futsal Champions League) winner in 2011 with Montesilvano.
With the Italian national team, he is a European champion (2014) and a bronze holder in the same championship two years earlies. Mammarella also won the bronze medal at the FIFA Futsal World Cup (2012). And this is just a small glimpse of all the awards won by this iconic futsal goalkeeper.
>>> UFCL Final Eight: Goalkeepers Analysis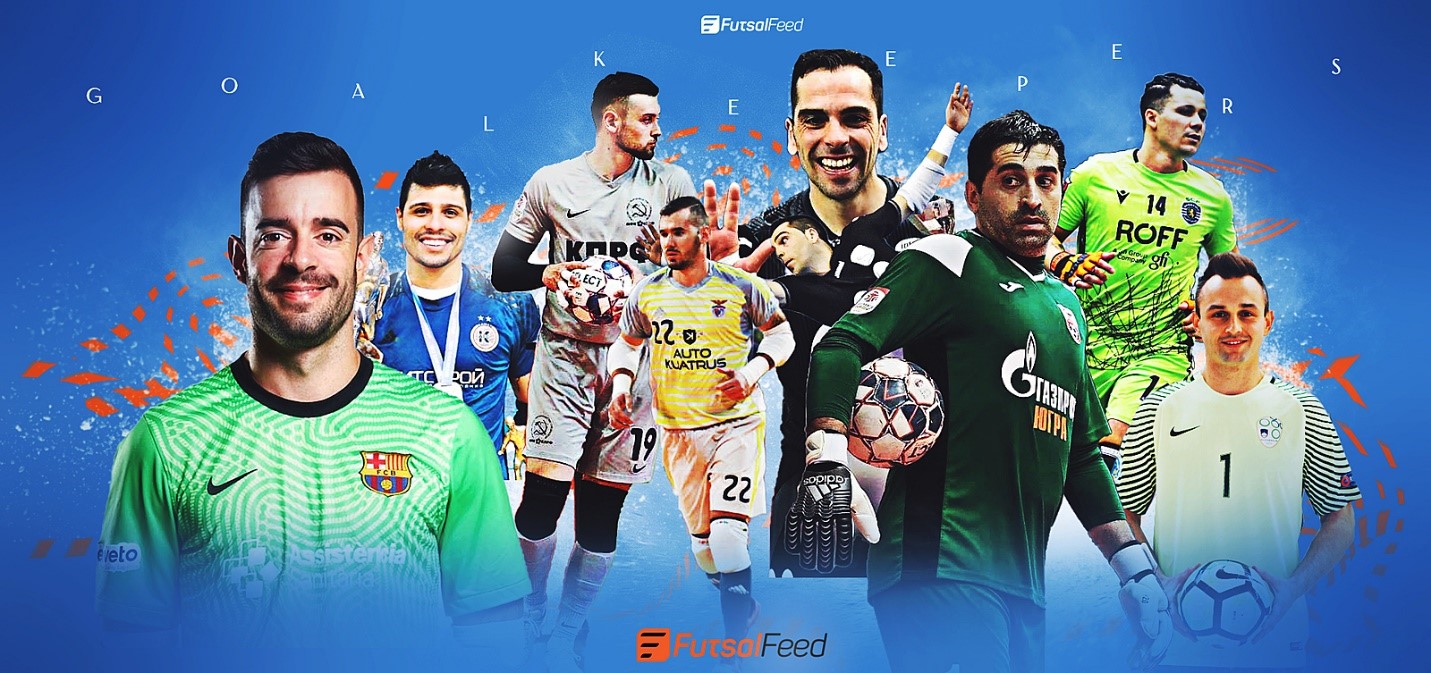 Futsal goalkeepers: Crazy and in Love with the game
Stefano, thank you for agreeing to this interview. We love to start it out with a simple question. How and when did you decide to play futsal? Has futsal always been your first choice, or has this decision been a combination of some circumstances?
"My first encounter with futsal was when I saw my older brother playing it. He was a futsal goalkeeper too. I saw him playing with the team of my city (CUS Chieti). And I fell in love with this sport!"
"But that was not the only thing, that made me crazy about futsal!"
"At the age of 8, I played football, as all male children do. The coach, seeing me run, said: 'Where are you going with that big ass, go defend your team's goal!'"
"Well, from that precise moment I have started to defend that rectangle and I have never stopped since."
"A green field with two beautiful shiny white doors. From that moment I have felt in love with it, and then even more - to become a futsal goalkeeper."
How specific is it to be a futsal goalkeeper? There are many more goals in one futsal match than in a football match. How do you stay focused when you concede three or more goals in one match?
"To be a futsal goalkeeper, you have to be crazy about this sport and in love with the sport that you do!"
"Receiving three or more goals during a match is very exhausting, you are right! But at the same time, it is very exciting because of other things that happen in that rectangle!"
Stefano Mammarella: Bellarte brought peace and fun
Which coach has helped you the most in your career? Do you have some idol among futsal goalkeepers, futsal players, or maybe players from other sports?
"Let's say that there have been several coaches who have helped me at the beginning and during my career. With each coach, I have won something and I hope this tradition will continue."
"My first futsal idol was Giancarlo Angelini and then Alexander Feller. Also, I am big Gianluca Pagliuca fan, former FC Inter goalkeeper!"
Italy did not qualify for the World Cup, but you played very well in EURO qualifications and Italy secured the European Championship, even two games before the end of qualifications.
How much will you miss the World Cup? What can Italy expect from the European Championship next year?
"Italy did not manage to qualify to the World cup. It was a big disappointment and a loss for all of us. The World Cup is the dream for every player of every nation."
"But we must look ahead, there is a European Championship next year and I think we will be a big factor there!"
>>> Massimiliano Bellarte: Across the whole of Europe - futsal knowledge is growing!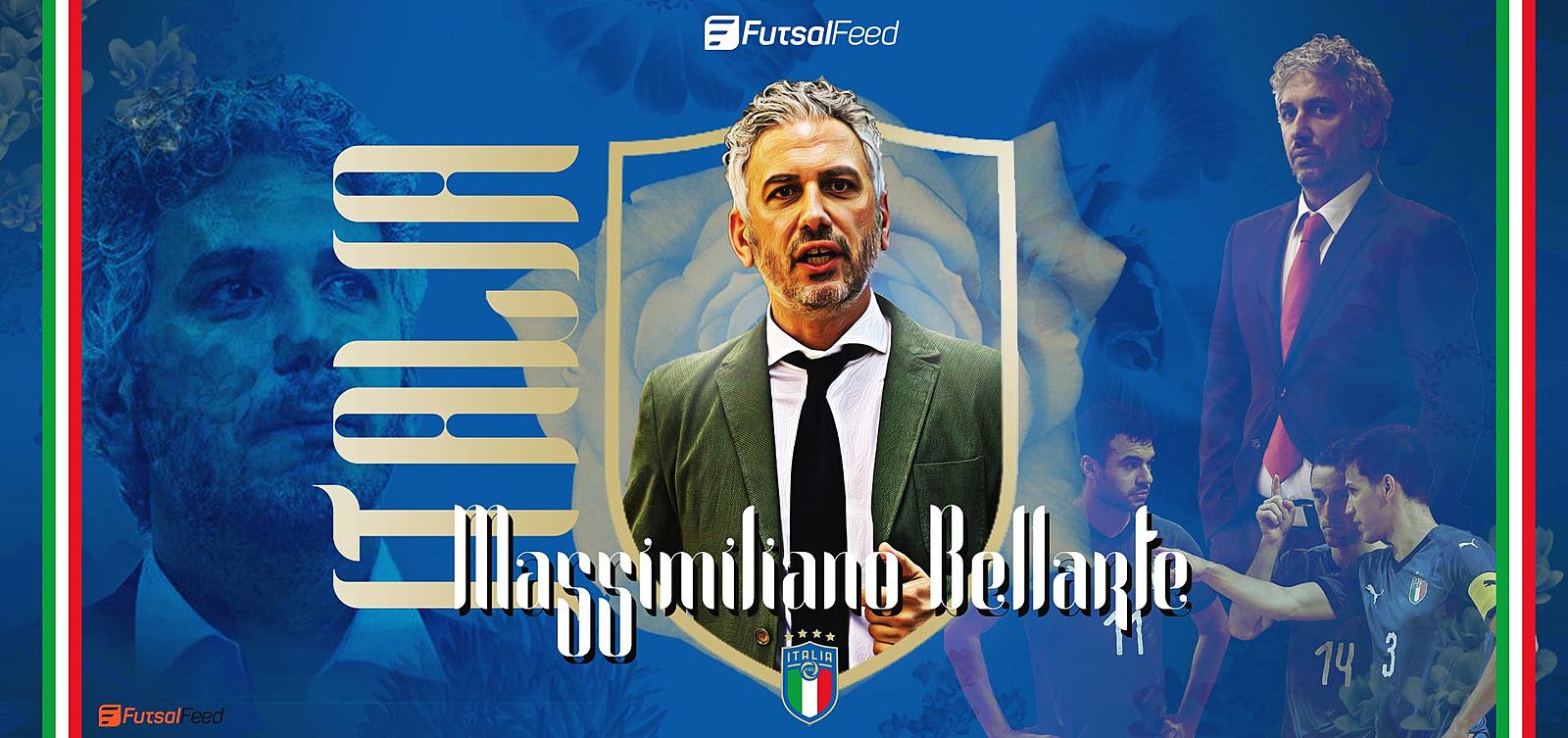 What are the changes and improvements that Head Coach Massimo Bellarte has brought to the national team?
"Coach Bellarte has brought much interesting news and many new players. But when I say many... He has brought a number of new players who are now available to help their country in achieving our objectives."
"Until now, everything he has done was great. Bellarte has brought peace and fun in the same moment."
Futsal Seria A: Never stop working
Let's talk about Futsal Serie A for a moment. In what area do the teams place the greatest amount of emphasis during training sessions? Where do you see the biggest space for improvement for the Italian league and Italian clubs?
"In recent years, foreign coaches have arrived and have brought attacking game in Serie A!"
"The biggest part of the training we work on transitions in attack on outnumbered defense. Training sessions have become much harder than before."
Are there goalkeeper coaches in the Italian league, specialists who work only with goalkeepers?
"With every passing year, the coaches devote themselves with greater attention to the role of the goalkeeper. Therefore, they talk more and more with the goalkeeper coach. It is always symbiosis among all staff members!"
Your team Acqua e Sapone played beautiful futsal throughout the whole season! What is the biggest selling point of your team?
"Acqua e Sapone has become one of the best teams in Italy. It is an established sports team and a team that will always strive to win and acquire new strengths to win."
"Because of this reason, there are many players that want to play for our team. This is our greatest force!"
Have you noticed some of the young talents of the goalkeepers of the Italian championship? Who would you point out? What advice would you give to young goalkeepers?
"I've been watching him play for a while now. His name is Fabio Tondi, a great talent and already a great goalkeeper!"
"My advice that I will never stop telling to all goalkeeper is: 'Never stop working with your coach and with the team!'"
"I will recommend to them that they always give the best of themselves even when they don't want to train. It is important to work hard and always have fun every time you go to the pitch."
Futsal helped me grow on all points of my life
What players would you choose into your ideal starting five?
"My five favorite players? Hm... these five players are all the quintets I have ever played since the beginning of my career, in clubs and national teams."
"I have never played with bad players. All of them were strong, they were fighters...I would never exclude anyone from them to my ideal quintet because all of them are part of my career, part of my futsal experience."
Would you suggest futsal to young Italians as a quality direction for their careers? When you look back at it all, futsal was a good decision for you?
"Futsal was a good decision to me! I would do it again with my eyes closed."
"It helped me a lot in my life, it helped me grow on all points of my life."
"I would recommend it to anyone!"
>>> Why should modern goalkeepers have the characteristics of a player in the court?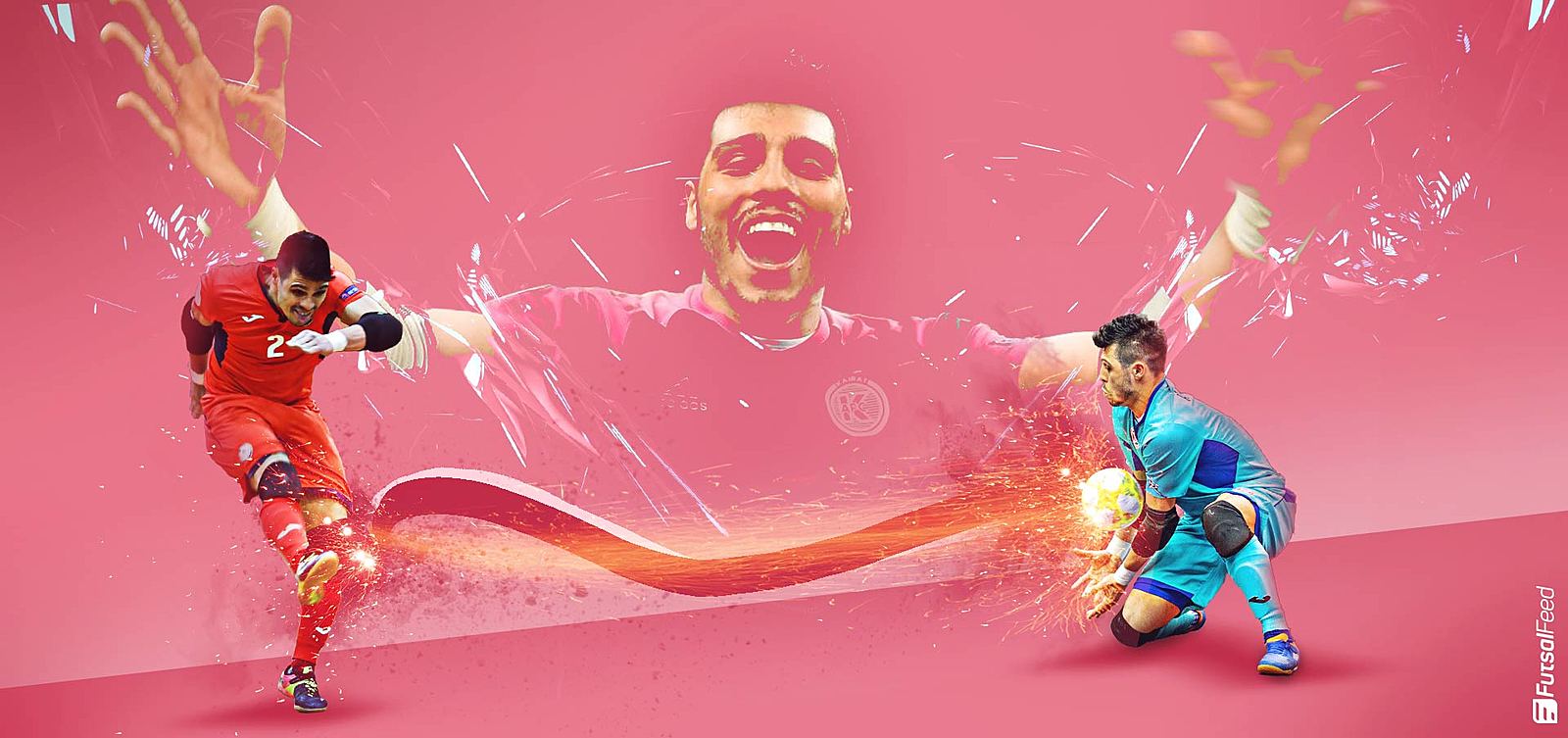 We saw that you also wrote a preface to the book 'Goalkeeper in Futsal – details' by Mr. Matić. Do you think books are a great tool for goalkeepers which they can use to help them to make further progress? What are your first impressions of the book? Do you think this book only helps young goalkeepers or it can help also older goalkeepers and experts like you to improve their game? Were there similar books when you were at the beginning of your career?
"Yes, I read Mr. Matic's book. I had the pleasure of writing a few lines which I have had on my mind into this great book."
"'Goalkeeper in Futsal – details' is made from detail to detail as the title tells us and title is perfectly matched!"
"Reading Mr. Dušan's book has opened my mind and has helped me in working on myself day by day. There were no such books before!"
"You always have to study to keep up with the modern futsal. Books like these can give us a great hand!"
In the end, the FutsalFeed team wishes to thank Mr. Mammarella once again for this conversation and express our gratitude to be given this opportunity.
The FutsalFeed team wishes him and his team good luck in all of their future endeavors!
>>> 4+1 easy ways how you can support FutsalFeed