It is almost Spring and you know what that means – It means that most of the European futsal leagues are entering their final weeks and the playoff picture is slowly beginning to form! Teams throughout Europe are trying to secure the best spot in their league to get a better chance through playoffs to become national champions. To get you up to date how's everyone doing, we've made this short review of the current standings in the top five European futsal leagues.
We start this review with arguably the best futsal league in the world – Liga Nacional de Fútbol Sala in Spain. After a five-year-long Inter Movistar dominance, the current defending champion is Barcelona and after securing the Spanish Supercopa, they are looking on pace once again despite having a two-point deficit in 2nd place behind Inter Movistar. These two teams will face off once again before to the end of the regular championship and that could be the match that will decide the champion of the regular part of the season.
In the league of 16 teams, 8 will qualify for playoffs in which teams have to win 2 matches against their opponent to proceed in the next stage, while final series is played until one team records 3 wins. Jean is currently sitting on the 8th place having a somewhat comfortable margin of 7 points off 9th placed FS Peniscola RehabMedic, but only one point off 7th Levante. Teams from third to sixth (Valdepenas, ElPozo Murcia, Palma Futsal and Osasuna Magna) are all in six-points margin and it is still early to make any predictions as all teams will try to push hard in this last stage of the regular season to catch a better spot, in the end, to have home advantage in the playoffs. Before mentioned Inter Movistar and Barcelona are looking very comfortable at the top, but both have to be careful not to create any upsets along the way, especially Inter who are travelling to play Valdepenas in the next leg.
Russian Superliga has unfortunately seen another drop in the number of teams competing at the elite futsal level in the country. This year Russian top division consists of 9 teams, out of which top 8 will secure a spot in the playoffs. Gazprom-Ugra is currently sitting at the top of the table with 7 points advantage ahead of KPRF in the second spot, but with two games played more than the teams in pursuit. Viz-Sinara Yekaterinburg on the third spot is just a point shy from KPRF, so this trio could be responsible for a quite entertaining Spring and end of the regular season.
Tyumen is sitting comfortably on the fourth place in the league with six points and two games advantage in front of Norilsky Nickel thus creating a significant space from the rest of the teams. 9th placed Ukhta will try to catch up with the rest of the teams this Spring as they are four points away from the playoffs, but also have two games less than their competitors. Russian playoff is merciless and teams have to generate three wins against their opponent in every playoff stage to continue to the next one. Just how strong these teams are is adequately represented in the next fact: KPRF and Tyumen will face Barcelona and Inter Movistar in the UEFA Futsal Champions League Final Four this April.
Since 2010, Liga Placard, the elite Portuguese futsal division, has been dominated by Sporting and Benfica. In this time, Sporting generated seven titles and Benfica three – Benfica being the defending champion. This year the situation is not much different. Two Lisbon-based teams are again dominant and Sporting sits at the top of the table two points ahead from Benfica following their match at the start of February which Sporting won 2:0 and these two teams are in front by a decent margin.
Next four teams are placed in just four points margin and they would like to think that they already placed one foot in the playoffs, but Leões and Modicus will definitely try to save their current positions that give them a home advantage at least in the first playoff round. However, fight for the last two playoff spots will be a hard one, as teams currently placed from 7th to 12th are all in the five-point margin. Top eight teams will progress to the playoffs where they will have to generate two wins to continue their championship hunt, except the final series where the champion will be decided after three wins.
A very competitive Italian Serie A did not disappoint futsal fans around the world! Italservice Pesaro sits at the top of the table with Acqua e Sapone trying to close the gap just 4 points away. Real Rieti is the third team in the championship this year and these three seem confident for reaching the playoff, which will start after seven more rounds. Came Dosson on the 4th place will look to keep their position until the end to gain some home-field advantage in the playoffs.
Regardless of that, a huge fight for the playoff spots is in the books this Spring in Serie A. Teams currently positioned from 5th to 9th place are separated by just four points, while Signor Prestito currently sits on the 8th place, a final position that leads to playoffs, with the same number of points as 9th Mantova. Unlike other leagues, teams in Italy have been struggling to establish dominance in Serie A and if Italservice Pesaro manages to win another title this year, it will be first consecutive title since Luparense in 2009.
We have already written about Croatian Futsal League as being one of the most interesting leagues in the world, but things got only more interesting since then. Ten clubs are competing for eight playoff spots and four rounds before the start of the playoff it is still very hard to give an accurate guess from what positions will team welcome the playoff. A new addition to the league Olmissum managed to pass consecutive champion Novo Vrijeme Makarska just last weekend and now sit on the top of the table with a one-point advantage. Four rounds to go and Square Dubrovnik and Futsal Dinamo will try to grab hold of the 4th position that gives some home-field advantage in playoffs.
Alumnus on the 9th place will try to catch the final spot for playoff which is currently held by AFC Universitas just one point ahead. Uspinjača-Gimka on the 7th place is another point ahead and these three are expected to fight until the last round to secure their playoff spot. Stakes are even higher when you know that this weekend these teams are playing each other. Playoff rules are the same in Croatia as in Spain or Portugal and we are more than confident that we will see plenty of competitive futsal this Spring!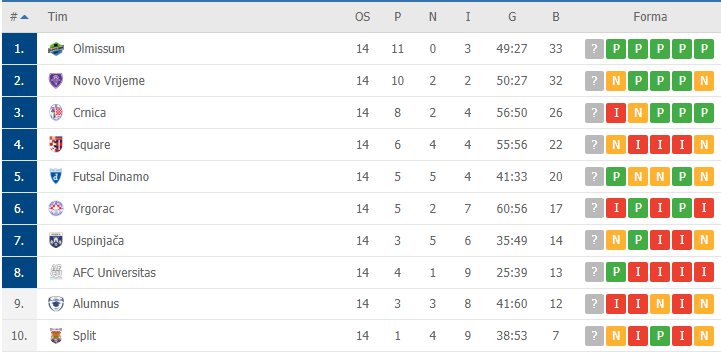 >>> 4+1 easy ways how can you support FutsalFeed