In the last quarterfinal match of the UEFA Futsal Champions League Final Eight tournament in Zadar, we saw a duel between Sporting CP and KPRF. A proper futsal spectacle.
>>> Inter Movistar is the third Futsal UCL semifinalist!
In less than two minutes, Sporting CP struck for 1:0! Alex Merlim made a way through his defender on the left-hand side and sent one fast ball to the box where Diego Cavinato put the ball behind for the lead.
KPRF's captain Paulinho was the first one to get booked after one hard tackle on Alex Merlim.
In the 8th minute of the match, a nice KPRF play found Artem Niyazov unguarded at the top of the box. Niyazov's powershot found its way behind Guitta to equalize the match.
Vinicius Rocha received a yellow card after a foul on Paulinho on Sporting's side, stopping a fast transition.
And just like that - KPRF turned things around! After one dead-ball situation, Yanar Asadov was left unguarded on the top of the box and a well-placed shot put the ball behind Guitta for KPRF's lead.
Similar to KPRF's second goal, Sporting struck back immediately. After a nice passing play after a corner kick, Diego Cavinato was left with space to shoot and equalized the match.
After Pany Varela managed to get a free-kick, Alex Merlim found Vinicius Rocha all alone on the far post who had no trouble putting it behind Albert Tsaider for Sporting's new lead.
By the end of the half, both teams generated a few chances but the scoreboard showed 3:2 at the break, for Sporting CP.
>>> (HIGHLIGHTS) Kariat and Barcelona passed Benfica and Dobovec and reached the semifinals
The second half started just the way the first ended. With a lot of aggressiveness and nice action plays from both teams. However, nets remained calm.
For most of the second half, KPRF was arguably a bit more energetic team on the court, producing two woodwork hits and a number of scoring opportunities, chasing the equalizer. Nevertheless, they couldn't find a way around Guitta.
With three minutes to go, KPRF removed the goalkeeper and put the fifth man into the court.
Asadov received a yellow card with a minute to go for complaining to the referee.
But despite the man advantage on the court, KPRF simply couldn't find the way to the back of Guitta's net and the match ended in 3:2 Sporting's victory!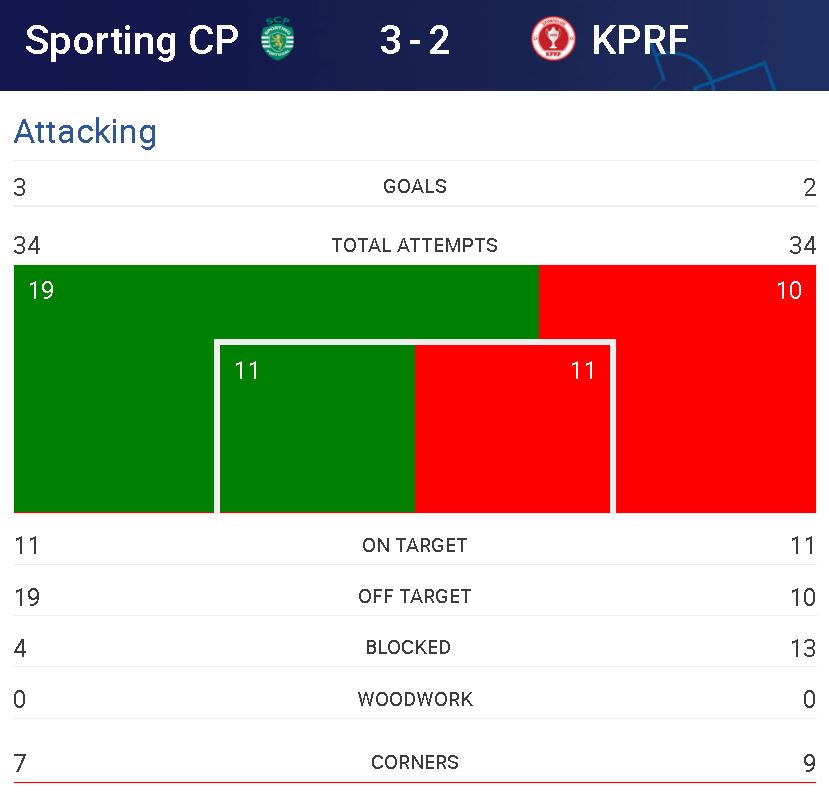 Sporting CP qualified for the semifinal where they will play Inter FS on Saturday.
>>> 4+1 easy ways how you can support FutsalFeed