A few months back, news that Bloomsbury Football will join with ProFutsal London club to create Bloomsbury Futsal has echoed in the English futsal community but was also felt worldwide.
After all, when a well-respected organization with proven developmental pathways for players joins with one of the best futsal clubs in the country, the news is bound to rattle a few cages and spur excitement among the fans.
Especially in the futsal landscape which has been shocked by the huge budget and other cuts that have left the future of the sport uncertain. Impulses like these are a driving force for a new momentum that will hopefully generate further investments and develop futsal in England.
We wished to learn more about this cooperation and how exactly will Bloomsbury Futsal influence positive change for the futsal community in the country. Therefore, we contacted Mr. Charlie Hyman, Founder and CEO of Bloomsbury Futsal in hope that we could get a more detailed view of their operations.
Like the rest of the futsal community, Charlie was more than helpful to accommodate our curiosity and we had a lengthy talk about Bloomsbury Futsal, futsal in England, developmental pathways for future futsal players, the potential of exchange of knowledge from futsal to football, and plenty of others.
View this post on Instagram
Using Futsal to Improve Lives
Dear Charlie, Bloomsbury Futsal is a new name in the global futsal market. Our readers are starting to hear about Bloomsbury Futsal and are curious to see how Bloomsbury Futsal will improve the futsal industry. If you can, present Bloomsbury Futsal in a few sentences, what makes Bloomsbury futsal unique - what is the mission of Bloomsbury futsal.
"Bloomsbury Futsal is unique in that it's aimed beyond being a futsal club to grow the awareness of futsal throughout England and further afield. So, as well as having men's, women's, and development teams in the National Futsal series, we've got a full youth program both to create players and have a pathway for them to develop and play at the highest level in the country, but also from participation and recreational standpoint to get as many people playing and enjoying taking part and knowing about futsal, as we can."
"Bloomsbury Football's mission as an organization is to use the power of football to improve the lives of young people in London by offering sustainable programs that support active lifestyles, promote positive impacts, and pursue full potentials. And now, they'll also be using the power of Futsal to enhance and develop the physical and mental wellbeing of children and adults."
That is Bloomsbury Futsal's mission and will be attained through three elements of provision: one, drop-in centers for people to be exposed to Futsal through free sessions. Two, the Foundation element, for players not wanting to participate overly seriously, but still seeking a little bit more structure and formality in their sessions. And finally, our Academy, for those talented players passionate about Futsal."
"All three, allowing people excellent provision with no barriers to play."
U1️⃣6️⃣ - 1️⃣9️⃣

Trials for a new senior team playing in an established league for next season.

Trials this Wednesday at Westway, 7-8pm.

Sign up here: https://t.co/X6ekLOVys9#futsalfever #LeaveItAllOnTheCourt pic.twitter.com/gpEGCfkCTA

— Bloomsbury Futsal (@BloomsburyFTSL) August 5, 2021
Engaging The Local Community
It's been a hard year for futsal players, officials, and fans worldwide. But you took advantage of the crisis and incorporated this season's futsal finalist into the Bloomsbury family. How did you decide to extend the Bloomsbury brands into the futsal sphere in such hard and unprecedented times? How impactful do you believe this message will be to the futsal stakeholders?
"It was actually quite an easy decision. COVID has felt like a huge step back, but actually, we've gone forward. These unprecedented times have made us aware of what's truly important. Provision, good provision. Accessibility to that provision."
"The uncertainty clubs have been operating under during these past eighteen months has hammered home how we need to become less reliant on being spoon-fed by national governing bodies. They've put the foundations down, but it's down to clubs to do more. To engage their local community, to drive exposure and traffic in their local areas. That's exactly what we intend to do."
What a fantastic way to finish a summer camp day! As our coaches popped in to donate some goodies at the @KentishTownCC food bank 🤩 pic.twitter.com/TbCVIhhbzw

— Bloomsbury Football (@bloomsburyftbl) August 5, 2021
"ProFutsal London understood that ego needs to be removed from what you're doing. It's all about how we can expose and develop the game. Becoming Bloomsbury Futsal is the best way to do that. As soon as you remove the ego by removing the name, you can concentrate on involving more people, more kids, and more stakeholders."
"To be able to bring the best futsal experts in the country together with the excellent infrastructure we have at Bloomsbury Football, combining our established platform with Pro's expertise, it will create a club with a higher ceiling, more capable of achieving more and building and growing the awareness of futsal at a faster pace. The message to other futsal clubs and stakeholders would be to investigate seriously, how they're engaging the wider community, how they're growing and building the awareness of the sport beyond just focusing on their own teams and the week to week matches, and training of their own roster."
Can you also give us a concrete example of how will this cooperation benefit ProFutsal London who will from now on be known under the name Bloomsbury Futsal?
"The infrastructure of Bloomsbury Football: the access to facilities, the human resources, and the in-house marketing team. Having more people increases our capacity to do more and enhances our provision at the top end. Their status as a registered Charity, their financial assistance program that Bloomsbury Futsal will adopt that will ensure every child can participate regardless of their ability to pay. The access to grants and support with fundraising will allow us to provide bursaries for participants, reducing barriers for people to play and be exposed to futsal."
"That's how ProFutsal London are benefitting from Bloomsbury. There's a huge number of benefits which will hopefully boost the futsal department and grow it to the best in the country."
Journey to Professionalization of Futsal
Bloomsbury brand originally started as a football academy committed to all-around player development and sustainable growth. What impact will the incorporation of futsal into the strategic development pathways have on the overall player development and player character?
"When you can gain expertise from different sports, you're only going to enhance your toolbox both technically and tactically. What the football contingent of Bloomsbury will gain from futsal is a different way of dissecting technical and tactical components, and vice-versa. That cross-pollination of sports enhances openness to ideas and ultimately gives a more holistic approach to delivery."
"In fact, the football Academy of Bloomsbury already incorporates futsal into its program. Every age group has a futsal session each week, and that session is used as a development tool for football, which is brilliant because those players are simultaneously being exposed to futsal as well as incurring all the benefits; improving technically, tactically, physically, and psychologically."
"However, whilst we wholly appreciate how beneficial futsal can be in a football sense, we see it as a sport that people should be playing in its own right, not just as a development tool for football. Hence, why Bloomsbury Futsal has been erected."
"We want to see players that for example, at age twelve decide they want to focus on futsal and train three times a week to become a futsal athlete. That's a situation extremely rare at the moment because the pathway for kids is not visible. There aren't professional teams on TV every week for them to look up to and aspire to be like, they don't have role models to follow in the same way they do with football."
"But there will be, and we're making sure we're a part of that journey to professionalize the sport at the top level in this country so that more young people can have aspirations of a futsal career."
View this post on Instagram
Futsal Beneficial For Development of Young Players
Do you believe that your football academy can also benefit from incorporating futsal techniques and knowledge in the standard training process?
"Definitely. That's something that we already do. We recognized that from when we first started. The first group of children that ever played at Bloomsbury, the second session we opened, was a futsal session. So from the off, that group were doing one football and one futsal session every week. We see the massive benefits that come from that."
"Gaining technical nuances from futsal allows players to be more adaptable in smaller areas of the pitch and get used to making decisions at much a faster pace and creating solutions to these pictures. Off-the-ball movement to support and create space is vital in futsal and that will only enhance the player's ability to exploit opposition defenses in football."
"Out of possession, the small details of defending laterality on the court will grow the players as utilizing futsal as a tool will mean players are not pigeon-holed into positions as they'll need to be able to attack, defend, and counter-attack, meaning they'll constantly be learning all sides of the game which will ultimately make them better, more complete footballers."
"Psychology also, because the speed at which you make decisions, at which your emotions change. How you can concede a goal because of an error, yet straightaway you're back on the ball. Play doesn't pause in the same way it does in football, you're never on the other side of pitch not involved."
"Futsal provides massive benefits for the development of young players, there are huge areas that aren't talked about as much, but we massively advocate the use of it as a football development tool, and that is why we've already incorporated it into our core football programs."
Interested in being part of the coaching staff for @BloomsburyFTSL in the @FA_NFS 1 & 2 as well as a new u18s team in the @LNFSengland.
Message me if interested ⬇️ pic.twitter.com/u1Vulzo1aH

— John/Juan A Tapia Owens (@jatowens) July 31, 2021
Growing Futsal Awareness in the United Kingdom
How do you see the future of futsal development in the UK? With football being so widely popular in the UK and a decrease in funding for futsal development within the FA structures does the future of futsal in the UK lie in private investments and established sporting academies such as Bloomsbury committing to developing futsal programs.
"Clubs in the future will need to accommodate both. But regardless of the future of futsal or the prominence of football in this country, the first and foremost priority should be on player development. Clubs like ourselves developing futsal programs alongside our football ones creates the emphasis for twin-tracking, and that allows our football-dominated culture to integrate futsal into the mainstream and give a different format for players."
"They can use both sports to enhance themselves and become a more holistic player, at which they can decide which format they prefer and enjoy, to continue their pathway. It allows less physically dominant players who are more technical, an olive branch to play at a high level, and for players that dominate in football because of their greater biological age compared to their chronological age, they have the chance to add more tools to their toolbox and give themselves the best chance of developing."
"For us, the future of futsal relies heavily on growing the awareness of the sport and that starts at a recreational and participatory level. There's no point in having an elite top-level professional league when no one wants to watch it. No one knows about it. No one's going to games, it isn't financially sustainable. You have to build an audience first who are interested in the sport before you can look at paying professional players because there simply isn't any money to pay them."
"For futsal clubs out there, like ourselves, it's massively important that we're out in the community, engaging as many different people as possible within futsal."
"Once that audience is in place, then you can start looking at, right, how many people can we get along to games? What revenue does that generate? How many people want to watch it on TV? Now people want to pay to broadcast it, that's extra revenue."
"Once you have that revenue coming in, then there's a sustainable model for First Teams in futsal in this country to be professional. I think we're making amazing progress. I know that this season, there's going to be some games live on TV, which should be really exciting."
"But there's still a massive way to go in terms of building the awareness amongst the public and even those that are avid football fans if we're to get to a point where we can sustainably have a professional league in this country."
>>> Doug Reed: Futsal is not the enemy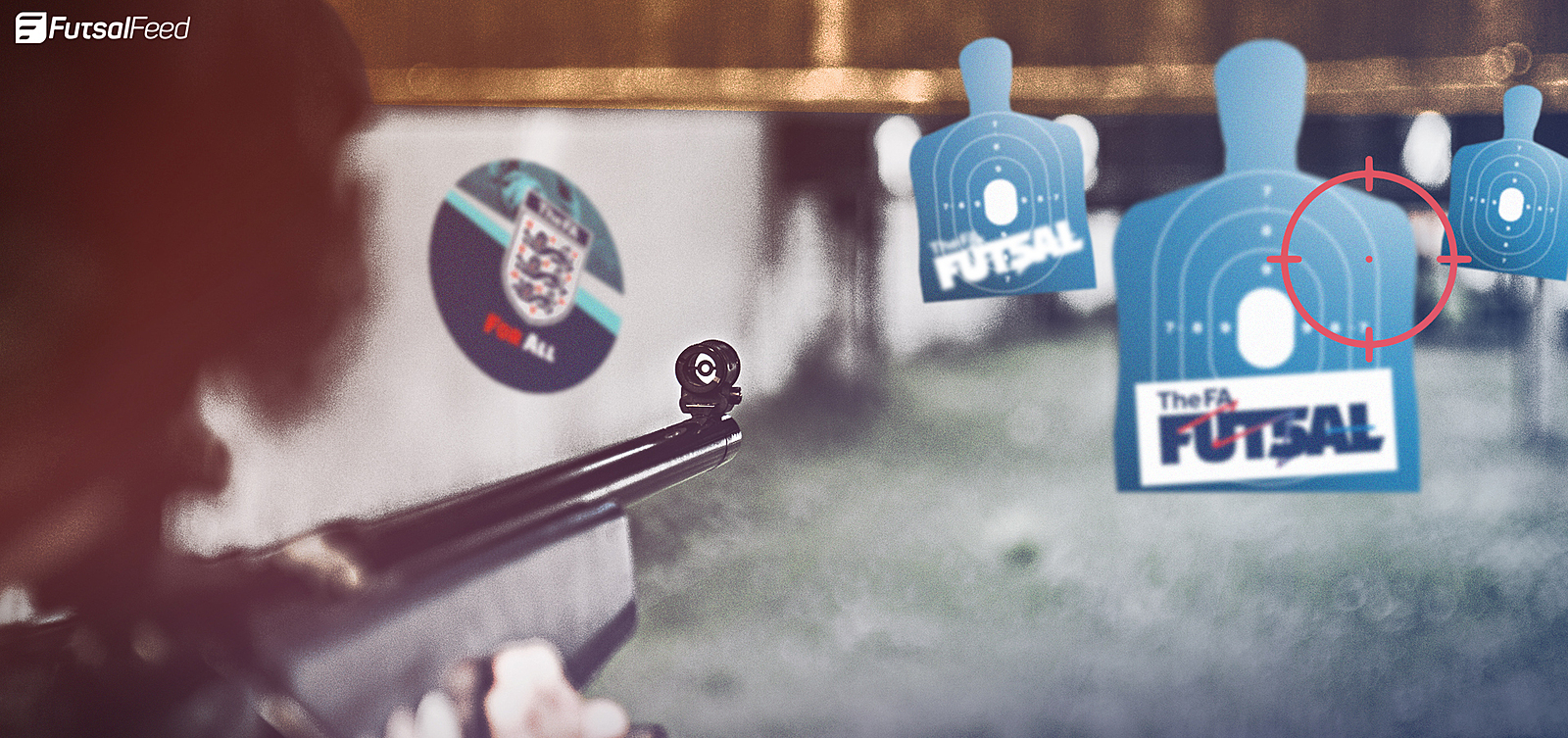 One Step Back, Three Lion Steps Forward
Regarding the FA's last year's budget cuts, can you name a few positive developments towards futsal in recent months?
"The budget cuts are a huge shame, especially because of our national team, however as far as we are aware, funding is still in place for growing the sport from a recreational and participation standpoint, which we personally feel is more important. But, clubs have had to do more, with less help."
"Whilst it's certainly a step back, we've managed to move two-three step forwards, and the National Futsal Series deserve huge credit for that."
"The committee and clubs did an incredible job coming out of the back of a pandemic to pull off a summer futsal showdown. The exposure gained from the add-on competition in this year's Tier One, Two, and Women's series was a hugely positive development, managing to stream games to a very high quality gained great partnerships and culminated for ProFutsal London our First Team reaching a final held on BT Sport in which they competed for the Champions League."
View this post on Instagram
"It just shows what National Futsal Series can do when they're pushed to do something and what they can achieve despite the limited resources. It's a potent reminder for all of us that we can do more to push the game, especially in unprecedented times."
"Which I think we all have done. That was really, really exciting. It will be a lot to live up to if we can replicate that this season, but we're confident that the team in place who are now managing the National Football Series, and the great group of clubs that are involved, will be able to push on from that and continue to grow and elevate the sport in this country."
Futsal A Sport In Its Own Right
One of our columnists, Coach Silvio Crisari described the relationship between futsal and football as a perfect fusion. What's your take on this?
"In a lot of ways it is, and football clubs have already or will be and are starting to use futsal as a development tool for football. There's a huge amount of crossover."
"There are some great examples in recent years of the power of twin-tracking: Max Kilman, starting in the Premier League for Wolves, having been playing futsal out in the National Futsal Series just two seasons ago as well as playing for England Futsal."
"He's been very vocal too how futsal played a massive part in his development, improving him as a player to get him to where he is now. It's why twin-tracking is prominent on our radar. Twin-tracking is a really powerful mix to create very good football and futsal players, so in that way, the fusion is especially evident."
Disappointed to see funding being stopped for all England futsal teams. I've had some memorable experiences being part of the England squad growing up and it's sad to see that others won't be able to experience the same. https://t.co/l604qzl0do

— Maximilian Kilman (@maxkilman) October 26, 2020
"You can create the ultimate kind of football and futsal player if you can combine them – however, there's more transference from futsal to football than there is from football to futsal. As close as football is to futsal, futsal is as close to football as it is to basketball."
"Where football is specific, with futsal you learn fluidity of positions. You're not a right or left-back, you have to defend, attack, turn and transition, you have to do everything at a higher tempo. You'll find yourself in goalscoring opportunities a lot during the games, just as much as you'll find yourself defending. Because of the lack of time and space, you develop decision making and your technical components increase because of how futsal allows for more contact hours with the ball."
"But we reiterate, it's important to remember that futsal is a sport in its own right. And for us to progress in this country, yes we can use football and there's tons of synergy, but we need to make sure that people are playing futsal, for futsal. Because that's how we're going to grow the sport and professionalize it. Not just as a development tool for football players."
>>> Leanne Skarratt: Women's Futsal In England: The Fight For Our Identity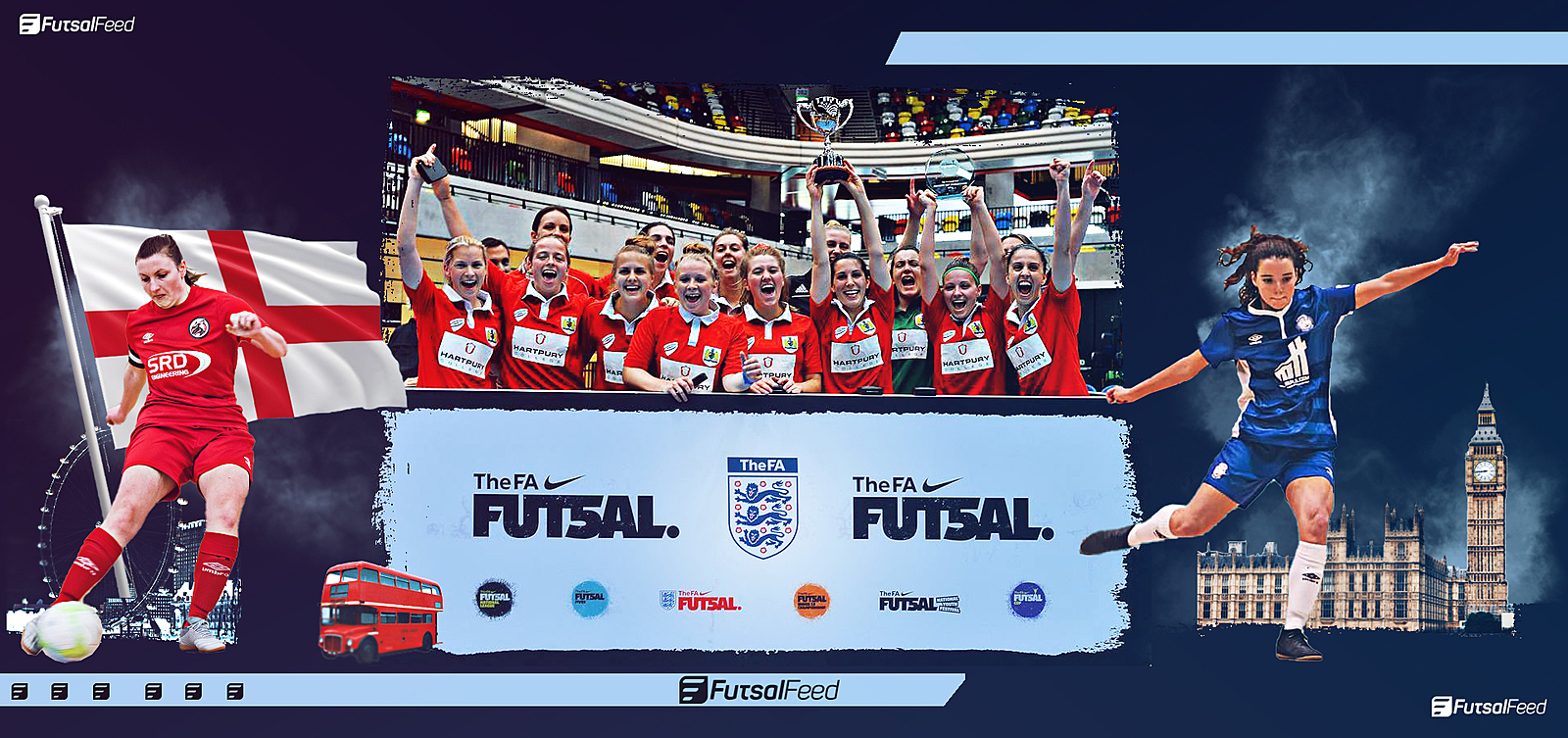 Dear Charlie, thank you for this exciting interview and for allowing us to take an in-depth look at Bloomsbury Futsal. Anything else that you would like to brush on?
"A huge catalyst for this partnership is the provision of futsal, as such, to say it's a huge priority would be an understatement, and is why we'd particularly like to mention our free drop-in sessions we're delivering to create a buzz in the capital around the sport and expose people to futsal."
"Currently we have sessions every Wednesday at Westway Sports and Fitness Centre W10 6RP, between 15:30-17:15, for school years 6-11. We're very grateful for Futsal Arenas and Everyone Active for coming on board to partner and support that."
"But, for those already well aware of the sport. Don't worry. We have you covered. We have foundation sessions for those who want a more structured approach to the drop-in sessions, and then we also have our Academy for top-performing individuals that includes a full pathway to the First Team competing at the highest level in the country."
"We're also mega excited for the girls' side of our futsal. We have a specific girls program kicking off very soon, and our ladies' First Team has just been accepted into the Women's Super Series, meaning they'll play in the top tier of English Futsal."
"We really feel that we've created a club that literally ticks all the boxes, a home where you can pursue the sport for your aspirations whether they're recreational or professional. Whatever level you are, whether you've played futsal before or never heard of it, come along and get involved. We have something for everyone, help us grow and experience an amazing sport!"