Recently, FutsalFeed announced a cooperation agreement with Criptoro, a fintech products and services company, with a mission to influence the surge of usage of cryptocurrencies in sports. And futsal, of course.
Sport is an ideal platform that offers fantastic exposure for fast-growing markets such as cryptocurrencies because literally billions of people are tuning in to their favorite teams live or on television, week in week out.
Cryptocurrencies are an excellent fan engagement tool that also increases the revenue of the sports industry at the same time. We believe that there is a huge potential for 'cooperation' between futsal and cryptocurrencies.
For years now, futsal has been dubbed as the fastest growing indoor sport in the world, and who better to join with to facilitate the further growth of the sport than a technology that turned things on its head in the investment market.
>>> FutsalFeed and Criptoro Sign a Cooperation Agreement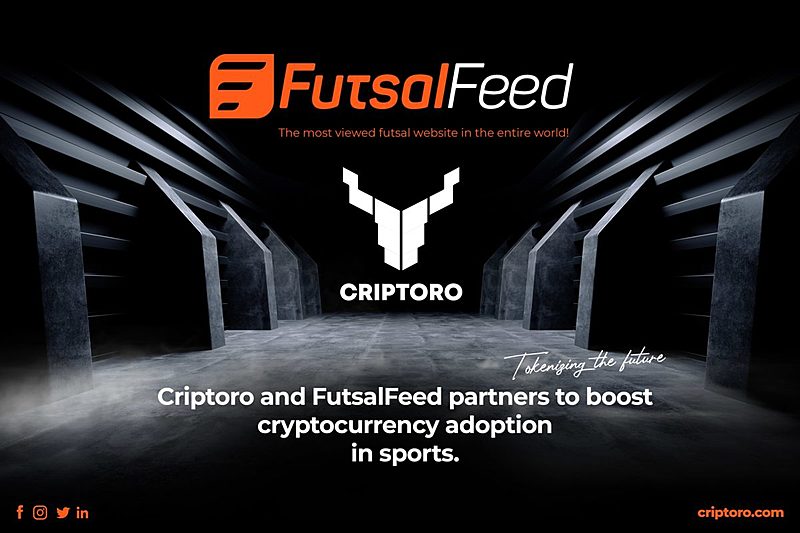 Cryptocurrency market and sports
In the past few years, more and more people around the globe have been investing in various cryptocurrencies and calling for further possibilities for their practical use. As this whole industry grows, so does its appeal and willingness from individuals, companies, and sports collectives to use digital money.
Various clubs and collectives have started to invest in the cryptocurrency market and have committed their future plans with companies that are funded by cryptocurrencies.
Formula One teams Aston Martin and McLaren announced a partnership with different crypto firms. Football clubs such as Watford and Southampton have also signed agreements with companies that are fueled by the cryptocurrency market.
Watford FC is even being nicknamed Bitcoin FC, due to their partnership with the cryptocurrency giant in the last season and Southampton FC has offered their fans an exclusive virtual reality matchday experience thanks to crypto companies. NFL franchise Miami Dolphins also partnered up with a crypto company to enhance fan experiences.
AC Milan, Juventus and PSG have already been 'tokenized' and have their digital assets listed on cryptocurrency exchanges. It is said that the AC Milan Fan Token owners will get an opportunity to influence some club's decisions, receive VIP awards and get further recognition in a variety of ways. Some of these benefits have also been utilized by FC Barcelona's fans.
It has also been proven fan tokens increase the overall value of the club when its assets are listed on the cryptocurrency exchanges, as examples of Juventus and PSG clearly show.
Some athletes have already seen this as an opportunity to invest in their future and the latest example is NFL and Kansas City Chiefs star Sean Culkin, who converted his entire salary into bitcoin to avoid inflationary pressures. Some footballers, like Andrés Iniesta, Carles Puyol and Gerard Piqué are big advocates of crypto.
In modern sports, athletes have become more and more like independent businesses and they realized that their careers and investments can benefit from engaging in crypto.
Cryptocurrencies in futsal
As far as futsal goes, the most famous example of cooperation is of our new partner Criptoro and the Spanish futsal powerhouse Inter Movistar FS.
The two are engaged in the creation of APP OFICIAL interista which will give numerous benefits to Inter FS fans. Some of those include things like exclusive audiovisual content, match streams, exclusive news, and private lobbies for subscribers.
One of the most important things, however, is the possibility of purchasing the club's merchandise, match tickets, and other products through the app and using cryptocurrencies in the process.
Also, a club's new official website, that will be more responsive to modern-day digital requirements, is in the works, truly transferring Inter Movistar FS to a digital leader.
From an elite example in the futsal world to a more modest example, Futsal Club Carlton Heart from Australia has also been connected with cryptocurrencies.
One of the club's backers, who wishes to remain anonymous, has helped the club financially through investments in bitcoin and other cryptocurrencies.
This fell in perfectly with the image of the club that deems itself as a 'modern and forward-thinking club'. As this information is from 2017, we can conclude that this crypto aid was beneficial for the club as they are still competing today in Australian futsal system and now fields men's and women's team, including a number of youth teams.
Future of crypto and futsal
FutsalFeed believes that together with Criptoro we can drive the change towards digitalization of our sport. We see plenty of opportunities that can arise for clubs and athletes with the embracement of cryptocurrencies and the crypto market.
On the club level, we already have examples in futsal, but in other sports, that crypto investments can increase the value of the entire club. With fans eager to buy tokens in exchange for exclusive content and access, nobody is now stopping you to be involved in the day-to-day club business, even if you're living one continent away.
Examples of virtual reality matchday experience offer fans from all over the world to feel as they were watching a futsal match in Brazil or Spain from the arena itself. As virtual reality technology progresses, numerous new possibilities will emerge.
Furthermore, offering your fans and supporters the possibility to purchase merchandise, match tickets, subscriptions, memberships, and other products with cryptocurrency can boost the futsal club's revenue. Especially when targeted towards the youth, who are more inclined to invest in crypto and enjoy its usage.
It is not a farfetched idea that cryptocurrencies can drive investment in a particular league or a competition. Imagine a mediocre futsal league that has been tokenized and where individual buyers were given an opportunity to invest and increase the value of the league which then transfers this revenue to improve its development and image, attracting better players and officials.
As Sean Culkin's and his colleagues' examples demonstrate, athletes can benefit from tokenization of their contracts or other products that can drive private investors to help an athlete with their career. Either by supporting them financially with cryptocurrencies, investing in their success or by buying their products.
Whatever the future holds, FutsalFeed is more than happy to tackle the future challenges of digital transformation with Criptoro, with whom we will campaign for further usage of cryptocurrencies in sport, and especially in futsal.
>>> 4+1 easy ways how you can support FutsalFeed