Otto Orf II, one of the most famous futsal personas from the United States talks about the futsal in the U.S.
We discussed the Professional Futsal League
We talked about the popularity of futsal in the U.S.
We discussed the future of futsal in the U.S.
We talked about the futsal in the Olympic Games
As you may already know, and as we stated many times before, futsal is one of the fastest-growing sports in the world. On the amateur and youth level, more people are playing futsal than soccer… but, on the professional level, futsal is still very young (established in the late 1980-s) and a not so professionally developed sport (there are only several world countries that have professional futsal leagues).
Therefore, the futsal community is not as big as in some of the more traditional sports and every country has several futsal personas that are familiar to the global futsal audience.
One of those personas from the United States, the most powerful sports country in the world, is without a doubt, Otto Orf, a retired American soccer goalkeeper who played professionally in the United Soccer League and Major Indoor Soccer League.
Orf also represented the U.S. at the 1996 FIFA Futsal World Cup in Spain and played for the futsal national team until 2003.
He played soccer, indoor soccer and futsal for an incredible 21 years!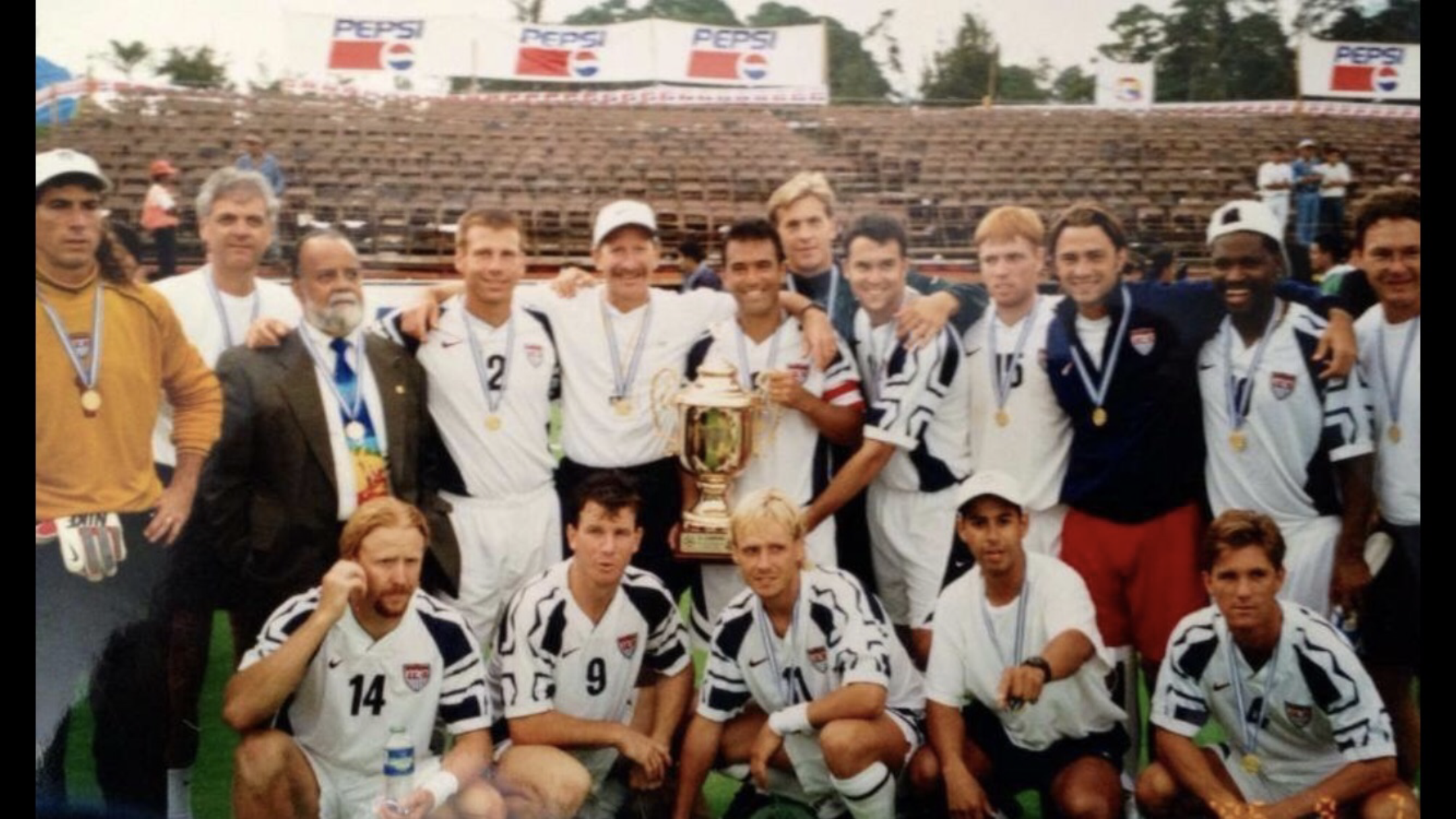 We took the opportunity and talked with this striking individual during his time at Futsal Week Winter Cup that took place in early March in Poreč (Croatia), just before the Covid-19 disease closed almost all competitions in the world.
"When I played for the U.S. national futsal team and started representing my country on the international level, I fell in love with futsal. I have been an advocate of the game of futsal ever since", Orf stated at the beginning of our conversation, explaining why has he been so passionately involved in this sport all those years.
"After I finished my pro goalkeeping career at the age of 41, my former teammate and business partner Chris Dore and I created Great Lakes Futsal, a youth futsal league that is now one of the largest leagues in the country. Great Lakes is a member of U.S. Youth Futsal who has also created a player identification program (Futsal ID) and an International Travel Program where we select players from across the country and expose them to competition around the world through competitive trips to Costa Rica, Colombia, Canada, Argentina, Portugal and Spain".
Orf is currently a regional director for six states of the US Youth Futsal organization that is run by former national team player Jon Parry (the president) and influential technical director Keith Tozer.
In an interview with the U.S. national team coach Dušan Jakica, with whom we also talked during the Futsal Week tournament, we discussed the widespread "problem" of the U.S. national futsal league.
> The U.S. head coach: The USA could become one of the best futsal nations in the world
Establishing the U.S. National Futsal league
Most of you already know the story, there was a big buzz about the Professional Futsal League a few years ago. Dallas Mavericks' owner and famous businessman Mark Cuban bought the league and there were rumours that wealthy sports franchises from the U.S. national sports (NFL, NBA, MLB, NHL) will invest in futsal and have their futsal teams.
However, in mid-2020 there is still no indication of when or even whether the league will ever come to life…
"The idea of the Professional Futsal League started to develop in 2014. The initial idea was to start by developing a league with regional divisions for the smaller market cities. Since my club is from Akron, Ohio, and I manage the historic Goodyear Hall facility with a perfect arena for 2,500 people, we applied for the place in the league. Two years later, in 2016, Mark Cuban bought a controlling interest in the league and the development focus moved from the small markets to the largest ones in North America. This meant engaging some of the most powerful and influential people in all of the sports world and from what I understand, we are still awaiting the finalization of these 16 North American ownership groups to initiate the league. For the sake of professional futsal in America and around the world, I hope this initial task will be completed sooner than later."
Having a national league is not only important for developing youth players, but also for the development of all American players on a higher level.
"In the United States, we have fantastic facilities and our sporting events promote and market the games with food, beer, sound and lighting, introductions, half time shows, etc. Americans have come to expect all of these entertainment components when witnessing professional or non-professional events. There are many futsal enthusiasts in the U.S., myself included, that would like to believe we can create a professional league without the big investors. But in the United States, one thing is certain, if you want to start a national pro league, it requires a significant investment. Our country is very large and every road trip would include a flight for a team of 12 to 14 players and with the staff, the number rises to 20 people. When you include the meals and hotel costs every away game cost you a minimum of $10,000. We have mentioned our wonderful facilities but unlike countries like Spain, Colombia and Argentina our facilities are not owned, managed and staffed by the municipalities and are very expensive to rent. Since futsal is still a very new sport in our country, it is not an easy task to secure investors willing to commit the significant resources needed to establish a truly National League."
"The final and maybe most important piece of the puzzle is television. This is where most of the revenue from the major America sports is generated and having the ownership 'big guns' on board will bring television contracts into the picture as well. Accomplishing all of this is not as simple a task as many people think. It is taking longer than most of us futsal enthusiasts would like but we have one chance to do this correctly. Introducing a new game into the American sports landscape is a monumental task and if there are any lessons to be learned from the development of pro outdoor soccer in America, patience is a virtue to be employed".
In the U.S., there is Major League Futsal and the National Futsal Premier League in which clubs from Central and South Western states are participating. What is the solution then, if you cannot find big investors for the National League?
"Our league, the NFPL is a regional league, and what we are trying to do is to create more regional leagues, so the teams can travel by buses or vans. We are currently looking for teams on the East coast that are 4 to 6 hours away from each other, like New York, Boston, Philadelphia, Baltimore, etc. The same thing is being investigated in the West. That's the way we can grow, be competitive with each other, spread awareness of the game and still be affordable for ownership groups to invest in", says Orf and continues:
"Everyone is hoping that NBA and NHL owners will find futsal attractive enough to invest in it. But, there are a couple of other issues, besides investment. First is the problem of the logistics. When would that league be played? The initial PFL plan was to play from March to September so clubs can use facilities and their employees and not to conflict with basketball and hockey seasons. Then, there is a problem with referees. We need to develop more quality referees in the country. The third problem is the players. In order to present a quality product on the court, the clubs must have the ability to roster a minimum of 60 per cent of their players from foreign sources. As one of the National Team coaches who has been searching our country for enough quality players to create a single team, it has become painfully clear that at the current time there is simply not enough American talent to run an attractive and viable league without a significant injection of foreign talent. With the best internationals playing you can have a high-quality, exciting and marketable product while having a smaller number of domestic and local players. Of course, a transitional plan would be put in place where over the years the number of Americans would increase the number of foreigners would be reduced. This way we are providing domestic players with an opportunity and to develop their game, while the internationals provide a high-quality product on the court for fans. Futsal, as you know, is a beautiful sport if it is played properly. If you have low-quality players on the court, it is not much of a spectator sport".
The U.S. national team has a big potential
Having national league is very important for motivating young players to continue playing futsal after their youth age and for the best of them to start playing futsal professionally and represent the U.S. on the national level (Orf is also a goalkeeper coach and the part of the professional staff of the U.S national futsal team coach).
"I can safely say that futsal is currently being played by more than 100,000 children in the United States. But most are not playing proper futsal. They are playing soccer on futsal courts with a futsal ball. Probably 70 per cent of them, and I am being polite, are not learning futsal fundamentals. Dušan Jakica (the U.S. national team coach, authors note), Pablo Da Silva (the U.S. national team assistant coach, authors note) and I are trying to start futsal coaching education programs within our federation. The players in our national team pool are still learning futsal fundamentals. When we organized the first camp, 70 per cent of players didn't receive the ball with the sole of their foot. You could instantly tell that they have been playing indoor soccer, soccer-stye on the futsal court or have never played futsal at a high level prior to attending. This is a huge problem for us. Players must have individual futsal fundamentals to employ any of the futsal team tactics. First, players must master individual techniques, then learn the roles and responsibilities of each position within the system. Then and only then can they execute the team tactics".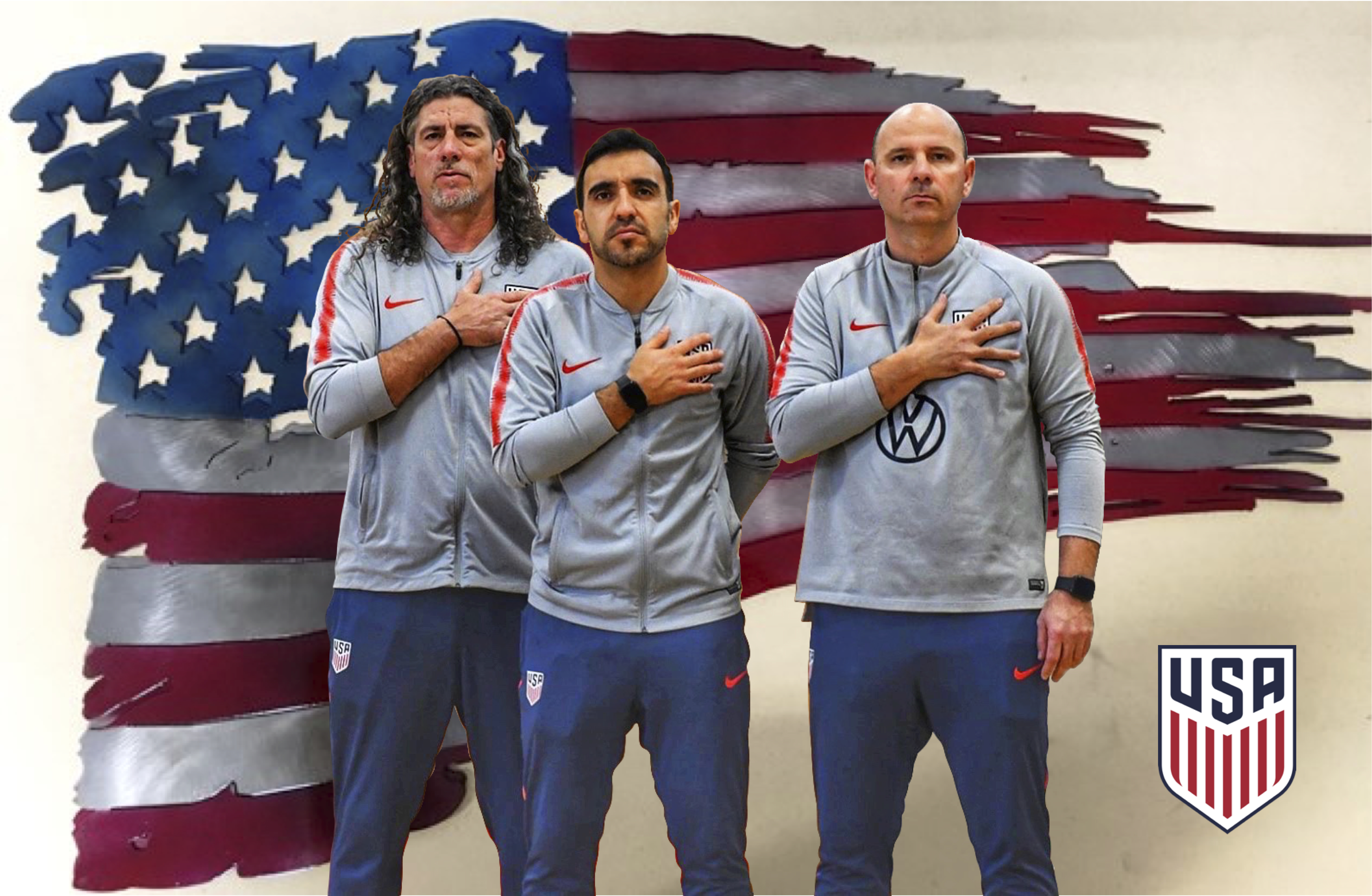 We must say that the U.S. national team has really quality goalies. Are they your work?
"Well, it is not so much my merit, as that we were lucky. My goal is to help them improve and to become a bigger part of our offense throughout our time together.
The position which most easily translates from soccer and especially indoor soccer to futsal is that of the goalkeeper. So, I cannot take a lot of credit for our goalkeepers' technique or performance to date which, as you mentioned, has really been very good.
Eduardo 'Choco' Macias plays and teaches futsal in Dallas, he has some past experience with the national team, is good with his feet, and has a good grasp of the futsal movements and futsal specific techniques. The other two goalkeepers have been excellent discoveries. Estevan Vasquez, also from Dallas, comes from indoor soccer. He is big and strong and very receptive to changing his technique. He is working hard, improving daily and he is only 23 years old. He is doing a great job and his best days are certainly ahead of him".
> Why futsal goalkeepers don't wear gloves?
"In our search for players, the day that Dušan, Pablo and I were most excited was the day we saw the YouTube highlight video of Diego Moretti playing in Italy. We saw a goalkeeper who is the 'monster', who plays on the highest level, who has all the techniques, has weapons in his arms. And then you meet him in person, and his personality is almost not normal for a goalkeeper. He wants to help, he is confident but not cocky. He is so proud to represent the U.S.A. on the international level. Finding a talent like him was a huge piece of this puzzle, and the attitude and leadership that he brings is just a bonus. The goalkeeper is 50, and maybe up to 70 per cent of a team. So, we are very lucky to have all three of them".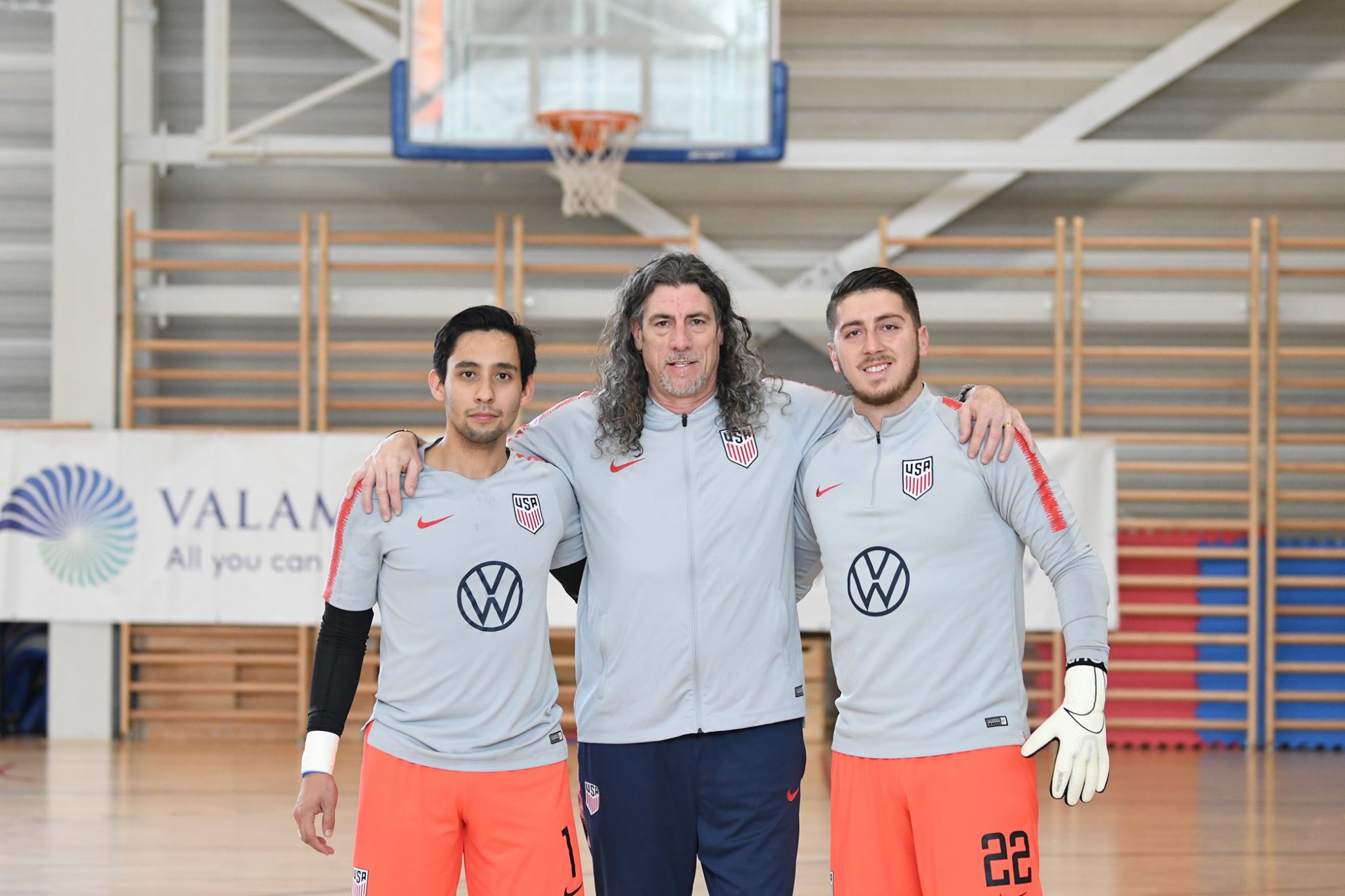 The historical qualifications for the 2020 Futsal World Cup (Lithuania) are in front of the U.S. The 2020 CONCACAF Futsal Championship was originally scheduled to be held in Guatemala between 1-10 2020. But, the tournament was postponed due to coronavirus pandemic, and the new dates are yet to be decided.
> How will Coronavirus affect futsal?
North America will have four participants at the World Cup, therefore, the U.S. needs to reach semi-finals of the continental tournament to qualify for the Futsal Mundial, for the first time in 12 years.
"The 2020 CONCACAF tournament is, in my opinion, crucial for the futsal development in the United States. I believe that with the players we have, we can reach the quarterfinals. That leaves us with one crucial match to win if we want to qualify for the World Cup. We have already started preparing for that match, for winning that one game. Ever since we were hired in September our single most important goal was to qualify to play in Lithuania. I am confident in our team and our staff. Pablo is an excellent coach, partner and technician. He knows the game, he has played the game in Brazil and he has an excellent rapport with the players. But, our leader, mentor and the head coach is Dušan. He is a teacher, he has enormous knowledge about futsal, he is a disciplinarian and a psychologist. He has high expectations, he demands performance and effort from the players and staff and that is extremely important. I am very proud that I had met and talked with Dusan and proposed him to be the head coach to Jim Moorhouse at U.S. Soccer. The three of us have become very good friends who are passionate and working hard for the growth and advancement of futsal in our country. As a team, we are ready to take this sport to a higher level!"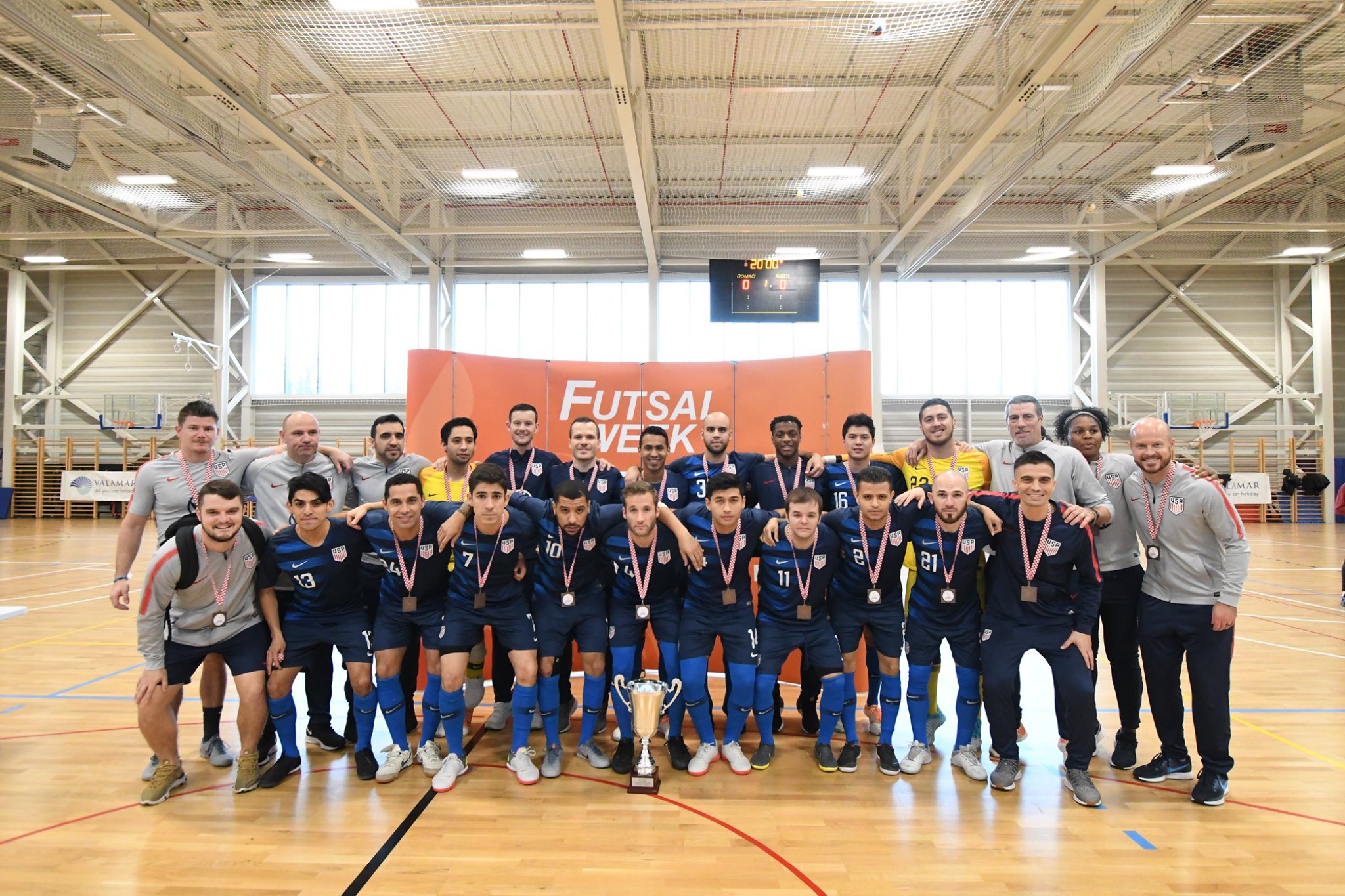 The popularity of futsal in the U.S.
We all know that even soccer, which is very popular in the U.S.A., is struggling to compete with traditional American sport in terms of popularity and TV rights. What is the situation with futsal? How much is our sport popular in America?
"In the United States, marketing and media coverage is everything. The only thing we, as staff and players, can do is to qualify for the World Cup in Lithuania. As much as I would like to say it will change everything, it only depends whether the media will be willing to cover our path and if the U.S. Soccer would want to expose us to the American public. But, if we get there, at least we did our part of the job. If we don't qualify, then there will be no change in my opinion in terms of futsal status in our country".
As a country with a more than 328 million people, with a great sporting tradition and more than 100,000 youths playing futsal or indoor soccer, the U.S. certainly has a huge potential in this sport.
"At the beginning of my coaching career, I had had programs only for outdoor soccer and outdoor goalkeeping. But when I started playing futsal for my national team, I fell in love with this sport and over the past decade have transitioned to placing my entire focus solely on futsal. I believe that futsal can absolutely help advance the development of every American soccer player so that should help promote the game on its own. Futsal has also matured immensely on a global scale over the past decade and especially in Europe and Asia. It is sad to me that our continent is at the bottom of the futsal curve with Africa in terms of development but that is what we are now trying to change.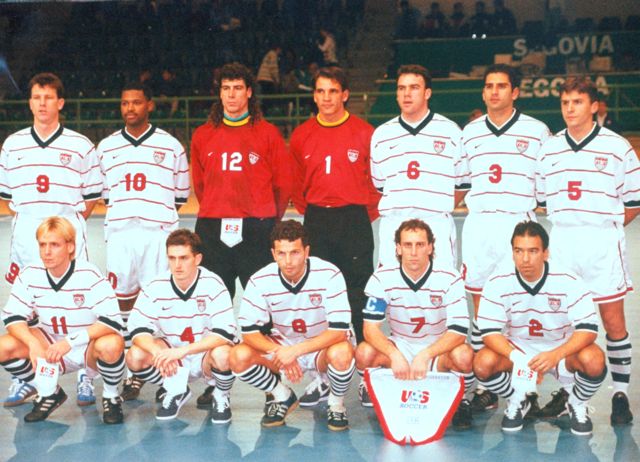 The one set of things that are crucial for a great sport, and we have it in our country, is great facilities and great athletes. We have opportunities and money. If given the chance to prepare and develop for four years, we really believe we can start to compete with the best futsal nations in the world, move from not even being listed on the international rankings and become one of the top 30, even top 20 futsal countries in the world. But, it takes time to develop a generation or two of players, a system and a style of play. Basically, we are talking about creating an American futsal culture and that's what we are working towards because to have success in this team sport, it is nice to have great players, but great teams will always defeat great players".
During your stay in Croatia, you showed you can compete with European teams, only the "African Kings" Morocco was too strong…
"I have to thank Mićo Martić and other Futsal Week staff for creating this opportunity and unbelievable schedule for us. Besides Morocco, we lost two tight matches, against Montenegro and Futsal Dinamo (both 2:3, authors note). I am actually happy we lost those games. Because, if you win those tight matches, you have too much confidence. But losing them showed our players the importance of the small details in futsal and how we need to refine our game in order to start the games properly and then close the games out. The complete experience in Croatia was truly fantastic, a real futsal immersion and an excellent mental and physical test for our players. Many of them have never been intensely coached or played internationally and most have never experienced the things they were exposed to during this tour…"
Heart & Sole
When you are talking with Orf you can really feel his love and passion for futsal, that he has committed 100 per cent to this sport. Besides being a part of the national team staff, besides having a futsal team in the United States (Vulcan Futsal), being regional manager of the US Youth Futsal (Great Lakes Futsal), he is also a founder of Heart & Sole Futsal Academy, a youth soccer development company that is teaching children from age 4 through 18 the techniques, tactics and life skills to provide them with a fundamental foundation.
You think that's all? Well, if you do, you are wrong… Otto also has its futsal store futsalfactory.com where you can buy everything you need for futsal…
"I already told you I gave up the outdoor soccer and give everything to futsal. It was easy to fall in love in this sport. I realized that we, in the U.S., didn't have coaching boards for futsal. Therefore, I started to manufacture them, just like futsal floor spots, professional futsal goals and everything you need to have for the futsal development. The complete coaching set. That is why I called it the "Futsal Factory".
"Regarding my program for youths, I called it "Heart and Sole", because the sole is the bottom of the foot, with which you receive the ball in futsal, and, of course, the soul is in every one of us. So it is also a play on words".
Most recently, Orf and his fellowship started the tournament Copa North America.
"The plan is to make a tournament that will be a holiday at the same time. To make a real "vacation festival". The tournament should take place at the beginning of an August, at Cedar Point in Sandusky (Ohio) on Lake Erie. This is the home of the biggest roller coaster park in the world, with a big water park and a beautiful beach on a lake that most would think is the ocean. The idea is not only to have a youth tournament but also to become a place for the international teams to come and enjoy a week-long experience. They will play some friendlies, have training sessions, and then participate in a three-day tournament. But the whole point is to have a high quality, enjoyable and competitive futsal experience in one of the best summer vacation destinations in the country".
The future of Futsal in the U.S.
To conclude this meaningful interview, what is, in your opinion, the future of futsal in the United States?
"In the U.S. everybody is saying there is the futsal revolution. We have multiple groups working in the game of futsal in our country, and one thing everyone asks me is why we have so many different organizations involved in running the game of futsal. I wanted to avoid the conflict that surrounds that question which is why Dusan, Pablo and I reached out to every organization, every coach, every club and futsal related entity to get input and to search for players. Now is the time to do something great with this sport and to be great we must use every resource at our disposal... As I stated, the futsal revolution has already started, who started it, who owns it or what name it carries is insignificant because as a group we have ignited a fire that is going to burn out of control and change soccer in America forever. The acceleration of this inferno rests on this World Cup qualification cycle as we discussed before, which is why we are giving everything we have to mount a successful effort ".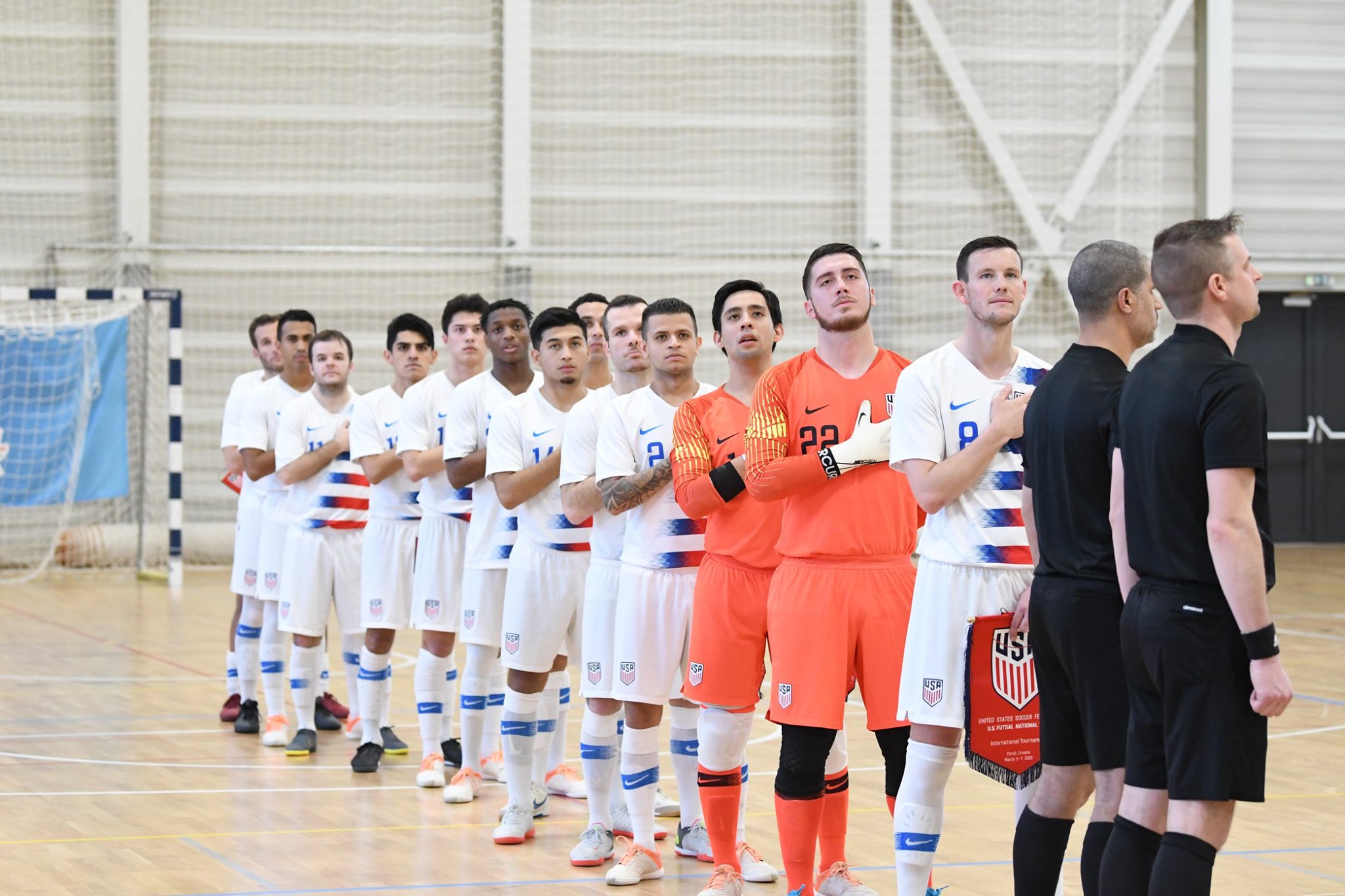 "For me personally, futsal has become a way of life. I have been travelling everywhere I can, not only to expose myself to the different futsal cultures, but also to show our children, the next generation of players, what futsal is like around the world. In the United States, there are plenty of players, great facilities and there is a passion for the sport. With a little bit of media coverage, a little bit of organization and proper promotion through U.S. Soccer, I think we can push the United States into the global futsal community and be successful in it for a very long time".
But there is still plenty of obstacles…
"Yes, well there is still a problem with futsal's awareness and I think the single thing that is hurting the expansion of futsal in the U.S. is the word "futsal" itself. Derived from the Spanish words "fútbol sala" people in America simply don't understand it since the name for European football in our county is 'soccer'. This has changed a lot in the last few years, especially since Messi and Christiano Ronaldo have stated how playing futsal helped their soccer development when they were young. I get very excited when every now and then I see a futsal highlight on the ESPN top 10 plays of the week. Back in the 1980's you could see that soccer was becoming popular in the U.S. when soccer balls and soccer players started to appear on television commercials. The soccer mom demographic was and still is huge, and soccer is used in commercials to sell drink boxes, detergent, mini-vans and much more. Soccer in America grew with and because of marketing and television. So, it is a great thing that ESPN is beginning to recognize our sport of futsal".
In addition, what about women's futsal in the U.S.? In our recent interview with Jakica, he stated that the U.S. women's team could become one of the best in the world in a short amount of time….
"I agree with him completely and believe our women's program can quickly become very successful and compete with all of the best teams in the world which are now Spain and Portugal. I don't want this to sound arrogant but I believe we can reach a similar level even in a one or two-year period! This does not discount the years of work that other teams have dedicated to development but instead gives credit to the development of the American female athlete over the past 5 decades and the American female soccer player over the past twenty years. One example is the squad of young girls I coach that have won the U.S. Youth Futsal national championships in a very competitive division for three years in the row. These girls at age 14 and 15 have excellent technique, physical attributes and passion. In 2022, at the time of the next Youth Olympic Games in Senegal, they will be 17 years old. I am advocating for and am keeping my fingers crossed that U.S. Soccer chooses to establish women's national team program to prepare for that tournament. If they do I believe we will have a great chance to succeed".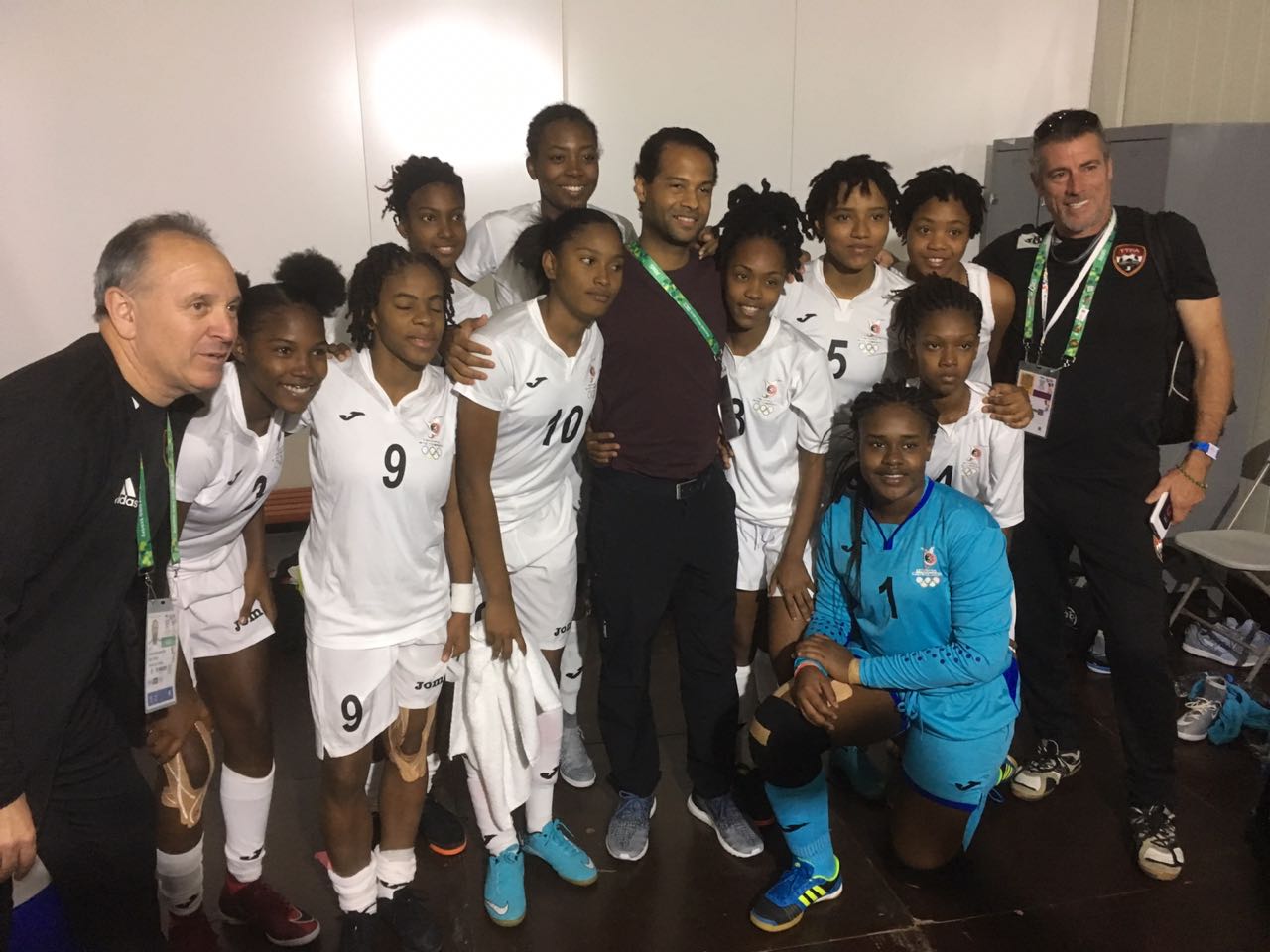 Futsal in the Olympic Games
Since you mentioned the Olympic Games, will futsal become the Olympic sport?
"It's a great thing that futsal was implemented in the 2018 Youth Olympics and I was proud to be a part of that competition in Buenos Aires. If the attendance, energy and enthusiasm of the games in Argentina proved anything it is that the game is popular and is worthy of a spot on the roster of sports presented. As far as the actual decision to include futsal that is a much more difficult question to answer. 8 years ago I remember seeing a shirt "Futsal, 2016 Olympics". There are politics involved, other sports vying for entry and there is even a debate about whether futsal should be included as a summer or winter Olympic sport. The important thing is that futsal is no longer recognized as a version of soccer, but as its own sport".
"The futsal community has wisely taken advantage of social media and streaming. I have been describing to people that futsal is one of the most interesting sports in the world, especially attractive for a new, younger generation because of its excitement. Futsal is the X-Games version of soccer and futsal will be the sport of the next decade".