Author: Niko Rukavina
Even though I am a futsal journalist from Zagreb, Croatia, therefore, I am subjective when talking about this topic since I support the Croatian national futsal team, I really do believe in this statement:
Croatia can win Euro 2022!
And I'll try to explain why I do believe in it…
Croatia is obviously not the biggest favorite of the tournament. Several European teams rank better on betting lists to win the title and are better ranked on the Futsal World Ranking (Croatia is currently the sixth best-ranked European country).
>> Football and Futsal World Ranking comparison: Which countries are best in both sports?
But Croatia has the potential to win the Euro.
The main reason for that statement is that Croatia is a team full of talent, and its greatest strength is its width.
We can say that Croatia has three or maybe five "elite" players, who are among the best European players in their position.
Jimbee Cartagena's Dario Marinović plays in a special form. He is currently the top Croatian player who can cover all positions in the field. Still, in Croatia's team, he plays mostly on a pivot or left-wing positions. He is Croatia's best scorer (six goals) in current qualifiers, and his doctor's dissertation was against Ukraine in Zaporizhia, with scoring three genius goals.
Franco Jelovčić is a Croatian captain with strong international experience. He is the current Halle-Gooik player on loan in the Croatian champion Olmissum. Even though there were rumors he didn't enter 2021 in the best shape, given the Belgium championship's cancellation, he silenced the critics with two great goals and two assists in a two-match duel against Ukraine.
What a screamer by Franco Jelovčić tonight 😱⚽🇭🇷 #futsal #croatia #FutsalEURO pic.twitter.com/sFINXNXsjE

— Domagoj Vlahinić (@dombetar) March 7, 2021
Žarko Luketin was voted for the best Croatian player in 2020. He is the first goalkeeper who won that award since Croatia's longest-lived futsal website CroFutsal launched the awards for the best Croatian futsal player. However, Luketin has problems with frequent injuries, so everybody hopes to see him fit in the Netherlands.
Tihomir Novak certainly enters this category of elite players. But Croatia's and Dobovec's star is 34 (in the Netherlands, he will be 35) and has been struggling with injuries lately. However, if Novak is healthy and prepares well for the Euro 2022, he will undoubtedly be among the best players of Croatia and the complete tournament.
There is also one Croatian player who is on the verge of becoming an elite one. Another Dobovec player Vedran Matošević is one of the Croatian players who can play in all positions on the court (in the national team, he most often plays on the left side of the attack). He has strong international experience (Italy, Slovenia) and has been particularly inspired in the national team lately. He scored two against Russia in the World Cup qualifiers, one against Czechia, and three in current Euro Qualifiers.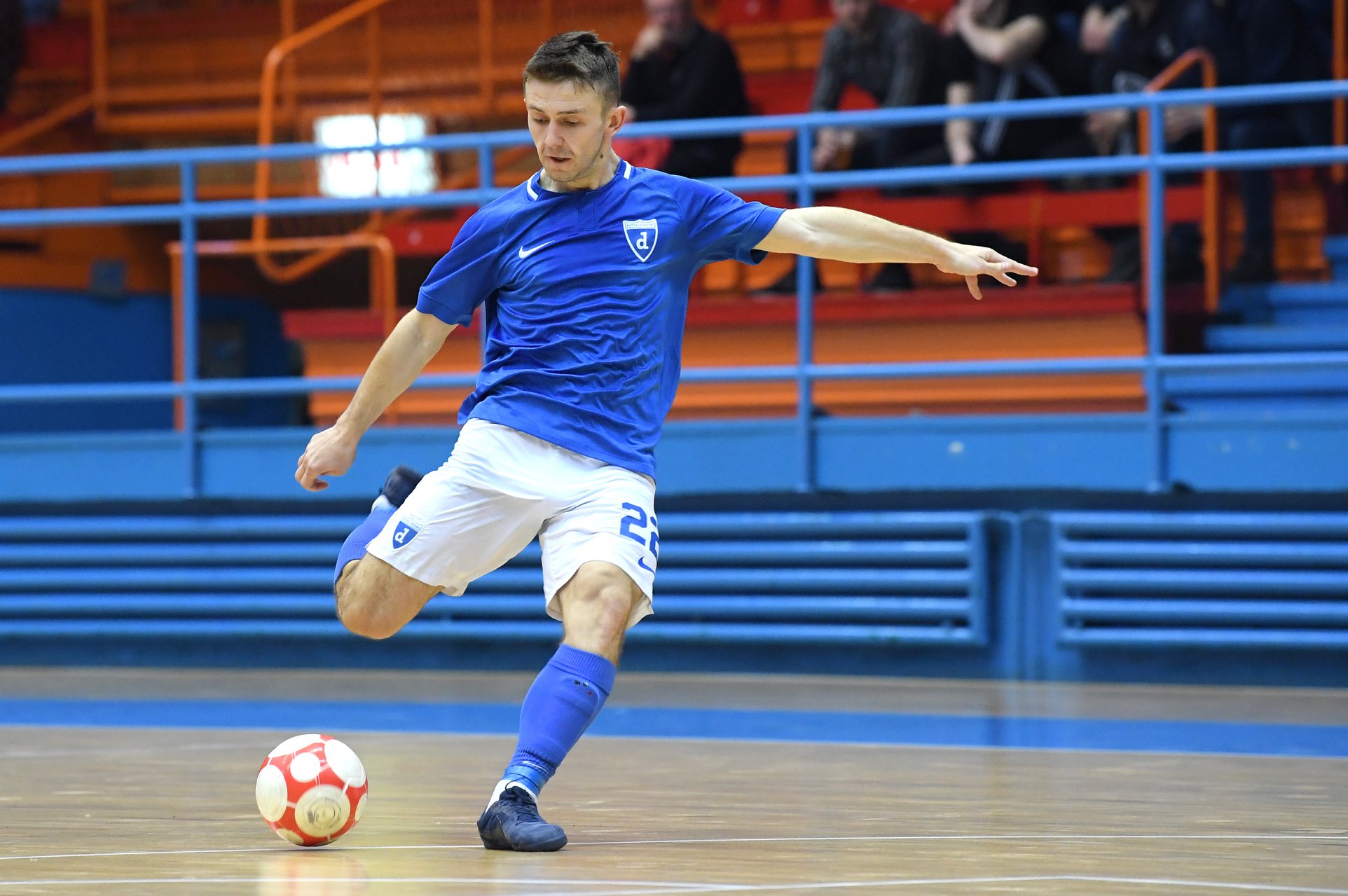 What about others?
Let's start with Pivots…
Luka Perić (another Dobovec player) is nominally Croatia's no.1 pivot. He is young, strong, and talented. Not only is he good at scoring, but he is also an important factor in Croatia's attacking game (best assistant in current qualifiers).
Ex-Vrgorac and current Saviesta Mantova player Luka Suton scored six goals in the Italian Serie A. His colleague Maro Đuraš (TSV Welimdorf) is another multifunctional player in a team.
Some great pivots play in the Croatian first division as well – Antonio Sekulić and Nikola Pavić from Olmissum, Mihovil Prgomet from Futsal Dinamo, Vedran Kazazić from Novo Vrijeme, Ivan Gotovac from AFC Universitas, etc.
There are also players such as Duško Martinac (the best Croatian league's scorer in the last three seasons) and Duje Bajrušović (CroFutsal's best player in 2018) even though they mostly play on the position of the left-wing.
Left wings
After mentioning experienced Martinac and Bajrušović, and the previously mentioned Marinović, Novak, and Matošević, who also cover this position, Croatia also has a great diversity on the left side of the attack.
Josip Suton plays great in Italian Serie A (9 goals for Meta Catania) and can also cover several positions on the field, as well as Kristijan Postružin (Olmissum), who has international experience as well.
We cannot forget to mention Croatia's young hopes on this position, such as Josip Jurlina and Duje Kustura from Olmissum and Vrgorac's forward Nikola Gudasić.
Right wings
The deficit position in futsal, the right-wing position, is more than well covered in Croatia. Besides the captain Jelovčić, Marinko Mavrović has two Croatian league stars at his disposal for the rotation who both have an international experience in Italy – Olmissum's Matej Horvat and Dinamo's Kristian Čekol.
Left-footed Marko Kuraja started his season in Italian Mantova and is currently playing for Catania. There are also several qualitative (and experienced) players in the Croatian Futsal League who are on a wider Mavrović's list such as – Kristijan Grbeša (Futsal Dinamo), Toni Jelavić (Novo Vrijeme), Valerije Jurić (Olmissum), Renato Koturović (Uspinjača Gimka), etc.
Defenders
Another strong position in the Croatian team. Besides previously mentioned Novak, Marinović, Matošević, Jelovčić, Suton, Postružin, who can all cover the quality of that position, Croatia also has some excellent defenders in its domestic league.
Stjepan Perišić from Olmissum was voted as the second-best Croatian player in 2020. (behind Luketin and in front of Marinović). Dinamo's captain Davor Kanjuh is a superb defender with a powerful shot and a great vision.
We have to, as well, mention Mantova's captain Ante Daničić, with whom we had an interview last month and a reliable left-footed Niko Škugor from Crnica and Dinamo's young prospect Mateo Mužar.
>> Croatian Captain in Italy: Ante Ante Portas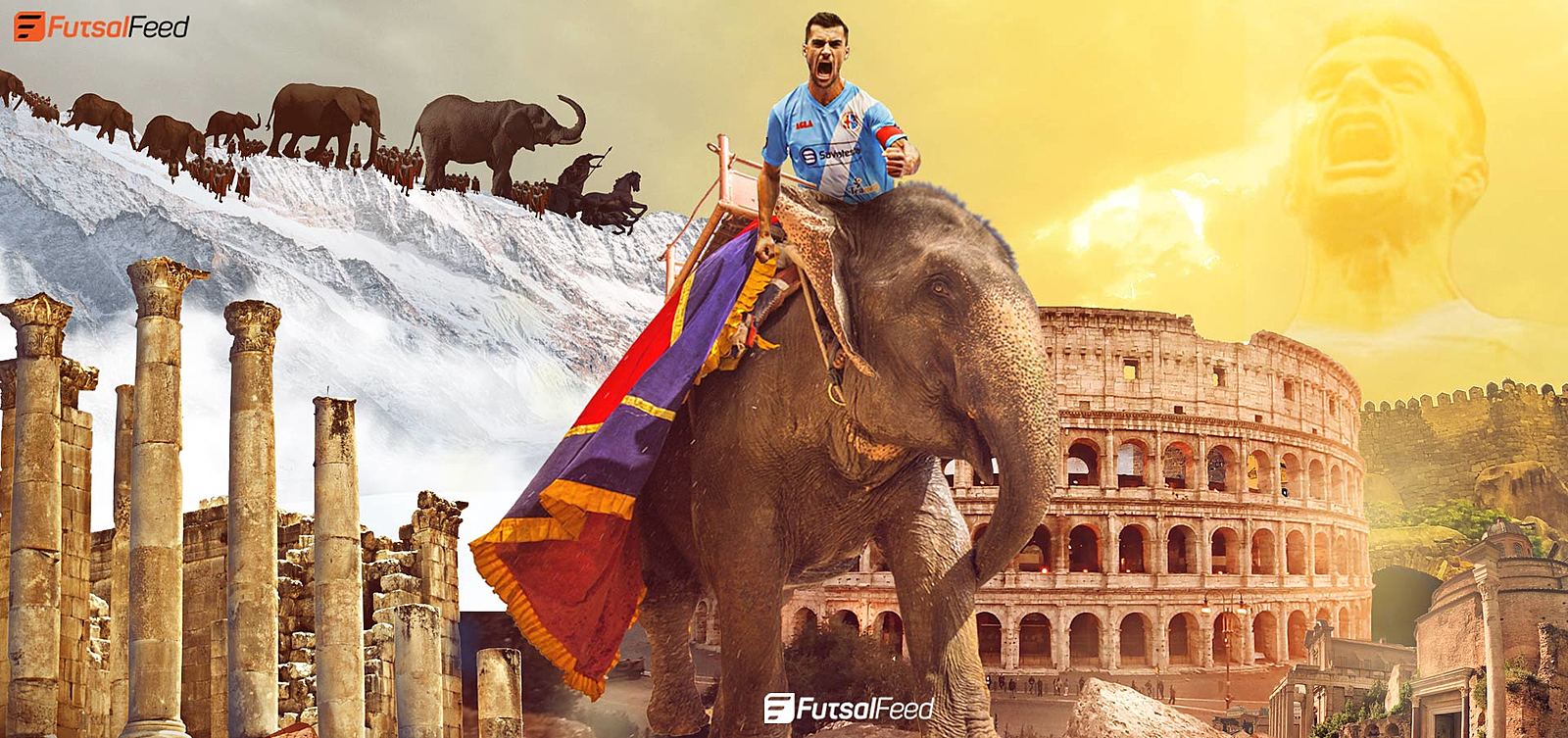 Goalkeepers
Lots would say that the goalkeeper position is the weakest Croatian link. However, several quality goalkeepers in the domestic league could play a significant role on an international level.
Currently, the first behind Luketin is Zoran Primić, who justified his role in the two World Cup playoff matches against Czechia and against Ukraine in Zaporozhija. The third goalkeeper is young Marko Vuković from Vrgorac, and almost every team in the Croatian first division has a goalkeeper who could find his name on a broader Mavrović's list.
Filip Bašković and Jakša Herceg from Novo Vrijeme, Mario Herceg from Futsal Dinamo, Franko Bilić from Crnica, Ivo Jukić from Universitas, Mario Modrušan from Alumnus, Ante Piplica from Uspinjača Gimka, Nikola Čizmić from Split, Franko Jamičić from Futsal Pula, etc.
Coaching staff
After 10 years of Mato Stanković's tenure at the Croatian national team's helm, his assistant coach Marinko Marvović took over the team. He is known as a great tactician and a coach who works great with youngsters.
He was a coach of the Croatian U19 team who surprisingly won a silver medal on the inaugural Euro U19 (2019) in Latvia. From that team, only Josip Jurlina is in the senior's squad. Still, some players already play a significant role in Croatian first and second division clubs, such as Mateo Mužar and Jakov Mudronja from Futsal Dinamo, Božo Sučić and Jakov Hrstić from AFC Universitas, Duje Dragun from Aurelia, Čizmić from Split, etc.
His assistant coach and the new head coach of the Croatian U19 team is 29-year-old Duje Maretić. He is considered a Croatian coaching wunderkind. He started from the Split's youth academy, he won everything he could in Croatian youth championships and produced five players who won silver in Latvia.
Then he started coaching Olmissum, who was in a second division back then. Won the second league, and in their inaugural First Division season, won the First Division and reached Croatian cup finals. In his third year in Olmissum's helm, he won Croatian Cup, Super Cup and played 1/8-finals of the Champions League (lost 1:2 against KPRF).
When talking about the width of the Croatian team, take a look at the six Croatian fives* that can compete against the vast majority of European teams (the "fives" were determined arbitrarily):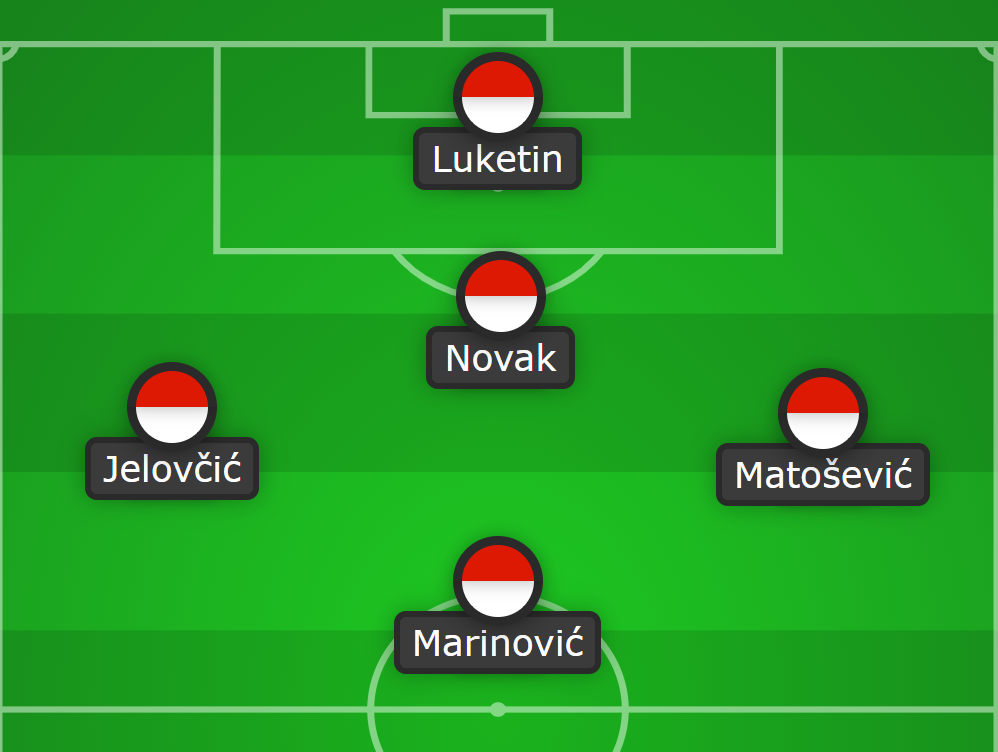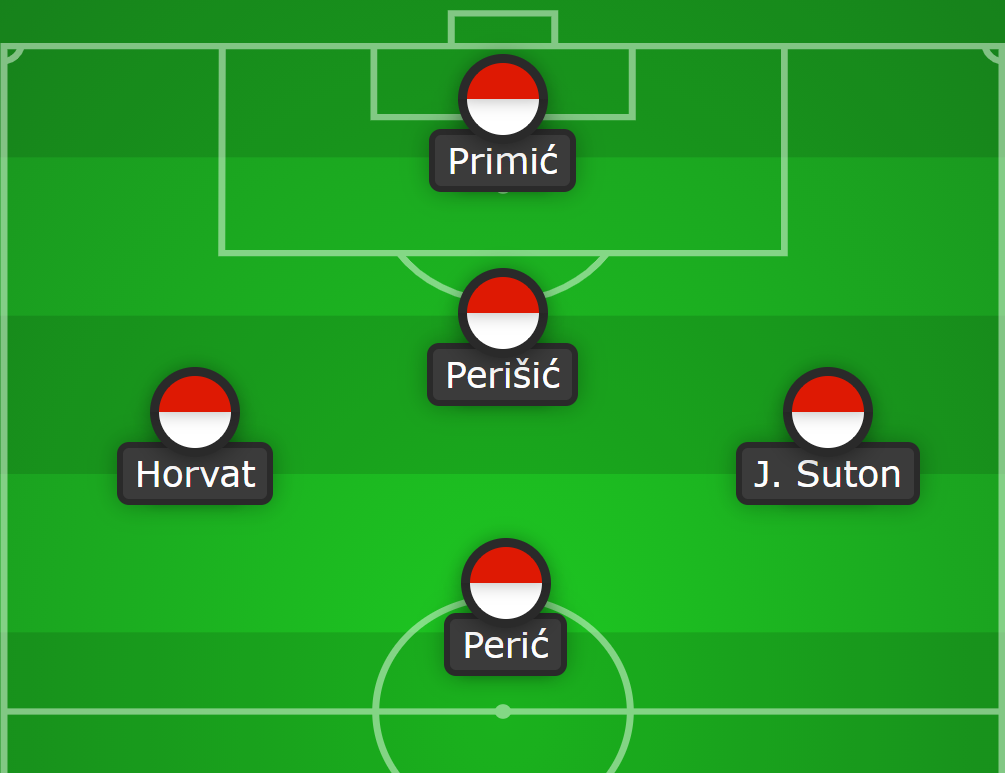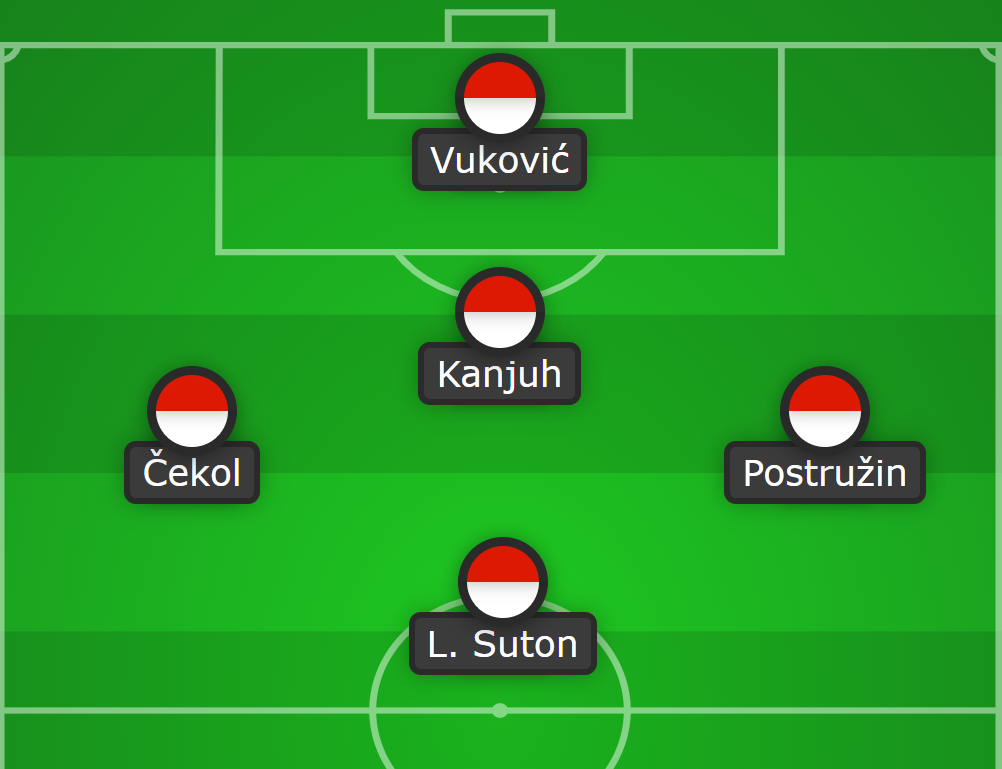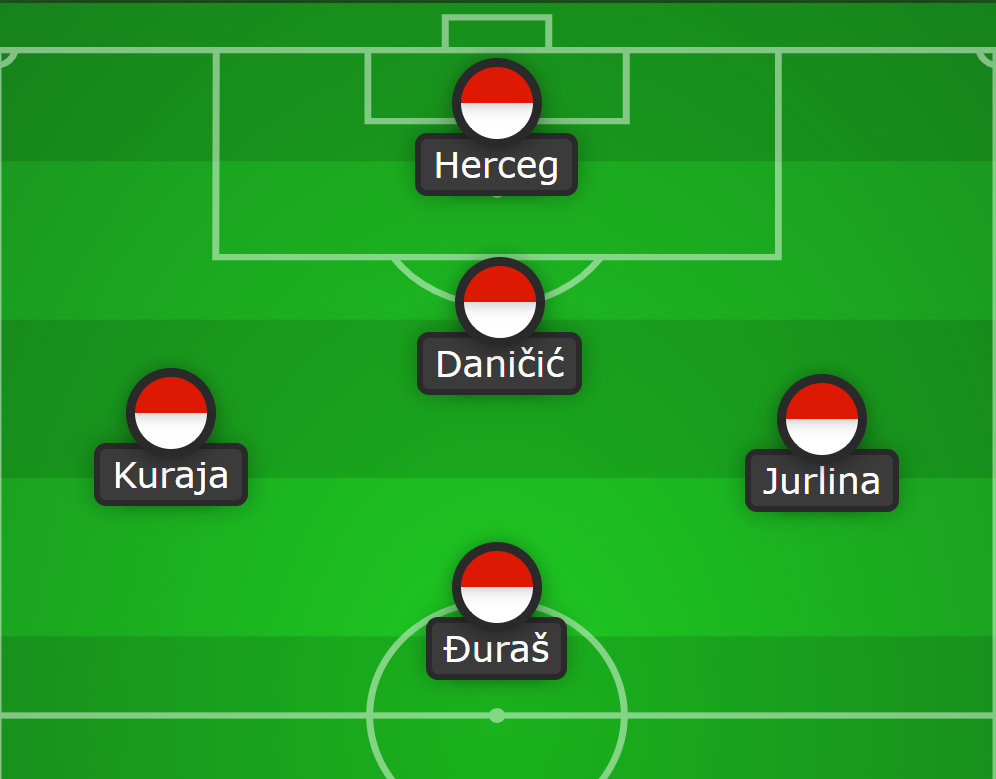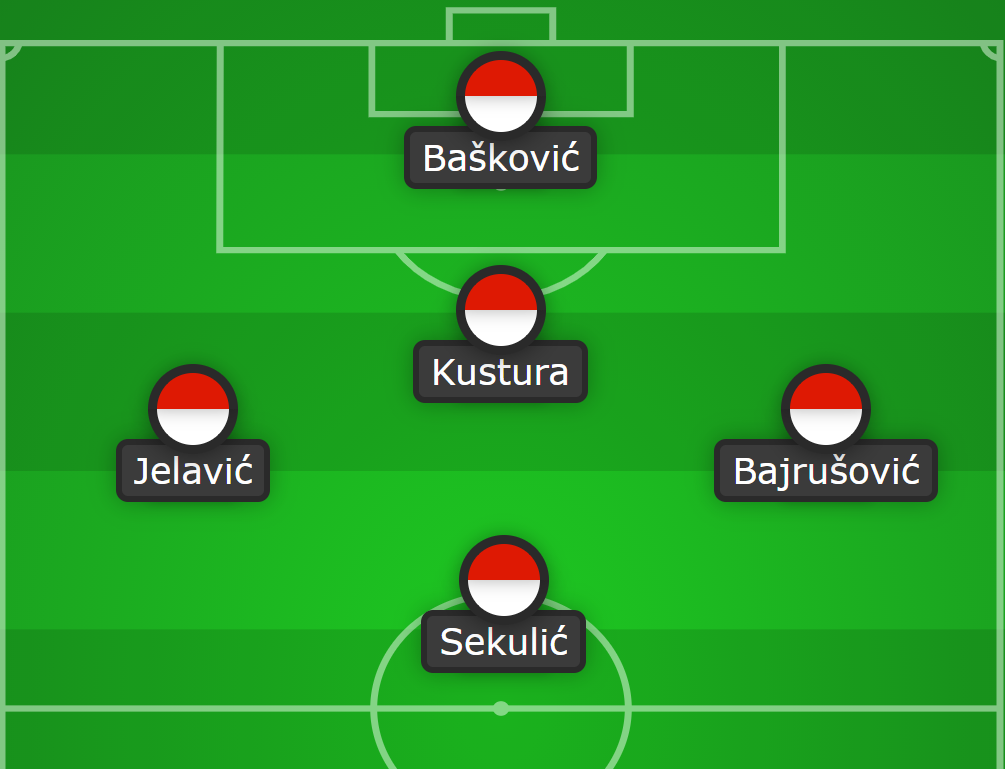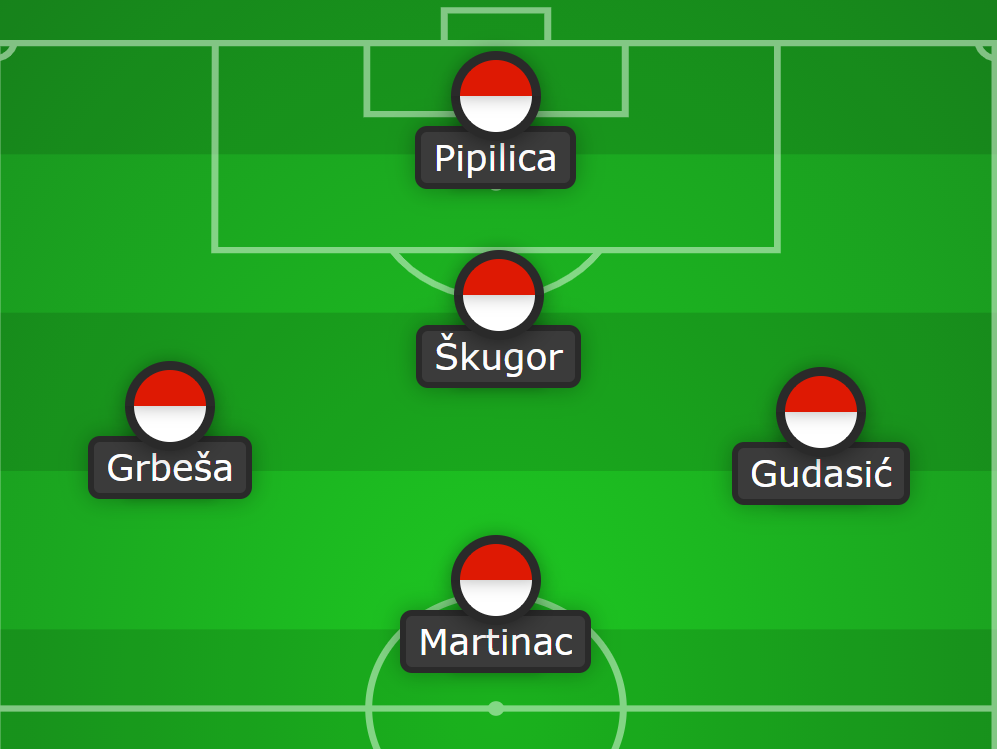 *Sorry for putting players on a shortened football field - there is still no futsal formations generator online... yet ;)
Where is Croatia compared to other nations?
If we look at the nations that have qualified for Euro (Croatia, Russia, Azerbaijan, Bosnia and Herzegovina, Spain, Italy, and the teams that are favorites for qualification in the last qualifying round (Ukraine, Georgia, Slovakia, Serbia, Kazakhstan, Hungary/Belarus/Israel, Slovenia, Finland/Belgium/Montenegro, Portugal, Czechia/Poland), several national teams rank better than Croatia.
Because of the width of its's team, Spain is certainly the biggest favorite. Russia, Italy, Portugal, and Kazakhstan are also considered teams that can unsurprisingly win the title. However, Croatia played against all those teams in recent years, except Spain and Portugal, and proved that they could play "al pari" with all of them.
Of course, a lot has to 'fall in place' to win a title. First of all, they have to avoid injuries, and then they have to be matched by quality preparation, good form, and, of course, sports luck.
It is a good deal for Croatia's coaching staff that the team has secured first place before the last two matches against the underdogs Denmark and Albania. Therefore, they will be able to give a chance to players who have played less in the previous four games
>> 2022 Futsal Euro: Who qualified and who can still make it?
There is a lot of similarity between this team and a Croatian football team that won the silver medal at the 2018 World Cup. That team had some players that were best in the game, such as Luka Modrić, Ivan Rakitić, Mario Mandžukić, and Ivan Perišić, but also a whole umpteen of quality players who played a significant role in their clubs. And, before all, they had a winning mentality.
And that is the key for the Croatian futsal team as well. After many unexpected defeats lately, to create a winning mentality. To believe that they have the quality to win the Euro.
Even though I am probably subjective, as a futsal journalist from Croatia, I believe that this team has the quality to win Futsal Euro 2022.
(Foto: CroFutsal/Futsal Dinamo)
>>> 4+1 easy ways how can you support FutsalFeed